The MBW Review offers our take on some of the music biz's biggest recent goings-on. This time, we look at Pandora's horrendous latest set of results – and ponder how bad things can get before dramatic action has to be taken. The MBW Review is supported by FUGA.
---
When Pandora Media launched on the NYSE in June 2011, it started trading at $16 a share – with a $2.6bn valuation.
Optimism was rife for music's big digital play on the stock market. The expectation was that the firm's valuation, and global presence, would soar.
Today, over six years on, Pandora is worth less than a third of what it was that day, at under $5 per share.
And, according to MBW's calculations, there's even sorrier news for the firm's new regime to contemplate: Pandora has now lost over a billion dollars in less than four years.
---
On Friday (November 3), following another disastrous set of quarterly financials, Pandora's stock fell by a devastating 24.6%.
As a result, its share price dived to $5.59 – representing a total market cap valuation a little under $1.4bn.
Today (November 8), the company's worth has fallen yet again to just $4.90 per share – or $1.2bn.
Investor confidence is crashing through the floor.
Before we come on to the reasons for such a tumble, consider a bit of recent history.
In March 2014, Pandora was worth $8bn: more than six times as much as it is right now.
It gets worse: as recently as summer 2016, SiriusXM reportedly made a bid to acquire Pandora for $3.4bn, or $15 per share.
That's more than three times what Pandora's worth now.
The offer was rejected.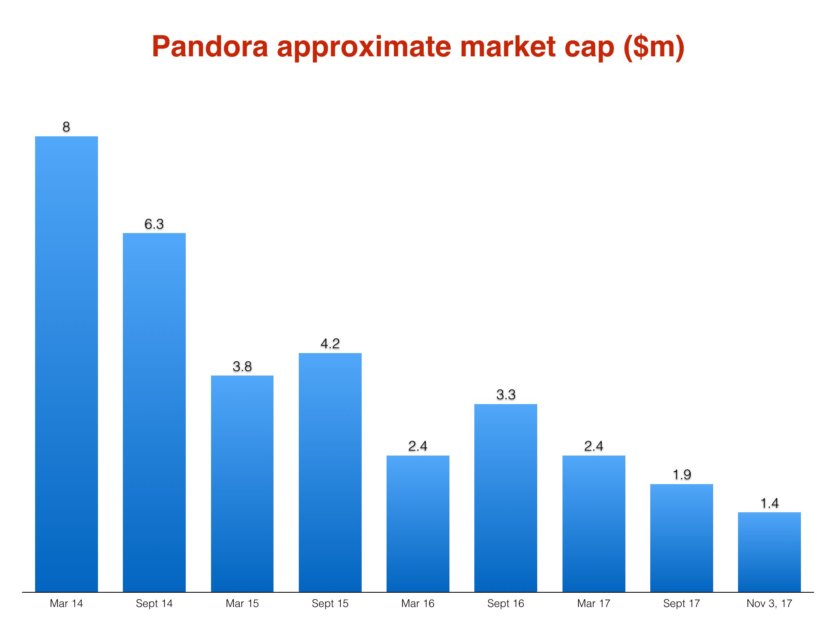 ---
There are many alarming reasons why Pandora's value sunk by nearly 25% on the NYSE on Friday, but one stands out more than any other.
The company's official active listener base at the end of September declined to 73.7m.
While that was caused anomalous extra harm by the exclusion of 1.1m listeners who previously resided in Australia and New Zealand – where Pandora recently closed its operation – the worrying signs are now glowing neon.
Even if you go as far back as Q1 2014, when Pandora first started reporting its quarter-end active listener numbers, you won't find a figure as low as 73.7m.
Over the past year, in a straight Q3 to Q3 comparison, the company has lost 4.2m users.
---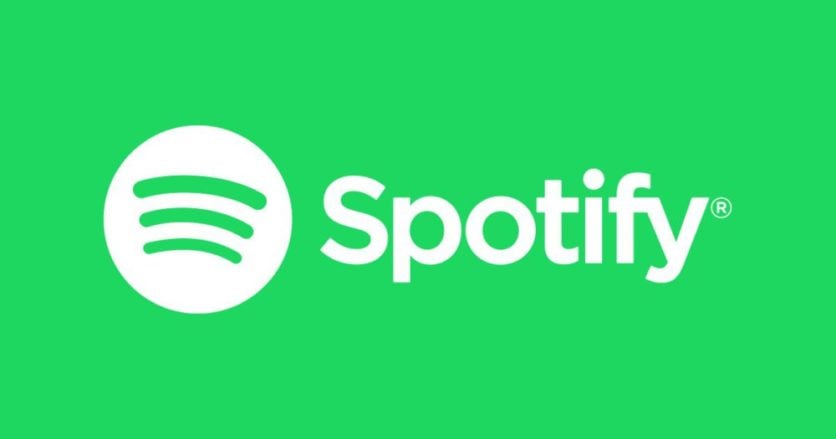 Another interesting/tragic juxtaposition for you: Spotify announced in June this year that its monthly active user number had surpassed 140m.
That meant it was adding somewhere around (or more than likely, above) 10m net active users a month, and therefore should currently hover around the 180m/190m mark.
In other words, Spotify's global active user base is now more than double that of Pandora's.
Compounding the misery: as recently as June 2015, Pandora actually had more active users around the world: 79.4m vs. Spotify's 75m.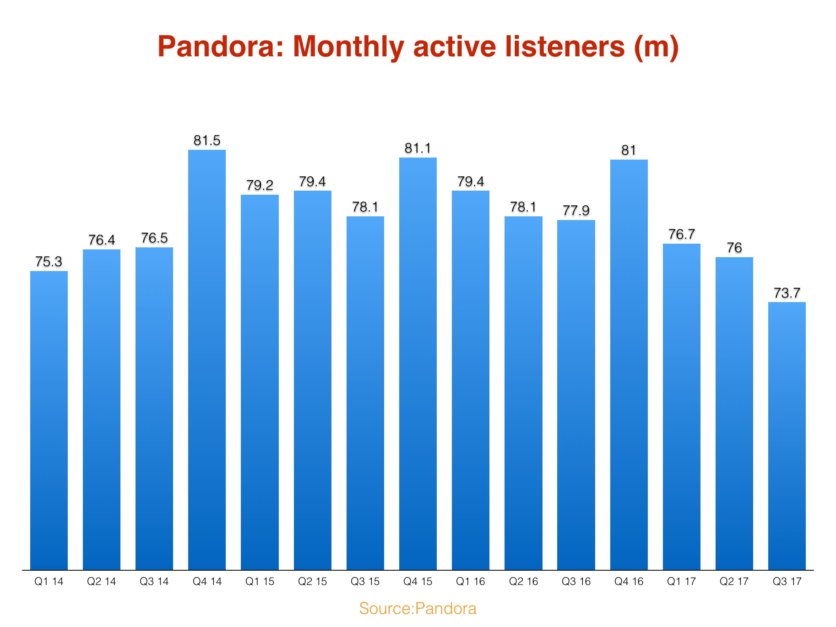 Fiscally speaking, the most worrying trend for Pandora – one evidently freaking its shareholders – is the slowdown in advertising revenue seen so far this year.
According to its Q3 stats, Pandora brought in $275.7m in the quarter from advertising – up just 0.74% on the $273.72m attracted in the same period of 2016. Less than 1%!
In the nine months to end of September this year, Pandora accrued $777.3m from advertising.
That was up just 2.4% year-on-year.
In the full calendar year of 2016, these figures were up 14.9%.
In the full calendar year of 2015, they were up 27%.
And in 2014… they were up 40%.
That's some slowdown.
---

The only real bright spot for Pandora in its Q3 results – to an extent – was its subscriber growth.
Its $9.99-a-year Pandora Premium tier, which launched early this year, officially surpassed a million subscribers last month.
In Q3, the firm had 5.19m paying subscribers in total, across both its full premium tier and lower 'Pandora Plus' tier.
These figures were heralded by the company as standout milestones.
And while they're not to be sniffed at, basic calculations show the teeny impact subscription is having on Pandora's bigger fiscal crises.
According to Pandora, its subscriber ARPU in Q3 – again, across all paying tiers – stood at $5.58 a month.
Across those 5.19m subscribers, then, that makes for $28.96m a month – or around $350m a year.
Despite this subscription revenue boost, plus over $275m in quarterly advertising revenue, Pandora's net loss in Q3 was $66.2m – widening by $4.7m on the same figure in 2016.
And it's here things start getting really ugly.
---
According to MBW's calculations, Pandora has posted cumulative net losses of $1.02bn in the past four years.
Technically, it's actually less than the past four years: from Jan 2014 to September 2017.
A billion dollars. Up in smoke.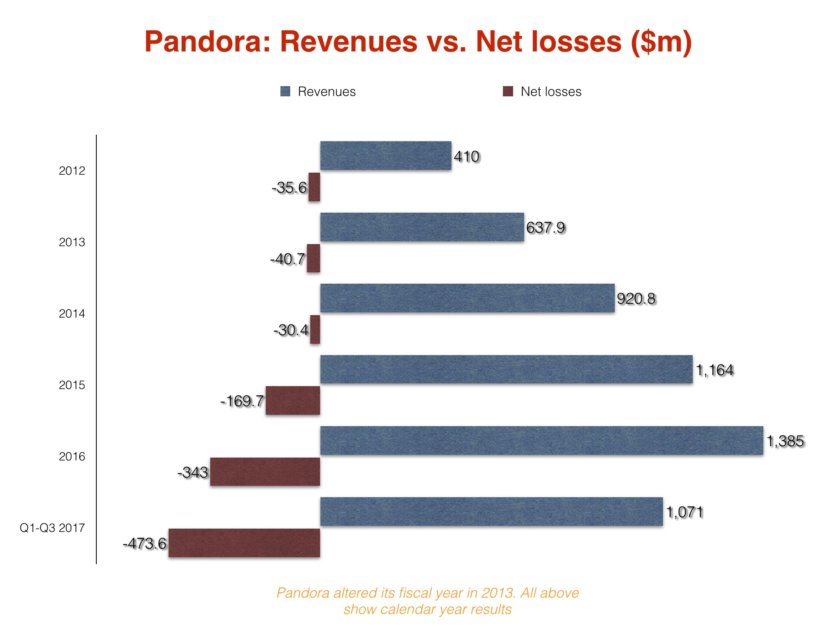 ---
Pandora has posted net losses of $473.6m so far in a 'transformative' 2017 – which has seen it part ways with CEO Tim Westergren and other top execs, as well as the sale of its Ticketfly business to Eventbrite.
Although this figure includes a one-time Q2 goodwill impairment write down of $132m related to the net assets of Ticketfly (and other one-time expenses), it's a very alarming indication of the firm's long-term sustainability.
As it, it doesn't have any sustainability.
It now looks almost guaranteed that Pandora, which lost $90m in Q4 2016, will post net losses in excess of half a billion dollars in this calendar year. Yikes.
---
The new regime at the top of Pandora includes some very smart and respected people – not least Greg Maffei, the recently-appointed Chairman of the company's board.
Maffei is also Chairman of SiriusXM, which acquired an effective 16% stake in Pandora when it invested $480m in the flailing business back in June.
The question now is what Maffei and other newbies at the top of Pandora can do to transform a company which is haemorrhaging money, value and users at a frightening rate.
"Pandora is very much a business in transition, and there are tangible challenges," admitted new CEO Roger Lynch (pictured, main) to investors last week.
"Our user base has declined in recent quarters, our ad revenue has not grown as much as we would have liked… and as a result our shareholders returns have been poor."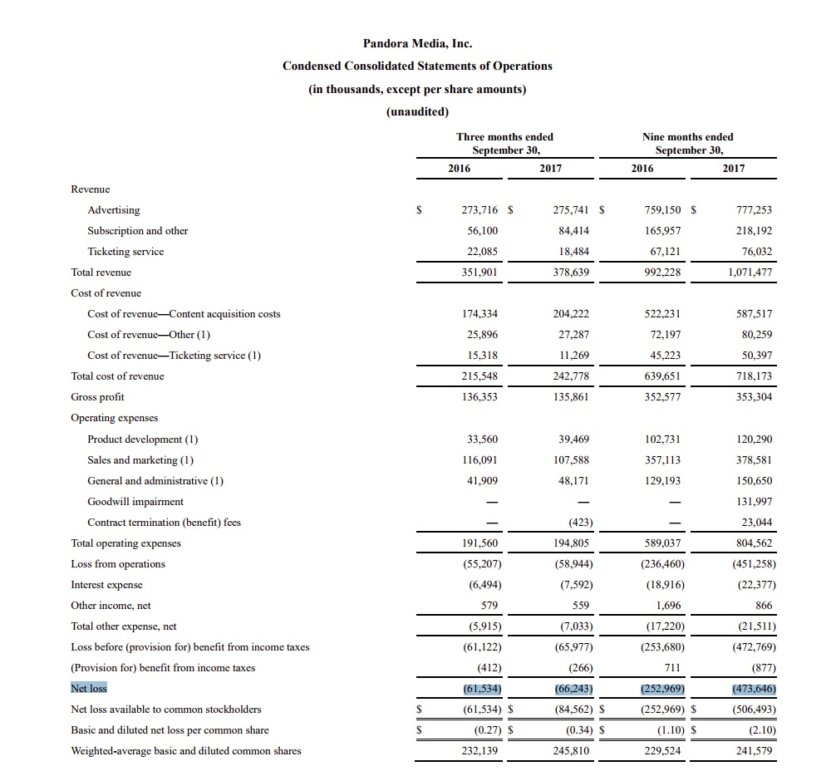 ---
Lynch said positive things about the potential for tying Pandora to smart speakers, before suggesting that a material move into other content types – including traditional talk 'radio' and podcasts – could help spur the company forward.
That would certainly help reduce the biggest drain on Pandora's finances – its content payments to music rights-holders, which burned up $587.5m in the first nine months of this year, or 55% of its total revenues.
There is an interesting question around whether a more 'talkie' Pandora will be less distinguishable from SiriusXM – and therefore if it sets up a neat merger between the companies in future.
But, for now, there is a more urgent issue at hand: Pandora needs to stop, and dramatically reverse, the millions of listeners who keep leaving its service.
"There's no silver bullet that will immediately address all [our] challenges," said Lynch to investors last week.
Forget silver bullets; from this vantage point, Pandora has one of two medium-term hopes: (i) a sale to a strategically-placed suitor in the not-too-distant future or (ii) an out-and-out miracle.
---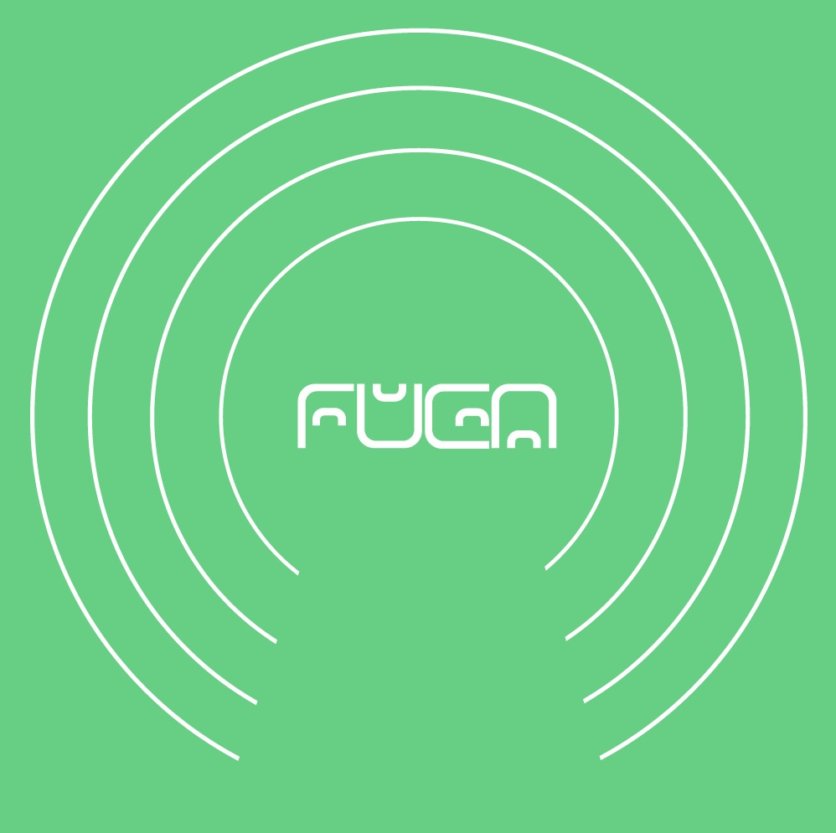 The MBW Review is supported by FUGA, the high-end technology partner for content owners and distributors. FUGA is the number one choice for some of the largest labels, management companies and distributors worldwide. With a broad array of services, its adaptable and flexible platform has been built, in conjunction with leading music partners, to provide seamless integration and meet rapidly evolving industry requirements. Learn more at www.fuga.comMusic Business Worldwide