One year after Pandora cut 100 jobs from its global workforce, it's once again taking an axe to headcount.
The streaming music company today announced an 'organizational restructuring' which it says will 'shift resources to focus on ad-tech and audience development efforts while positioning the company for improved operating leverage over time'.
Around 5% of its global workforce will lose their jobs by the end of Q1 2018, it confirmed in a financial note to shareholders.
Pandora further confirmed in a statement: 'Effective immediately, a combination of eliminated roles and other cost-saving measures are expected to result in combined annualized savings of approximately $45 million to adjusted EBITDA.'
---
These savings, says Pandora, will be reinvested into areas including ad-tech, non-music content, device integration and marketing technology.
Other new cost-saving measures at Pandora announced today include 'tighter business processes, automation, expansion in lower-cost locations and management of content costs'.
Something certainly needs to change: in the first nine months of last year, Pandora posted a cumulative net loss of $473.6m.
What's more, its global official active listener base at the end of September 2017 declined to 73.7m – its lowest point for over three years.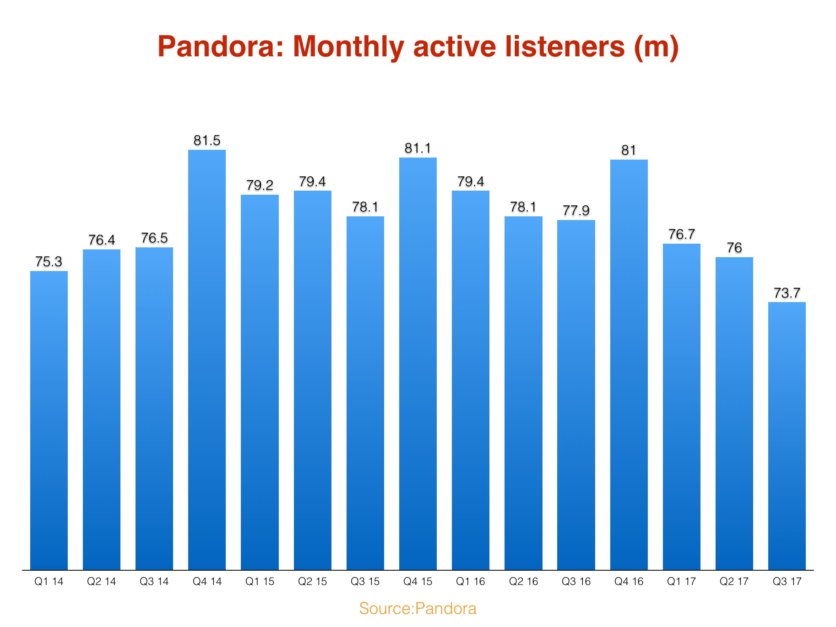 ---
As a result of the new cost reduction efforts, Pandora says that it expects operating expenses, excluding subscription commissions, to represent a lower percentage of revenue in full-year 2018 than in 2017.
"Pandora is the largest music streaming service in the US. People spend more time on Pandora than any other digital platform in the country, and as our dynamic industry evolves, we must also evolve," said Roger Lynch, CEO of Pandora (pictured).
"As I shared last quarter, we know where and how to invest in order to grow. We have an aggressive plan in place that includes strategic investments in our priorities: ad-tech, product, content, partnerships and marketing.
"I am confident these changes will enable us to drive revenue and listener growth."
---
In line with its restructure, Pandora also today announced plans to expand its presence and workforce in Atlanta – a region with lower costs than the company's headquarters in Oakland, CA.
"Atlanta is a city with a rich history in music and a large pool of diverse tech talent that we can tap into as we scale," added Lynch.
"While we are committed to having Oakland remain our headquarters, we're excited to build on the great foundation of our awesome team there and expand our presence in Atlanta over time."
"These changes allow us to act faster, invest for growth and extend our leadership as the audio market hits what we believe will soon be a major inflection point," said Lynch.Music Business Worldwide