MBW's Stat Of The Week is a series in which we highlight a single data point that deserves the attention of the global music industry. Stat Of the Week is supported by Cinq Music Group, a technology-driven record label, distribution, and rights management company.
---
Concerts giant Live Nation just delivered what it says was the "biggest summer concert season in history".
According to new investor filings, the company generated Q3 revenues of $6.15 Billion in the three months to end of September, up 63% YoY.
Those revenues were generated across all divisions, including concerts, ticketing and advertising & sponsorship.
Live Nation delivered these results, according to President and CEO Michael Rapino, writing to investors this week, "despite varying economic headwinds including inflation".
He added: "Fans around the world continue prioritizing their spend on live events, particularly concerts.
"We have not seen any pullback in demand, as on-sales, on-site spending, advertising and all other operating metrics continue showing strong year-on-year growth."
The company's record quarter was driven by its concerts division, which generated revenues of $5.29 billion, up 67% YoY (see below).
Rapino told investors that the company is seeing "double-digit attendance growth across all venue types including clubs, theaters, amphitheaters, arenas, stadiums and festivals".
Live Nation says that it held 11 thousand concerts for over 44 million fans across nearly 50 countries in Q3 – its highest quarterly attendance ever.
Attendance at the company's stadium events more than tripled to 8.7 million fans in Q3 2022 compared to Q3 2019.
Attendance at the company's festivals was approximately 6.5 million in Q3 2022, up nearly 40% compared to Q3 in 2019.
Year-to-date, 89 million fans have attended 31,000 Live Nation events
---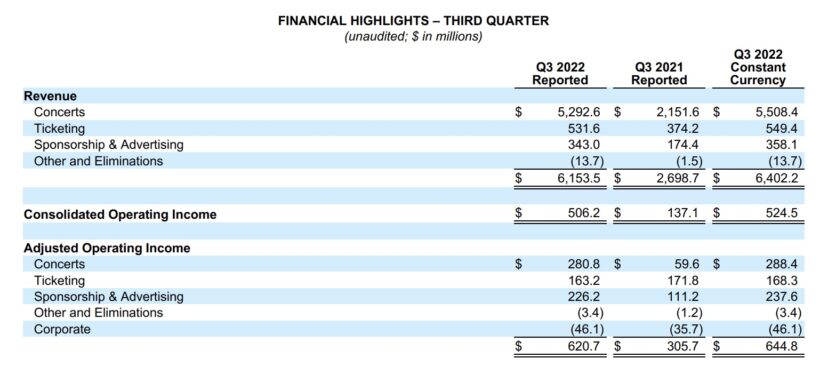 ---
The company's ticketing business, meanwhile,  generated revenues of $531.6 million in Q3.
Sponsorship and advertising generated revenues of $343 million in Q3.
Live Nation says that its sponsorship business, which saw its biggest quarter ever in Q3 2022, was driven by the strength of its festivals and online partnerships.
"Festival sponsorship has been our largest growth driver on-site to date, as we have effectively leveraged record festival attendance this year and compounded this growth with double-digit increases in per fan sponsorship," said Rapino in his letter to investors.
As of September 30, 2022, Live Nation's total cash and cash equivalents were $5 billion, which the company says "includes $1.3 billion in ticketing client cash and $2 billion in free cash".
This free cash, along with $565.9 million of available debt capacity, gives the company $2.6 billion of available liquidity.
Credit: Live Nation/press

"Clearly 2022 has been an incredible year of returning to live events, and we expect it to finish strong."

Micahel Rapino
Looking ahead to the rest of 2022 and 2023, Rapino told investors in his letter that "clearly 2022 has been an incredible year of returning to live events, and we expect it to finish strong".
He added: "Momentum is strong with early signs pointing to continued growth in 2023 across our businesses.
"Ticket sales for shows in 2023 are pacing even stronger than they were heading into 2022, up double-digits year-over-year, excluding sales from rescheduled shows.  In our sponsorship business, confirmed commitments are up 30% from this time last year, showing the resiliency and long-term commitments that brands have for our business.
Beyond these specific leading indicators, going into 2023, we expect we will drive growth in our concert business by adding more venues to our operated portfolio, continue increasing ancillary per fan revenue and further our efforts to deliver market value for the show to artists.
"And in ticketing, we expect to benefit from these market pricing trends, while also continuing to globally add new clients to our world-class platform.
---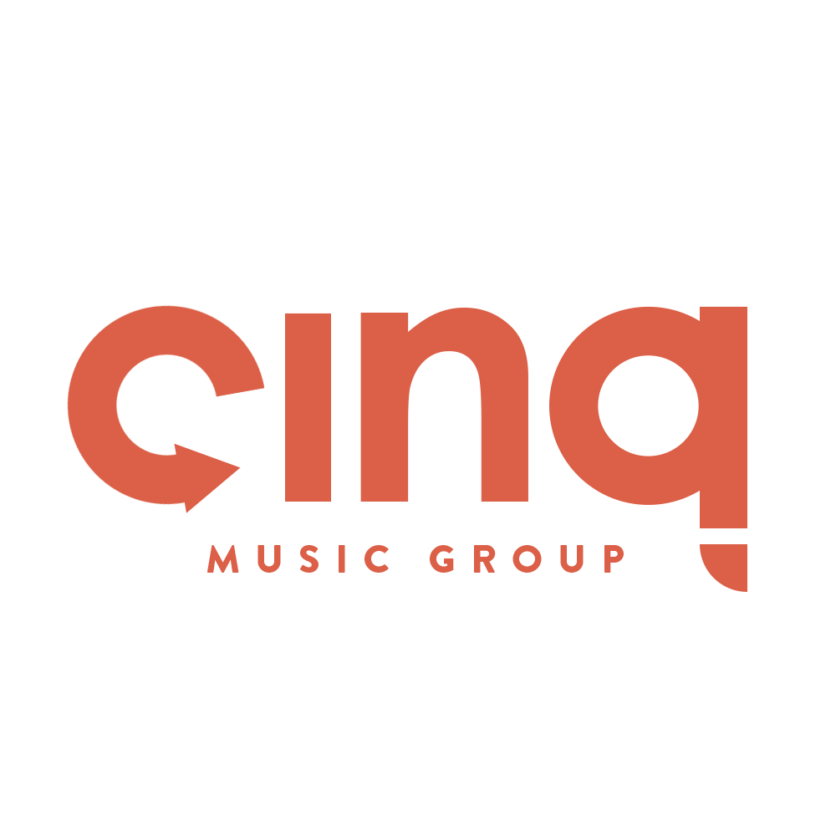 Cinq Music Group's repertoire has won Grammy awards, dozens of Gold and Platinum RIAA certifications, and numerous No.1 chart positions on a variety of Billboard charts. Its repertoire includes heavyweights such as Bad Bunny, Janet Jackson, Daddy Yankee, T.I., Sean Kingston, Anuel, and hundreds more.
Music Business Worldwide