Which record company had the most positions on the weekly Spotify Top 200 in Brazil in the first half of this year: Universal Music, Sony Music, or Warner Music?
Trick question. Sony technically had the most, when you include Brazilian label Som Livre, which the major acquired for $255 million last year.
But if you counted Sony Music (and The Orchard) and Som Livre separately, the No.1 company on this particular list isn't a major music company at all: it's ONErpm.
Nashville-headquartered ONErpm was founded 12 years ago this month by entrepreneur (and the company's CEO) Emmanuel Zunz. The business targeted Brazil as its priority market from the very start.
"Brazil was the first office we opened in July 2010," recalls Zunz, who studied in the LatAm country.
"We were probably the first business to go into Brazil and provide a music DIY platform that was both open to anybody and transparent. And at the time we were extra rare because we actually paid people!"
---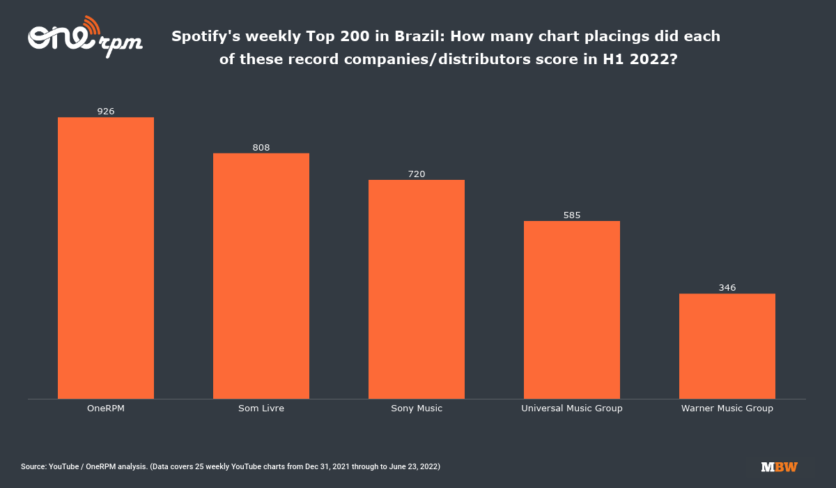 ---
Today, ONErpm has far outgrown its DIY distribution beginnings. The firm still does run a DIY tier, but – somewhat akin to Believe's model – it also invests more heavily in a smaller pool of artists, like a label would.
Some artists (those within what ONErpm calls its 'Taking Off' tier) are paid advances and given in-house marketing/PR/playlisting support to accelerate their careers; others ('Next Level') might even share copyright ownership with ONErpm, and receive a more blockbuster level of investment.
Today, with a global staff of over 450 people – and a dedicated A&R staff of over 60 people – the company says it aggressively sources new business from all corners of the music market.
In addition, over the past few years, ONErpm has been quietly acquiring copyright catalogs from artists and labels, with Zunz estimating that 'owned' or 'part-owned' copyrights now account for a significant single-digit percentage of ONErpm's repertoire.
By building this model over the past dozen years, and expanding into territories such as the US, Chile, Colombia, Jamaica, Argentina, Spain, the UK, Australia, and Nigeria, ONErpm – according to MBW's sources – is a profitable and fully independent business (i.e. no VC capital). It currently operates in no less than 30 global territories (see below).
MBW's sources also tell us that on a gross revenue basis, ONErpm turns over a nine-figure sum annually – although obviously the majority of this is paid out as royalties to artists and labels.
---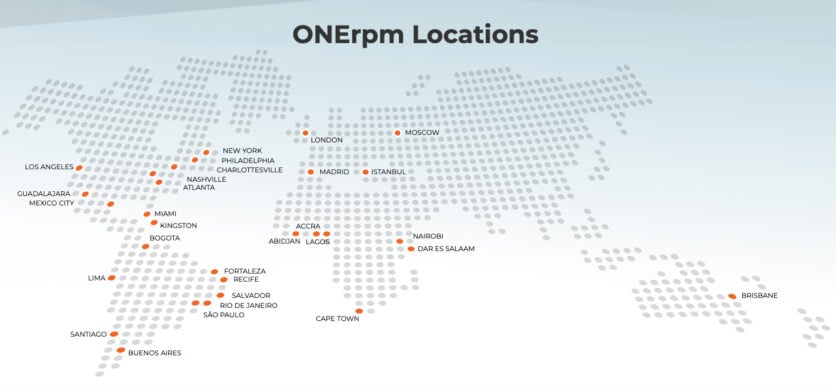 ---
Zunz won't be drawn on his firm's finances, but does say his company's revenues grew by 70% last year, and he's expecting further 30%-plus annual growth in 2022.
The scale of the business is obviously impressive – and not just in LatAm.
Zunz says that ONErpm artists/tracks currently attract approximately 12 billion plays a month on YouTube, tens of billions of plays a month on TikTok, and over 3 billion streams per month across Spotify and Apple Music combined.
You probably don't need MBW to tell you how smart ONErpm's early focus on Brazil was. Zunz says it gave his business a "first-mover advantage" on other companies servicing indie artists.
According to IFPI statistics, Brazil was the world's 10th largest recorded music market in 2021. And according to local trade body ProMusica, Brazil's annual subscription streaming revenue shot up by 28% YoY in 2021, to BRL 1.084 billion (around $219m).
---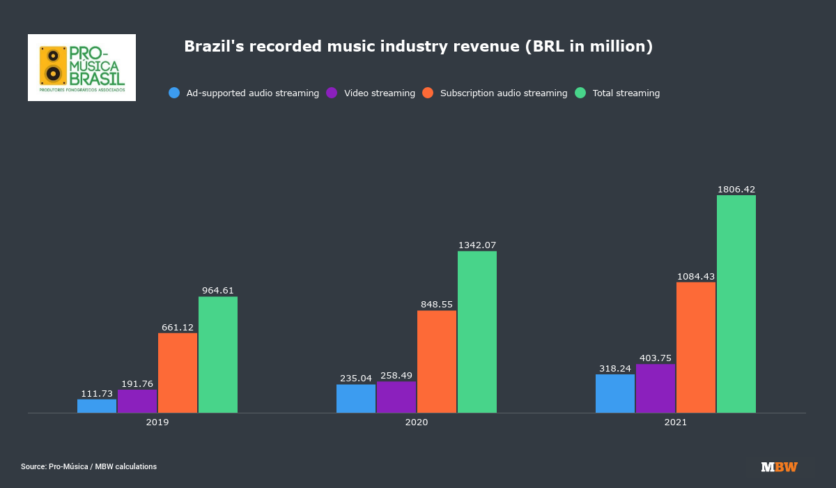 ---
ONErpm's success in Brazil certainly isn't limited to Spotify: On YouTube, for example, it beat the likes of Universal Music and Warner Music in the first half of 2022 in terms of the number of distributed artists taking places on the platform's weekly Top 100 (see below).
In turn, ONErpm's success in LatAm isn't limited to Brazil: The company has seen similar levels of major-beating/major-baiting success in the likes of Chile, Peru, and Colombia. (Based on the IFPI statistics for 2021, Zunz believes that ONErpm took a 20% market share in that territory by revenue last year.)
"We are big believers that the 'creator economy' and direct-to-fan platforms, including YouTube, will continue to change the global music business for the better."

Emmanuel Zunz, OneRPM
Says Zunz: "We have built very clever technology that helps us manage all of our marketing campaigns in each territory. Because of that, we have economies of scale, which a lot of our competitors don't – including the majors. It means we're able to render high-quality services for artists at much more affordable rates.
"We're no longer just a distribution company; we're a full-service music company for artists that also happens to offer a distribution solution."
He adds: "We are big believers that the 'creator economy' and direct-to-fan platforms, including YouTube, will continue to change the global music business for the better. We have built significant infrastructure to support those creators."
---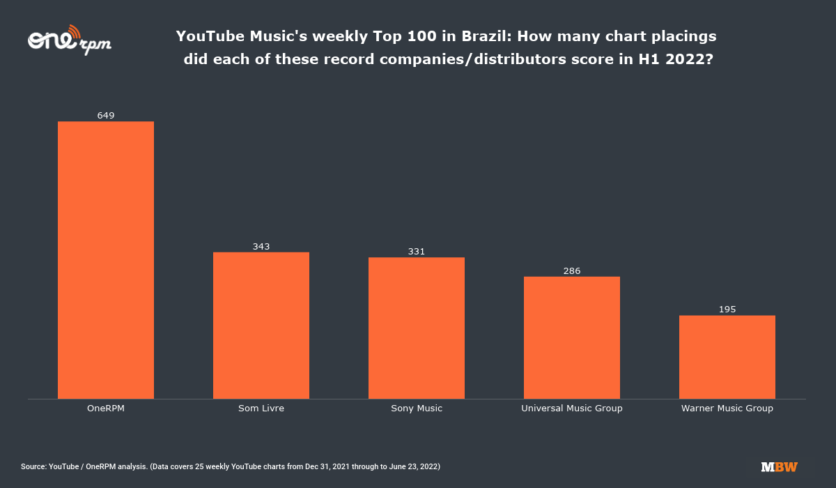 ---
For the rest of 2022, Zunz and his team are laser-focused on globally expanding the ONErpm model.
This plan sprung into life last month with the announcement that ONErpm was adding five new offices to its setup in Africa: in Accra, Ghana; in Abidjan, Côte d'Ivoire; in Nairobi, Kenya; in Dar es Salaam, Tanzania; and in Johannesburg, South Africa.
These new launches joined ONErpm's office in Lagos, Nigeria, which the company opened in 2020.
More expansion is on the horizon for ONErpm, too.
"We're in the process of opening up properly in Asia, hiring our first people in China, in Malaysia," explains Zunz, who says that he's aiming to double the size of ONErpm's business in the next three or four years.
The gateway to that growth, he explains, will be based on two things:
(i) Technology that allows ONErpm to efficiently scale its artist/social marketing, while also providing other premier services to artists around the globe; and
(ii) The company's DIY tier, which operates as its entry point to tens of thousands of indie artists in any territory in which it operates.
Case in point: Zunz says that across Africa, following the recent expansion, ONErpm already has over 30,000 different artist accounts distributed via its system.
The next step will be highlighting those 'Taking off' and 'Next Level' artists – i.e. the acts whose early success indicates that ONErpm should start investing more into their careers.
"There was a run [to acquire] us last year by the majors, and there's been a run [to acquire] us this year by private equity firms. None of that is interesting to me."
Zunz says that ONErpm currently works with around a million different artists and labels globally, and that it provides "bespoke services" (i.e. additional investment and sync/marketing/PR/playlisting support) to somewhere between 2% and 5% of them.
"We are a full-service music company that really knows how to market your music," says Zunz. "For our artists and creators, we can be everything from your distributor all the way to being your record label, and anything in-between.
"We're one of the last truly independent music companies of this size that are out there. So many other companies of our size have been bought, and that's kind of scary."
"We fully intend to stay independent," he adds. "There was a run [to acquire] us last year by the majors, and there's been a run [to acquire] us this year by private equity firms. None of that is interesting to me.
"What is interesting to me is doubling the size of ONErpm and expanding into all of these different markets – we will have 33 offices open worldwide by the end of this year.
"That way, we can move into a position where we can be as big as we can be – while maintaining the flexibility to continue running this business the way we want."Music Business Worldwide