We can't talk about streaming subscribers these days without mentioning Netflix. The video streamer lost nearly a million net subscribers in Q2 (the three months to end of June) – which was better than expected but, following the loss of 200,000 net subs in Q1, also obviously not good news.
What, then, of Spotify?
Did it suffer from a similar trend in its Q2 numbers? Did its subscriber performance send out a worrying message for the music business?
Nope.
In its Q2 results announced today (July 27), Spotify has confirmed that it added 6 million net Premium subscribers to its user base in Q2, taking its total global subs up to 188 million.
That was bigger than the 5 million subscribers SPOT previously told investors it was expecting to add in the second quarter.
This isn't just positive news for Spotify, of course: Universal Music Group's Q2 fiscal numbers are expected to be announced later today (July 27). Spotify remains UMG's (and the music industry's) biggest global streaming subscription partner.
It also means that, with 2 million net subscriber adds banked in Q1, Spotify added a total of 8 million additional net Premium subscribers in the first six months of 2022.
---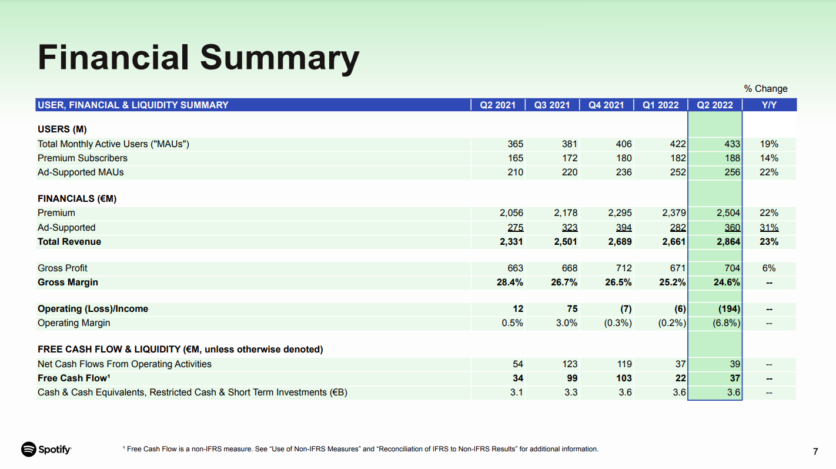 ---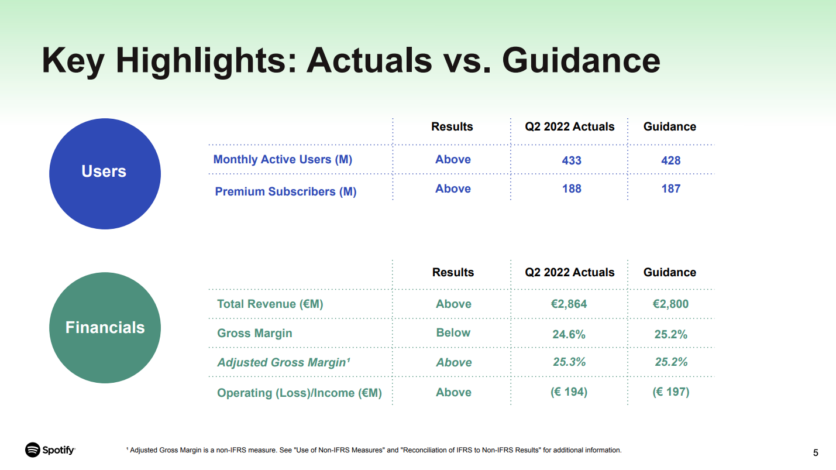 ---
Elsewhere in Spotify's results today: The service added 11 million monthly active users (MAUs) in Q2, taking its total user base up to 433 million people.
(Spotify says that Q2 net MAU addition number was actually 19 million when you exclude the effects of it exiting the Russian market, as well ignoring the impact of a "brief service outage benefit we experienced in March".)
In terms of finances, Spotify generated €2.86 billion (USD $3.05bn) in quarterly revenues in Q2, up 23% year-on-year (15% at constant currency).
The company posted a gross profit of €704 million ($750m), reflecting a gross margin of 24.6% – down on the 25.2% margin it posted in Q2.
It recorded a €194 million ($207m) operating loss in the second quarter, slightly smaller than the €197 million op loss it previously forecast.
Spotify also provided some forecasts for Q3 2022 (the three months to end of September) today.
SPOT now expects to add another 6 million net new Premium subs in Q3, taking its total subs to 194 million.
It also expects to add 17 million net MAUs in the quarter, taking its total user base to 450 million by the end of September.
---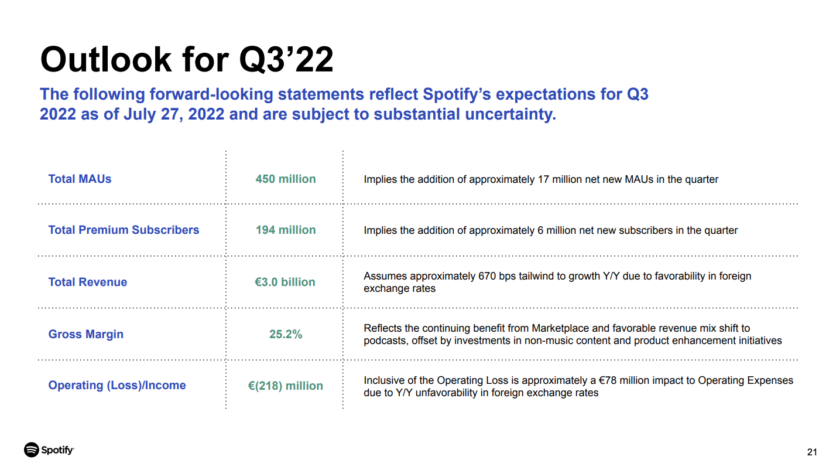 ---
Spotify said in a statement to investors today: "Nearly all of our key metrics surpassed guidance in Q2'22, led by MAU and Subscriber outperformance, healthy Revenue growth and a modestly better Operating Loss. Most notably, MAU performance accelerated this quarter, with net additions reaching a record Q2 high of 19 million.
"Reported Gross Margin was negatively impacted by our decision to stop manufacturing Car Thing, partially offset by a positive change in prior period estimates for rights holder liabilities. Excluding the one-time charge and change in accruals, Gross Margin of 25.3%² was modestly ahead of guidance. Free Cash Flow was a positive €37 million.
"While we continue to monitor the uncertain macro environment, we are very pleased with the resilience of the business, particularly our strength in MAUs and Subscribers."
---
Spotify announced two acquisitions in Q2: audiobook platform Findaway, plus AI voice platform Sonantic.
Spotify said that the latter acquisition, which closed on July 11, 2022, "will allow us to provide new unique experiences for our users and engage users in new and more personalized ways".
Earlier this month (July), Spotify announced the acquisition of music trivia game, Heardle.
---
All EUR-USD currency conversions in this story have been made at the average quarterly rate stated by the European Central Bank.Music Business Worldwide