You'll be able to stream to Prince on Tidal today, but that's it.
After his non-appearance on Apple Music earlier this week, the Purple One has removed his back catalogue from Spotify and other audio streaming services.
According to Spotify's now-threadbare Prince albums page, 'Prince's publisher has asked all streaming services to remove his catalogue.
'We have cooperated with the request, and hope to bring his music back as soon as possible.'
(Unlike some other streaming holdout artists, Prince's hits are actually quite hard to find on YouTube – suggesting his team are vigilant take down-ers.)
[Update: Rhapsody/Napster users are reporting that Prince's material is still up on the service – so it looks likely that he's removed his catalogue from platforms with a freemium tier – which Tidal doesn't have.]
The pop-funk icon's decision to stick with Tidal is particularly intriguing.
By virtue of elimination elsewhere, his classic library now appears to count as yet another infamous Tidal 'exclusive'.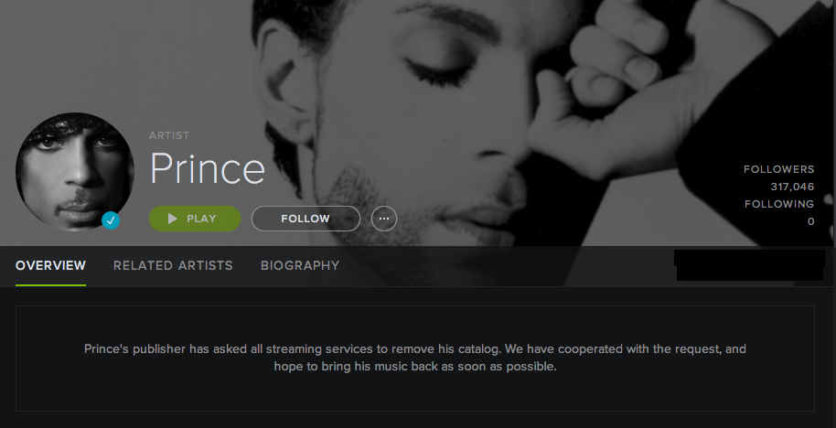 Prince effectively bought control of his catalogue from Warner Bros last April, before licensing it back to the major.
The deal, which covered every Prince album released from 1978 into the nineties, meant the artist now owns both master and publishing rights to his most popular material.
After Prince announced the Warner Bros deal, he assigned his publishing rights to NPG Music Publishing, which appears to be a company specifically set up to deal with his copyrights.
Apple Music launched on Tuesday (June 8) without Prince's classic albums.
In addition, it has not been licensed by Ministry Of Sound.Music Business Worldwide