Norway's recorded music market, like most of Scandinavia, has enjoyed impressive annual growth for the past five years, driven by exciting increases in streaming revenue.
But in 2014, that growth came to a halt.
MBW analysis shows that physical music sales in the country are now at their lowest point in history, with the CD market in particular on the verge of death.
And for once, last year, the likes of Spotify and WimP (Tidal) couldn't quite make up the shortfall created by CD's decline.
In 2014, the total recorded market in Norway was down 0.3% to 601m Norwegian Krone (NOK) (€68.9m) from 603m NOK in 2013 (€69.3m).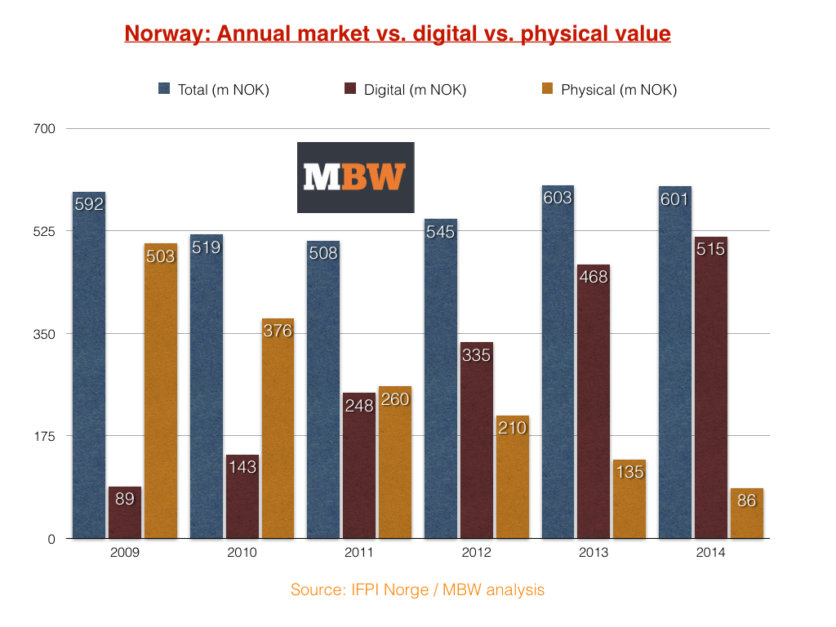 According to new IFPI Norge data analysed by Music Business Worldwide, streaming continued its relentless growth in the year, leaping up 14% including 100,000 new subscribers.
That meant Norway's streaming audio market value topped 451m NOK (€51.7m) in 2014, up by 56m NOK (€6.4m) from 395m NOK (€45.3m) in 2013.
As a result, streaming now claims 75% of the total market in Norway.
But, for once, streaming is not the only headline story: 2014 will go down as the year that the CD was hurt beyond repair in Norway, the world's 15th biggest recorded music market.
MBW calculations based on stats provided by IFPI suggest that the value of the Norway CD market was close to being halved in 2014 – down a life-ending 42% to a dismal 71m NOK (€8.1m); its lowest point in history.
That means that CD sales now claim just 11.8% of Norway's total recorded music business.
In Germany – which grew in 2014 – CD claims around 75% of the market by value. In the UK, CD takes around 64% of annual album sales market by volume.
Norway's Recorded music market in 2014: vital facts
Streaming value jumped up 14% to 451m NOK (€51.7m) in 2014. It now claims 75% of the market.
The total value of physical music in Norway plummeted 36% in 2014 to 86m NOK (€9.9m). That's the first time it had fallen under 100m NOK since IFPI records began in 1977.
The IFPI Norge stats don't explicitly provide data on CD's specific value, but MBW estimates suggest that the CD market was worth around 71m NOK (€8.1m) in 2014. That compares to approx. 122.5m NOK (€14.1m) in 2013 – meaning the CD market was down last year by around 51.5m NOK (€5.9m), or 42%.
Vinyl generated 15m NOK (€1.7m) in 2014 – or 17.8% of the physical market and around 2.5% of the total market – up from 12m NOK (€1.4m) in 2013.
The download market also declined in 2014, but not to the same degree as CD. It turned over 64m NOK (€7.4m) in the year, down 15% on the 75m NOK (€8.6m) it generated in 2013.
International music made up 79% of Norway's total sales in 2014.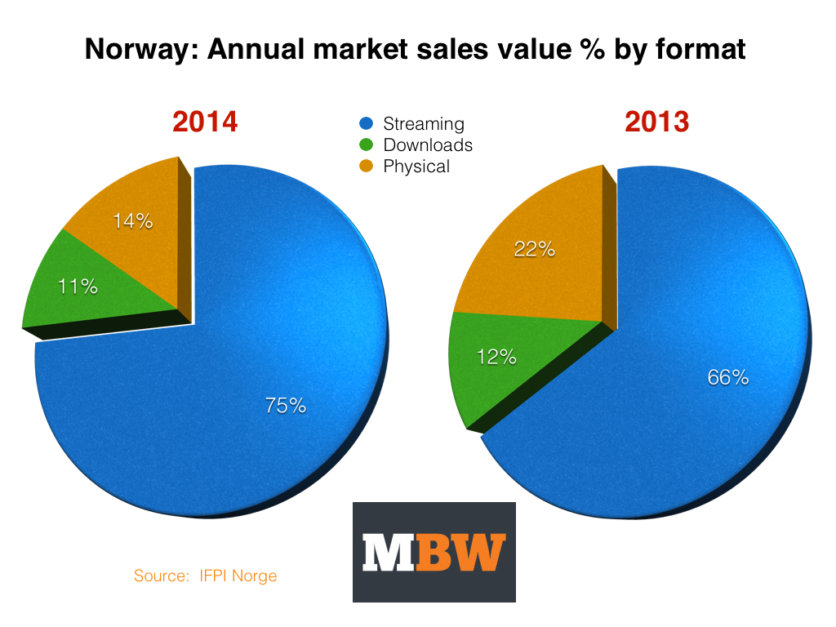 Managing Director, IFPI Norway Marte Thorsby said: "That so many have moved from physical formats and download to streaming is a good sign that we have found a sustainable business model for distribution of music that is embraced by consumers.
"Streaming as the dominant business model has also created many discussions and high temperature [debates]… [but] the streaming economy [gives] the consumer power. Releases consumed in large volume gives a good economy, both for label and artist – meaning the music market works like most other markets for the sale of goods and services."
[Pictured; Jason Derulo's Tattoos – the biggest-selling album in Norway last year]Music Business Worldwide