Recorded music income was up a healthy 7% in Norway in the first half of 2015, with streaming finding yet more growth to heavily dominate the market.
Total revenues stood at 305 NOK (€34.2m), up from 285m NOK (€32m) in H1 2014.
According to IFPI stats, Norway was the 15th biggest recorded music market across last year. Ahead of the likes of China, India, Belgium and Switzerland, it amassed US $119.9m (756.6m NOK) in the 12 months.
In the first half of 2015, income from streaming rose 12.7% from 220m NOK (€24.7m) to 248m NOK (€27.9m).
Revenues from the various streaming services now account for 81% of total turnover, compared to 77% in the first half of 2014.
Streaming wasn't the only good news story in the first half of 2015, either:  physical sales rose slightly to 36m NOK (€4m), Compared with 35m NOK (€3.9m) in H1 2014.
The increase was due to a jump in sales of vinyl of nearly 3m NOK, to 8.7m NOK (€0.98m).
As such, vinyl now accounts for almost a quarter (24%) of all physical music product revenue in Norway.
Sales of artists signed to Norwegian record companies increased to claim 25% of the market by value.
On streaming services alone, these artists took 22%.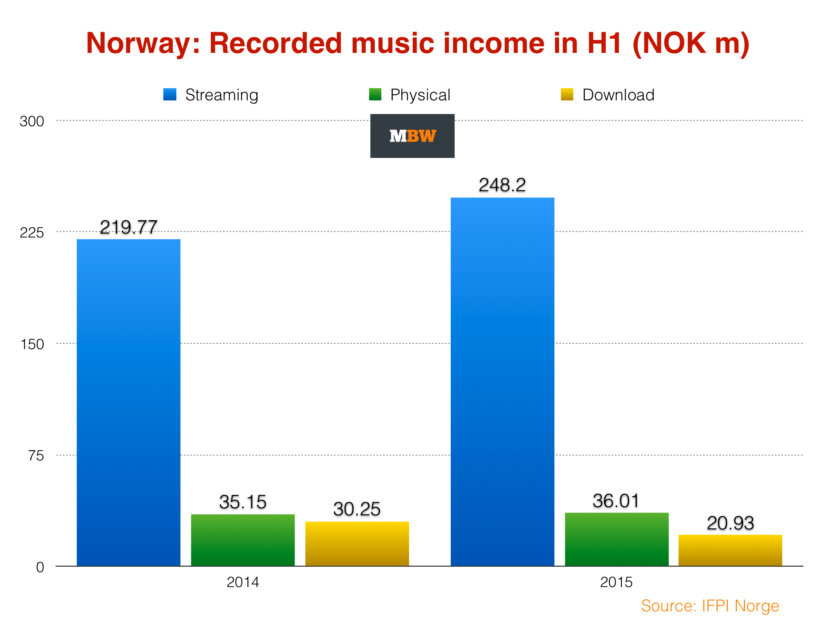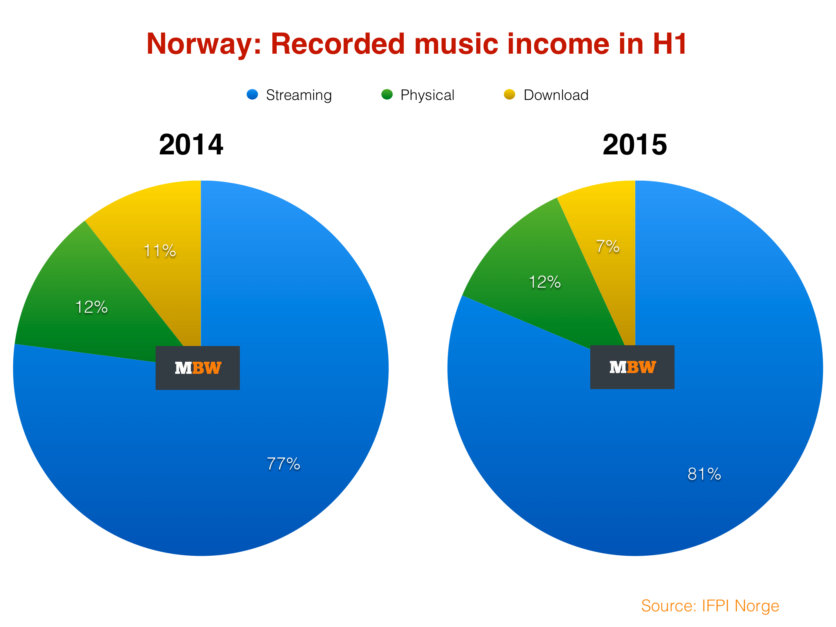 Marte Thorsby, CEO of IFPI Norway, said: "Continued revenue growth within streaming services is good news for the Norwegian music industry and for Norwegian music. This shows that the market is still not saturated and we will probably see an increase in the years to come."
Sales of downloads will be significantly reduced, from 30m NOK (€3.4m) in the first half of 2014 to 21m (€2.4m) in H1 2015.
Downloads now account for less than 7% of the turnover of music in Norway.
[Pictured: Kygo, who across two singles – Firestone and Stole The Show – claimed the No.1 spot on Norway's singles chart for nine of 2015's first 26 weeks. Credit: Olav Stubberud]Music Business Worldwide