Mark Mitchell and Nick Burgess, the co-Presidents of the UK's Parlophone, have faced a number of challenges since they took over three/two years ago.
(That's three/two because, when they were announced as the new bosses in January 2018, Mitchell was already in the building, as GM of Atlantic, Burgess was Head of A&R at Virgin EMI, embroiled in a contract situation which meant he didn't complete the pairing for another year and a bit.)
The main challenge was that the Warner-owned label's golden period – fuelled by the success of Blur and Radiohead and then into the signing and breaking of Coldplay – seemed a long way away. The label had stagnated. "The cupboard", reflects Burgess, "was really quite bare".
Then, a year into their stewardship (both running a label for the first time, remember), COVID happened, interrupting the rollout of a slate of exciting new British artists like Ashnikko, The Snuts, and Sam Ryder.
"Initially", confesses Mitchell, "I just didn't see how this would work". But it did. They did. And their team did.
So much so that now, the pair suggest, the revitalization of Parlophone is on, or ahead, of schedule…
How big a challenge is leading a label through more than a year of this pandemic?
Mark Mitchell: When we first went into lockdown, I remember being on one of my early Zooms and thinking, I don't know if this is going to work, surely a lot of the campaigns are just going to naturally fall away.
But the reality of it has been the complete opposite. I'm really proud of the team; everyone's been absolutely brilliant. If you look at Ashnikko, or The Snuts, or Sam Ryder, we've been breaking and developing those artists during this period.
"I remember being on one of my early Zooms and thinking, I don't know if this is going to work"

MARK MITCHELL, PARLOPHONE
Nick Burgess: We definitely haven't lost audience on any of our acts. The Snuts is an interesting story, because their ecosystem was the live scene, and that was taken away from them, so it's huge credit to the tenacity and adaptability of them and our team that they had such a great year, including a [UK] No. 1 debut album [W.L.].
MM: Every single morning, we have a we have a meeting [amongst] our senior leaders, so everybody knows exactly what's going on. It's almost like having a mini-label meeting every single day. They set the agenda.
And then the other thing for me is I learned the power of power the phone call, just picking up the phone for a chat, with a manager or whoever, no screen in front of you. It felt like a bit of a novelty.
The bottom line is: you have to commit to regular communication.
---
In terms of artist development, what are the stories you'd pick out from the last 12 months?
MM: Two we'd put some focus on right now are The Snuts and Ashnikko.
Ashniko was signed to the label initially on a singles deal. Occasionally, I'd talk to people about her and be like, there's this girl, she's an incredible rapper, she's an incredible singer, she's got amazing vision, but she's absolutely bonkers. And, you know, those artists are always exciting to me: the ones where there are no rules; they see no barriers.
And, actually, talking about no live industry, I think the biggest gig she'd done pre-lockdown was to about 200 people in a warehouse. She's now sitting there with 1.7 billion streams. And it's a true global story.
"I'd talk to people about Ashnikko and be like, there's this girl, she's an incredible rapper, she's an incredible singer, she's got amazing vision, but she's absolutely bonkers."

Mark Mitchell, Parlophone
Our job has been lots of support and a little bit of pointing in the right direction. Quite often, artists who have that incredible vision have a myriad of things they want to achieve.
Our role, drawing on our experience, is to go, okay, there's 10 things you want to achieve here, let's put them into order and help develop a structured campaign.
NB: What we're proud of with Ashnikko and The Snuts is that we signed both of them right at the beginning of their careers. They weren't formed at all as artists. They had a vision, but they didn't quite know how to focus it.
---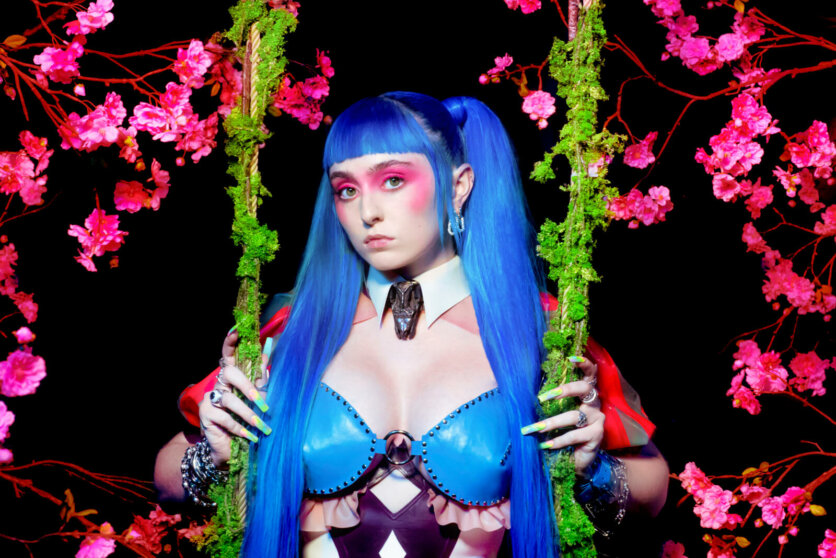 ---
Where are we in terms of Ashnikko's release plans and just generally in terms of where you see her heading?
NB: She's still a subculture artist, she's not a mainstream artist. And we're not trying to make her mainstream until she's absolutely ready to transition.
Bigger picture, in terms of our ambition and her ambition, there's nothing stopping her from becoming as big as the next Lady Gaga or Miley Cyrus. I think she has that unique artistry that creates fascination around the world.
"Bigger picture, in terms of our ambition and her ambition, there's nothing stopping her from becoming as big as the next Lady Gaga or Miley Cyrus."

Nick Burgess, Parlophone
We're waiting for the mainstream to come to us with Ashnikko.
We're not going to chase pop hits, we're just going to chase quality music that speaks to people and has a message.
---
---
How did The Snuts first come to your attention? what was it about them that made you sign them and prioritize them?
NB: Very shortly after I joined Parlophone, a friend of mine mentioned this band that were selling some serious tickets in Scotland and asked if I wanted to go and meet them. I walked through the rehearsal room door and as soon as Jack started singing, I thought he had something magical.
They were possibly the most 'unfashionable' act to sign at that time. I was very aware that I had a huge job to do, and the band had a huge job to do, to make them more current and relevant.
They were very up for the journey. I put them in with a producer called Inflow, who's worked with Michael Kiwanuka, Little Simz and Jungle. He's a very unconventional choice as a guitar band producer, but he loved Jack's voice and they made some incredibly unique music together.
---
---
What was the reaction like, either from your bosses or your peers when you said you were signing a guitar band?
NB: It was literally split down the middle between, 'Why the hell would you sign a band like that?', really scratching their heads, and 50% just saw it as different. I think we got a degree of respect for signing an act no one else would take a chance on.
We just thought, genuinely, we want Parlophone to be a home for unconventional artists. With all our artists, if you put them in a in a room, you wouldn't say they have a huge amount in common in terms of what they sound like, but you probably would say they're not necessarily artists that other labels would sign.
MM: And to all the people who said, 'Why would you do that?', I would say, 'Well, why wouldn't we?' Because if you're just signing things that are going to hopefully work in the marketplace, you're going to become quite a narrow label, and that doesn't really create a culture.
And I'd like to think the success of artists – not obvious, marketplace artists – actually gives hope to younger artists, who hopefully one day will create their own path. I don't know about you, but most of my favourite acts from history weren't the most obvious ones. It's about going against the grain, appealing to the outsiders and the weirdos that's kind of what this label is for.
---
How much of a surprise was the level of success of The Snuts?
NB: I think we hit a little bit of a cultural talking point about guitar music. I think there was a lot of skepticism about the band, but, for me, they're the best band in the UK and I think they're going to go on to become one of the biggest bands in the world.
They're incredibly ambitious, they don't think they've even scratched the surface of what they're capable of doing, and we feel the same.
Their album was actually the first debut album on Parlophone to go to No. 1 since Tinie Tempah in 2010, so, again, I think that speaks to the fact that we do feel we've really got hold of the label now and we've rebuilt its identity how we want it.
---
Who are the artists you want people to look out for over the rest of the year?
MM: We have Sam Ryder. He came to Nick's attention, he mentioned him to me, and this was an artist who'd built a huge following since the beginning of lockdown, through TikTok and Instagram. Huge numbers. And then there were people like Justin Bieber, Sia and some big songwriters dropping into his DMs.
I think he's on 7.5 million TikTok followers, almost 3 million on Instagram, he's built an incredible platform.
But that was also a challenge to us, because when you talk about those numbers, especially on TikTok, people immediately think he's the kind of artist that isn't going to be, you know, a 'real' artist.
But he certainly is, and I genuinely think he's got one of the best voices that's come out in years and years. He's a star.
---
---
Who else is there to flag up?
NB: We've got a new young duo from near Glastonbury called Sad Night Dynamite that we've been developing for a year or so. They're super unusual, creating a real stir, starting to build a fan base.
We've just signed a young artist called PinkPantheress, who's already having a lot of success on streaming.
And we've signed a band called The Gabriels, who we love, they're really fresh and different and soulful, plus there's a young guy called Nick Mono that we're really excited about.
---
How has the A&R process been, and how different has it been, during lockdown?
NB: We've been very active in the market, because Mitch and I wanted to create a new roster with our vision and our tastes.
Our job was to make Parlophone a competitive label again, and I think we've done that. We win competitive deals, we're very aggressive in terms of our desire to win when we identify the right talent.
People have adapted. You get on a Zoom call, you get to know the artist, build those relationships. Granted, it's not easy and it's not as enjoyable. It's hard to sign an artist who you've never physically met and never seen live, you have to take more of a leap of faith, but we've made some big deals with artists who we absolutely believe in.
---
What does success look like for a UK label these days, and for Parlophone in particular? What metrics do you use and how important is chart success in that picture?
MM: I think you've got to have something that is happening at a chart level. I think you've got to have something that is happening on a global level. And I think you've got to have something that is happening on a cultural level.
But the common thing is that they've all got to be developing, even when they're having success. When you look back at the history of Parlophone, and our artists, that's always been the case. They're not artists who make basically the same record twice over and hope that a slightly bigger marketing campaign will make it slightly more successful than last time out. They're not happy with that and neither are we.
NB: It's harder and harder to break new [British] music these days, and I think the challenge for all of us is to fight off the threat of the big, monolithic American artists that seem to be dominating the charts in the UK.
To find our own space in the charts, to get media to really put their weight behind breaking artists; that's really important for us as a label and at a [UK] industry level.
We both want everyone to know that Parlophone has a point of difference, that we stand for something, that we actually are a mark of quality; that we specialize in identifying talent and then helping to articulate their message and realize their vision correctly.
We want to be known for taking risks.Music Business Worldwide