"I think it's one of the really dumb questions I get."
The words of Spotify CFO Barry McCarthy at Goldman Sachs's Communacopia conference in September – responding to a query over whether the music streaming company should consider raising its standard $9.99/£9.99/€9.99-per-month premium subscription price in lucrative markets like the US and the UK.
McCarthy's dismissal irritated some of those within record labels, who are increasingly calling into question Spotify's declining global ARPU (Average Revenue Per paying User) rate.
Spotify's monthly worldwide ARPU has declined dramatically over the past three years, most recently falling to €4.73 ($5.50) in Q3 2018. That was down over €2 per month, or €24 per year, on the equivalent figure at the close of 2015 (€6.84).
The key factors in this ARPU decline include Spotify's pricing in emerging markets, in addition to generous telco bundle agreements, aggressive $0.99-for-three-months Premium price promotions, plus Spotify's Family and Student plans.
One way to push ARPU back up, suggest some, would be for Spotify to increase the price of its offering to consumers.
Yet, with the exception of an experimental 10% price hike in Norway in April last year, Spotify has, so far, stuck to its $9.99/£9.99/€9.99 guns – ignoring calls from music industry figures, not to mention pressure from annual inflation rates, to alter its standard price point.
---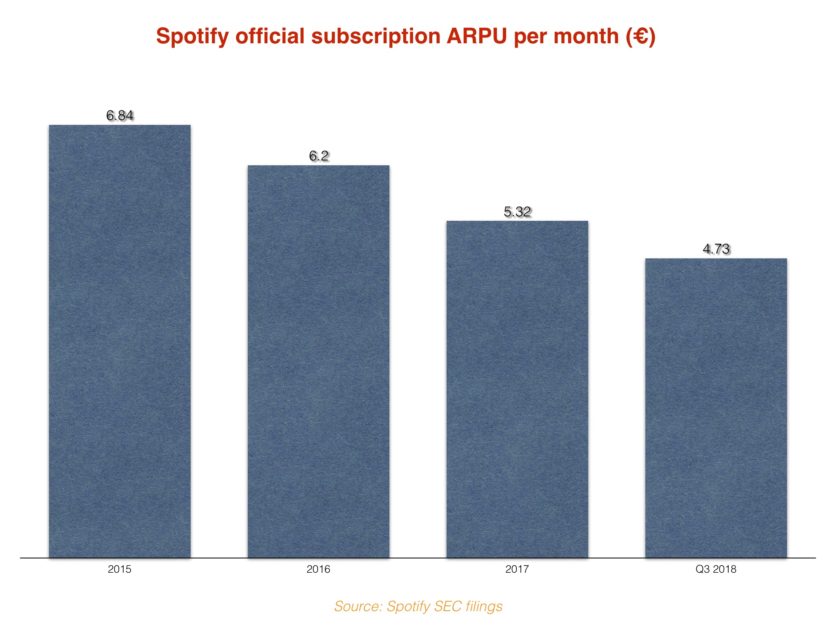 ---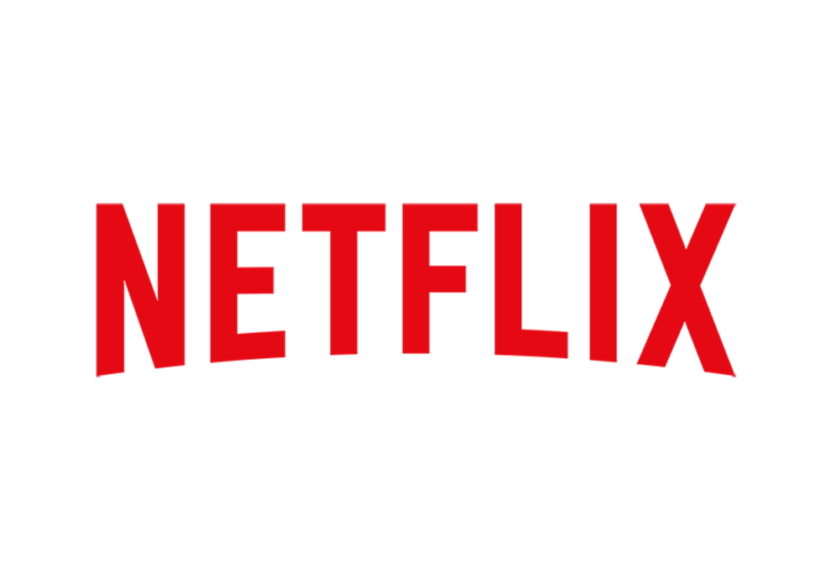 In contrast, video subscription service Netflix has, within the past four years, raised its prices three times in the United States.
Netflix's latest price hike was announced today (January 15) and will affect US subscribers to all three of its pricing tiers.
From now on, Netflix's non-HD basic subscribers will be paying $8.99 a month instead of $7.99; its standard HD subscribers will be paying $12.99 instead of $10.99; and its ultra-HD premium subscribers will be paying $15.99 instead of $13.99.
Looking back over recent history shows the level of Netflix's price elasticity when juxtaposed with Spotify.
Netflix's first official price hike came in October 2015, when it pushed up the price of its standard tier up by $1 a month to $9.99.
In October 2017 came another raise, when the service further increased both its standard tier (up $1 to $10.99 a month) and its ultra-HD tier (up $2 to $13.99 a month).
After today, Netflix's three subscription tiers combined cost $37.97 per month; back in 2014, before it began hiking prices, the equivalent figure was a full $9 cheaper.
All three of these Netflix price rises have taken place since Spotify launched in the United States in July 2011.
---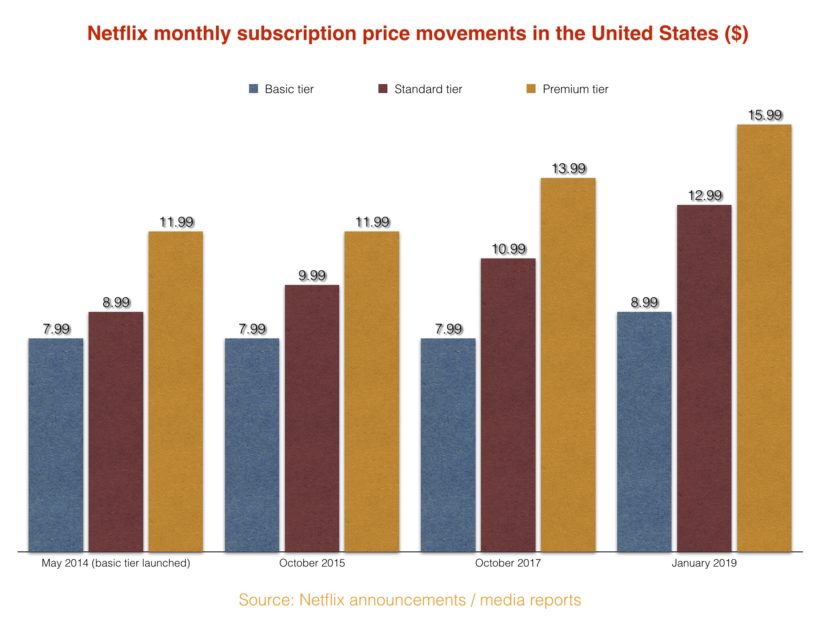 ---
Talking to Rolling Stone last week, senior major label executives made their annoyance over Spotify's tumbling ARPU clear.
One executive speaking under condition of anonymity said: "This isn't really about record labels, it's about artists — it's about Spotify pushing down the inherent value of music in order to accelerate their customer acquisition."
Another added: "Spotify is trying to subsidize their business model with some of this behavior in emerging markets. The rates they want to pay the industry are so low, it's tantamount to them asking artists to write them a check, not the other way round."
That appears to be, in part, a reference to India, where Spotify's launch is expected to be imminent (despite it not yet having struck licensing deals with all three major labels for the territory). When Spotify does land in India, it is expected to charge a premium subscription price of RS99 per month – the equivalent of approximately $1.40.
"This is about Spotify pushing down the inherent value of music in order to accelerate their customer acquisition."

Anonymous major label source
One other important point to make in relation to Netflix: back in 2010, the video company, like Spotify, only had one paid tier. This was its standard subscription option, which then cost $7.99 a month.
It wasn't until spring 2013 that Netflix launched a premium tier for $11.99 a month, before it introduced its bog-standard, non-HD, basic tier in May 2014.
Many expect that a similar menu of options for consumers – as opposed to a single, all-you-can-eat price point – will become more strongly apparent amongst music's global streaming leaders in the years ahead.
Interesting to note: Barry McCarthy was Netflix's CFO from April 1999 to December 2010, a few years before the company began adding more options, not to mention more dollars, into its subscription pricing.
At the end of Q3 last year, Netflix had 130.4m paying subscribers worldwide; at the same juncture, Spotify counted 87m.
[Pictured: The Sandra Bullock-starring thriller Bird Box, which recently broke all-time viewing records on Netflix.]Music Business Worldwide