We've previously written about the explosion of the independent artist market in China. According to a new investor filing from NetEase Cloud Music, that sector is still growing at a significant pace.
Two of the key music streaming players in the market, Tencent Music Entertainment and NetEase Cloud Music, work directly with indie artists via dedicated programs which offer various levels of support and industry tools.
TME, majority owned by Chinese tech giant Tencent Holdings, operates music platforms in China including its flagship music app QQ Music, as well as Kugou, Kuwo, plus online karaoke service, WeSing and runs an indie artist platform called Tencent Musician Platform. 
It was launched in 2017, and by the end of Q3 2022, the number of registered musicians on the program reached more than 350,000.
NetEase Cloud Music, China's second-biggest music streaming provider, and rival to TME, revealed last March that its equivalent independent artist program had over 450,000 artists signed up.
According to the company's new investor filing for its 2022 Financial Results, that number has grown by over 160,000 independent artists since then.
NCM says that it counted more than 611,000 registered independent artists as of the end of December, 2022, and that its content library includes approximately 2.6 million music tracks generated by its registered independent artists.
This number was confirmed by NetEase CFO Charles Yang on the company's earnings call on Thursday, who also told analysts that NCM's "in-house music studios also made solid progress, popularizing a batch of hit songs," in 2022.
He added that this demonstrated NCM's "ability to produce excellent music content organically, and this is one of the many reasons that set[s] our platform unique."
Within its investor filing, NCM points to a number of initiatives that independent artists have access to via its platform, and a number of features its users have access to in order to hear music made by independent musicians.
Amongst those initiatives are the  'Independent Artist Zone' feature that comprises Original Music Discovery and Local Recommendation.
---
NetEase Cloud Music is operated by Chinese tech giant NetEase subsidiary Cloud Village. It officially listed on the Hong Kong Stock Exchange today in December 2021.
Elsewhere in the company's financial results filing for the year ended December 31, 2022, NCM reports that its Monthly Active Users of its online music services grew to 189.4 million at the end of 2022, up from 182.6 million at the end of 2021.
In terms of monthly paying users of NCM's online music services, the company's paid audience grew by 9.4 million users, from 28.9 million in 2021 to 38.3 million at the end of 2022.
In terms of finances, NCM's revenues from its online music services grew 12.4% YoY from RMB3.3 billion in 2021 to RMB3.7 billion (USD $549m at average annual exchange rates) last year.
NCM says this increase came primarily from "the significant growth in revenues from sales of membership subscriptions".
---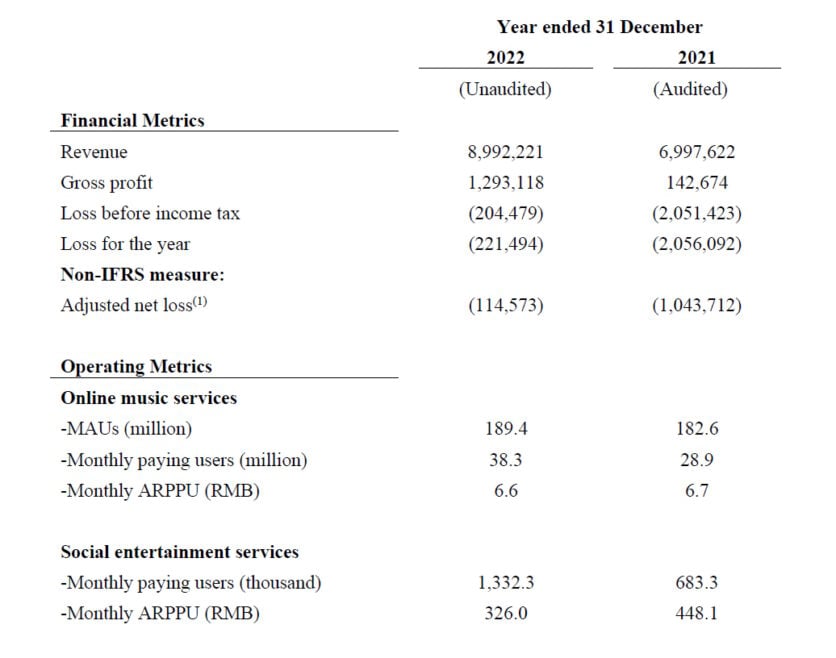 ---
The company's total revenue, including revenues generated from its online music services, social entertainment services and others, was RMB9.0 billion ($1.3bn), an increase of 28.5% compared with RMB7.0 billion in 2021.
NCM says in its investor filing that this growth was achieved "despite a more challenging industry and macro environment."
In spite of its music subscription growth, the company's Monthly ARPPU (average revenue per paying user) for its online music services declined slightly, from RMB6.7 in 2021 to RMB6.6 for FY 2022.
---
Elsewhere in its investor filing, NCM notes that its content library comprised more than 116 million music tracks by the end of December 2022.
Those tracks include music from established labels, as well as independent artists and NCM's in-house production.
While not providing a number for the volume of tracks produced by NCM in-house last year, the company notes that in 2022, it "further reinforced our in-house production capabilities, focusing on our advantageous music genres and styles".
Cloud Music also revealed in its latest filing that during the year, each of its daily active users spent, on average, approximately 78.9 minutes per day listening to music on its platform versus 78.2 minutes in 2021.
"As of 31 December 2022, 33.4% of music streams were attributable to platform recommendations," added the company. It said that "these metrics demonstrate the strong stickiness and activities of our high-quality user group, and distinguish our vibrant community attributes, which are mutually reinforcing within our ecosystem."
Added NetEase Cloud Music: Meanwhile, we advanced our initiatives in product innovation. We are not only committed to improving user music listening experience, but also actively adding interactive features and broadening communication scenarios, which invokes music-inspired resonance and reinforces a multi-layered community ecology. We are also broadening music listening scenarios, further aided by collaborations with NetEase Games.
Music Business Worldwide