NetEase Cloud Music, China's second biggest music streaming provider, attracted 872,000 paying music users in the second quarter (three months to end of June).
That trailed far behind NCM's biggest rival Tencent Music Entertainment, which added 2.5 million new paying users during the same period.
Both companies are the biggest players in China's music streaming sector, but unlike Tencent Music (TME), which operates multiple streaming services including QQ Music, Kugou Music, and Kuwo Music, NetEase Cloud Music is a standalone music streaming platform.
NCM's monthly online music paying users rose to 37.6 million at the end of June 2022 from 36.7 million at the end of the first quarter, according to the company's first-half results released Thursday (August 18).
That compares with TME's 82.7 million users at the end of Q2, a figure which rose by 2.5 million from March-end.
(Spotify outstripped both NCM and TME combined, adding 6 million net Premium subscribers in Q2 to reach 188 million subs.)
---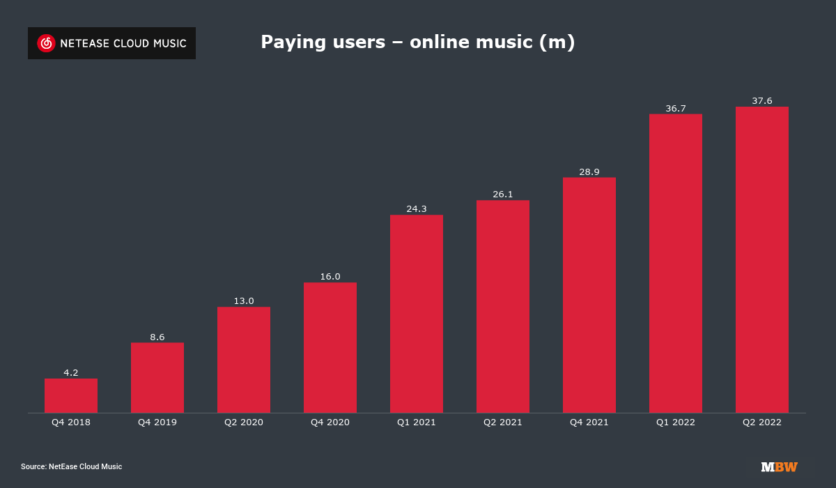 ---
In the first half of the year, NCM generated RMB 1.78 billion (approx USD $262m) from its online music services, up 11.2% from the year-ago period, a rise which it attributed to strong sales of membership subscriptions.
NCM did not provide quarterly music revenue figures for Q2.
"We have focused on providing more personalized and diversified music and music-inspired content to our users, which has significantly contributed to our paying user growth."

NetEase Cloud Music
NCM's revenue from sales of membership subscriptions in the first half of 2022 grew to RMB 1.46 billion (approx USD $215m) from RMB 1.06 billion last year.
"We have focused on providing more personalized and diversified music and music-inspired content to our users, which has significantly contributed to our paying user growth," said NCM.
Online music monthly ARPPU (Average Revenue Per Paying User) during the first half of 2022 fell, however, to RMB 6.5 million from RMN 6.8 million in the prior-year period.
TME also recorded a 5.6% YoY drop in its online music monthly ARRPU in the second quarter, to RMB 8.5 million.
By the end of June, NCM's monthly active users (MAUs) for music — covering all users regardless of whether they are paying subs or not — reached 181.9 million, up 200,000 versus Q1 but down YoY.
"Our revenues depend on our ability to monetize, to convert more users into paying users and to increase the spending of our paying users," the company said.
In Q2, the group's membership paying ratio (i.e. the percentage of total users that are subscribing) expanded to 20.7% from 20.2% in Q1.
The group attributed the improvement in its paying user conversion to its "high quality and young user community," and its efforts in content enhancement.
NCM's overall revenue in the first half of 2022 surged 33.8% YoY to RMB 4.26 billion (approx USD $628m)  "despite a more challenging industry environment and macro-headwinds," the company said. It attributed the increase to its commercialization capabilities that led to gains across its subscription-based memberships and its growing social entertainment services.
---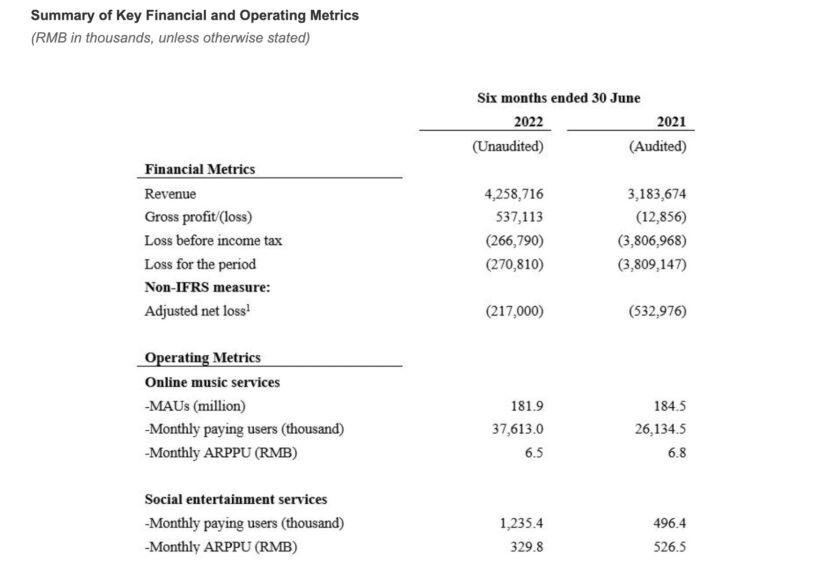 ---
NCM's social entertainment segment, which covers its LOOK Live Streaming, Sheng Bo and Yin Jie platforms, added 53,700 monthly paying users in Q2, ending the quarter with 1.2 million paying subscribers. Monthly ARPPU at NCM's social entertainment services was bigger than that of its online music services at 329.8mn yuan.
While its subscription-based model powers NCM's revenue, the company also generates income from advertising services, sales of digital albums and copyright sublicensing. In addition, the company generates income from virtual items purchased by users and consumed on its platform. However, NCM did not provide the details into its revenue from other services.
The group continued to book losses in H1, although its attributable net loss during the period narrowed significantly to RMB 270.8 million from RMB 3.81 billion a year ago.
That was down to strong sales, a 39% drop in its general and administrative expenses, an increase in government grants and value-added tax subsidies, and net foreign exchange gains, among others.
---
Since launching its HK$3.28bn ($487 million) initial public offering in Hong Kong in December 2021, NCM has expanded its business by striking a number of deals despite increasing regulatory scrutiny in China and intense competition against Tencent Music and other smaller peers.
Back in April, NCM sued Tencent Music, accusing the latter of pirating its music content. Tencent Music's QQ Music, Kuwo and Kugou were also accused of plagiarizing NetEase's vinyl interface design, the company said at the time.
Most recently in July, NCM struck a licensing agreement South Korea-based music company YG Entertainment, allowing the platform to distribute YG Entertainment's music catalog in China, including the music of K-Pop groups such as BIGBANG and BLACKPINK. It follows a similar deal that the company formed with with K-pop company SM Entertainment — whose roster includes SUPER JUNIOR, Girls' Generation, SHINee, EXO, Red Velvet, NCT and aespa — in June.Music Business Worldwide