The value of the record industry can't stop growing – not just because of streaming's proliferation, but also because of music's integral role in industries such as video gaming and home fitness.
There is no brand more associated with home fitness, of course, than Peloton, which paid music rightsholders approximately $35 million across the course of 2020.
Last year was a great year for Peloton, with Covid lockdowns inspiring consumers to invest in home fitness products and services like never before.
That, in turn, led to a boom in music royalties paid out by the company.
This story, though, has just hit something of a speed bump – with the news that Peloton's YoY revenue growth slowed significantly in the three months to end of September (calendar Q3).
According to the company's recently filed results for its fiscal Q1 2022 (calendar Q3 2021), Peloton generated total revenues of $805.2 million across the quarter.
That $805.2 million represented growth of just 6% YoY, or an increase of $47.3m, compared to the $757.9 million recorded in the prior fiscal year quarter.
The fitness giant's YoY growth of 6% marked a significant deceleration compared to the prior year quarter, when Peloton's revenues rocketed by 232% YoY to hit that $757.9 million figure.
The company's $805.2 million revenue in fiscal Q1, while up 6% YoY, was actually down 14% compared to the prior quarter (fiscal Q4, but calendar Q2), when the company generated revenues of $936.9 million (see below).
Due to what Peloton tells shareholders was a "softer than anticipated start to Q2 and challenged visibility into our near-term operating performance", the company has revised its guidance for FY 2022.
The company previously forecast total revenues for its fiscal 2022 of $5.4 billion, but has now reduced that figure to between $4.4 billion and $4.8 billion total revenue.
Peloton's guidance for its gross profit margin was previously approximately 34% for FY 2022, but it has now updated that outlook to approximately 32%.
"While we are reducing our near-term forecast, our confidence in and commitment to our strategy is unchanged."

Peloton
In a letter to shareholders, Peloton said: "As discussed last quarter, we anticipated fiscal 2022 would be a very challenging year to forecast, given unusual year-ago comparisons, demand uncertainty amidst re-opening economies, and widely-reported supply chain constraints and commodity cost pressures.
"Although we are pleased to have delivered first quarter results that modestly exceeded our guidance, a softer than anticipated start to Q2 and challenged visibility into our near-term operating performance is leading us to recalibrate our fiscal year outlook.
"While we are reducing our near-term forecast, our confidence in and commitment to our strategy is unchanged. Software and streaming media have redefined at-home fitness and are driving a migration of workouts into the home, a consumer behavioral shift that we believe is still in its early stages.
"This trend was well-underway prior to the pandemic, and has clearly been accelerated by the growing awareness and adoption of Connected Fitness over the past year and a half.
"In conjunction with our revised demand forecasts, we will be taking concrete steps to re-examine our expense base and adjust our operating costs to better align our investments with our revised growth expectations."
---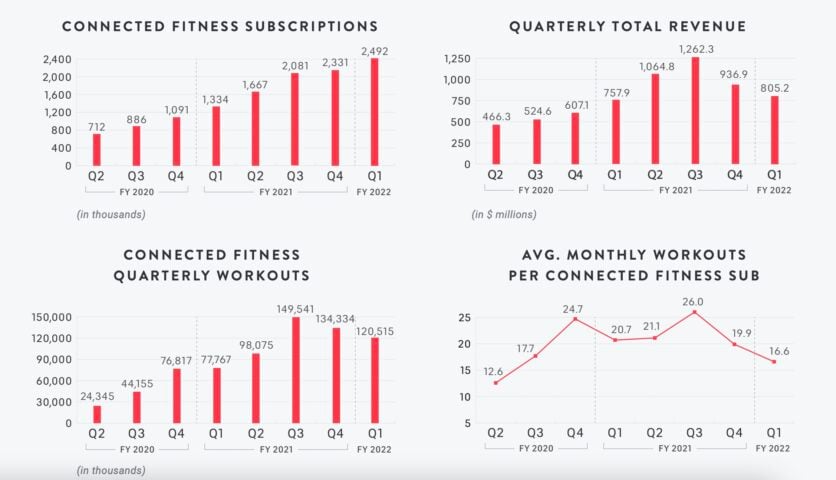 ---
Meanwhile, Peloton's Connected Fitness segment revenue – which includes the contribution from its Precor division – generated $501 million in calendar Q3, representing a 17% year-over-year decline and 62% of total revenue.
The company pins this decline primarily on "fewer Bike portfolio deliveries compared to the year-ago period, as well as the impact of the August 2021 price reduction on our original Bike".
That $501 figure and 17% decline tells a markedly different story to Peloton's Connected Fitness segment revenues in the same quarter in the prior fiscal year (calendar Q3 2020), when the firm raked in $601.4 million, representing 274% YoY growth.
Elsewhere in Peloton's latest filing, the firm reports that its gross profit in calendar Q3 2021 was $262.7 million (32.6% of revenue), representing a 20% year-over-year decline.
The firm generated gross profit of $60 million from its connected Fitness segment in Q1, representing a 75% year-over-year decline.
---
Digging deeper into Peloton's results reveals that its total operating expense in Q1 was $622.4 million, which grew 140% year-over-year, representing 77.3% of total revenue versus the prior year quarter of 34.3%.
Peloton's sales and marketing expense, meanwhile, was $284.3 million, which grew 148% year-over-year, representing 35.3% of total revenue versus the prior year period of 15.1%.
Additionally, the firm recorded a net loss of $376 million in fiscal Q1 (calendar Q3) versus net income of $69.3 million in the same quarter last year.
---
News of Peloton's slashed financial outlook follows a recent ramping up of praise for the platform in the music industry.
Warner Music Group boss Cooper for example revealed in September that WMG has a present run-rate of $235 million per year in revenue from "alternative offerings that create new use cases for music".
Cooper notably called out "alternative" platforms like Facebook (which has "begun to utilize music in new and interesting ways over the last couple years") as well as TikTok, Peloton and Roblox for their material contributions to that $235 million number.
In May, Sony Music Group Chairman Rob Stringer revealed that across the three areas of social, gaming and fitness – via partnerships with the likes of Peloton, Fortnite etc. – Sony Music had generated nearly $400 million during the past fiscal year.
He added at the time that he expects these income streams to "become an even more material part of our revenue base".
According to Peloton's 2021 report, as of June 30, 2021, the company had over 2.6 million songs under license, representing what it says is "one of the largest audiovisual connected fitness music catalogs in the world".
In recent month's, the platform's music strategy has included a multi-year partnership with Beyoncé, a music festival , and a remix series of Elvis Presley hits, which Peloton says were 'later picked up for broad commercial release by Sony Music'.
---
In February, the National Music Publishers' Association (NMPA) and Peloton fully settled litigation brought last year by 14 NMPA members.
In addition, Peloton and the trade association entered into "a joint collaboration agreement" to work together to "further optimize" Peloton's music licensing systems and processes.Music Business Worldwide