Towards the end of last year (before we all started nervously obsessing over rising interest rates, stonking inflation, energy prices etc.) MBW was busying itself with the subject of bonds. Specifically, music companies launching bond offerings via securitized royalties from copyrights.
In October 2021, MBW predicted that the music industry would soon "see a large financial entity buy a massive catalog of rights, then… split that catalog up into loads of bonds, and sell those bonds on to investors".
That forecast came true in December, when private equity company Northleaf Capital announced it was raising $303.8 million by selling Asset-Backed Securities (ABS) supported by music rights.
Said music rights came under Northleaf's influence after it bought an interest in Spirit Music Group in a $500 million deal two months prior.
MBW's prediction then came true again when, in February this year, KKR used a music catalog it previously bought from Kobalt for $1.1 billion to support the sale of more than $732 million of asset-backed securities.
The music-companies-doing-bonds narrative has dried up a little since then, as macro-economic pressures have continued to swirl around the entertainment business (and the wider world).
But now that narrative is very much back: In a robust sign that music royalties remain a very investible proposition, the past few weeks have seen not one but two significant music industry companies begin securitizing their assets into bonds.
---
Hipgnosis and Blackstone go big
The most recent story concerns Merck Mercuriadis's Hipgnosis – or, more accurately, the billion-dollar-backed privately-funded vehicle that Hipgnosis has in place with Blackstone.
To date, that vehicle has acquired copyrights and/or income streams from the likes of Leonard Cohen, Justin Timberlake and Nelly Furtado.
These copyrights/income streams are managed by Hipgnosis Song Management. They span over 950 songs in total and – according to a recent independent valuation – are collectively worth $341.0 million.
Said valuation was made using a discounted cash flow method, based on cash flow forecasts and a discount rate of 7.0%.
How do we know all of this? Because it's included in a pre-sale report from Kroll Bond Rating Agency (KBRA), which confirms that Hipgnosis is now in the process of launching its own music royalty-backed bond package – a $221.65 million securitized offering.
KBRA confirms that the offering, dubbed MUSIC 2022-1, "will be collateralized by royalties from a music catalog of premium content from over 950 songs across five sub-catalogs from top artists and songwriters, including Justin Timberlake, Nelly Furtado, and Leonard Cohen".
KBRA has granted the Hipgnosis bonds a preliminary rating of A-, citing the industry experience and expertise of Hipgnosis Song Management, plus the fact that the rights in question are administered by three titans of the music biz: Sony Music Publishing, Universal Music Publishing Group and Warner Music Group.
You can read the full KBRA pre-sale report on the Hipgnosis bonds through here.
Bloomberg reports that Goldman Sachs is leading Hipgnosis's bond sale, which is expected to price next week.
---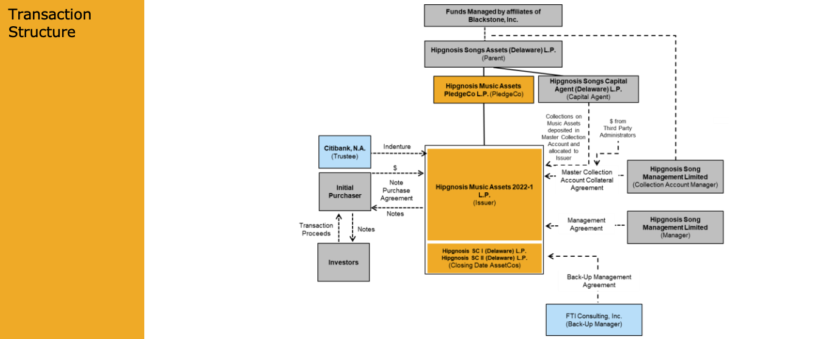 ---
SESAC launches whole-business deal to buy Audio Network
The second major music bonds story to hit the markets in recent weeks concerns US music licensing/collection society, SESAC.
In July, SESAC quietly closed a $335 million bond transaction, according to Bloomberg sources.
This offering was a whole-business securitization, which Bloomberg likens to SESAC "effectively mortgaging" its company.
Why is SESAC going that route?
Apparently, it's partly to help finance its acquisition of production music company Audio Network – which, says Bloomberg, SESAC bought in 2021.
If accurate, that acquisition went unreported at the time. But it's interesting to note who did announce that it had bought Audio Network in 2021: Blackstone.
Blackstone acquired Audio Network as part of a $385 million deal to acquire eOne Music (now MNRK Music Group) last year.
Blackstone happens to be SESAC's own parent company (it bought the PRO for just over $1bn in 2017).
It is also, of course,  the bankroller of the aforementioned private Hipgnosis acquisitive fund.
---
SESAC's $335 million offering is the second business securitization the company has carried out in recent years, following the sale of similar securities in 2019.
Nashville-HQ'd SESAC represents the rights to around 30,000 songwriters including Adele, Neil Diamond, Rosanne Cash and Bob Dylan.
Guggenheim Securities led the latest SESAC bond sale, reports Bloomberg.
---
As MBW has previously explained, bonds act a bit like loans, but with a group of investors handing a company money, rather than said company raising that money via bank debt.
When everything goes well, these investors then make their money back (plus interest) via income over a number of years generated by an underlying asset.
To raise investor interest and confidence in bond offerings, bonds are 'rated' by financial institutions.
Bond sellers are typically looking for an 'A' rating or above; a much lower rating will result in something being labelled a 'junk' bond.Music Business Worldwide