Music tech company inMusic says it's considering taking legal action in multiple countries over the planned takeover of DJ software company Serato by the owner of the Pioneer DJ brand, arguing the deal will create a global monopoly in DJ technology.
AlphaTheta Corporation, the company behind the Pioneer DJ brand, announced last month that it's planning to acquire all shares of New Zealand-headquartered Serato Audio Research Ltd., which makes DJ software.
The deal is widely believed to be worth at least NZD $100 million (USD $59 million, at current exchange rates), as AlphaTheta said in a press release that the acquisition is subject to approval by New Zealand's Overseas Investment Office. That office generally only reviews acquisitions with a value above that amount.
MBW understands that The Raine Group, the global strategic and investment advisory firm, was involved in the sale as a representative for Serato. (The Raine Group recently closed its latest growth equity fund, Raine Partners IV, with USD $760 million raised, giving it some $4 billion in assets under management.)
However, Rhode Island-headquartered inMusic – which owns brands including Denon DJ, Numark, Rane and Stanton and makes DJ hardware that competes with Pioneer DJ – has launched an advertorial campaign in New Zealand opposing the deal.
"inMusic makes music gear. For over two decades we've partnered with Serato and used their software in our DJ controllers," inMusic founder and CEO Jack O'Donnell said in the advertorial.
"But if Pioneer DJ buys Serato, that can't continue. That's because then we'd have to share our innovations, ideas and future plans with our direct competitor. This is what market dominance looks like."
Pioneer DJ and its software, rekordbox, hold a 72% share of the global market for DJ equipment, while inMusic, using Serato's software, has 18% of the market, O'Donnell told New Zealand news source The Post.
The acquisition of Serato by Pioneer DJ's owner, AlphaTheta, would "essentially eliminate competition" in the DJ equipment industry, he said.
"I'm quite confident what's happening here, and it's an outrage as far as I'm concerned," The Post quoted him as saying.
"In any market when you eliminate competition, it has an effect on consumers. It's going to raise prices, eliminate innovation and limit choice. So it's a big thing for a small industry."
O'Donnell said inMusic has engaged legal representation over the issue in the US and UK, as well as Japan, where AlphaTheta Corporation is headquartered.
"While New Zealand is the battleground, this is a global fight, as this is a global issue," he said.
A spokesperson for New Zealand's Commerce Commission told The Post it was looking into the impact of the deal on competition, though its mandate is to consider only the impact on New Zealand markets. The spokesperson said the commission had not received an application for authorization of the sale from AlphaTheta.
Below is inMusic's ad published in New Zealand media.
---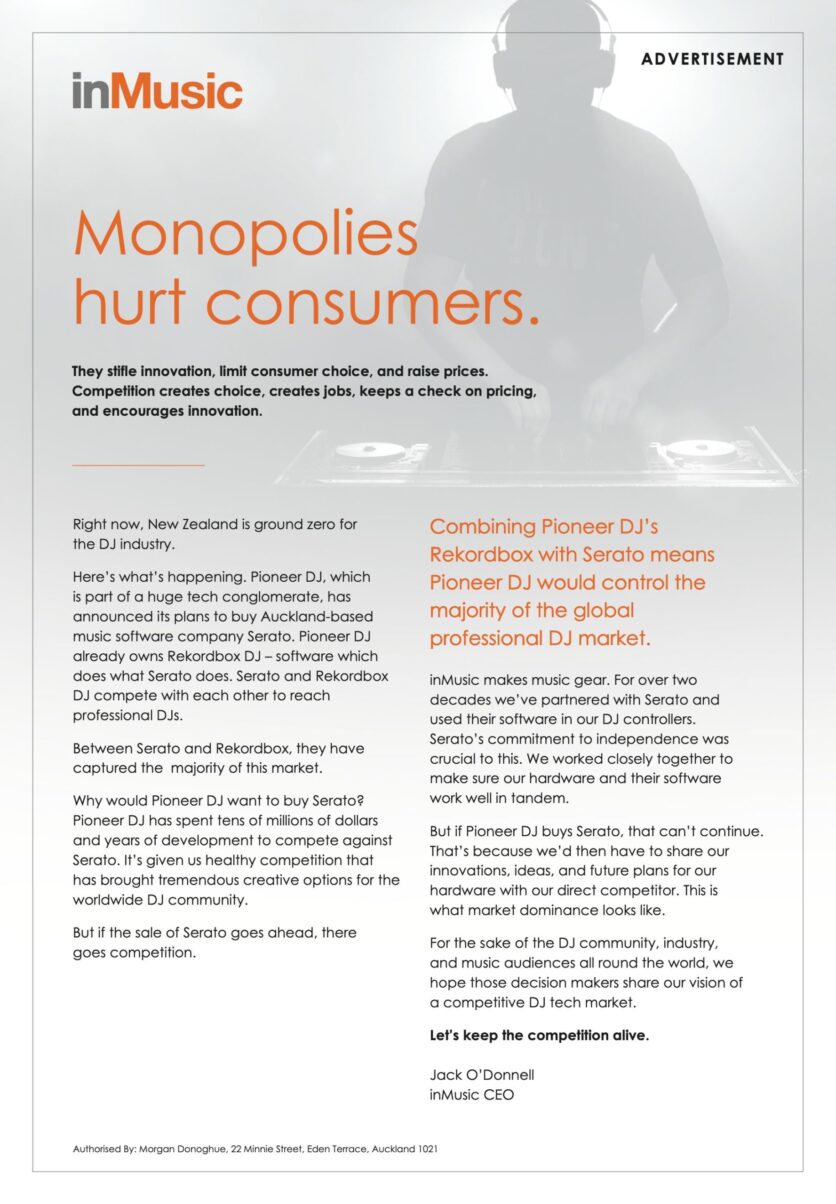 ---
Although inMusic stresses its long-running partnership with Serato, AlphaTheta has also been working with Serato for more than a decade, ever since AlphaTheta developed hardware that was compatible with Serato's DJ software. Today a variety of Pioneer DJ controllers are compatible with Serato.
In its press release last month, AlphaTheta said Pioneer DJ and Serato will continue to operate as standalone brands, and the companies' various longstanding partnerships with key players in the DJ hardware and software industry will continue.
"In any market when you eliminate competition, it has an effect on consumers. It's going to raise prices, eliminate innovation and limit choice. So it's a big thing for a small industry."

Jack O'Donnell, inMusic
Pioneer DJ began as a division of Japanese electronics giant Pioneer, and was spun off as a standalone company in 2015. In 2020, Pioneer DJ was acquired by Tokyo-based holding company Noritsu for USD $606 million, and was renamed AlphaTheta Corporation. As of December, 2022, it had 471 employees.
Serato launched in 1999 with Pitch n' Time, which it says is "still the world's foremost studio plugin for time-stretching and pitch-shifting technology." The company went on to develop a number of software products that allowed DJs to control digital music through their turntables.
inMusic's history began in 1992, when O'Donnell acquired DJ equipment manufacturer Numark Electronics. Over the decades the company expanded through a series of acquisitions of music tech companies, including Alesis in 2001, Akai Professional in 2005, Denon in 2014 and Rane in 2016.
Earlier this year, inMusic acquired synthesizer maker Moog Music.Music Business Worldwide