The MBW Review gives our take on some of the music biz's biggest recent goings-on. This time, we drill down into exciting new stats from the US, which shows a market recovery in overdrive last year. The MBW Review is supported by FUGA.
---
When music business scholars rifle through the history books in decades to come, 2016 will go down as the year when subscription streaming changed the game.
According to fresh stats from the RIAA, US retail revenues generated by subscription streaming platform leapt up by an off-the-charts 114% last year to brush $2.5bn.
Combined with ad-funded streaming and SoundExchange distributions (from web radio platforms such as Pandora), streaming generated $3.93bn in the 12 months – up 68% on 2015.
That was enough to claim over 51% of the US recorded music market's total retail value – more than downloads and physical sales combined.
Driven by huge growth from the likes of Spotify and Apple Music, the amount of people in the US paying for a streaming music service in the year more than doubled, up to 22.6m.
Most importantly, streaming dragged the overall US recorded music business to double-digit growth – with retail sales across all formats jumping 11.4% to $7.7bn.
Meanwhile, the US industry was up 9.3% on a wholesale basis (ie. the cash that actually made its way back to record companies and artists) to $5.3bn.
Yet not every aspect of streaming's growth was quite so encouraging – with one black sheep in particular.
Any guesses?

---

Looking at the graph below, two things really stand out: the breathtaking growth in subscription music revenues, and the comparatively meager increase in the cash generated by on-demand ad-funded services such as YouTube and Spotify's free tier.
Statistically, ad-funded streaming platforms generated $469m in the year. That was up 26% year-on-year, but made up just 6% of total industry retail revenues.
Compare that to subscription revenues, which hit $2.48bn – more than five times the size of the ad-funded market's haul – and claimed over 32% of total US market sales.
Two ways of looking at that, of course: (i) are 'free' services helping propel people towards record subscription numbers, (ii) stealing valuable customers from paid tiers – or somewhere in-between?
RIAA boss Cary Sherman knows where he hangs his hat.
"The unfortunate reality is that we have achieved this modest success in spite of our current music licensing and copyright laws, not because of them," he wrote in a new blog post.
"a platform like YouTube wrongly exploits legal loopholes to pay creators at rates well below the true value of music while other digital services — including many new and small innovators — cannot."

Cary Sherman, RIAA
"That's not the way it should be. For example, it makes no sense that it takes a thousand on-demand streams of a song for creators to earn $1 on YouTube, while services like Apple and Spotify pay creators $7 or more for those same streams. Why does this happen?
"Because a platform like YouTube wrongly exploits legal loopholes to pay creators at rates well below the true value of music while other digital services — including many new and small innovators — cannot. It may be the same song requested by the user, on the same device, but the payouts differ enormously because of an unfair and out-of-date legal regime."
Reports from industry tracking services like Nielsen and BuzzAngle estimate these services streamed more than 200 billion songs to fans in the United States in 2016.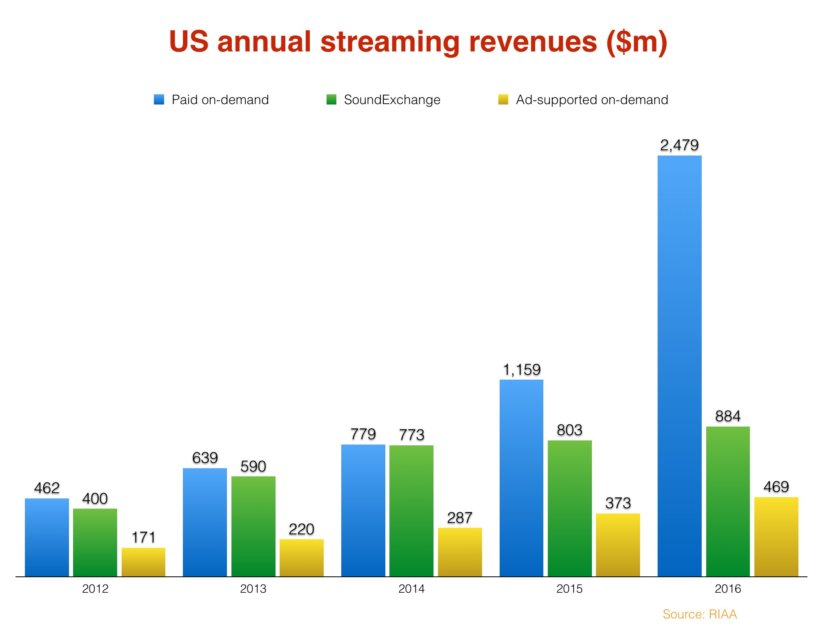 ---
For the first time in history, the RIAA has given a more granular picture of the total paid-for subscription market.
'Limited tier' services cover those restricted by factors such as mobile access, catalog availability, on-demand limitations or device restrictions.
They include the likes of Amazon Prime Music's limited-catalog tier, Pandora's $4.99-a-month Plus platform and others.
These services contributed $220m towards subscription music's $2.48bn tally in 2016.
The 22.6m music streaming subscribers reported by the RIAA do not include these types of services.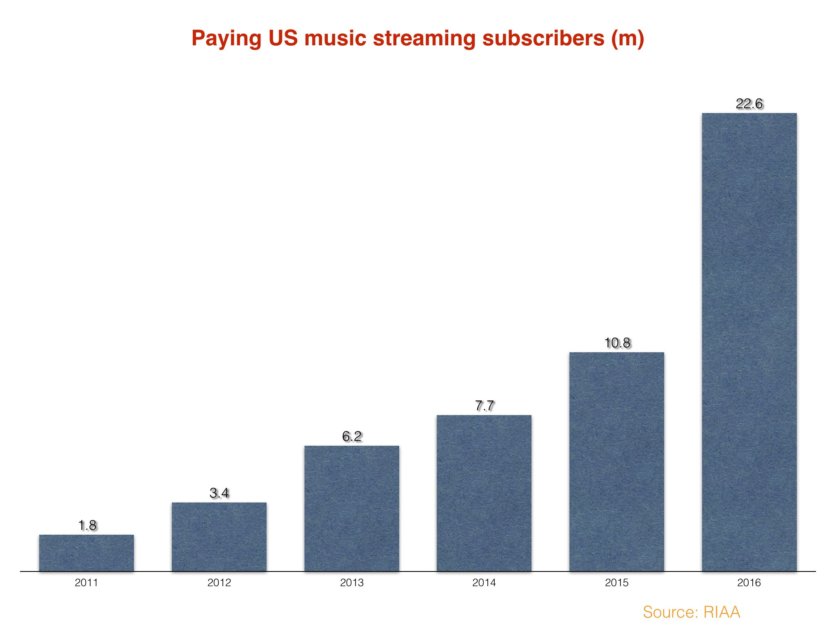 ---
So what of more traditional formats?
In 2016, revenues from sales of digital tracks and albums declined faster than in any previous year, with overall digital download revenues down 22% to $1.8bn.
Individual track sales revenue was down 24%, and digital album revenue was down 20% compared with the previous year.
Revenues from sales of digital albums were 49% of the download total, their highest share ever.
The total value of shipments of physical products decreased 16% to $1.7bn. The share of the market from physical music products fell to just 22%, down from 29% in 2015.
Physical products had been more than half the market (by value) as recently as 2010.
Revenues from CD shipments were down 21% at estimated retail value, and made up 70% of the physical market in 2016.
Shipments of vinyl albums were up 4% to $430 million, and comprised 26% of total physical shipments at retail value – their highest share since 1985.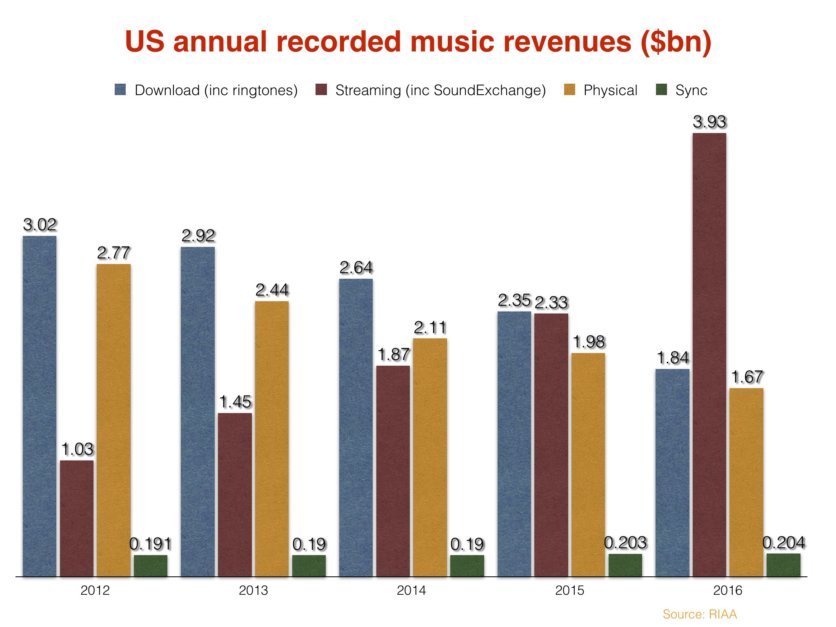 ---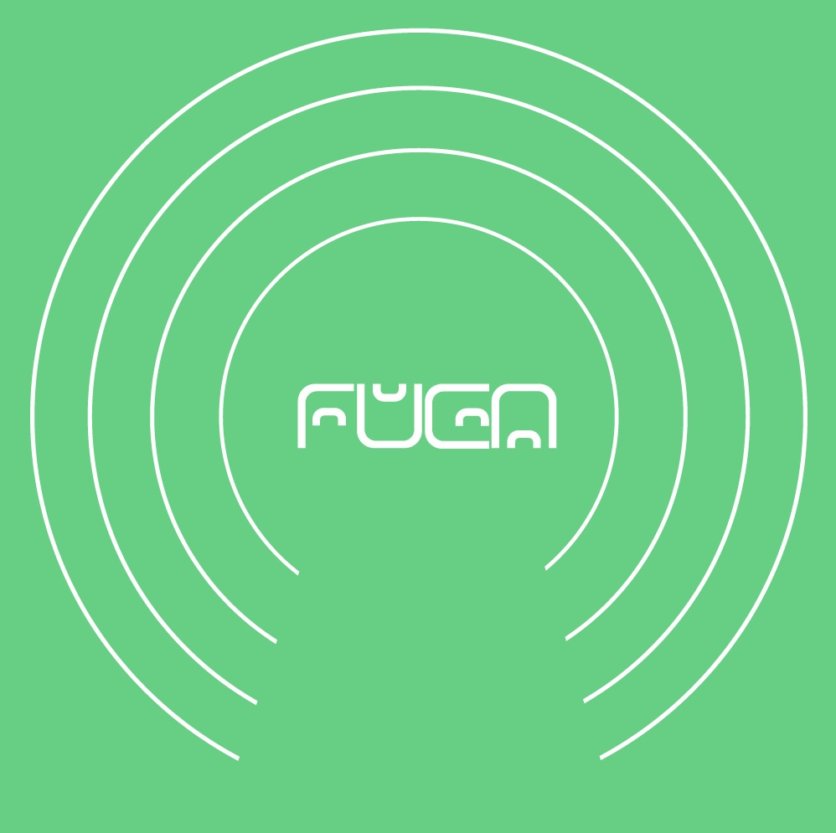 The MBW Review is supported by FUGA, the high-end technology partner for content owners and distributors. FUGA is the number one choice for some of the largest labels, management companies and distributors worldwide. With a broad array of services, its adaptable and flexible platform has been built, in conjunction with leading music partners, to provide seamless integration and meet rapidly evolving industry requirements. Learn more at www.fuga.comMusic Business Worldwide