One of the more deflating facts about the size of the global music streaming business has, for the time being, been banished to history.
Across the past half-decade, the total number of people paying to subscribe to audio music services has trailed behind those shelling out for just one TV and movie service – Netflix.
At the end of 2015, for example, global recorded music body the IFPI celebrated the fact that an estimated 68m people were now paying for the likes of Spotify and Apple Music (which launched in June that year).
Netflix, though, told its investors that, at the same juncture, it boasted just under 71m.
---
But last year, despite success at Netflix with the likes of science fiction series Stranger Things (pictured), the music business finally came out on top.
[UPDATE: Subsequent to this article being published, Netflix has issued an official stat for Q4 2016 (89.09m), while Midia has upgraded its estimate from 100.4m to 106.3m. The chart below now reflects these changes.]
According to a recent report from the much-respected Midia, there were 103.6m people paying for music streaming subscriptions at the end of 2016.
The company's Mark Mulligan estimates that around 43m of these were subscribing to Spotify, with 20.9m signed up to Apple Music, 6.9m to Deezer, 4.5m to Napster and just 1m to TIDAL.
The rest of the 100.4m subs were made up of other services, suggest Midia's numbers.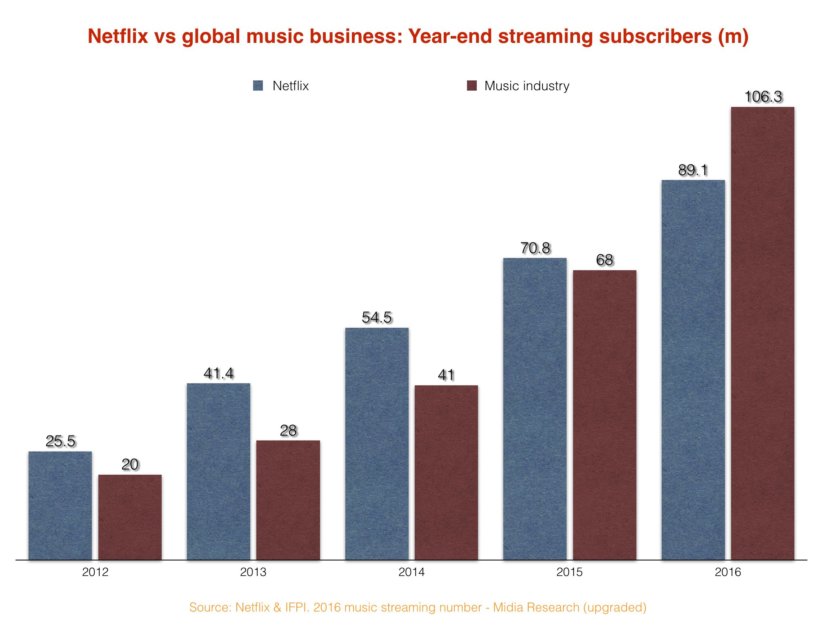 This total 100.4m subscription base represented a 48% year-on-year rise on 2015's IFPI number (68m).
Meanwhile, Netflix is currently forecasting that it finished 2016 with 87.8m paying subscribers – a 24% jump on its Q4 2015 number (70.8m.).
---
Looking at other aspects of Netflix's business, however, might keep music industry celebrations in check.
The TV and movie company is forecasting a streaming turnover of $2.34bn in its Q4, following its first ever $2bn+ quarterly revenue in Q3 (to end of September, see below).
Across 2016, Netflix expects to have booked $8.28bn in revenue from streaming.

Meanwhile, Netflix's net income in Q3 last year was $52m; in Q2, it was $41 million; and in Q1, it was $27.7m – a nine-month total profit of $119.9m.
Remember that Spotify's entire annual revenue in 2015 (the last year we have knowledge of) was $2.18bn – with an annual net loss of $194m.
Plus, don't forget that an estimated 77m people are using Amazon's Prime video platform (and subscribing video Amazon Prime itself) – which would take Amazon and Netflix's combined paying audience way above Apple, Spotify, Deezer, Napster etc. combined.
For now…Music Business Worldwide