The number of people in full-time employment working in the UK music publishing sector fell by 10.3% between 2013 and 2016.
According to a recent study from trade organization UK Music, some 1,076 people were employed in music publishing in the market last year.
MBW has looked back over previous 'Measuring Music' reports, and discovered that compared with three years prior, that figure equates to a net job elimination of 124 positions in total – down from 1,200 in 2013.
However, employment at UK record labels has grown nearly 7% in the same period – and grew by 500 positions in a single year in 2016 to 9,100.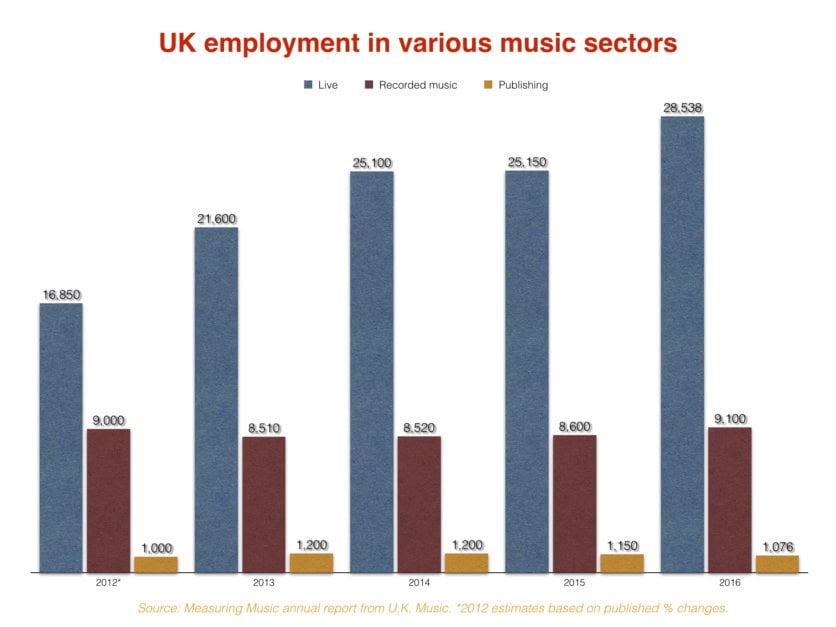 ---
These figures certainly shouldn't be taken as a decline in the health of the music publishing sector.
Rather, they are likely a simple matter of consolidation in the market – most notably affected by the acquisition of EMI Music Publishing by a consortium led by Sony/ATV which was finalized in 2012.
This idea is drilled home by delving into the changing economic efficiency of the UK music publishing sector.
According to UK Music's report, music publishing produced a GVA of £473m in 2016, up over £60m on the prior year.
GVA, or Gross Value Added, shows the industry's contribution in goods and services to the UK's annual national income or Gross Domestic Product (GDP).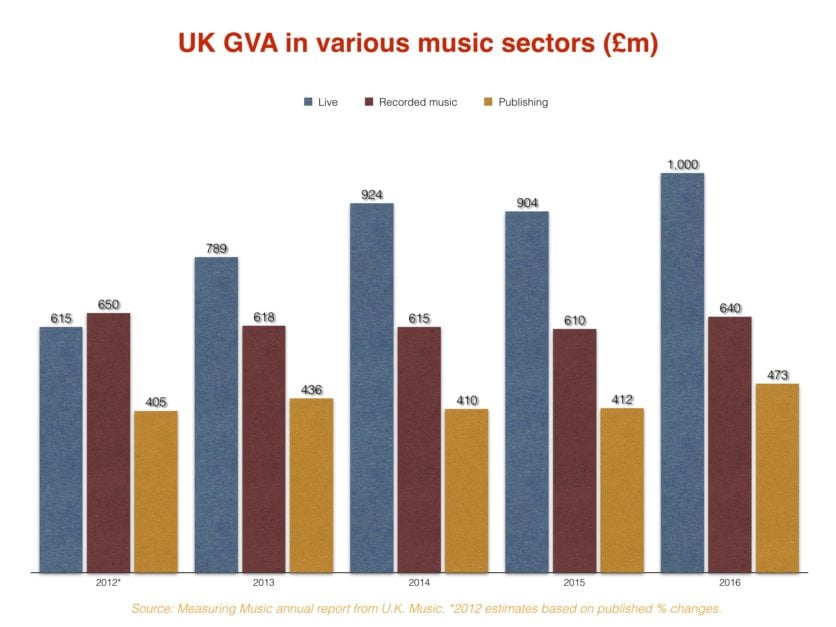 ---
In terms of GVA per head, then, the music publishing sector contributed nearly £440,000 per employee in 2016 – up from £358,000 in 2015.
No wonder investors are flocking to the publishing market, eh?
UK record labels, meanwhile, saw their per-employee GVA drop slightly from £70,930 in 2015 to £70,329 in 2016.
Interestingly, the UK live music sector produced the highest GVA of the three sectors in the below graph by some distance, contributing £1bn to the annual economy in 2016.
But it also had the highest headcount, with 28,538 full-time employees – resulting in a per-head GVA contribution of £35,041.
(Where surveys were used, UK Music counted part-time staff and freelance staff as equivalent to half a full- time employee.)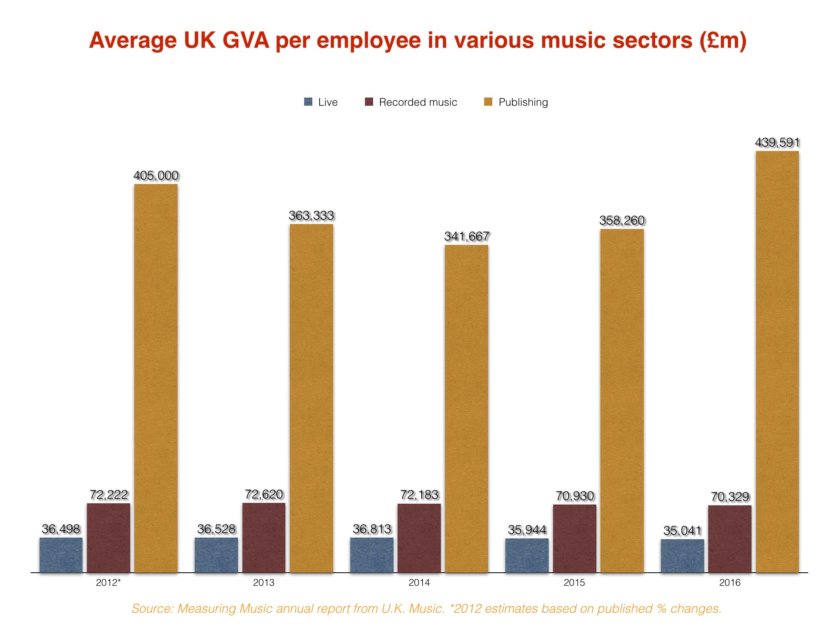 ---
The Measuring Music report shows that the overall UK music industry grew by 6% last year to contribute £4.4 billion to the economy.
The biggest chunk of that figure was generated by individual Musicians, Composers, Songwriters & Lyricists – who made up £2bn of the total sum.
This category of 'employee' also saw its headcount jump by 27% to 89,800 – but sadly this is likely to be misleading as a year-on-year comparison due to new methodology in the identification of composers and writers receiving royalties.
In total, the UK music business employed 142,208 people in 2016 – up 19% year-on-year.
In terms of exports, the UK industry generated £2.5bn in the year, up 13% compared with 2015.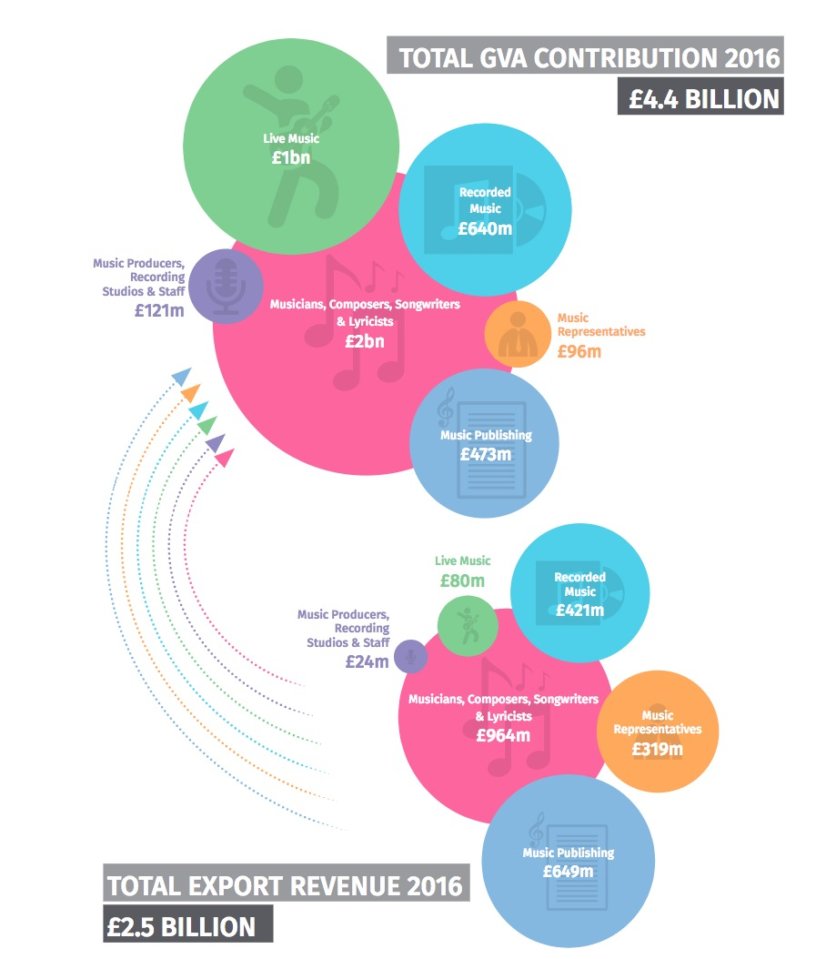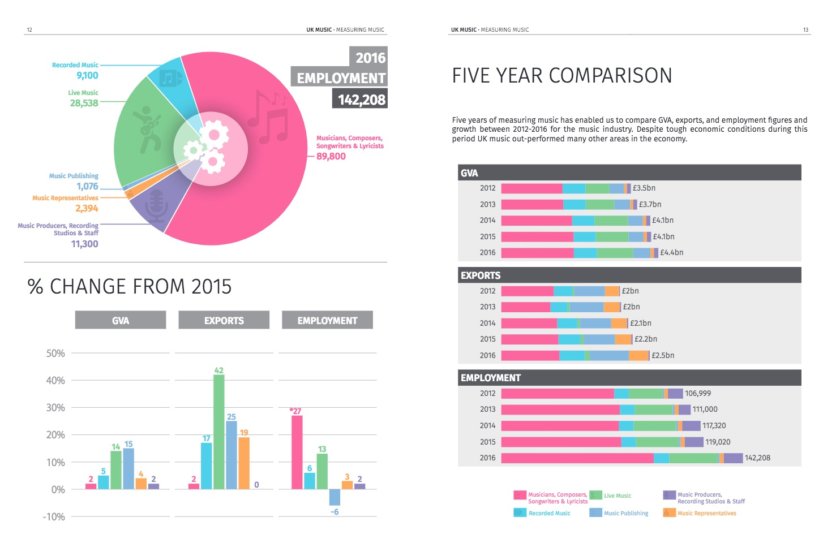 Music Business Worldwide