The MBW Review offers our take on some of the music biz's biggest recent goings-on. This time, we scrutinize the idea that the UK music business has returned to full strength. The MBW Review is supported by FUGA.
---
For the British record industry, 2018 has begun with an uncommon air of triumphalism – and it's easy to see why.
The UK is, so far, the only Top 5 global market to announce recorded music revenue figures for 2017, with headline retail growth of nearly 10%.
According to the Entertainment Retailers' Association, a 9.6% rise in UK retail spending on music last year – up to £1.2bn ($1.5bn) – was propelled forward by a rise in subscription streaming of 42%.
Another reason to be cheerful: that growth (9.6%) was more than double the rate of increase seen in the prior year (3.5%).
This is why the BBC has proclaimed that streaming is fuelling a "music industry boom",  while the BPI – the UK's recorded music trade body – is expressing admiration for the fastest growth seen by the biz this Millennium.
---
Yet any suggestion that 2017's results were a return to the full-on glory days of the record business is, frankly, an outright falsehood.
According to MBW's calculations, the year's total retail recorded music tally of £1.2bn represents no less than a 43% fall on the market's high point of 2001 (£2.11bn).
Put more starkly, the UK recorded music business is still roughly half the size it was 16 years ago.
What's more, when you factor in inflation, the mountain left to climb for the business to reach its former glories becomes significantly steeper.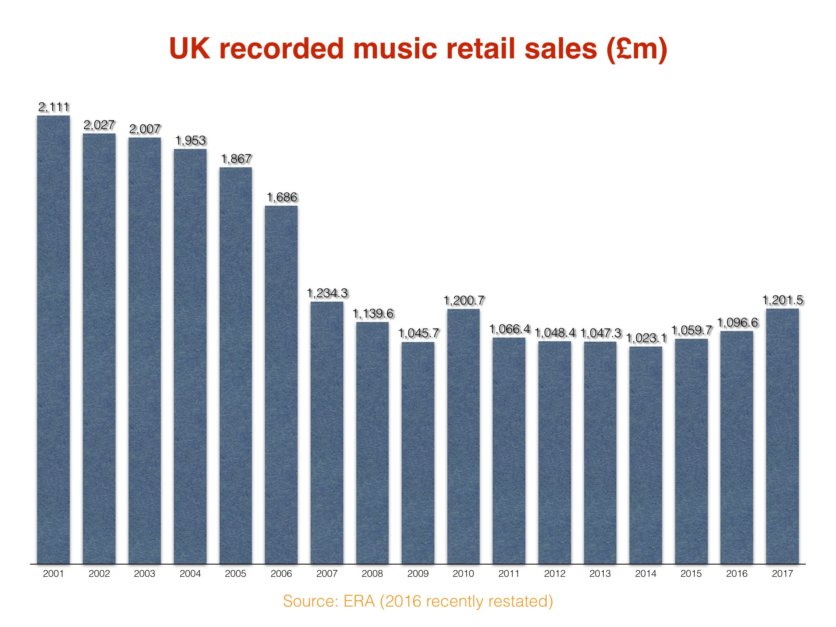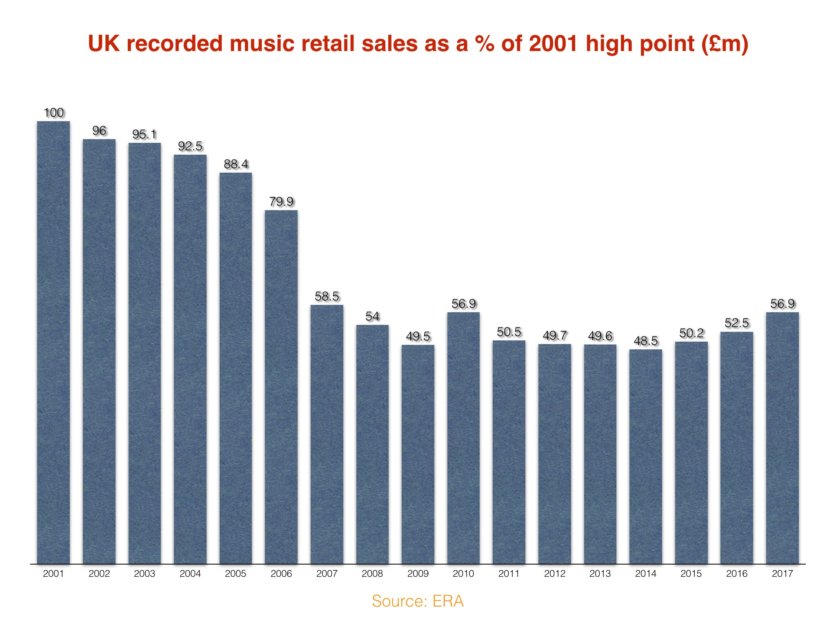 ---
To better illustrate the gulf between the prosperity of then and now, let's answer an intriguing hypothesis: what will the UK recorded music business look like if it continues to grow its turnover at an impressive rate of 9.6% each year?
That aggregate level growth over the next decade, in the UK's developed recorded music market, would be pleasing – but is by no means a sure thing.
Take, for example, Sweden, one of the world's most sophisticated streaming markets: according to data from that territory's local IFPI (quietly released towards the end of last year), its recorded music market only grew by 2.8% in the first half of 2017 – up to 560.8m SEK.
Streaming revenues in the home of Spotify were up by just 5%, to 491.3m SEK in the period. (Subscription streaming cash was up 6.3% – but ad-funded was down 21.8%, with video streaming down 25.5%.)
Right now, however, one of these markets is certainly further ahead in terms of streaming's cultural acceptance. Across 2017, streaming revenues claimed 89% of all recorded music revenue in Sweden; in the UK, according to ERA's numbers, that number stood at 48%.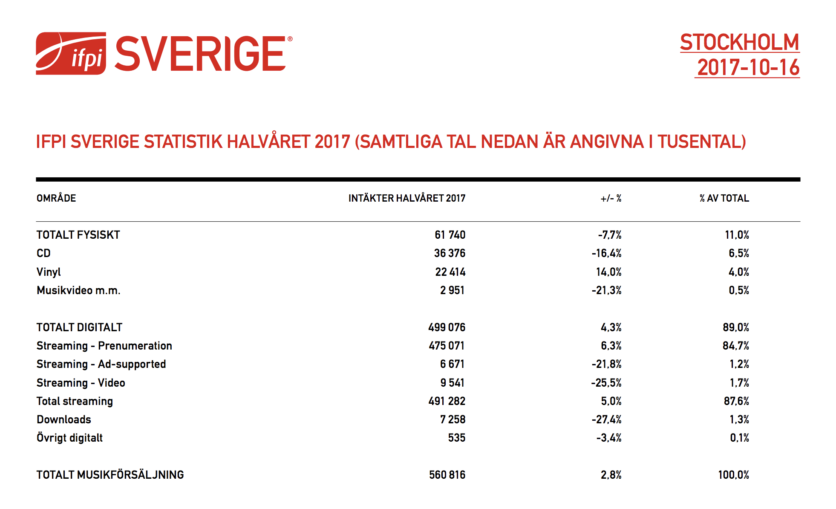 ---
Back to the UK, and our 9.6% annual growth forecast.
According to MBW's calculations, at this rate of growth it will take the UK recorded music music market until 2024 to surpass the industry's previous high-point (2001), when it would reach £2.28bn in revenue.
However, this doesn't give a truly fair comparison, because it doesn't consider the effect of inflation on the Great British Pound (GBP).
In today's money, that £2.11bn revenue achieved by the UK record business in 2001 is actually, when adjusted for inflation, worth £3.28bn.
Continuing with our 9.6% annual rate of growth forecast, that means it would take the British recorded music industry another ten years to surpass its previous high point (see below) – eventually hitting £3.3bn in 2028.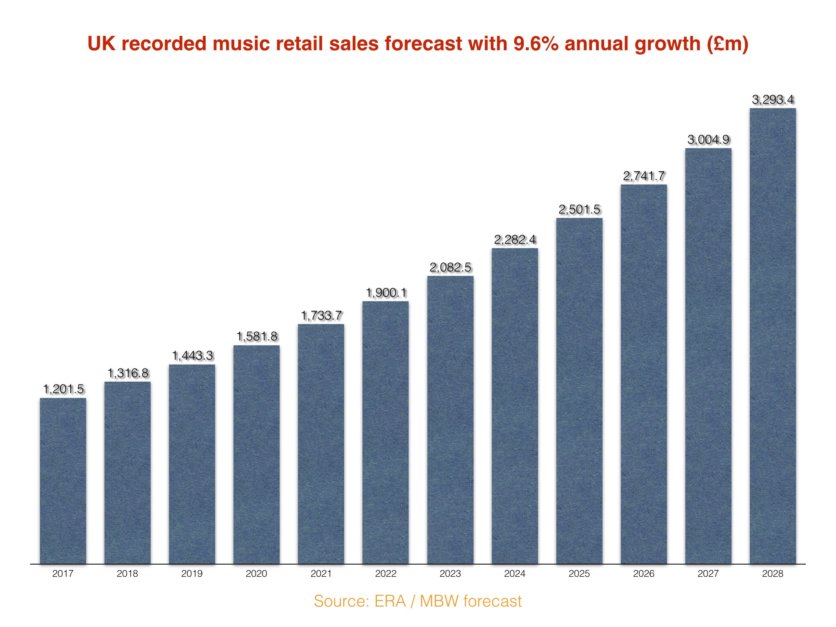 ---
The obvious question, then: does streaming still have the legs in the UK to add another £2bn to the market's current recorded business's annual turnover?
Or will it reach a point of maturity before then – as seen in Sweden – which means double-digit leaps in annual revenue are rendered a thing of the past?
---

In a global sense, the opportunity laid on by the streaming revolution for the music business is undeniable: when the likes of Latin America, China, Africa and Russia reach their true potential, it should add billions upon billions to the annual bottom line of the worldwide business.
But a word of warning: Developed markets like the United Kingdom (and to a lesser degree the United States) have a long, long way to go before they can legitimately claim to have brought themselves back to the good old days.
Interestingly, the UK's biggest-selling album of 2001 was Dido's No Angel, which shifted 1.92m copies in the calendar year. The biggest-selling album in the UK last year – Ed Sheeran's Divide – sold 2.1m copies in its home market, not including streaming.
Despite this surprising result, the albums market has collapsed since 2001 in Britain – selling half the units last year than it did as recently as 2010.
This decline is a vital reason why the UK industry's annual retail turnover ended 2017 some £910m behind where it was 16 years before.
Streaming may have put the wind in the sails of the modern record business but, quite clearly, there remains absolutely no room for complacency.
---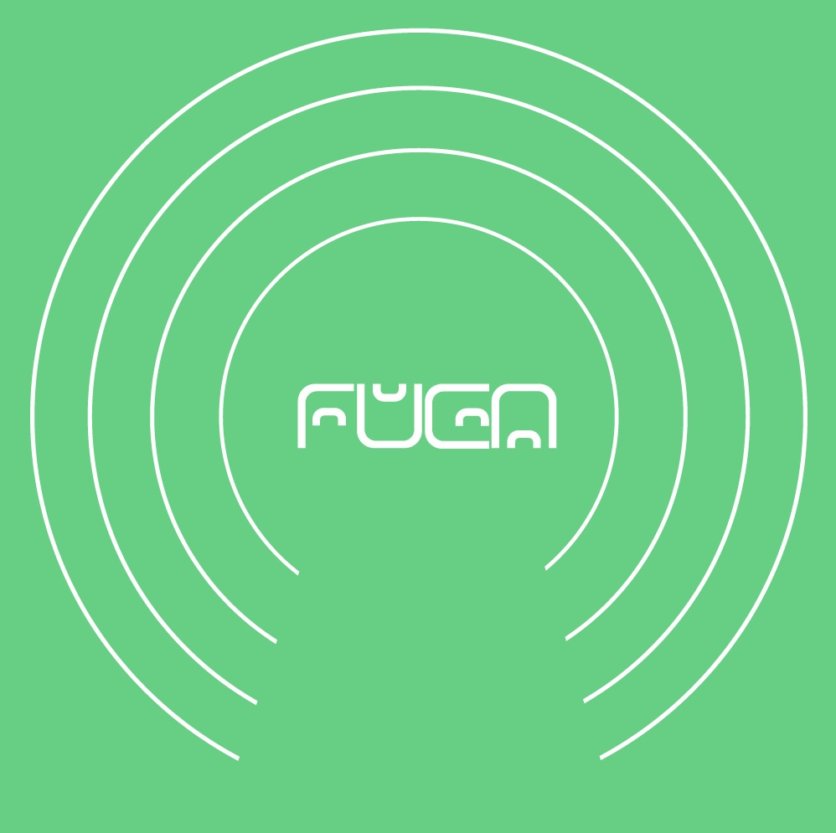 The MBW Review is supported by FUGA, the high-end technology partner for content owners and distributors. FUGA is the number one choice for some of the largest labels, management companies and distributors worldwide. With a broad array of services, its adaptable and flexible platform has been built, in conjunction with leading music partners, to provide seamless integration and meet rapidly evolving industry requirements. Learn more at www.fuga.comMusic Business Worldwide