UK-born travel and music-related experiences company Pollen has fallen into administration.
Streetteam Software Limited, Pollen's UK-based parent company, has called in New York-headquartered restructuring and insolvency specialists Kroll to administer its restructuring.
Today's news marks the latest chapter in an ongoing saga at Pollen over the past few months.
In May, the company, founded in 2014 by brothers Callum & Liam Negus-Fancey, laid off over 150 members of staff, just one month after raising $150 million in a Series C round.  The company's investors included Kindred, Northzone, Sienna Capital, Backed and Draper Spirit.
The Telegraph reports today (August 10) that one of those investors, Sienna, 'had already' written off its own $93 million (£79m) stake in the company prior to the restructuring news.
As noted by The Telegraph, the British Government has also previously invested in Pollen through the taxpayer-backed Future Fund.
In an official statement issued by Pollen's parent last night to announce the start of the restructuring process with Kroll, the company says its "management team have been in ongoing negotiations with a potential buyer for the parent company but have been unable to agree to terms in an appropriate time frame, leaving the board and shareholders agreeing the best option is to restructure the business".
The statement added that "bids have already been received for the customer-facing subsidiary companies," of Streetteam Software Limited, adding that "customer experiences and refunds will not be affected".
The statement claimed further that Streetteam Software Ltd's subsidiary businesses, "will continue to trade as normal".
This week's news was also confirmed by multiple Pollen employees on LinkedIn, including the firm's Chief Technology Officer, Bradley Wright.
In the statement issued by Pollen's parent Streetteam Software last night, the firm says that its "management team are working hard to get the best outcome for all stakeholders, whilst working with shareholders to find affected employees alternative positions in their portfolio of companies".
The company was reported earlier this month to have delayed its payroll in July, while Sifted reported at the start of last month that the firm missed its payroll in June, and was working to 'secure new funding, potentially in the form of an acquisition'.
Separately, London-based creative and marketing agency TWENTY:TWO Co-Founder Tasha Demi, claimed, in a lengthy LinkedIn post last month, that Pollen "don't pay small businesses for their work". Demi wrote that Pollen owes the firm  "just shy of £24,000 which as you can imagine is a HUGE amount of money for two young women to forgo".
Also last month, we learned that widely respected British music executive Zeon Richards had decided to resign from his position as Head of Partnerships at the company, "citing practices within the company which do not align with my ethics".
"The knock-on effects of COVID-19 over the last two years, which decimated much of the travel sector, together with the tech stock crash and current consumer uncertainty in light of global economic conditions, put too much pressure on the business whilst at a critical stage of a scale-up's maturity."

Pollen
Pollen claims to have created "hundreds of exclusive travel experiences and world-class IP, featuring the world's biggest talent and brands, including J Balvin, Justin Bieber, SEVENTEEN, and Duran Duran".
The company reports that it had more than 250,000 travelers in the last 12 months across more than 300 experiences. In 2021, Pollen reports that its "sales increased more than 300% despite the pandemic".
Pollen's parent company reported a loss of £51.4 million ($62m) for the year ended December 31, 2021, according to company accounts filed with the UK's Companies House (see below).
---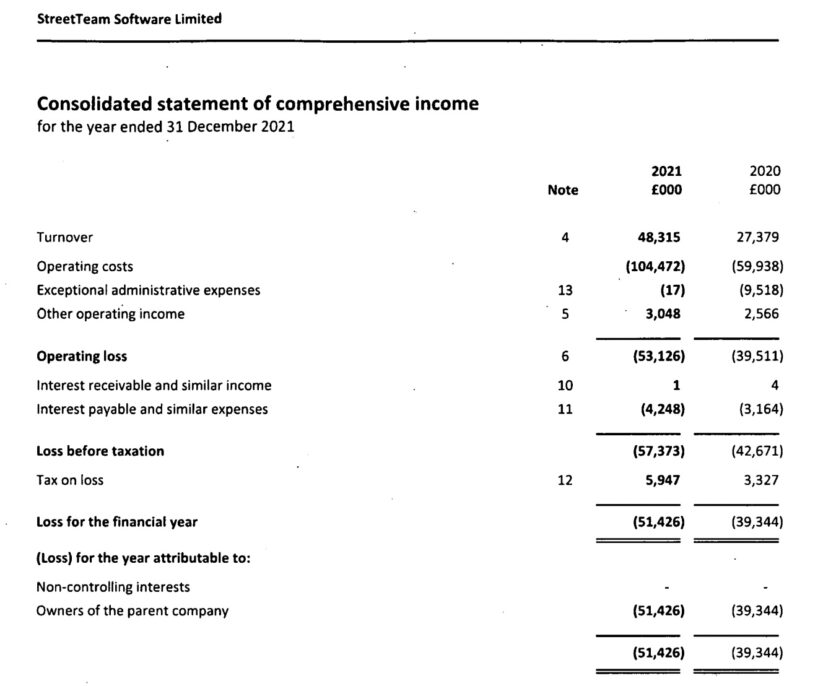 ---
In a statement issued this week, the company pinned its problems on "the knock-on effects of COVID-19", as well as  "the tech stock crash" and "consumer uncertainty".
Said the company in a statement: "Despite strong growth since Streetteam Software Ltd.'s inception eight years ago, the knock-on effects of COVID-19 over the last two years, which decimated much of the travel sector, together with the tech stock crash and current consumer uncertainty in light of global economic conditions, put too much pressure on the business whilst at a critical stage of a scale-up's maturity."Music Business Worldwide