MBW's Stat Of The Week is a series in which we highlight a data point that deserves the attention of the global music industry. Stat Of the Week is supported by Cinq Music Group, a technology-driven record label, distribution, and rights management company.
---
If there were any doubts in the music industry about HYBE's ability to generate significant revenues in the absence of its flagship K-Pop group BTS, the company's latest financial results indicate otherwise.
On Tuesday (May 2), the South Korea-based entertainment giant revealed that its revenues in Q1 2023 grew 44.1% YoY to $306 million (410.6 billion South Korea Won).
One of HYBE's biggest highlights in the quarter was the revenue it generated from album sales, which became the company's second-largest source of revenue in Q1 2023.
As you can see in the company's earning summary below, revenues generated by sales of albums released by HYBE artists in Q1 grew by a whopping 185.1% YoY to 184.28 billion South Korea Won ($137.4m).
---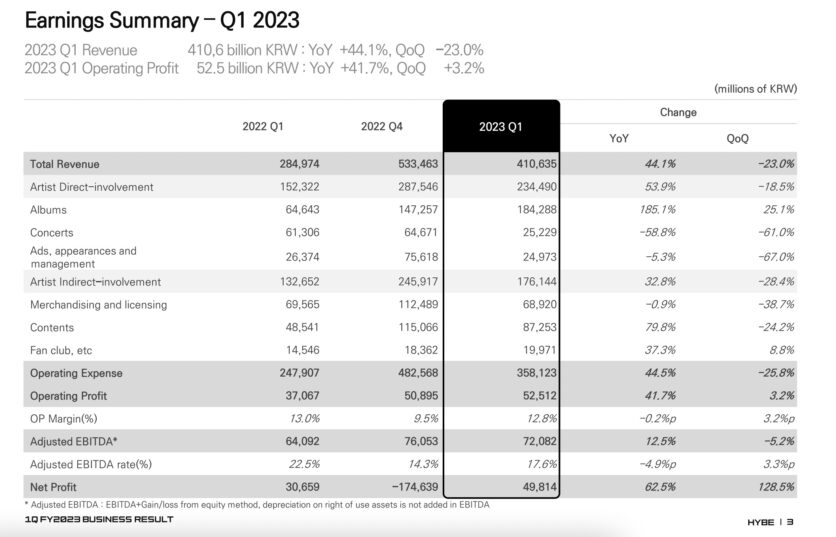 ---
HYBE points to a number of artist highlights that contributed to that Q1 album sales revenue haul.
Amongst those highlights were rising K-Pop stars New Jeans, who, HYBE confirms in its presentation, sold more than 1.3 million copies of their 'single album' OMG in Q1.
Le Sserafim, meanwhile, achieved 1.38 million preorders for their first studio album Unforgiven, which was released on May 1.
BTS member, Jimin, meanwhile, released his solo album FACE on March 24. HYBE confirmed in its investor presentation that the album sold 1.45 million copies worldwide on its first day, becoming the first solo K-Pop artist to sell more than a million albums on release day.
---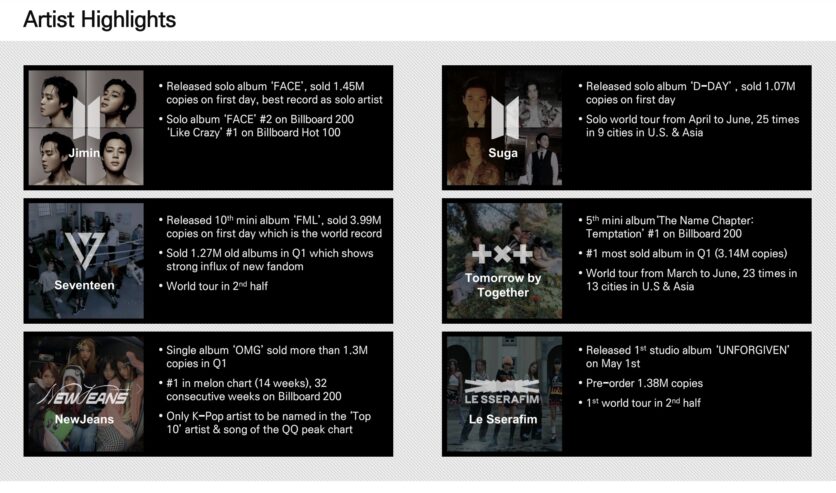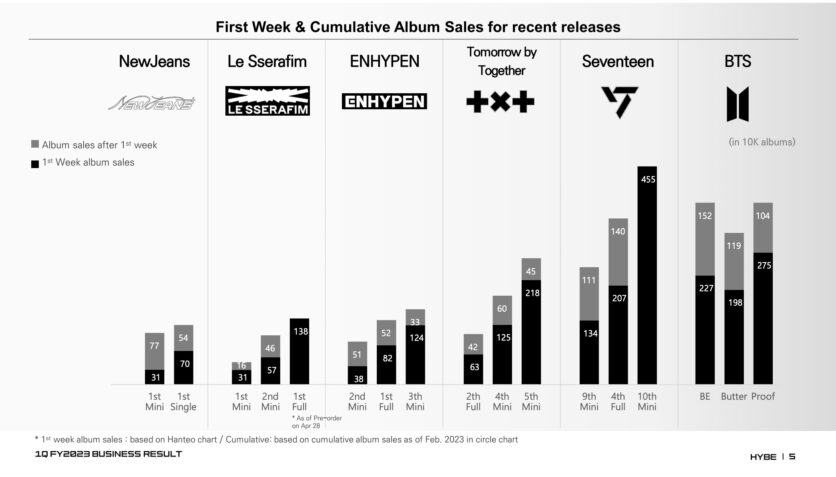 ---
Elsewhere, one of HYBE's other big album highlights in Q1 came from K-Pop group Tomorrow x Together.
Tomorrow x Together, according to HYBE, sold 3.14 million copies of their album The Name Chapter: Temptation (released January 27) in Q1. The album topped the Billboard Hot 200 in early February.
---
Within HYBE's investor presentation, the company also highlights the recent album sales success for 13-member K-Pop group Seventeen, who are signed via HYBE label Pledis Entertainment.
According to HYBE, Seventeen's '10th mini album' FML sold 3.99 million copies on its first day (April 24), which HYBE says is a "new world record" for a K-Pop album. HYBE has confirmed to MBW that those 3.99 million copies sold only include physical sales.
Additionally, according to HYBE, Seventeen sold 1.27 million copies of their 'old albums' in Q1 which the company suggests, "shows strong influx of new fandom".
South Korea-based chart company Hanteo, whose real-time physical album chart tracks album sales from over 1,100 record stores worldwide, reports that FML sold over 4.5 million physical copies worldwide in its first week.
Hanteo also reports that FML racked up 4.64 million preorders, making it the most-preordered K-Pop album of all time. Back in 2020, HYBE-signed superstars BTS's Map of the Soul: 7 received 4.02 million pre-orders.
---

---
Seventeen's first-week album sales figure also means that the group have beaten the first-week sales record for a K-Pop album previously set by BTS in 2020, when their fourth album MAP OF THE SOUL: 7 sold 3.37 million copies in its first week.
MAP OF THE SOUL: 7, released on February 21, 2020, sold a total of 3,378,633 copies during the week of February 21-27).
Seventeen's FML sold 4,550,214 copies during its first week.
---
HYBE's revenues grew 44.1% YoY to 410.6 billion South Korea Won in Q1 2023, according to a new investor filing published by the South Korea-based entertainment giant on Tuesday (May 2).
Those quarterly revenues for HYBE's Q1 (the three months to end of March), convert to approximately $306 million.
The company's adjusted EBITDA in Q1 was 72 billion South Korea Won ($53.6m).
---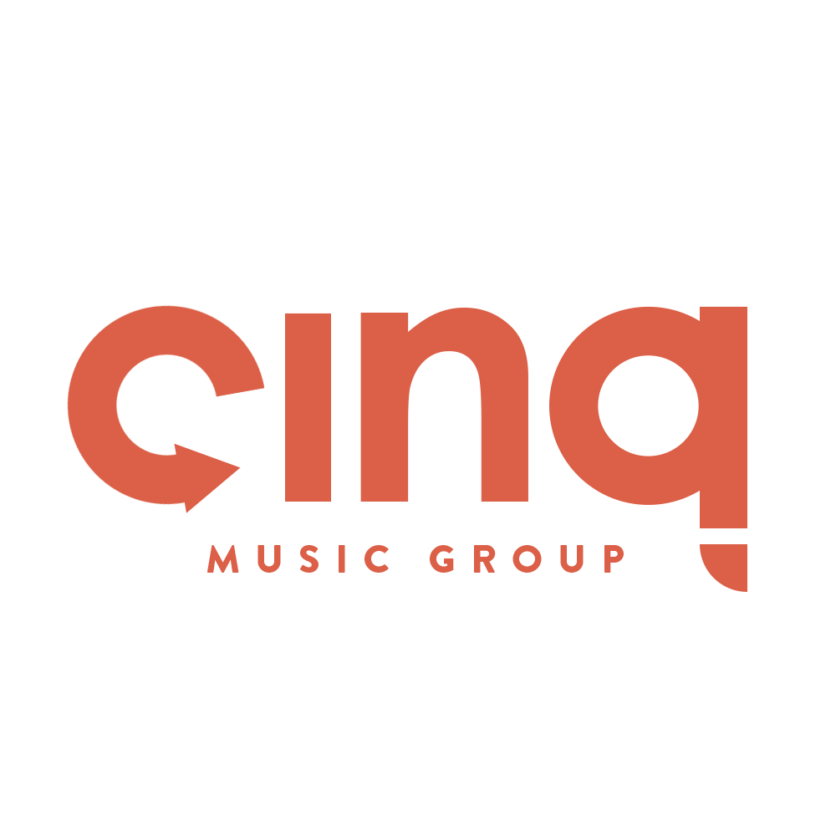 Cinq Music Group's repertoire has won Grammy awards, dozens of Gold and Platinum RIAA certifications, and numerous No.1 chart positions on a variety of Billboard charts. Its repertoire includes heavyweights such as Bad Bunny, Janet Jackson, Daddy Yankee, T.I., Sean Kingston, Anuel, and hundreds more.Music Business Worldwide