Hip-hop's domination of the modern American music streaming business is reaching new heights.
'Hip-hop/Rap' tracks accounted for more than a quarter of all on-demand plays on music streaming services in the US last year, according to new stats from trusted market monitor BuzzAngle.
Some 25.4% of US-based streams across audio and video platforms were of hip-hop music in 2018, up from 22.0% in the prior year.
On audio streaming platforms like Spotify, Apple Music and Pandora, hip-hop accounted for 26.9% of on-demand plays, up from 23.6% in 2017.
And on video streaming services like YouTube, hip-hop claimed 22.8% of music plays in 2018 – up on 19.4% in the prior year.
---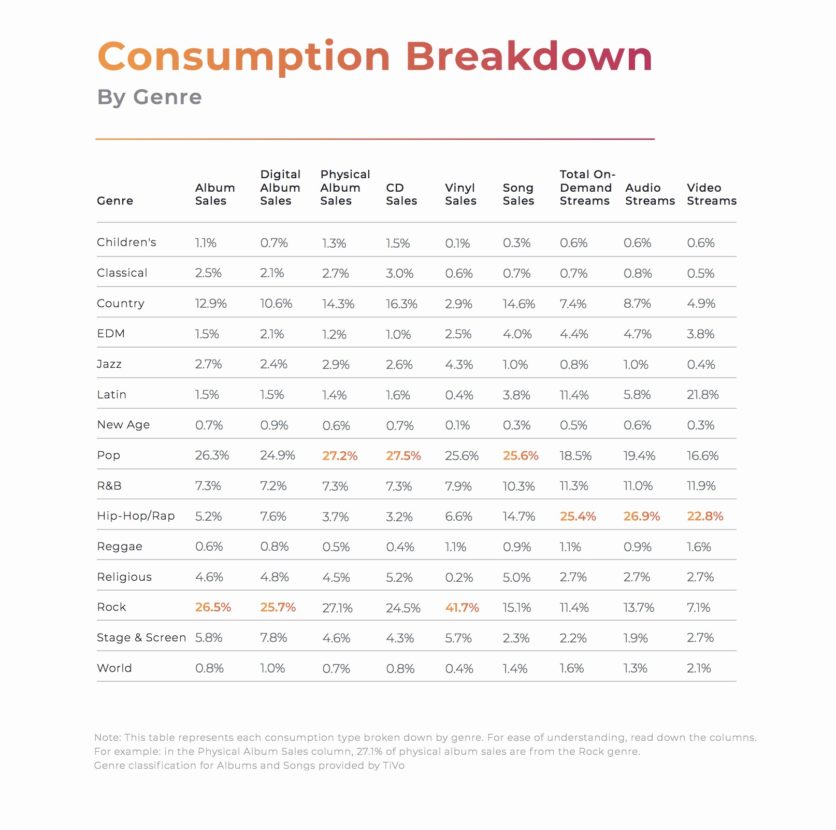 ---
It's perhaps no surprise, then, that Drake's record-breaking Scorpion was named BuzzAngle's biggest overall album of 2018, while his single God's Plan took the crown for the biggest track across all three relevant formats: downloads, audio streams and video streams.
Meanwhile, the Latin genre grew its share of US-based music video streams to 21.8%, up from 20.1% in 2017. Yet the genre claimed just 5.8% of all on-demand audio streams in 2018 – and 11.4% of blended audio/video streams.
---
In total, according to its new annual report, BuzzAngle counted 534.62bn on-demand audio streams in the US last year, up 41.8% annually. Overall music video streams grew at a slower pace, up 24.3% to 274.88bn.
Total Stateside on-demand music streaming, then, reached a volume of 809.5bn across audio and video in 2018 – up 35.4%, or 211.5bn, year-on-year.
If the US industry can repeat this growth margin in 2019, that streaming number will comfortably top one trillion plays this year.
During the 4th quarter of 2018, said BuzzAngle, paid-for subscription accounts contributed 85% of all on-demand audio streams (157.4bn).
---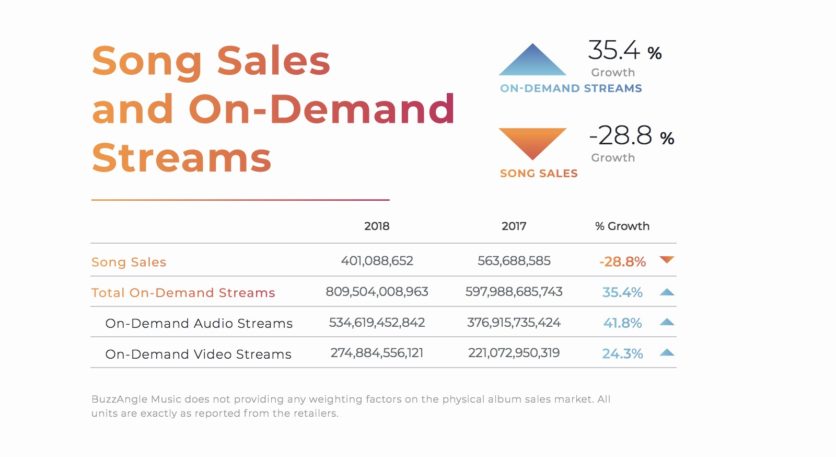 ---
Overall US album sales (real album sales, not equivalents) fell by 18.2% in 2018, says BuzzAngle, with a total volume of 121.19m.
Of this, 50.75m albums were digital downloads, a number which was down 21.8% year-on-year.
Physical album purchases dropped to 70.43m, down 15.3%, of which 60.65m were CD sales (-18.5%).
Interesting: those hot new guitar pluckers The Beatles were officially the USA's biggest-selling physical music artist of 2018. (That's on a unit basis, across CD and vinyl.)
Overall vinyl album sales rose 11.9% to 9.66m – making the format around 1/6th of the size of the CD market.
Single-track downloads, meanwhile, fell 28.8% to 401.09m.
---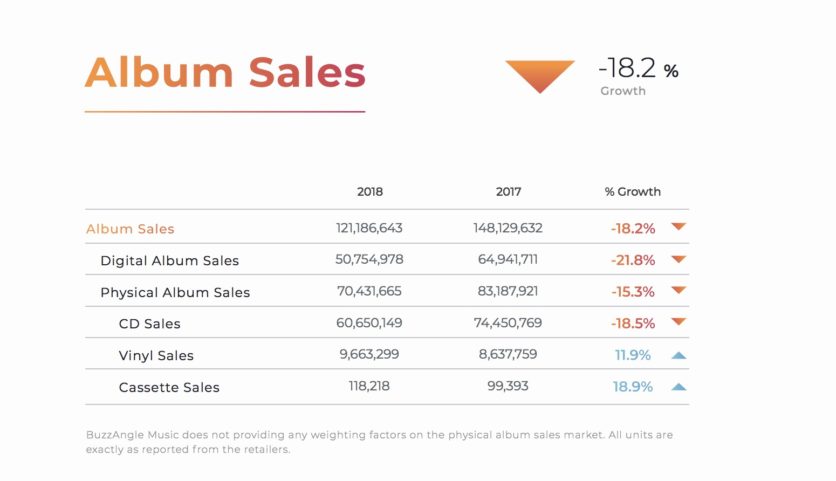 ---
You can download the full BuzzAngle 2018 industry report through here.Music Business Worldwide