MBW's World's Greatest Managers series profiles the best artist managers in the global business. This time, we speak to the directors of Modest!, a London-based company which looks after the likes of Niall Horan, Five Seconds Of Summer and the Spice Girls (with Simon Fuller), and which was behind the phenomenon of One Direction. The World's Greatest Managers is supported by Centtrip, the FX and banking solutions provider – which helps artists, managers and music businesses obtain an optimum currency exchange deal.
---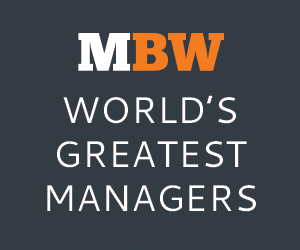 You know what the exclamation mark's for, right?
The punctuational appendage in Modest!'s name is actually pretty crucial to understanding one of the most successful artist management companies in history.
It's oxymoronic, of course; the most 'look at me!' tool in the English language plonked beside a word which is the very antithesis of showboating.
Modest! literally started life as a joke – a flippant suggestion from ex-Sony UK boss Ged Doherty for what the not-exactly-shrinking-violets duo of Richard Griffiths and Harry Magee should call their new company before it officially formed 15 years ago.
Yet by luck or design, Modest! the brand, exclamation mark and all, perfectly captures the tricky balance required of today's premier artist managers: ensuring that everyone within the epicenter of the global music business knows your name (and your reputation)… whilst never, ever pinching the oxygen of prominence away from the artists you represent.
---
This figurative high-wire act is on our mind when MBUK finds itself heading to the south-west London offices of Modest! on a brisk November morning.
The firm's modern-day partners – Griffiths, Magee and Will Bloomfield – don't really do lengthy interviews, let alone public self-congratulation. They're usually far happier letting their artists, and their masses of sales, do the talking. (Across talents ranging from Little Mix to Alison Moyet, Niall Horan, Olly Murs, Five Seconds of Summer, MNEK and the Spice Girls – plus previous clients like JLS, Leona Lewis and One Direction – Modest! acts have shifted no less than 19m tickets and 200m records globally to date.)
This, though, is a particularly rare occasion: not only is Modest! currently marking a decade-and-a-half in existence, having formed in 2003, but the company recently collected the prestigious Peter Grant Award in front of its peers at the 2018 UK Artist & Manager Awards.
This perhaps explains how we were able to convince Griffiths, Magee and Bloomfield to come together for an in-depth discussion – all about their company, their beliefs, the modern music industry, the historic music industry, their high points, their low points… and their desire to do things even bigger and better over the next 15 years.
---
A look-back question for Richard and Harry to start: you both rose to very senior roles in the record industry. What's more fun: running a management company for which you're entirely responsible, or working in those rarified positions at large corporations?
Richard: That's a difficult one, because I got lucky, I ran Epic Records in America in the '90s. Can you imagine? Glory days. I always use the Spin Doctors as an example of how crazy it was: we sold eight million Spin Doctors albums, not to mention 20 million Pearl Jam records. Add in the thrill of being in America for that period. But overall, I would give up all those record company days to just have the chance to do the management thing.
In a heartbeat, actually. For five years we couldn't take a penny out of Modest! – only Lemar [whose first two albums went Platinum] kept the lights on. Harry and I used to play golf at Roehampton every Monday because there was no-one to talk to; we didn't have anything going on and all the labels were busy in their Monday morning meetings. We got pretty good. We don't play golf anymore!
"For five years we got pretty good at golf."
Harry and I both started off as entrepreneurs, but then each of us spent a long period within record companies. Modest! has been a huge opportunity to think like entrepreneurs again, and we give great credit to Je Kwantinetz for enabling that to happen.
Harry: Obviously it's more satisfying being in charge of your own destiny. It's also very satisfying developing young managers at Modest!; people that were quite junior and then develop into fully-fledged managers who you would trust with your life. We thought we knew the music business when we worked at record companies, but after starting Modest! we soon realised that we didn't know it at all.
---
What do you mean?
Harry: We might have known the record business, but we didn't really know the music business. I was having a conversation a year or so ago with Mike Greek at CAA about this; about how long it takes you to become good at something, and we agreed it's probably 10 years.
"You don't ever stop learning in management, and that's what fuels the excitement here."
After five years of running Modest! [Richard and I] kind of thought we knew what we were doing as managers but, really, I think it took 10 years to get there.
You don't ever stop learning in management, and that's what fuels the excitement here. The most satisfying thing is not only having hits with an artist, but actually breaking them properly so you can sell tickets – that's when you know that people really care.
---
When you say "people really care" enough to buy tickets; do you worry that in the track-led streaming age, with so many songs being played, artists are being forgotten a bit?
Harry: There isn't any shortcut to selling tickets. You have to go through a process of development and building an audience. Streaming services, as well as the way the artist builds their own socials, is all part of that puzzle.
The main thing is, apart from needing a brilliant artist with a very good sense of themselves, you need to have a good strategy. But it's so competitive and so fragmented out there today, getting to the holy grail of selling a substantial amount of tickets is, undoubtedly, more of a challenge than ever.
"When the album was first deconstructed on the iTunes Store, the industry thought it was the end of the artist project as we traditionally knew it."
Will: When the album was first deconstructed on the iTunes Store, the industry thought it was the end of the artist project as we traditionally knew it. The challenge now, of course, is that a [streaming playlist] is an entirely different ecosystem, a separate brand, essentially, to the artist's own.
Broadly, the challenge is far greater, but the potential prizes are far bigger. You have to look at the amount of time it used to take to properly break artists – that 'tipping point' moment – and then double it. We all have to slightly re.think the way we look at traditional artist development.
Richard: The thrill of finding a new act, signing it, developing it, and then really breaking it – it's still the biggest buzz in this industry. Part of that is being proven right; we get proven right occasionally and we get proven wrong occasionally.
---
Management companies are doing a lot more of the 'heavy lifting' in an artist's early career than they might once have been expected to. But Modest! has also had recent success working with major labels – not least Capitol with Five Seconds of Summer. When during an artist's trajectory do you tend to sign acts to record companies?
Richard: We [resist doing so] until that label route makes complete and utter sense. There is so much preparation and investment involved before we're ready to sign an artist to a label.
We work with some very good record companies that we love, but we wouldn't just give them our acts right away, because we know the reality: whatever a label may say during the romancing period about how they're going to take their time with your act, the clock starts ticking as soon as you sign.
There are those quarterly finance meetings where [A&Rs/label Presidents] are asked, 'By the way, what's happening with Joe Bloggs?' 'Don't worry, we've just started with Joe Bloggs, it will take some time.' Then they get asked three months later again, and three months later again, and the fear is that those questions soon start to become, 'Shouldn't we be moving things along with this artist by now?'
"There is so much preparation and investment involved before we're ready to sign an artist to a label."
Harry: We've all seen that scenario where an A&R person is being forced to take shortcuts, or make decisions which, under normal circumstances, they wouldn't have done, because of those pressures. All of that depends on the label, of course, but it's a common observation.
Will: There are a few obvious exceptions to that though. Warner Bros., for example, has done an extremely good job with Dua Lipa. And we're are all fans of the great job Relentless is doing with Tom Walker. It feels like those artist development stories within record labels are happening because senior people are ensuring that these acts are developing at the right pace. They are thinking long-term.
Harry: That early incubation process is happening more and more in management companies now, which is why we've had to [invest] in developing our artists' writing skills, recording skills and live skills.
And now management companies can also create cheaper videos and [distribute] music themselves to keep that momentum going. Sometimes the reason why labels come in really early, too early, on artists is just so they're front of the queue to be considered when an act is ready [to think about a record company deal].
---
What makes for a good record label relationship from your point of view?
Harry: The labels that we work with best understand all the areas where we add value. That creates a pattern where we can then understand where they add value. Our best results come from the labels where we have that mutual appreciation.
Richard: And it has to be a true partnership. I won't name names, but people in the past have given us very aggressive deals, but then sort of waited for us to get on and break the artist on our own – that situation doesn't work for anyone.
---
Modest! was quite a pioneer when it came to investing in your own digital marketing resource, correct?
Richard: Yes. I'd take a bet that, today, we have a bigger digital department than any [frontline] label in the UK. The big moment for us on was One Direction, where we worked very closely with Syco; they had some really good people, and we were very much in partnership on that campaign.
Sonny [Takhar], having been a very good marketing person before he became a very good A&R person, understood the need for [digital marketing] to be connected and consistent between us and Syco, and prevalent throughout everything.
That was also huge with Five Seconds Of Summer – we worked that band [digitally] from day one. [Modest! signed 5SOS in early 2012 to a co-management deal with Matt Emsell. After a year-and-a-half of groundwork, the band announced they'd signed to Capitol Records in late 2013.]
"I'd take a bet that, today, we have a bigger digital department than any [frontline] label in the UK."
Will: On 1D, that's a very interesting time to look back on, because they were really the first act to harness the power of social media globally. It was a case of the right act, at the right time, working with a team across the board who were ultra-aware of the need to think globally and ambitiously.
As concerns 5SOS, it was a classic example of us being able to add value to what the artist was already doing. They had a very clear idea of what they wanted to achieve, and how they wanted to be perceived. But they needed help to strategize and grow [their brand].
They had tons of ideas, and we were able to help them to filter and facilitate them. Once we signed them, when they were 15 and 16, they moved from the western suburbs of Sydney to Hanger Lane in Acton, and started honing their craft as songwriters, working with Steve Robson amongst others. Based on the band's ideas and vision, we were driving the digital marketing strategy hand-in-hand with Matt [Emsell], creating a steady drumbeat of content and engagement.
---
Five Seconds Of Summer certainly seems to be an example of you signing an act to a record company at the right time and for the right reasons. Why did you make that decision?
Richard: Lots of people wanted to do business with us after what happened with One Direction, of course. Nick [Raphael] and Jo [Charrington] at Capitol were very engaged with [Five Seconds], and helped come up with the band's first smash [2014's She Looks So Perfect].
Obviously we know them well and we've had great success together in the past. And I must say that the London-based international team at Universal, [which on 5SOS] is led by Rob Fleming and Tom Burrow, have done an absolutely incredible job.
Harry: Plus, in America, where we were already getting traction, we needed radio promotion to break properly. To do that we needed a major's resource. We got that from Capitol in the US, and they've definitely delivered – right up to now with YoungBlood [which recently spent five weeks at No.1 on the US Top 40 chart].
---
US radio initially favored The Wanted over One Direction…
Richard: There are a lot of good stories from that time. What Makes You Beautiful comes out [in September 2011] and is a smash in the UK, causing excitement around the world. Then Simon [Cowell] insists that Gotta Be You is the second single, and it comes out and goes to No.3.
Suddenly, we're taken off the Sony priority list. Meanwhile, we've booked the first tour and Steve Barnett's niece bullies him into taking her to the London show. [Barnett, now CEO & Chairman of Capitol Music Group, was then COO & Chairman of Columbia in New York – 1D's Stateside label.] Steve sees what's going on, and he's all in. Rob [Stringer] came in strong on it as well, and they add 1D to the Big Time Rush tour in the USA, which had already sold out.
A couple of months later, we all went to Chicago to see the first US date [in February 2012], with One Direction supporting, in front of 4,500 people. The band come on, doing their thing for five or six songs, and the crowd are singing every single word.
1D come off stage, and the hall empties – everyone goes to the merch stand. We sold out of all of our merch that night; I mean all of it, for the entire US tour. Steve and I looked at each other and it was like, 'Okay, we've really got something here.' Merch [spend] per-head on tour is still my No.1 criteria for how an artist is really doing with their fans.
Harry: [Before the Big Time Rush gigs] we booked a UK tour that started in December and ran through January, which was very unusual because normally you leave those two months completely free for a bit of promotion and a break.
Sony and Syco thought we were nuts, but the reason we did it is because we could see what was happening on socials, and we knew the band needed knocking into shape from a live point of view. We refused to put them straight into arenas because they needed to learn stagecraft, and we felt they needed more than one album's worth of material [to go to that level].
Will: I remember very clearly sitting in this room on the phone with [Sony], and things had started to go well in the UK. America was an unknown quantity, in terms of investing the band's time and Sony's resources. Richard and Harry were saying, 'We're going all in on the USA – if we're doing this, we're doing it properly.' That galvanised everyone's focus around the artist, and cemented the level of ambition.
Richard: We trusted the team of Rob and Steve [at Columbia]. There was some scepticism at Sony in Europe, with some notable exceptions, but the Americans understood what was going on really early.
Will: We had no way of analysing the numbers online at that time. It was the States. It's harder in other parts of the world. That said, if [Sony Aus/NZ boss] Denis Handlin tells me, 'This is going be a hit over here,' I believe him. We don't ever question what Denis asks us to do, because he has delivered for us consistently over the past 15 years.
---
Will, how did you end up at Modest! and what was your interview like?
Will: Jeremy Marsh. I met him through a mutual friend and he said that these guys had just started their own company, and that I should go and speak to them.
At the time I was at WEA, but I didn't want to work for a major record company. So I met Harry at a pub in Parsons Green, and then I came to this office, which now has 30 people in it but at the time had Richard and his PA Jane, and that was it. Richard looked up and said, 'You worked for Chris Blackwell?' I said, Yeah. And then he said: 'Good. I worked for Chris Blackwell too.' And that was pretty much that. He offered me a job on the spot!
Richard: One thing we're quite proud of is that about a quarter of the people that we employ today started with us as interns – including the [day-to-day] managers of Little Mix, and two of the people who look after Five Seconds Of Summer.
---
If I gave you a magic wand and you could change one thing about the music industry, what would it be and why?
Will: I'm gonna say it: secondary ticketing. I feel like it's the greatest challenge we have right now as an industry. It casts a shadow over the entire business. It's appalling, but one of the ways we will win the war is to educate the public. It's not just about legislation, although there have been great moves in that direction. It's also about ticketing agencies and promoters changing their practices, as well as venues. The current situation reflects very poorly on the music business, and it's basically happening because of a bunch of crooks.
Richard: I agree with that completely. I would add that, in the world we're in now, there should be no need for record companies to be greedy and take money from '360' deals. I understand why they did it for a long time, because of the perilous state the business was in, but times have changed. It's unfair and it's not right.
---
What are your individual proudest moments of the past 15 years?"
Will: 10 years managing MNEK, since he was 14. This year saw the release of his debut album, of which we are incredibly proud. Also, Five Seconds Of Summer claiming five weeks at No.1 on the [Billboard] Top 40 chart. Particularly when – how can I word this? – not everybody believed like we believed. The band have proven all of those people wrong.
"Management is not an easy job, because there's a lot of emotion attached to it; it needs a lot of creativity and a lot of strategy, and a lot of drive."
Harry: All the people that have been at Modest! for many years and who are still incredibly committed to managing their artists. Management is not an easy job, because there's a lot of emotion attached to it; it needs a lot of creativity and a lot of strategy, and a lot of drive.
Our people have helped constitute the fabric and the culture of Modest!. We have ambitions to broaden that culture even further. And I'm obviously very proud of the artists who have been with us for a long time; that's not always about commercial success, it's about a mutual respect and commitment.
Richard: I agree with all of that. I love the fact that Diana Vickers, Alison Moyet, Paul Potts, Scouting For Girls and many others are still with us and continue to trust in us to deliver. But I'm going to be more crass than these two: I'm a Kansas City Chiefs fan, and going to Arrowhead Stadium with One Direction, selling 80,000 tickets in Kansas, was pretty fucking incredible.
---
Harry, you mention your ambitions to broaden Modest!'s culture and operation. What does the future hold?
Harry: It's been a long time since One Direction, but we always had the intention of keeping the infrastructure that we built over those over years. We've done that, and we've brought in more artists. Now we are going to be bold with Modest! and our
companies. It's not just about signing new acts and developing them – it's about making important strategic moves. at can be in master rights, publishing, or via partnerships with new or established managers.
You can see that with the Spice Girls: we're co-managing them with Simon Fuller, and they've just sold out three Wembleys amongst 13 stadiums in total – 650,000 tickets. at was an incredibly exciting on- sale day. I was on the phone with David Zedeck, the agent from LA, at 2am his time, and Simon Moran, the promoter here. Every 15 to 20 mins we'd decide to either roll into the next held date or draw the line.
The girls were on a WhatsApp group in real time inputting their thoughts. The excitement and energy created in the five days from announcement to on-sale exploded into this memorable moment, selling more tickets than anyone expected. Clearly, the mood of the nation for a new era of Girl Power fitted our timing.
We're definitely not standing still. We're still extremely ambitious, and we're going to grow Modest! with new people, and into new areas – we're already increasing our presence in the United States, for one thing. As ever, we're always thinking about how we can shake things up.
---
Richard, what are Harry's best qualities in business? Harry, what are Richard's?
Harry: Richard is one to seize the moment. His energy is driven by passion, but he's also very pragmatic. He has the courage to move something to the next level before anyone else has even thought about it – where others may feel risk, he sees opportunity.
Richard: Harry completely understands artists. He is patient, and he also has a great creative eye. We are Yin and Yang.
---

Centtrip Music already works with many of the world's largest artists and is recognised as a leading provider of FX support and banking solutions to the music industry. The Centtrip Music account specialises in providing transparent foreign exchange (FX) rates, payments and expense management to global artists, managers, labels, promoters, collection societies and music industry accountants. It comes with a Centtrip-prepaid Mastercard which holds 14 currencies simultaneously and is accepted worldwide.Music Business Worldwide