Maneskin, the Eurovision-winning rock band from Italy, were officially the most-listened to artist in the world on Spotify last week.
The band's Four Seasons cover Beggin', originally released in 2017, hit No.1 on Spotify's Weekly Top 200 Global Chart (as of Friday July 8), with over 51.8 million streams. The track has been streamed over 192m times on Spotify in total.
Beggin' was also No.1 on Spotify's Daily Top 200 Global Chart with 7.3m streams as of Monday, July 12.
In reaching Spotify's Global Top 200 chart summit, Maneskin end Olivia Rodrigo's seven-week run at No.1.
As of Friday July 8, Rodrigo's track good 4 u, relegated to No.2 on the chart, had over 50.3m streams.
Ed Sheeran's Bad Habits is at No.3, with over 37.3m streams.
Maneskin also have another track in the Top 10 of Spotify's Weekly Global Top 200 chart, I WANNA BE YOUR SLAVE, which at No.8, generated over 28m streams last week.
Maneskin have become global superstars since winning the Eurovision Song Contest in May with their rock song Zitti e Buoni ("Shut Up and Behave").
The track is also currently in Spotify's Weekly Global Top 200 chart, sitting at No.36 with over 12m streams.
---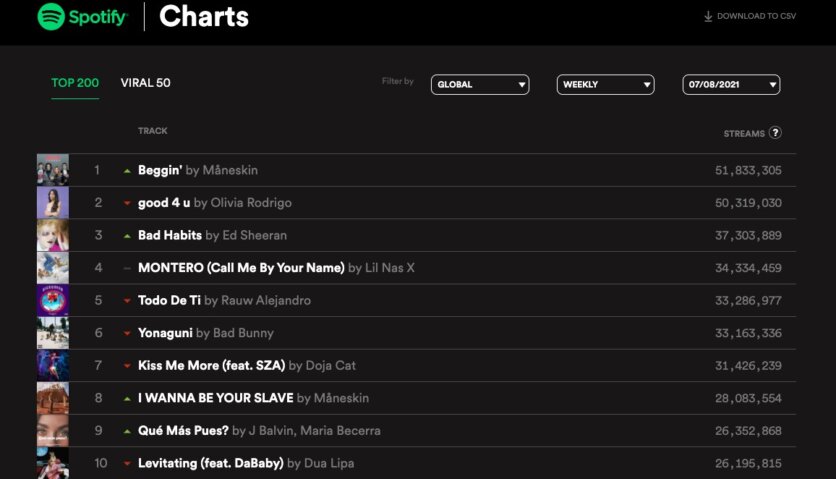 ---
Maneskin are signed to Sony Music Italy and go through Sony labels worldwide.
At the time of writing, the band have over 41 million monthly Spotify listeners, comfortably more than rock stars Foo Fighters (13.8m) and Arctic Monkeys (19.7m) combined.
Last Month, MBW reported that Maneskin has split from their manger of four years, Marta Donà – a former Sony Music Italy publicity executive – and founder and CEO of LaTarma Management.
At the time, Maneskin were on 29m monthly listeners, which means that their monthly listener count has grown by 12m in just two weeks (since June 30).
Maneskin recently made British chart history as the first Italian act to score two Top 10 entries on the Official Singles Chart, and over in the US last week, they topped Billboard's Hot Hard Rock Songs chart.
The band first topped Spotify's Top Viral 50 chart at the beginning of July, telling the streaming platform that "We are seeing crazy results and great feedback from so many countries outside of Italy – we didn't expect all of this".Music Business Worldwide