The combined sales of all three major record companies grew by a total of $1.04bn in 2017, with cumulative streaming revenues jumping $1.4bn year-on-year to offset physical and download declines.
As we've written before, that means the market share race between Sony, Universal and Warner is, these days, less a case of 'who's winning?' – and more of a case of 'who's winning hardest?'.
Today, MBW can reveal the answer to that question, with the global recorded music market shares of the three major labels in terms of their annual reported revenue in 2017.
Sony, Universal and Warner all reported their quarterly financial results throughout the calendar year, meaning that, with some tricky calculations (and even trickier currency conversion*), we've been able to work out which Big Trio had the best 12 months…
---
OVERALL PERFORMANCE
Let's start by looking at the most holistic measure of the major labels available: their total annual revenues across all income streams.
(Note: this includes the likes of licensing and other ancillary revenues – but is strictly limited to recorded music, and therefore doesn't include publishing or Sony's much-debated 'visual media and platform' division.)
As you can see below, Universal saw the biggest growth of any major in plain recorded music revenue terms, up over half a billion dollars ($503m) in 2017 compared with the prior year.
This was followed by Warner Music, who enjoyed a $331m rise, while Sony saw recorded music revenues jump $206m.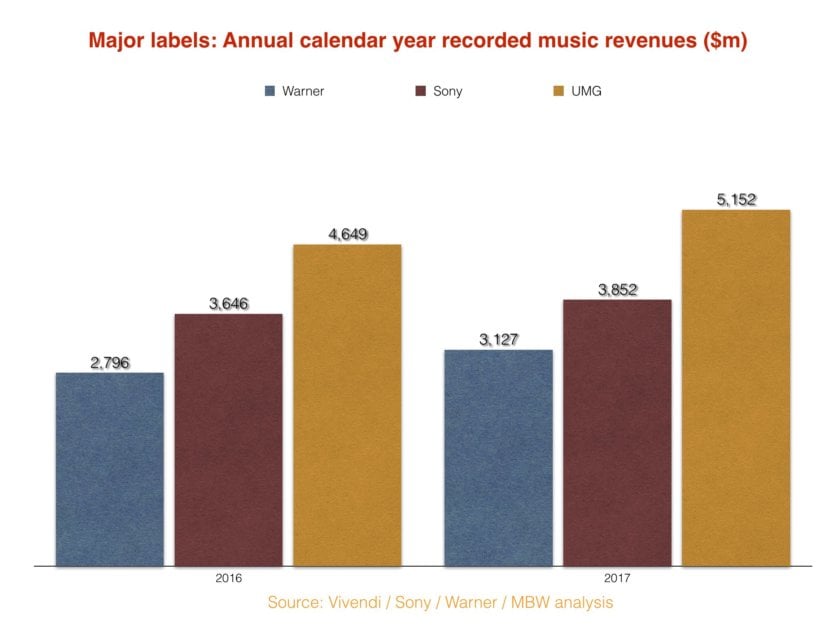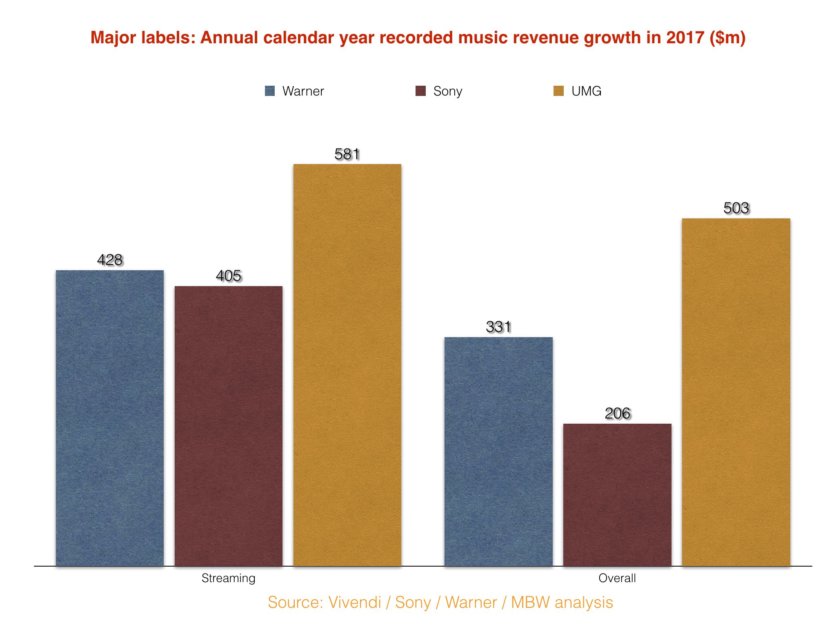 ---
In terms of major label market share, then – that's solely major label market share, not including the independent sector – both Warner and Universal saw small gains, with Sony dipping 1.1%.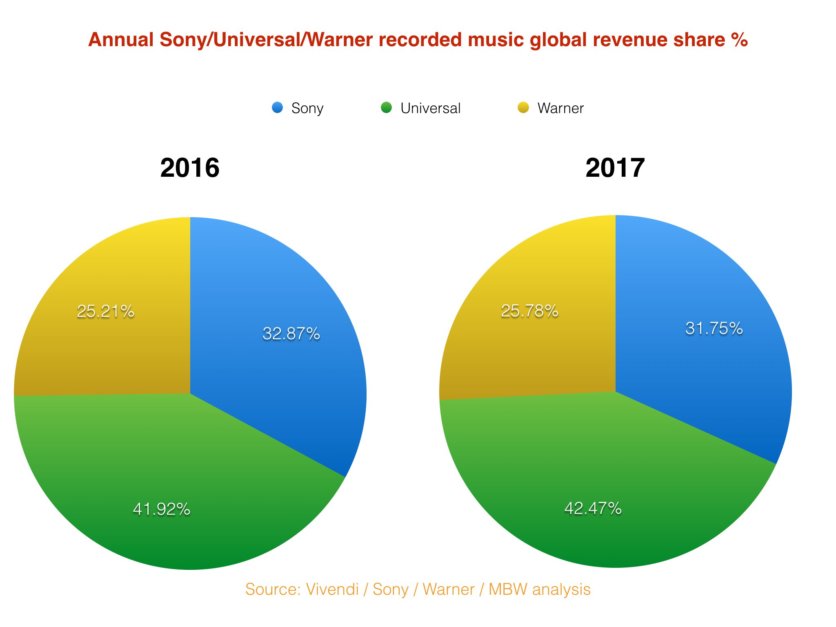 ---
Streaming
The majors' calendar year performance in the streaming realm is particularly enlightening, with the format providing the entire ten-figure dollar growth across their businesses in 2017.
In fact, the major labels enjoyed a total turnover of more than $5bn from streaming alone last year, up from $3.9bn in 2016.
Once again, Universal saw the biggest jump in global streaming revenues of anyone, with an increase of $581m in the year.
Warner saw its streaming revenues rise $428m, while Sony Music enjoyed a $405m uptick.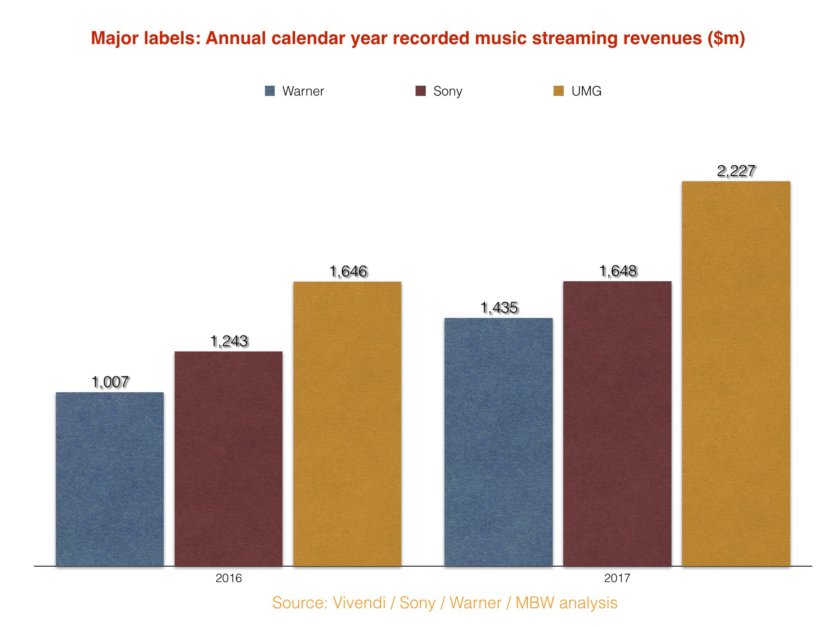 In terms of major label-only streaming market share, Warner made a big gain last year: up 1.2% on 2016.
WMG's big successes in the year included Ed Sheeran – with his record-breaking Shape Of You, and the album it was from, Divide – in addition to the likes of Cardi B and Bruno Mars.
As a result of Warner's major gain in the field, Universal – despite that half-billion-plus dollar annual streaming uptick – actually saw a very slight market share decline (-0.3%).
Warner also pinched a small chunk of share from Sony, which fell from 31.9% to 31%.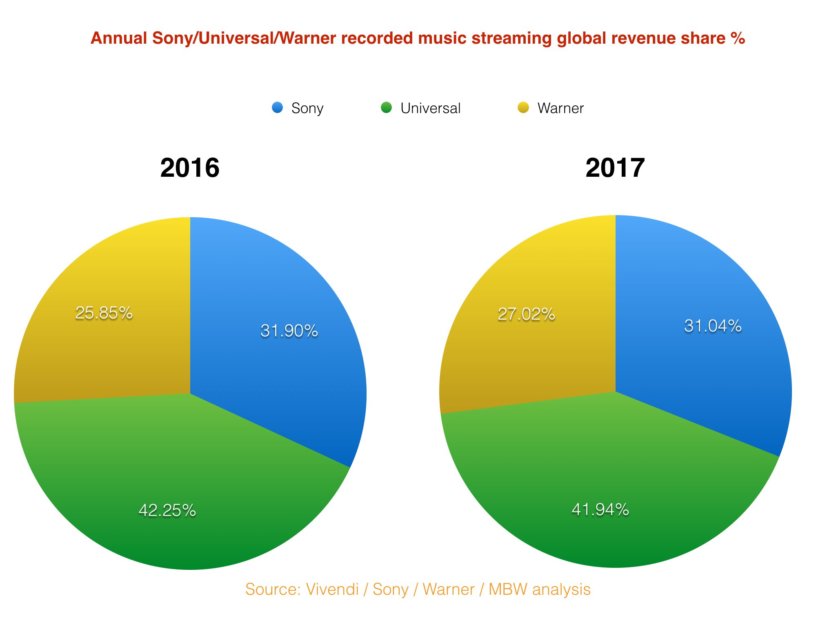 ---
Physical
Physical music sales remained a significant contributor to major label sales in 2017 – with more than $3bn in sales across the three companies coming from CD and vinyl.
All three majors saw a decline in physical recorded music sales, but not all by the same margin.
Universal's physical revenues fell by just $54m year-on-year, while Warner saw a decline of $42m.
Sony saw a steeper decline of $94m in physical revenues in the year.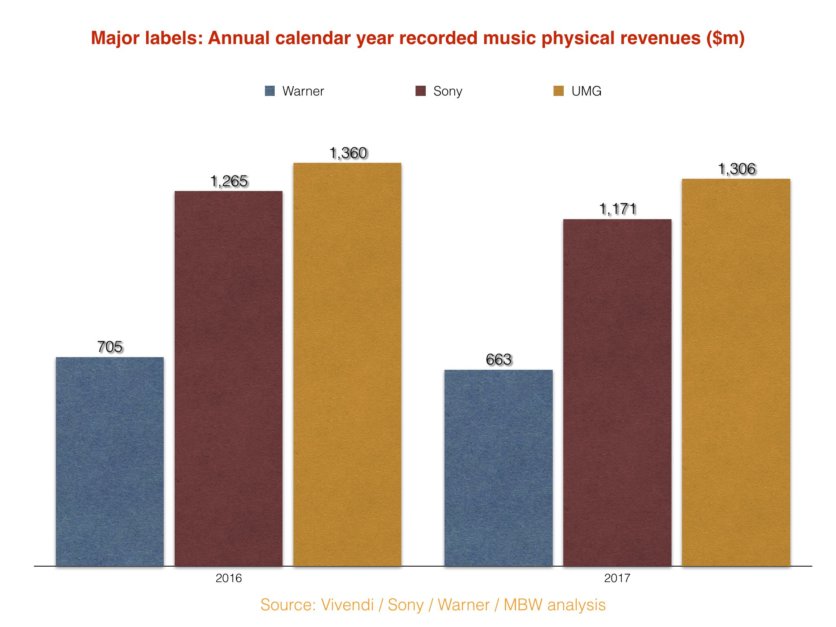 As a result of these figures, in terms of major label global market share of physical formats, Universal saw a gain of 0.8% in 2017.
Warner declined very slightly by 0.1%, while Sony's share dipped by 0.7%.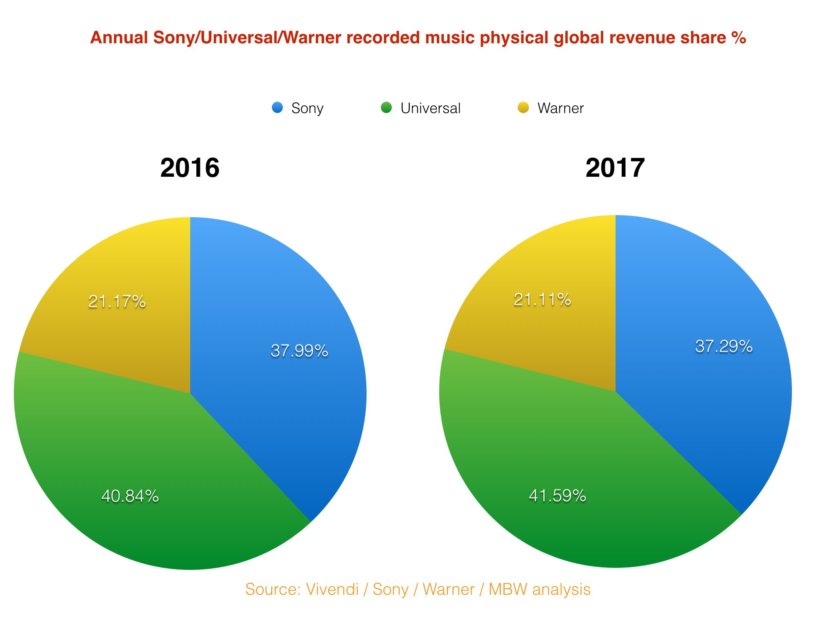 ---
* A note on currency conversion. 
MBW has used a currency conversion for both Sony Music Entertainment and Universal Music Group which sees both company's global revenues – reported by Sony in Japanese Yen and Universal/Vivendi in Euros – reversed into US Dollars.
In order to do this for 2017's figures, we used an average currency exchange rate taken across the 12 months of the calendar year, calculated via Oanda. For Universal, this meant a rate of €1 = $1.13. For Sony, it meant a rate of  1 Yen = $0.0089.
For 2016's figures, we repeated this currency conversion style, but with the prevailing rate for that year in both cases, in order to create a constant currency picture in USD to aid the accuracy of market share movement. For Universal, this meant a 2016 rate of €1 = $1.11. For Sony, it meant a rate of 1 Yen = $0.0092.
Warner Music Group reports its results in the 'root currency' of USD, which we left unchanged for both 2016 and 2017.
It hopefully goes without saying that what happened to the revenues flowing into the major companies – including the proportion that was paid back out to independent label  and artist distribution partners – is not reflected in these figures.
[Pictured: Kendrick Lamar – one of Universal Music Group's biggest-selling artists of 2017]Music Business Worldwide