Some slightly surprising research arrives this morning courtesy of UK recorded music body the BPI: apparently, new artist signings by the three London-based major labels significantly increased in 2014.
New artist deals signed by the UK HQs of Sony Music, Universal Music and Warner Music topped 156 in 2014.
That was up 30% on the 120 signed in 2013 and the highest annual total since 2009, when 164 new deals were signed.
(How many of these artists actually developed to the point that they released an album is a different matter not covered by the BPI's stats.)
The BPI figures comes after the release of UK Music's Measuring Music Report last week.
As MBW noted, the document revealed that UK record labels spent £178m on A&R in 2014, while publishers spent £162m on 'investment in writers (advances etc.)'.
The small difference between those numbers – which doesn't take into account the £157m annual marketing and promotion spend by British labels – will re-ignite debate around who deserves to get what from streaming payouts.
Recorded music rights-holders are permitted to claim around 8-10 times the amount of streaming money that goes to songwriting rights-holders – something publishers claim is unfair in an age where costs associated with physical music replication and distribution no longer apply.
Jane Dyball, CEO, MPA Group of Companies, noted: "Importantly, these incredible figures highlight that music publishers, like record labels, make a very substantial annual investment in A&R, further demonstrating the music industry's colossal contribution to the financial and cultural wealth of the UK."
---
The BPI says that the £178 million A&R figure spent by UK record labels in 2014 represented a 19% increase on the £149 million outlay in 2013 and was equivalent to a quarter (25.4%) of the labels' annual revenues.
This, it claims, is the highest level of Artist and Repertoire (A&R) investment as a proportion of revenues since records began in 1992.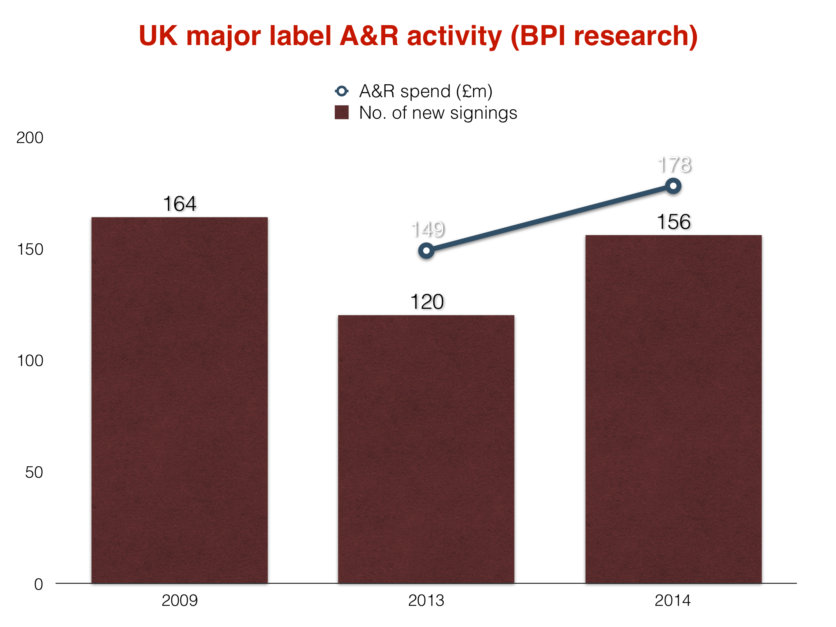 The British record industry can certainly point to some success stories from 2014's crop of new album artists, including multi-Grammy winner Sam Smith (Capitol), plus George Ezra (Columbia), Catfish & The Bottlemen (Communion/Island), Ella Henderson (Syco) and Hozier (Rubyworks/Island).
So far, 2015 looks slightly less promising.
The king of new British album artists this year is James Bay, whose debut LP, The Chaos & The Calm, was released in March on Virgin EMI and has since gone platinum in the UK.
Then there's Jess Glynne, whose debut LP, I Cry When I Laugh (Atlantic) has raced to more than 220,000 UK sales since being released in August.
And finally there's Years & Years (Polydor), whose introductory album Communion is creeping up towards 200,000 UK sales.
That, MBW understands, completes the list of British artists whose debut albums have reached the all-important gold sales standard (100,000) this year – an average of one every 15 weeks.
New artists might be struggling to sell significant volumes, but a quick scan down the runners and riders for the UK's upcoming Official Albums Chart (announced this Friday, November 13) suggests the golden oldies are having less trouble.
Here are the current players in the UK Midweek Top 10, with ages / average ages in 2015 (some of these acts are sadly no longer with us, of course):
Little Mix (average age, 23)
Elvis Presley (80)
Ellie Goulding (28)
The Beatles (74)
Rod Stewart (70)
Alexander Armstrong (45)
Bob Dylan (74)
Sam Smith (23)
Anastasia (47)
Ed Sheeran (23)
Only three of those artists are under 25.
None have broken this year.
The average age of the list is 49.
Remove the youthful influence of Ed Sheeran, Sam Smith and Little Mix, and that average age goes up to… 60.
Four of the list are males or male-led groups whose age today tops 70.
Vintage.Music Business Worldwide