In Germany, Schlager and Deutchpop are becoming big business. And for Dave Roth and Pat Benzner, business is good.
The Hamburg-based producers are behind Madizin Music, a record label focused on German-language music with an emphasis on Schlager in all its guises – from classic Schlager to party Schlager to German pop.
Last year, Madizin, founded in 2019, scored an investment from, and struck a JV deal with Paris-headquartered music company Believe, which according to the latter company's 2022 financial statement, now owns a 51% stake in Madizin.
"In our genre, which has been mainly major-dominated, the need for fast and strong independent digital partners has increased significantly," says Pat Benzner, Managing Director of Madizin Music, commenting on the deal with Believe.
Benzner adds: "As more and more music genres around the world are increasingly going digital, the Party Schlager genre has become one of the fastest-growing in Germany".
"With unprecedented numbers of over 120 million streams for the No.1 Party Schlager Top Hit last year, we are confident that this genre will continue to achieve new heights."
In 2022, total recorded music revenues in Germany, generated from music streaming, as well as from the sales of CDs, vinyl LPs and downloads, reached USD $2.17 billion (on a retail basis) in 2022
That's according to stats published by German music industry association, BVMI, which also revealed that the Schlager genre held a 3.1% share of the recorded music business in Germany in 2022. Deutchpop, meanwhile, held a 3.6% share for a combined 6.7% share of Germany's record business.
Schlager also held the third largest share of total CD sales in the market in 2022 (see below), growing from 10% in 2017 to 12% in 2022, enjoying a larger share than hip-hop (7%), and placing third, behind only rock (32%) and pop (21%).
---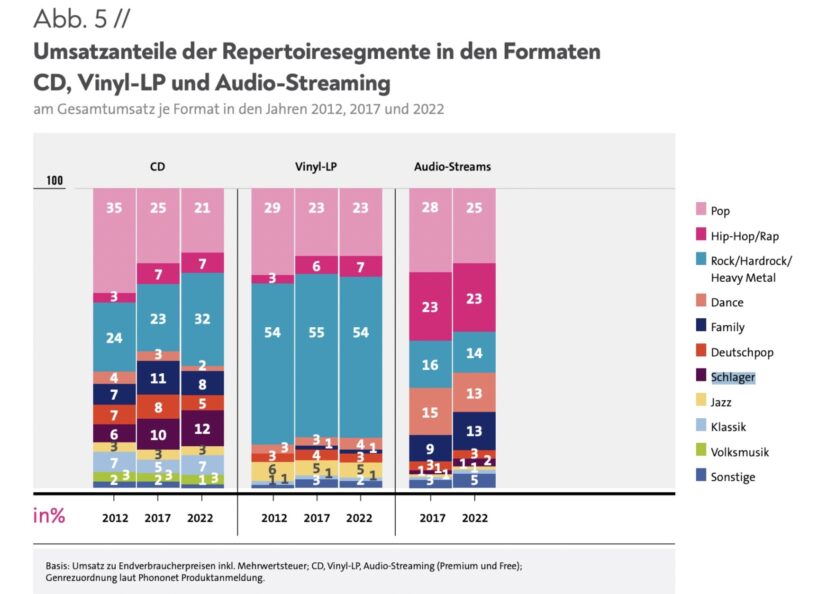 ---
Prior to launching Madizin, the company's founders Roth and Benzner established themselves two of Germany's most prominent music producers.
They have more than 1 billion streams between them and have achieved 13 million units sold worldwide, plus 100 gold, more than 70 platinum and 2 diamond awards.
Beyond Schlager, their career has seen them act as producers and managers of the German band Tokio Hotel, for whom they played a key role in their rise from 2003 to 2014.
After three albums in cooperation with Universal Music Germany, Roth and Benzner founded their first own label, Stunner Records, writing and releasing Tokio Hotel's hit Durch den Monsun, which has been streamed over 25 million times. The English-language version, Monsoon, has been streamed over 56 million times.
"We see a bright future for the Party Schlager genre, and we are excited to be at the forefront of this movement."

Pat Benzner, Madizin Music
Since 2016, the duo has also worked closely with record-breaking German-language pop superstar Helene Fischer on both her studio and live productions. They also serve as musical directors for the "Helene Fischer Show" on popular Germany TV station, ZDF.
In addition to Tokio Hotel and Helene Fischer, over the years Roth and Benzner worked together as a composer and producer team with Glasperlenspiel, Sunrise Avenue, Andrea Berg, Kerstin Ott, DJ Ötzi, Glasperlenspiel, Madeline Juno, Vanessa Mai, Adam Lambert and many more.
Looking to the future of the label and the Schlager genre, Benzner tells us "the success of party-Schlager will have a positive impact on other domestic mainstream repertoire" in Germany.
He adds: "We at Madizin are very confident about this existing trend and are therefore positioning ourselves as a leading Label for German Pop-/ Party- and Schlager. We see a bright future for the Party Schlager genre, and we are excited to be at the forefront of this movement."
Here, he tells us about trends in Germany's music business, the rise of Schlager on streaming services, and the challenge of making the genre appealing to a younger audience in the streaming age…
---
What trends are you seeing in the German market that we should know about?
Germany has been one of the top Top music markets in the world for years. It is a market in excellent health and while it remains the third-largest market in the world in terms of physical revenues, streaming revenues have almost tripled in the last five years. In recent years we have noticed a growing preference for Domestic Repertoire in the German music scene.
In 2022, the Party Schlager genre experienced a major breakthrough in Germany, with several hit songs making it to the Top 10 of the charts for the first time ever.
For decades Schlager has been a popular genre of German-language music known for its catchy vocals, relatable lyrics, and lively instrumentation. It has a loyal fanbase and is a unique and vibrant aspect of German musical culture that continues to captivate audiences and inspire artists.
---
Tell us about the joint venture with Believe. Why was Believe an attractive partner for a JV?
In 2019 we started looking for a partner with a high reputation in digital who could help us navigate the changing market in Germany and move towards independence from previous major record label constellations. At the same time Believe Germany developed the strategy to move and invest into Schlager. So it was perfect timing. We met with Thorsten Freese also Benjamin Ebel and in Believe Germany we found the perfect JV-partner, giving us a clout in the market, as it is not found so far.
"We are a label founded by artists for artists, shaking up the conventional relationship between artists and labels and creating a more equitable and mutually beneficial partnership."
We are a label founded by artists for artists, shaking up the conventional relationship between artists and labels and creating a more equitable and mutually beneficial partnership. Our artist, producer and entrepreneurial background, combined with Believe's expertise in digital and their reputation as the third strongest domestic music company in Germany, has created an attractive alternative for artists and management seeking transparency and fairness.
This partnership has allowed us to offer tailor-made deals and artist services to support artists at any stage of development. And additionally, upon an artist's request, we offer an optional service through our established production company Silverjam for creative production and songwriting.
With our combined industry experience, we offer a compelling solution for artists looking for a different approach to the traditional major label model. We prioritize developing new artists and especially with young artists in the Party Schlager genre we recognize the need for flexible and streamlined solutions for their releases.
---
How do you make Schlager and German pop music more attractive to a younger audience?
When we began planning our label in 2019, supporting and promoting newcomers was a top priority for us. We recognized that young German-speaking artists could make the Schlager genre more appealing to a younger audience if given the opportunity to reach a broad audience.
In 2022, we saw this strategy play out impressively in the Party Schlager scene, which dominated the Top 10 of the German charts with hits like Layla, Dicht im Flieger or Olivia. A new generation of young talents emerged, emphasizing not just the perfect song, but also clear artist positioning. Digital marketing and content, especially on TikTok and YouTube with shorts and verticals, played a crucial role, along with support from DSPs, which allowed young audiences to connect with artists quickly. Permanent live opportunities in a very high frequency, festivals, and gigs during the whole year also helped build a strong connection with audiences.
---
---
At our label, so far mainly in production, we work with many of these young artists and strive to make German-language music more attractive in our domestic market.
This commitment is shared with Believe, which is one of the reasons why we decided to jointly focus on Schlager. We focus on Pop- and Schlager repertoire and on the domestic language and believe in its potential for digital growth in the coming years. We want to be the first to sign artists and develop the Pop- and Schlager-genre before it peaks in the charts of DSPs.
---
What creative, business or digital trends are you seeing in Germany that we should know about?
Same as in other markets worldwide, a significant trend also in Germany is the growing demand for artistic independence, driven by the DIY-talent of many "new" artists.
Young artists no longer want to rely on hierarchical, globally controlled major systems that dictate how they should operate to strengthen their own market share.
Instead, they seek transparency, independence, and a much higher level in speed. At our label, we prioritize meeting these needs of young artists and partners while leveraging our industry experience, in case the respective partner demands that. With our artist proximity and creative expertise, plus Believe's digital mindset, we offer an alternative solution for young artists to follow new trends and stay ahead of the curve.
---
What are the biggest challenges for the music business generally in Germany?
We approach our work with great passion and conviction, because we believe that there is a lack of support for German-language pop and schlager in Germany, which hinders the development of the local cultural scene.
That is why we are committed to transferring the German mainstream repertoire into the digital streaming world and promoting it to a wider audience. We also prioritize fair and transparent partnerships based on mutual trust and respect.
"We have assembled the best team the German music market has to offer."
At our label, we are dedicated to promoting German-language music and building a culture of collaboration and support in the music industry. For this we have assembled the best team the German music market has to offer.
Our team consists of absolute top experts in the field of German language music, with a long experience in the industry. All of them share the enthusiasm for artists with a focus on the domestic repertoire and want to strengthen this further.
---
Could you tell us about the challenges of breaking artists from Germany, globally?
In 2005, we accomplished the seemingly impossible by launching the international career of Tokio Hotel with initially just German-language songs, even before the advent of YouTube and Spotify.
To achieve this, in addition to a German exploitation department, we also needed direct partners in each country, which was not always easy. We even moved to LA for a longer period to capture the North American market. However, with the digitalization of the music industry, the tide has turned, and there have been many successful examples from Germany, especially in the global track business.
"Given the current struggles of German-language music, we have refocused on replicating our success with Tokio Hotel."
Acts like Milky Chance, ZEDD, Robin Schulz, and Felix Jaehn have become new international stars, regardless of their territory. Given the current struggles of German-language music, we have refocused on replicating our success with Tokio Hotel.  During that time, we embraced our entrepreneurial spirit and created a framework around the band that enabled Tokio Hotel to grow organically, much like a young company. We handled all aspects of their development, including production, management, songwriting, merchandising, and international expansion."
---
One of the biggest talking points in the global music industry right now is artificial intelligence and its potential use in everything from songwriting to production and music discovery. What are your thoughts about AI's potential impact on music in years to come?
With our background as producers, we find the development in artificial intelligence (AI) to be highly intriguing and exciting. We approach new developments with an open mind and have witnessed the positive impact they can have on our work. Disruption is viewed positively by us.
However, we recognize that progress in the field of AI must be viewed from different perspectives. As producers and songwriters, we already see how AI can meaningfully support our work.
But as a label and representative of artists, we must also consider the copyright implications of AI. There are still many unresolved questions to ensure that AI does not pose a threat to art, particularly in music. We prioritize the sustainable development of artists and their rights.
---
What advice would you give to an entrepreneur starting a business in the music industry in 2023?
Most important: Believe in yourself and your creative talent. Don't start a business just because you think it's cool. Fight for your own ideas and create new independent impulses. Set visible targets and follow your own path. Be brave and daring in realizing your ideas. Don't be afraid to fail, as there are always valuable takeaways.
Patience is also a crucial tool for success. It is often a long road from the first idea to a successful career, and only consistent effort can lead to success. Additionally, taking advantage of digital opportunities and building a strong network is vital in today's globalized and digitized music industry. Don't forget to connect on all levels.
---
What does success look like to you?
Success can take many forms. As creative songwriters and producers, we consider it just as important to write a great song in a small setting as it is to finish an album or perform in front of thousands of fans. Each of these milestones represents a measure of success.
As a label, we also measure success in terms of what we can do for our artists daily, whether that means forming new partnerships or executing successful campaigns. We celebrate even the smallest successes because we know they can be very motivating and lead to new opportunities.
At our label, we strive to combine both creative and entrepreneurial aspects of success. Establishing values such as transparency, fairness, and respect in the new landscape of the music industry is a critical measure of success for us too. We aim to stay adaptive to the zeitgeist, also by tailoring our deals accordingly.
---
What are your ambitions for 2023 and your longer-term goals?
Our goal for 2023 is to position Madizin Music as a valuable label partner for established and new artists in the German pop and schlager market, focusing on providing each artist with a suitable business model.
We also aim to establish values such as transparency and fairness in the new landscape of the music industry and tailor our deals to suit the zeitgeist.
We strive to be an attractive employer for our team, emphasizing appreciation and openness for individual and team development. We win and lose together, and one of our guiding principles is that work can also be fun. To achieve our goals, we have assembled a high-performance team with years of experience to make Madizin Music highly sought-after label in Germany for years to come.
---
If there was one thing you could change about the music business, what would it be and why?
Madizin Music is redefining the traditional relationship between artists and labels. We prioritize partnership over dependence, consultation over influence, and working together instead of against each other. Our aim is to be a door opener rather than a gatekeeper.
At Madizin Music, we live by our values, which extend to our interactions with artists, partners, and our own team. We prioritize fairness, responsibility, and treating all parties involved with respect and equality. Our label is committed to acting ethically and always striving for open and honest communication with all stakeholders.
Music Business Worldwide