Liberty Media Corporation has today announced that it has fully repaid a Live Nation margin loan using cash.
The payment, worth $130m, means that there are now "no margin or other price triggers that could require a sale of the underlying [Live Nation] stock", according to Liberty.
Liberty Media owns approximately 69.6 million shares of Live Nation common stock, controlling around a third of the concert promoter.
The news appears to have been interpreted by the markets as a sign of Liberty's confidence in Live Nation's future. The latter company's market cap has been hammered this month by a run of concert cancellations and festival postponements in the global market due to the spread of COVID-19.
At the time of publication (4pm ET), Live Nation's share price is up by 11.9% today; this number bounced following Liberty Media's announcement RE: the margin loan early this afternoon.
This share price rise has brought Live Nation's market cap back above $7bn.
---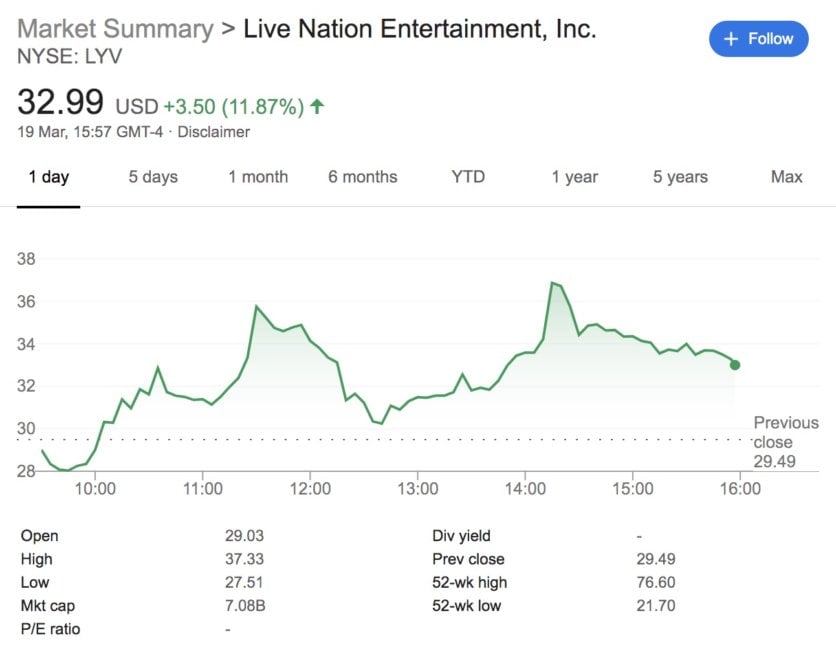 ---
Yesterday, Live Nation's stock sunk by as much as 32% following the outright cancellation of the Glastonbury festival in the UK – which is independently owned and caters to 135,000 ticket-holders.
Live Nation's share price subsequently recovered and closed trading yesterday 13.03% down.
Liberty Media owns stakes in a range of media, communications and entertainment businesses via three tracking stock groups: the Liberty SiriusXM Group, the Braves Group and the Formula One Group (FWONA).
Businesses and assets attributed to the Liberty SiriusXM Group include Liberty Media Corporation's majority ownership of SiriusXM.
In addition to Live Nation, Liberty also owns minority stakes in audio services such as iHeartMedia and Jiosaavn.
SiriusXM announced last month a $75m investment into SoundCloud.
Sirius acquired Pandora last year in a $3.5bn all-stock transaction.Music Business Worldwide