Live Nation Entertainment can't catch a break on the markets.
The US-based concerts giant, led by CEO & President, Michael Rapino (pictured), is having a torrid time on the New York Stock Exchange today (March 18), with its share price falling 31.9% in the first three hours of trading.
That movement has forced the company's market cap down to below $5bn at $4.96bn. (Details correct as of 12.32pm ET.)
Just four weeks ago, at trading close of Wednesday, February 19, LNE was carrying a share price of $76.08 and a market cap (based on MBW's calculation of Google Finance data) of $16.34bn.
In other words, as we stand, Live Nation's market cap value has tumbled by more than two thirds – or over $11bn – in a single month.
UPDATE AT MARKET CLOSE: Live Nation's stock price finished trading today down 13.03%, having recovered substantially from the 32%-plus dip. Its market cap also rebounded to $6.33bn.
---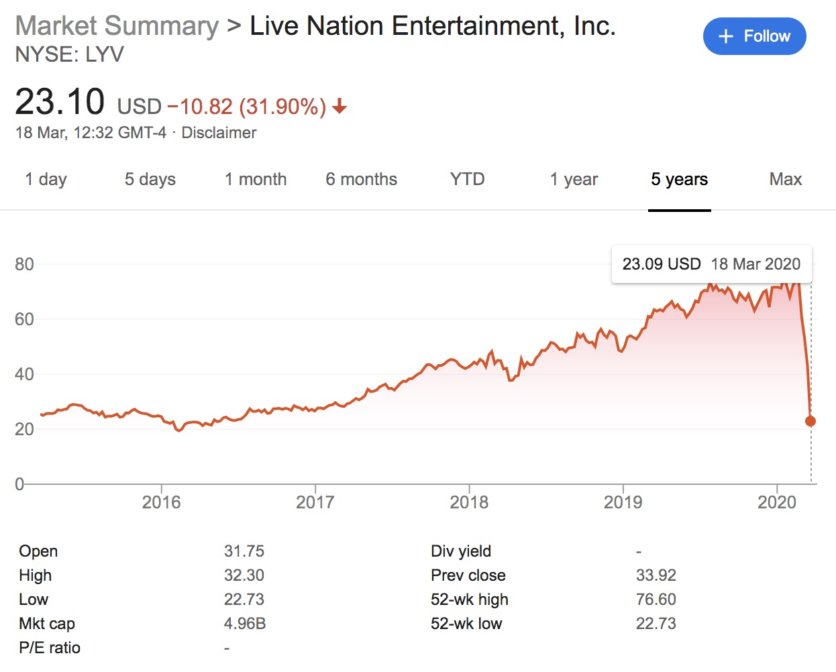 ---
The news of LNE's massive share price drop this morning in New York comes after the UK's Glastonbury festival – an independently-owned staple of the global summer music festival circuit – announced its cancellation due to fears over the spread of the novel Coronavirus (COVID-19).
Some 135,000 ticketholders were set to descend on Glastonbury 2020 in late June, where scheduled headliners included Kendrick Lamar, Taylor Swift and Paul McCartney.
Subsequent to Glastonbury's cancellation announcement today, the Eurovision Song Contest – which was due to take place in Rotterdam, in the Netherlands in May – also announced it was scrapping its 2020 edition. 
That's the first cancellation of the annual Eurovision contest in 64 years.
Glastonbury organisers Michael and Emily Eavis said in a prepared statement earlier today: "The cancellation of this year's Festival will no doubt come as a terrible blow to our incredible crew and volunteers who work so hard to make this event happen," they added.
"There will also inevitably be severe financial implications as a result of this cancellation – not just for us, but also the Festival's charity partners, suppliers, traders, local landowners and our community."
On Monday (March 16) Live Nation's stock was put on review by S&P Global Ratings ahead of a possible downgrade.
Currently, the market monitor rates Live Nation as BB-minus, which it describes as a company which is "less vulnerable in the near-term but faces major ongoing uncertainties to adverse business, financial and economic conditions".Music Business Worldwide