Following a dreary pandemic year for the live music business, concerts giant Live Nation says that it is now "seeing the pent-up demand for live events play out as artists and fans are eager to re-connect in person".
As the live business reopens in markets such as the UK and the US alongside national vaccination programs,  this "pent-up demand" for entertainment has been highlighted in Live Nation's newly-published financial results for the three months to end of June.
In an SEC filing published this week, the company reports that its revenues increased by $501.9 million, or 677%, year-on-year, to $575.9 million in Q2 2021, up from $74.1m in Q2 2020.
Live Nation pins its positive results in Q2 on both strong ticket sales and sponsorship commitments for 2022, the latter of which it reports are up double digits from 2019.
Elsewhere in Q2, Live Nation saw concert revenue growth of around $145m or 102% year-on-year, reaching $287m, up from $141.8m in Q2 2020.
Live Nation reports that the number of events in Q2 2021 was over 1,600 compared to approximately 100 events in the same quarter of last year.
The number of fans grew from approximately 50,000 in Q2 last year 2020, to 1.3m in Q2 2020. Live Nation says that this growth was largely in the United States and Asia-Pacific markets.
Live Nation's ticketing revenue for Q2 increased by $331m, to $244m in Q2 2021, from a loss of $87m in Q2 2020 (see below).
This growth resulted from an increase in ticket sales, "stronger pricing", and a reduction in ticket refunds, according to Live Nation.
The company sold 30 million tickets in the Q2 2020 (excluding refunds) compared with 2m tickets in Q2 last year,  driven almost entirely by sales in the US, largely for concert and sporting events, reports Live Nation.
Refunded tickets declined from 11m in Q2 2020 to 4m in Q2 this year.
---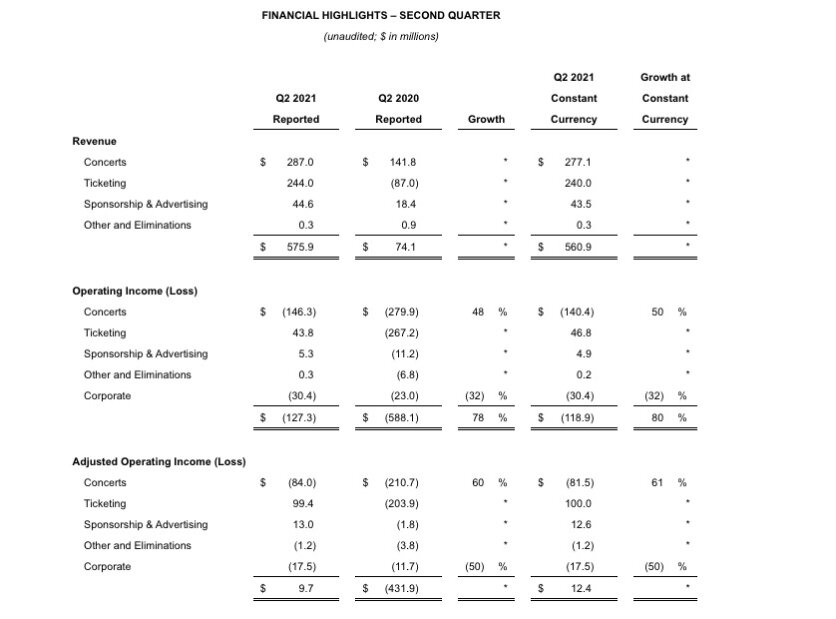 ---
In a letter to shareholders, Live Nation CEO Michael Rapino noted that June was Ticketmaster North America's fourth best month in history for transacted ticket volume.
This was driven in part by Live Nation's US concerts division putting the highest number of shows on sale ever during a single month, added Rapino, which was 50% more than the next highest month in March 2019.
At the end of Q2 2021, Live Nation had total cash and cash equivalents of $4 billion, which includes $1.1bn of free cash.
Live Nation says that this free cash, along with $971m of available debt capacity, gives the company $2.1bn of available liquidity.
The company believes this level of liquidity "will provide it with the runway it needs as more shows return".
"We expect to see further ramp-up accelerate through the rest of the year, with improving operating income and all segments returning to adjusted operating income profitability for the second half of the year, setting us up for a full-scale 2022."

Michael Rapino, Live Nation
Writing to shareholders this week, Rapino, said: "In the US and the UK, we are seeing strong ticket sales and the restart of our concerts and festivals, highlighted over the past weekends by Lollapalooza and Rolling Loud in the US and Latitude in the UK hosting a combined three quarters of a million fans.
"With vaccine rollouts increasing throughout Canada and Europe, we expect additional markets to open more broadly in the coming months. The momentum for the return to live events has been building every month, with ticket sales and concert attendance pacing faster than expected, underscoring the strength and resiliency of the concert business and live events in general.
Added Rapino: "This progress, combined with our cost discipline, has enabled us to deliver positive adjusted operating income for the second quarter, well ahead of where we thought we would for this quarter.
"We expect to see further ramp-up accelerate through the rest of the year, with improving operating income and all segments returning to adjusted operating income profitability for the second half of the year, setting us up for a full-scale 2022."Music Business Worldwide