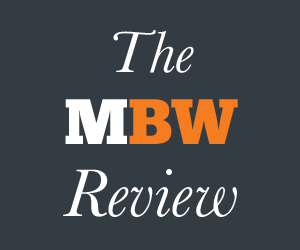 The MBW Review offers our take on some of the music biz's biggest recent goings-on. This time, we delve behind the numbers of Live Nation's Q2 results, as revealed last week  The MBW Review is supported by Instrumental.
---
Live Nation landed in hot water earlier this month when the company was linked with the shady practice of placing primary tickets for large shows directly onto secondary 'resale' platforms.
Billboard obtained a secretly-recorded call from 2017, on which Live Nation's President of US Concerts, Bob Roux, is heard entertaining a request from a member of Metallica's team to bypass the primary market with a portion of tickets – a move which would rob fans of the chance to buy those same tickets at face value.
Live Nation was candid in its confirmation of the story, acknowledging that it had once worked with an independent consultant for Metallica on a "strategy that used the secondary market as a sales distribution channel for select high-end tickets". LN pointed out that between 2016 and 2017 "about a dozen artists out of the thousands we work with asked us to do this".
This wasn't a new revelation: back in February 2012, UK TV show Dispatches investigated the very same practice in the live music industry.
After the show aired, Live Nation's then-COO for International, Paul Latham, told me: "Live Nation has never listed tickets in the secondary market without the participation of the artists or management. Indeed, when we have, the allocation is not more than 3% of the total available tickets for sale."
---

---
Latham was admitting to the fact that Live Nation had circumvented the primary ticket market on occasion – but stating that it had only ever done so when the impetus had come from an artist's camp. That impetus, in every case (including Metallica's), is always caused by the same issue: artists and/or their managers knowing that their tickets could fetch a higher price than they are publicly willing to sell them for.
Bypassing the primary market in this way represents a deception of fans, who are told tickets are selling for one price when, behind the scenes, a tranche of them are not. On the other hand, it is a grubby strategy to tackle a grubby problem: the amount of value being "captured" by profiteering ticket resellers on secondary sites like Viagogo – none of which is returned to the artist or the music industry.
It is ironic timing for the Metallica story to come to light this month, because just last week – as part of its stellar Q2 earnings – Live Nation revealed exactly how successful it's becoming in eradicating elements of the secondary market altogether.
---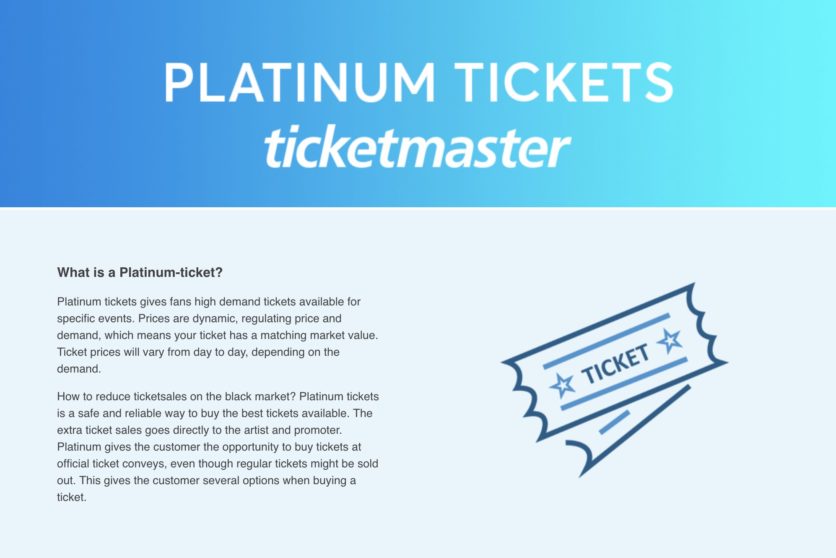 Live Nation has been operating dynamic pricing for some time, via the 'Platinum' initiative of subsidiary Ticketmaster.
'Platinum' enables Live Nation to sell tickets to certain segments of any show at a higher price than the rest of the room/amphitheater/stadium. Ticket prices can respond to market demand in real time, much like they do when you're buying a seat on a passenger airplane.
These higher prices quash two controversial elements of the secondary market: (i) the appeal for artists to dabble in dodgy ticket 'resale' of primary tickets; and (ii) the commercial opportunity for professional 'scalpers' to buy and sell tickets online.
In the past 18 months, especially, 'Platinum' pricing is having a hugely positive impact on Live Nation's commercial performance – and, you'd therefore have to assume, a materially negative impact on secondary ticketing as a whole.
Speaking on an earnings call last Thursday (July 25), Live Nation CEO, Michael Rapino, said: "Globally, we continue to work with artists to enable them to capture the value from their shows. Through optimized pricing and Ticketmaster tools such as Platinum, we have delivered over $500 million in incremental value to artists since the start of 2018."
"Through optimized pricing and Ticketmaster tools such as Platinum, we have delivered over $500 million in incremental value to artists since the start of 2018."

Michael Rapino, Live Nation (pictured)
In other words, by raising concert prices in certain parts of the room at a swathe of concerts, Live Nation has generated more than half a billion dollars on the primary ticketing market – money it wouldn't have captured had these tickets remained locked at the standard price of each show.
Rapino added that, despite these price raises, Live Nation had "seen no reduction in demand, and global sell-through rates across stadiums, arenas and amphitheaters is strong as ever".
To what extent have these ticket prices been raised?
Speaking on the Q2 earnings call, Live Nation's President Joe Berchtold said that the cited $500m growth in "incremental artist revenue" since Q1 2018 had been "driven largely by an increase of over 30% in front of house pricing at amphitheaters and arenas globally".
Yes, you read that right: over the past year-and-a-half, Live Nation has raised ticket prices, worldwide, for the best seats at amphitheater and arena shows by close to a third.
It's done so, remember, with "no reduction in demand".
---
According to Live Nation's fiscal filings, this bold pricing strategy helped drive up the company's 'Concerts' revenue in the first six months of 2019 to $3.96bn – an increase of $538m, or 16%, on the equivalent figure from the year before.
At constant currency, this midyear 'Concerts' revenue increased by an even greater margin YoY, growing 18%, or by the equivalent of $631m.
(To be clear: Live Nation counts money paid by fans for tickets to its own shows as 'Concerts' revenue; its 'Ticketing' segment is made up of the additional fees taken by Ticketmaster – and its sister ticketing entities – for first and third-party events.)
---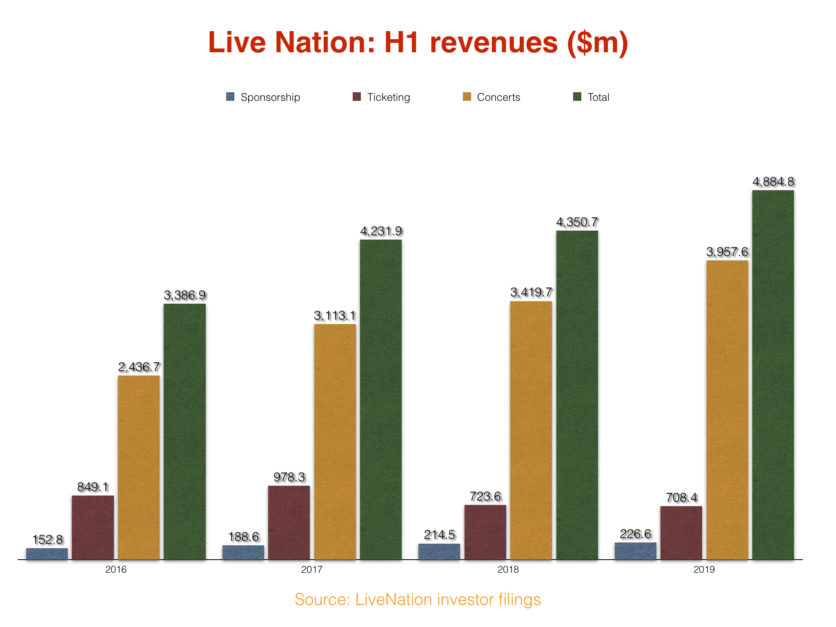 ---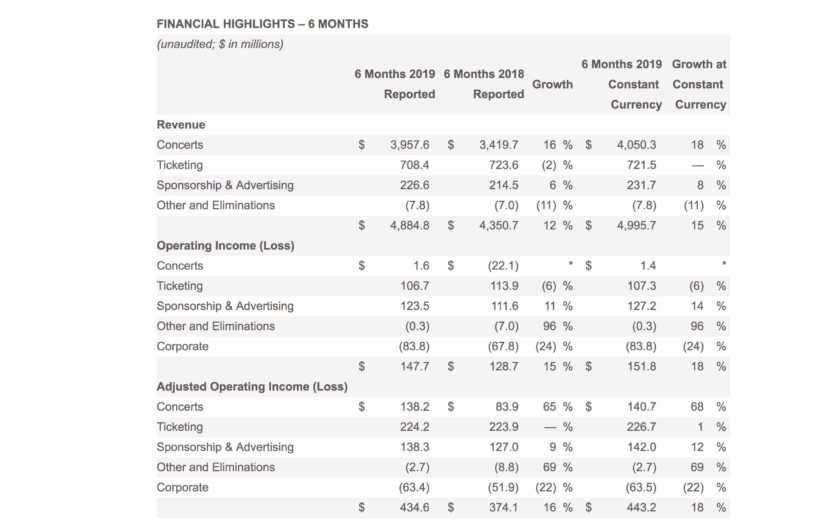 ---
These stats fly in the face of recent pessimistic trends we've seen regarding the world's very biggest artist tours.
Analysis of Pollstar's two latest Midyear charts showed a 26.8% fall in Top 100 global concert revenue between H1 2018 and H1 2019. (Pollstar moved the dates for the latter set of data from Jan-June to November-May, giving a less-than-perfect comparison.)
Pollstar itself has now compared two like-for-like six month periods (November-May in both '18 and '19), finding that, between these points, Top 100 global tour revenues dropped 3.8%, with volume of ticket sales down 6.1%.
---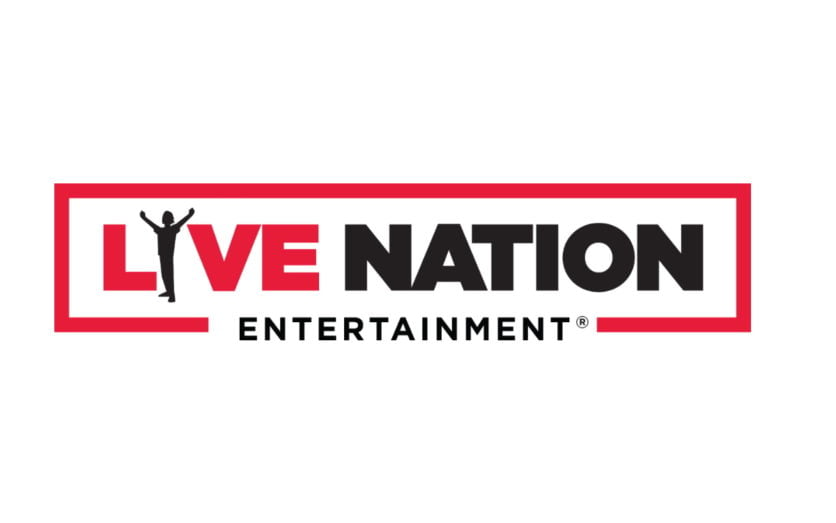 Live Nation's half-year results completely defy these numbers.
In fact, the firm says that it sold over 73m tickets for its own shows this year through mid-July, up 6% on the equivalent period of 2018. It now expects nearly 100m fans to attend 38,000 shows across the whole of 2019.
Interestingly, the fastest area of ticket sales growth for Live Nation in 2019 has been outside its own Top 100 global artist tours: sub-Top 100 tour revenues, says the company, were up 32% YoY in the first half of this year, "demonstrating that the demand for live music is strong and growing from the largest stadiums to the local clubs".
---
Before we conclude, two very important things to look out for in the second half of Live Nation's 2019:
No.1: The acquisition of Latin America's biggest concert promoter, OCESA Entertainment. Set to close in Q4, Live Nation is reported to have paid a massive $480m for a 51% shareholding in the Mexican company, which LN says will help it in its mission to "build a global fan base of 125 million".
No.2: LN's continued hiking of primary ticket prices in the most sought-after sections of shows worldwide, and the resultant gradual destruction of secondary ticketing profiteering.
Michael Rapino hinted on Live Nation's Q2 earnings call last week that the firm could soon start pricing concerts differently depending on the day of the week they take place ("How do we price a Thursday show versus a Saturday?") and even price an aisle seat higher than a seat in the middle of a row.
"Platinum [has] been a super tool to tell the artist that there's a great way… to get a higher price for a good seat," he said, adding: "If you look at how much is still being traded on secondary, I would say there's a huge opportunity for the artists to keep looking at finding that fine line between what [their] brand message needs to be and what [their] pricing strategy will be."
Interestingly, Ticketmaster's own secondary ticketing 'GTV' (Gross Transactional Value) revenue was flat in the second quarter of 2019, "with increased activity in sports offset by lower concerts volume and overall lower international activity". Yet LN's biggest competitor in the ticket resale space, eBay's StubHub, actually saw a 7% rise in quarterly revenues in the same period.
Live Nation remains unfazed.
"We think our businesses long term has a great global opportunity," Joe Berchtold told investors last week, adding: "We don't think secondary [ticketing] is a business in itself long term."
---

The MBW Review is supported by Instrumental, which powers online scouting for A&R and talent teams within the music industry. Their leading scouting platform applies AI processes to Spotify and social data to unearth the fastest growing artists and tracks each day. Get in touch with the Instrumental team to find out how they can help power your scouting efforts.Music Business Worldwide