The MBW Review gives our take on some of the music biz's biggest recent goings-on. This time, we take a look at Live Nation's latest annual financials – and the role of its huge artist management operation. The MBW Review is supported by FUGA.
---

Live Nation's subsidiaries are now managing more than 500 artists – over double the number they were looking after just three years ago.
According to new SEC filings by the US giant spotted by MBW, Live Nation companies now employ over 140 artist managers worldwide – with Michael Rapino's firm having acquired equity positions in two more US businesses in the sector in 2016.
In its annual report, Live Nation offers an updated list of its management company subsidiaries (each defined by LN owning a significant stake in their operation).
In the US, these include Roc Nation Management, 24 Artist Management, Blueprint Artist Management, Spalding Entertainment, LMG Management, Mick Artists Management, Three Six Zero Group, Vector Management, Career Artist Management and Philymack Management (home to Nick Jonas and Demi Lovato, pictured).
Combined with listed UK management subsidiaries such as Plan B Management and Quest (UK), these partners give Live Nation a rare level of power in the world of artist management.
Indeed, in its own fiscal filing, Live Nation says: "We believe we are one of the world's leading artist management companies based on the number of artists represented."
(In the same document, Live Nation mentions one competitor in particular as a "larger talent representation company" – ie. a heavyweight competitor – and that's Red Light Management.)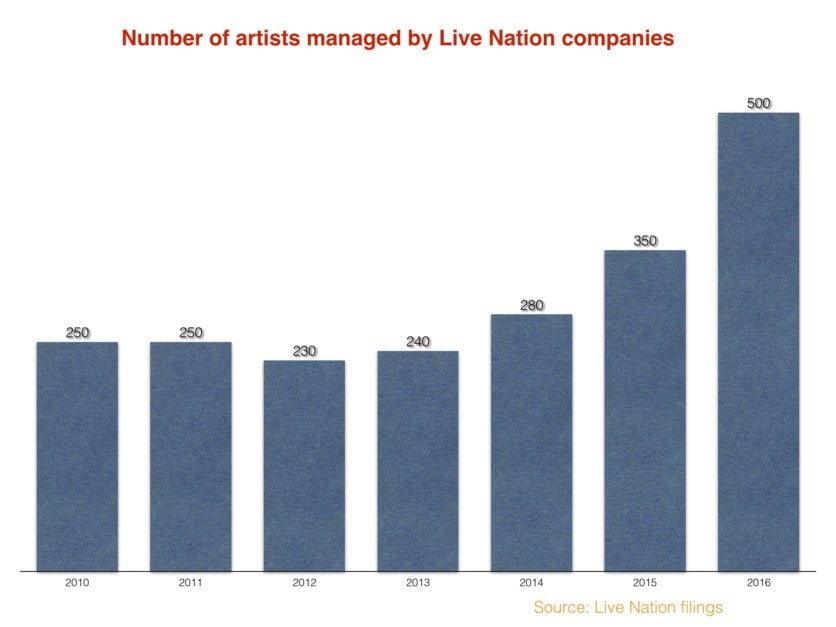 ---
So… why is Live Nation quite so big in the game of artist management? Not for direct financial gain, that's for sure.
If you needed a reminder of just how tough artist management can be as a standalone enterprise, you only need to check Live Nation's financial stats for calendar year 2016.
The company's Artist Nation division – which rolls up its artist management activity – posted $421.7m in revenues in the 12 months. That was down 3% year-on-year, and down 2% at constant currency.
What's more, the division posted a $51.2m operating loss in the same period – widening 82% on the $28.2m loss seen in 2015.
Which begs the question: how come Live Nation is bulking up a loss-making venture like artist management… and suffering bigger losses as a result?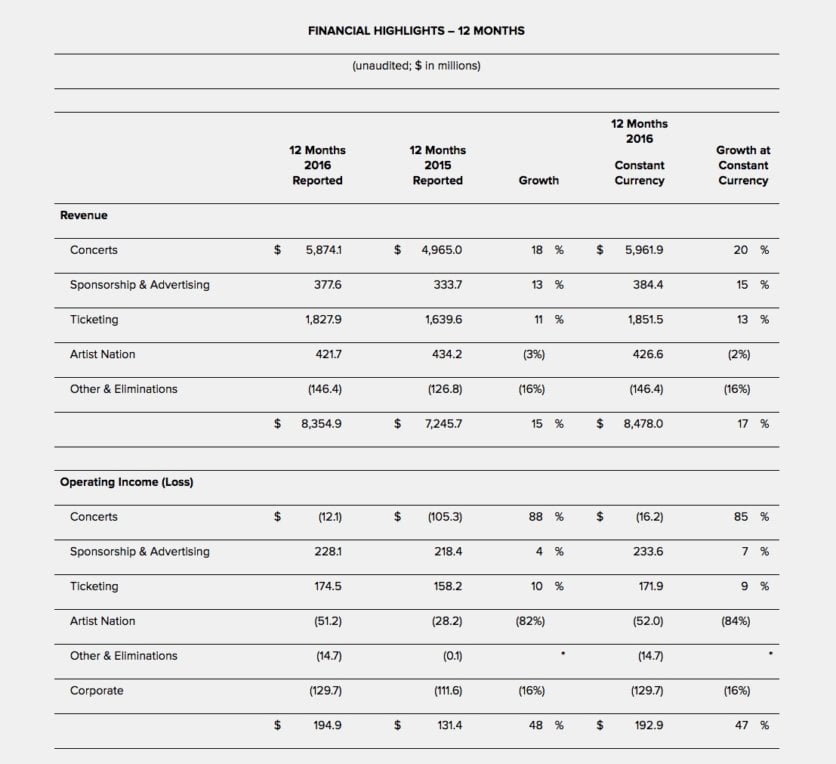 ---
It's a very interesting question.
Although, as policy, Live Nation doesn't enforce exclusive touring contracts on the artists of its management subsidiaries, this key relationship is clearly not hurting its other business lines.
In fact, you'd have to assume it's feeding them.
Live Nation's total revenues in 2016 stood at a record $8.35bn, up 17% at constant currency – with an overall operating income of $194.9m.
The company's biggest money-spinner, concert promotion, saw revenues rise 20% at constant currency to $5.87bn, while its other two biggest divisions – ticketing ($1.83bn) and sponsorship ($377.6m) – both also saw double-digit annual revenue rises.
In an uncommon result, Live Nation Entertainment turned a net profit of $20.3m across the year.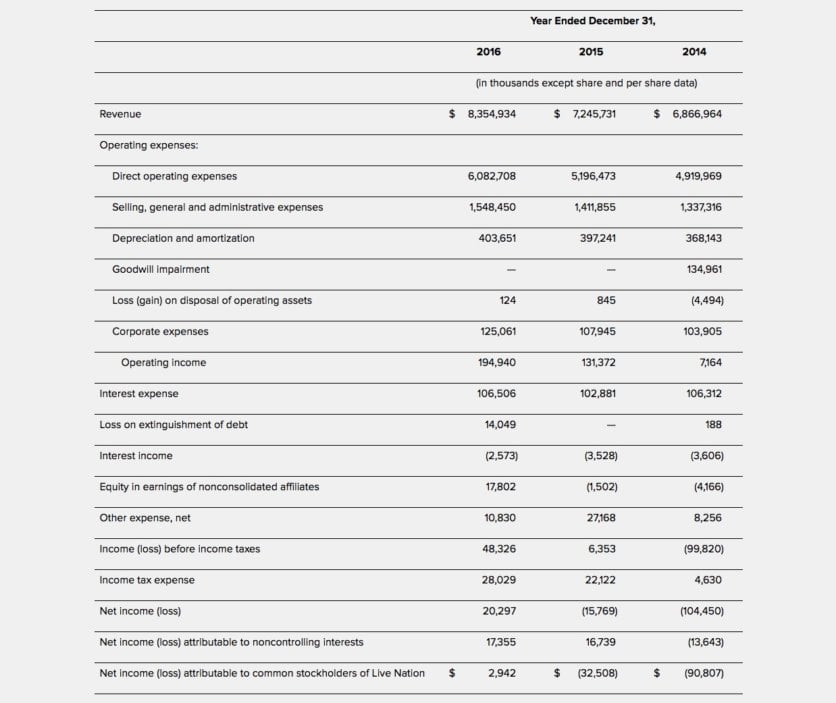 ---
In its annual fiscal filing, Live Nation explained: "The artist management industry is highly competitive, with numerous other artist management companies and individual managers in the United States alone.
"We compete with these companies and individuals to discover new and emerging artists and to represent established artists. In addition, certain of our arrangements with clients of our artist management business are terminable at will by either party, leading to competition to retain those artists as clients.
"Competition is intense and may contribute to a decline in the volume of our artist management business, which could adversely affect our business, financial condition and results of operations."
Live Nation further suggests that expanding its concert business is its No.1 priority for the coming year, and explains: "Through our strong partnership with artist managers, we believe we can continue to further expand our concert base by delivering strong and consistent services to our artist managers and their clients."
It adds that its other revenue-generating priorities for the coming year are:
 Growing our Revenue per Show. ("We will grow our revenue per show across our venues through more effective ticket pricing, broader ticketing distribution and more targeted promotional marketing. We will also grow our onsite fan monetization through improved onsite products and services.")
Selling More Tickets and Invest in Product Improvements. ("We are focused on selling tickets through a wide set of sales channels, including mobile and online, and leveraging our fan database. We will enhance our API features to reach a broader audience. We will continue to invest in our ticketing platforms and develop innovative products to build fan traffic to our sales channels and drive increased ticket sales.")
Growing Secondary Ticket Volume. ("We will grow the volume of secondary tickets sold through a trusted environment for fan ticket exchanges. Globally, we will expand the availability of secondary tickets, allowing our fans to have a dependable, secure destination for secondary ticket acquisition for all events.")
Growing Sponsorship and Advertising Partnerships. ("We will continue to drive growth in our sponsorship relationships and capture a larger share of the global music sponsorship market. We will focus on expanding existing partnerships and developing new corporate sponsor partners to provide them with targeted strategic programs, leveraging our 70 million plus fans attending our shows each year.")
Another interesting question, then: Management companies tend to make the biggest noise about having a big issue with the secondary ticketing market.
So what happens when the business which owns 50%+ of your company names 'growing secondary ticketing volume' as one of its key agenda points for the coming year?
Just a guess, but you might consider it wise to keep quiet on the issue…
---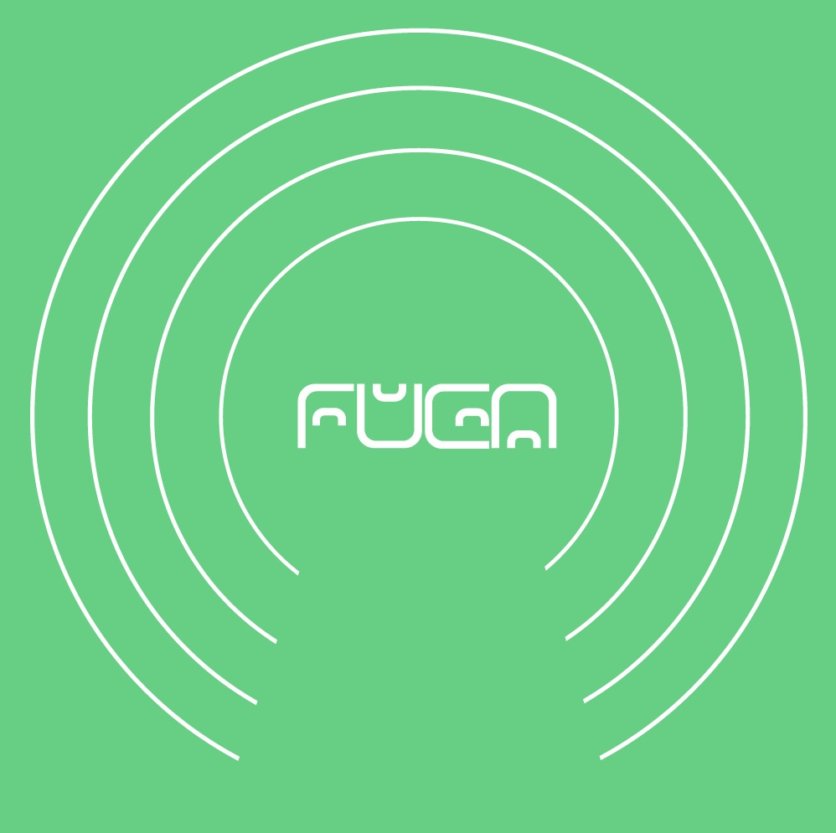 The MBW Review is supported by FUGA, the high-end technology partner for content owners and distributors. FUGA is the number one choice for some of the largest labels, management companies and distributors worldwide. With a broad array of services, its adaptable and flexible platform has been built, in conjunction with leading music partners, to provide seamless integration and meet rapidly evolving industry requirements. Learn more at www.fuga.comMusic Business Worldwide