Live Nation Entertainment purchased a controlling stake in a mystery US artist management company in the second quarter.
The news was spotted by MBW in the company's quarterly SEC filings for the three months ended June 2017.
Live Nation spent $16.6m of cash in the first half of this year on acquisitions – 'primarily' for a ticketing business operating in the Czech Republic and Poland plus a concert promotions business in Italy, in addition to a 'controlling interest in an artist management business located in the United States'.
In Live Nation's previous quarterly filing (for Q1 2017), it revealed that it had spent $4.7m of cash on acquisitions in Jan-March this year – primarily on the aforementioned European companies – but there was no mention of the artist management firm buyout.
This would suggest that Live Nation spent up to $11.9m of cash on the acquisition of a majority stake in an unnamed US management company in the three months to end of June.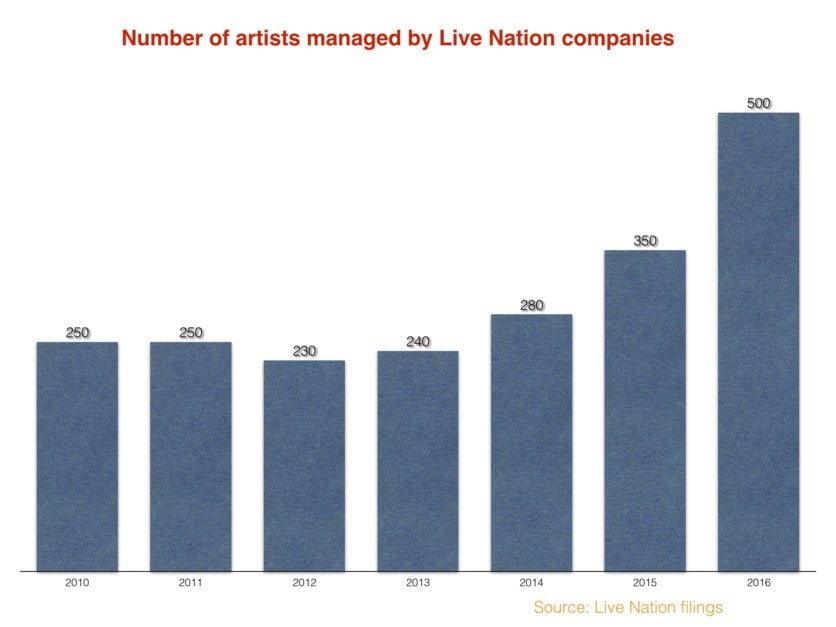 A Live Nation spokesperson declined to comment when contacted by MBW – no doubt because, if the acquisition was considered significant in shareholder terms, details would have made their way into LN's latest 10-Q SEC document.
It's likely to be considered more significant by those in the music business, however – particularly because Live Nation subsidiaries were managing no less than 500 artists at the close of last year.
Live Nation has been particularly aggressive in the M&A market of late, announcing the acquisition or part-acquisition of no less than 13 companies in the 13 months to end of March this year.
According to the firm's latest accounts, Live Nation turned over $2.8bn in Q2, up 29% on the same period of 2016.
Its operating income was up 53% year-on-year to $113m.Music Business Worldwide