Len Blavatnik's Access Industries acquired Warner Music Group for $3.3bn on July 20, 2011.
Today, exactly five years since that deal was completed, Blavatnik has made some rare comments in an email to WMG staff looking back at his investment.
The buyout came at an uncertain time for the music rights business, but now, amid the rapid growth in streaming, it's showing signs of being a shrewd bet.
At the end of last week, MBW noted that Warner Music Group is set to post its biggest Q3 since Blavatnik purchased the company.
A Warner source who read that article has helpfully – if anonymously – just pinged Blavatnik's new email our way.
In summary: the Access man (pictured with Coldplay's Chris Martin) is very happy with how things are progressing, but thinks there's much more to be achieved at WMG.
And he's going nowhere.
---
"Over the last five years, I've sometimes been asked why I choose to be in this business," reads Blavatnik's email.
He reveals that the primary reason he opted to operate in the music biz is "the joy of hearing a great song for the first time or the thrill of seeing a new superstar break across the world" and the fact that he believes "in the undying power of music to move people, culture and technology".
Blavatnik then praises WMG for gaining more recorded music market share than any other major in recent years, Warner/Chappell's US airplay record and WMG being the "first to hit big streaming landmarks."
"[I believe in] The undying power of music to move people, culture and technology."

Len Blavatnik, WMG
The context: Warner's recorded music global market share has steadily grown under Access Industries and CEO Stephen Cooper, reaching 17.1% last year (source: Music & Copyright), while it has over-indexed on digital.
This share was particularly boosted by WMG's £487m acquisition of Parlophone Label Group from Universal in 2013, netting the company the catalogues of David Bowie, Coldplay, Kate Bush, Blur, Pink Floyd and David Guetta, to name a few (plus Radiohead, which has since been sold to Beggars Group).
Meanwhile, in publishing, Warner/Chappell grew to the No.2 publisher in the US last year in terms of Top 100 airplay hits, with CEO and Chairman Jon Platt now on a mission to replicate this level of success worldwide.
In May, Warner CEO Stephen Cooper revealed that streaming earned more for the company in the three months to end of March than downloads or physical sales.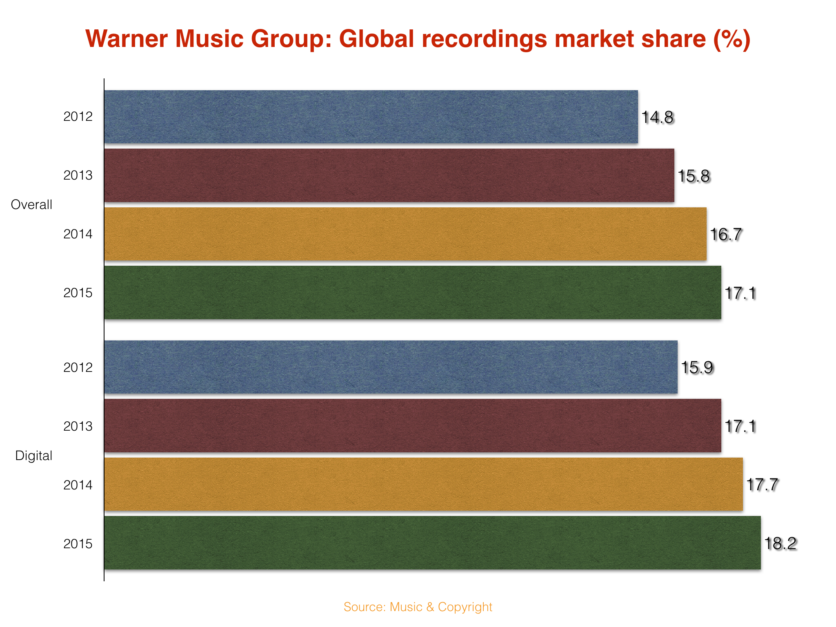 ---
"What's making us successful isn't just our spectacular artists and songwriters," continues Blavatnik's email.
"Our ability to build careers for the stars of today and tomorrow is down to you, the people of WMG.
"I'd like to thank Steve for his leadership as CEO, our fantastic company heads for their creative vision, and everyone within the WMG family for all your hard work."
"The thought of what WMG could be in the future makes me want to stay in the music business for a very long time."

Len Blavatnik, Access Industries
Blavatnik then encourages his staff to "be honest with ourselves about our strengths and weaknesses", in addition to exploring "new ideas of what a music company can be, and make brave choices about what we put our valuable resources behind".
He concludes: "It's the thought of what WMG could be in the future that makes me want to stay in the music business for a very long time.
"Some of you have heard me talk about the importance of the WMG brand. It's not the logo itself that counts; what matters is what it means. You all play a huge part in that."
---
Elsewhere in his note, Blavatnik says: "July 20, 2011 was a proud day for me. Now, on July 20, 2016, I'm prouder than ever. But I celebrate this anniversary knowing that our work is never done."
WMG's annual revenues in its past two financial years (2014: $3.03bn; 2015: $3.0bn) have been its highest since before its owner arrived – FY2009, when it turned over $3.21bn.
Early signs suggest that 2016's FY revenues will show further growth: MBW estimates that Warner has turned over around $2.4bn in the nine months to end of June.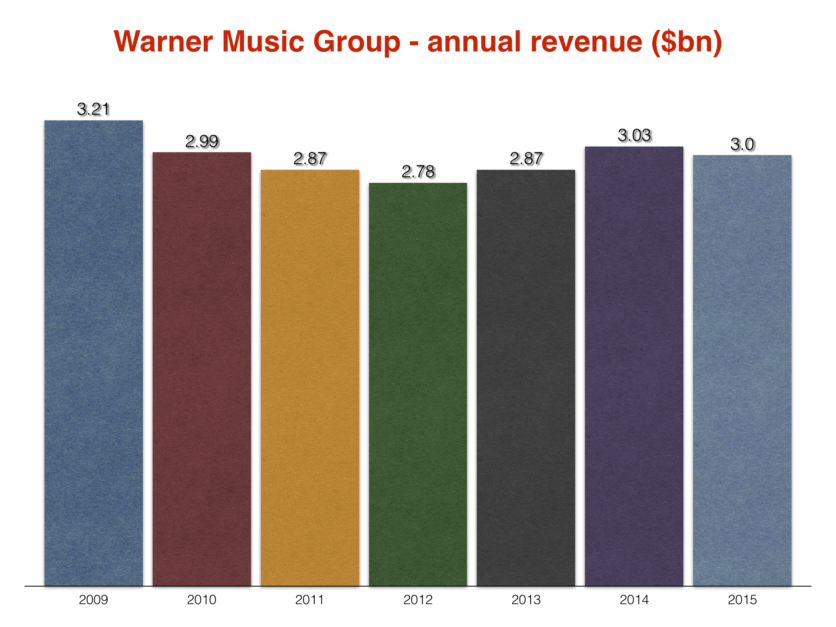 ---
Amongst other non-Warner investments, Access Industries owns a significant stake in Spotify rival Deezer.
Last year, it invested millions in a merger between Songkick and Crowdsurge.
Len Blavatnik was named as Britain's third richest person in the latest Sunday Times' Rich List, with an estimated fortune of £11.6 billion.Music Business Worldwide