Latin music is set for another historic year in the US music industry, as the genre once again proves its popularity on streaming services. However, spectacular recent increases in Latin artists' Stateside market share don't look likely to continue in 2019.
According to fresh stats from the RIAA, Latin music turned over $231.9m in the US in the first six months of this year, of which 95% was from streaming – which contributed $220.4m, or around $1.2m per day.
That streaming H1 number ($220.4m) represented a $31.9m increase year-on-year, and was up by more than double on the $94.0m posted by streaming in the US at the midyear point just two years prior (H1 2017). It means that Latin music in now strongly in contention to generate somewhere close to half a billion dollars within the United States in 2019.
The majority of Latin music's H1 2019 US streaming tally came from paid subscriptions, which generated $146.3m, with ad-supported on-demand services adding another $43.8m.
---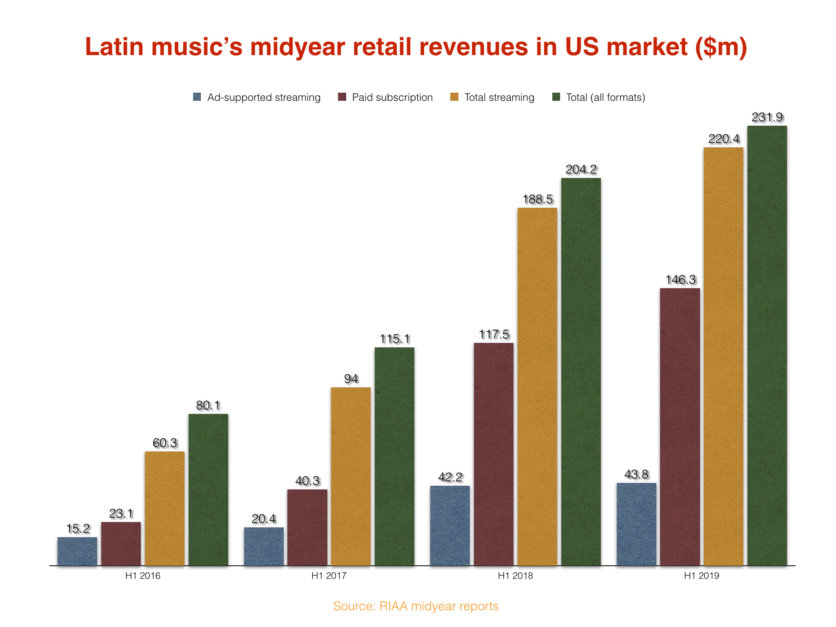 ---
The overall US recorded music market, however, grew quicker than its Latin music contingent in the first half of this year.
Two numbers illustrate this simply: overall US streaming revenues from Latin music grew by 16.9% YoY in H1 2019, according to the RIAA. Yet for the entirety of recorded music (including all genres), that percentage growth stood at 26.4%, with overall US streaming revenues hitting $4.31bn in H1 2019.
What that meant in more commonplace industry terminology: the streaming market share of Latin music in the US just failed to grow for the first time in three years, dipping from 5.53% in H1 2018 to 5.11% in H1 2019 on a revenue basis.
---
A slight market share dip was also apparent for Latin music when it came to money generated in the US by paid subscriptions (including both fully-premium and 'limited tier'): Latin's share in this category, according to MBW's analysis of RIAA data, dipped very slightly – from 4.63% in H1 2018 to 4.46% in H1 2019.
The trend was felt more harshly when it came to ad-supported streaming, with Latin's market share in this category in the US falling from 12.31% (H1 2018) to 10.25% (H1 2019).
(The above numbers, as you may have correctly assumed, are based on MBW's calculations regarding the RIAA's Latin numbers vs. its overall US industry numbers.)
---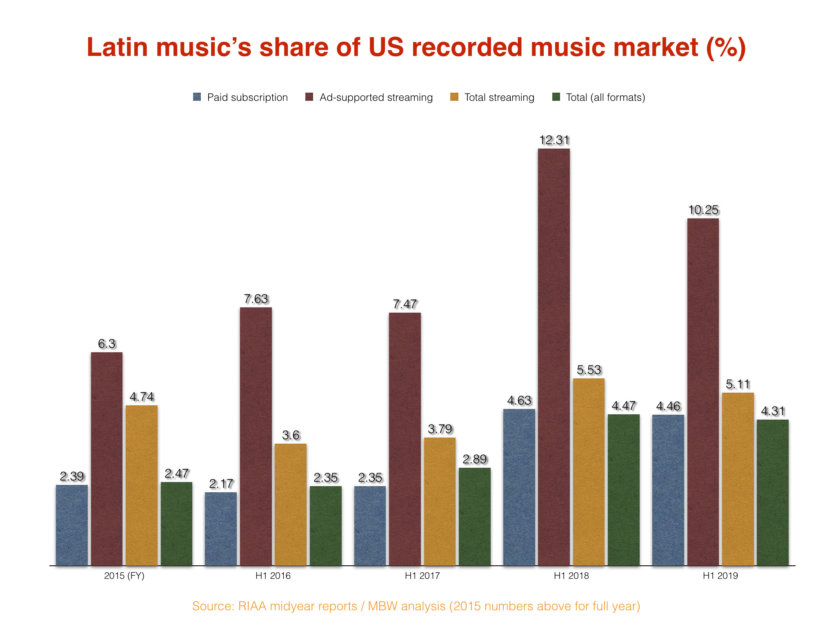 ---
Overall, thanks to its generally resilient strength in streaming, Latin music's market share in the US recorded music world, across all formats, hit 4.31% in H1 2019.
That was down slightly year-on-year, but significantly larger than the equivalent number from 2017, 2016 and 2015.
Mitch Glazier, Chairman and CEO, RIAA, said: "The U.S. Latin music market is continuing to flourish, building on the last three years of double-digit growth. Latin music is attracting a diverse and growing global audience, and rightfully so.
"Latin artists continue to claim growing representation on the mainstream charts and gain in critical recognition, as greater numbers of consumers are embracing Latin music and driving more consumer demand for it."
You can read the full RIAA Latin music Midyear 2019 report through here.
According to an RIAA report issued last month, on which the above % numbers are based, total recorded music retail revenues in the US – including streaming subscriptions, as well as physical and digital music – hit $5.39bn in the first six months of this year.
That was up by $822m (or +18%) on the equivalent H1 figure from 2018 ($4.56bn), which in turn was up by $383m (+9%) on the RIAA's retail figure for H1 2017 ($4.18bn).
[Pictured, main: A still from the video of Loco Contigo by J Balvin, DJ Snake & Tyga.]Music Business Worldwide