MBW's Stat Of The Week is a series in which we highlight a data point that deserves the attention of the global music industry. Stat Of the Week is supported by 
Cinq Music Group
, a technology-driven record label, distribution, and rights management company.
---
Last week's report from the Recording Industry Association of America (RIAA) showed Latin Music grossing USD $627 million in US revenues in the first half of this year – a 14.8% YoY growth rate.
Latin music's share of overall US recorded music revenues grew from 7.1% in the first half of 2022 to a new high of 7.5% in the first half of 2023, the RIAA report found.
Now a new report from US market monitor Luminate backs up this data with whopping growth numbers of its own – along with data showing that Latin Music fans could be a particularly lucrative source of revenue for artists and music companies.
According to Luminate's newly-released Latin Music Report, on-demand audio streaming of Latin Music in the US jumped by 22.2% YoY in the first 34 weeks of 2023, to 57.9 billion streams. That compares with a 13.3% YoY increase in streamed music in the US as a whole (see below).
Within that, the Regional Mexican genre showed the largest growth, with streams up a stunning 56% YoY in the first 34 weeks of 2023, compared to a year earlier, garnering a total of 14.3 billion streams.
---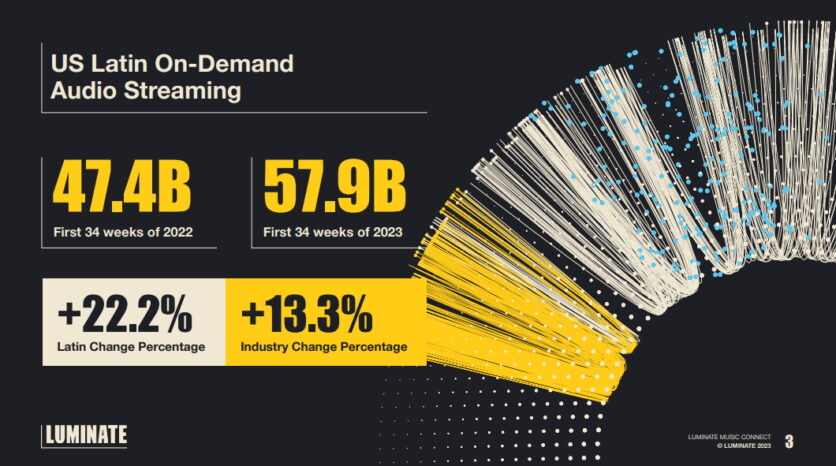 ---
Some of the data in Luminate's report are updates to figures from its Mid-Year Report for 2023, and at that time – looking at data only for the first half of the year – reported streaming of Regional Mexican to be up 50% YoY – suggesting the Regional Mexican trend continued to accelerate in the past few months.
All of this means Latin Music's share of the music market is growing, from 4.37% of the US market in 2021, to 7.9% in 2023 (based on Top 10,000 US on-demand Audio tracks), Luminate reported – a near doubling of its share in two years.
And naturally, this means English-language music's share is declining, from 94.8% of all music streams in the US in 2021, to 90.7% two years later.
This marks a significant shift in the nature of the US music market. The Luminate report noted that 40% of music streamers in the US now listen to non-English music, with Spanish (26%), French (8%), Japanese (8%) and Korean (7%) being the most common languages other than English.
---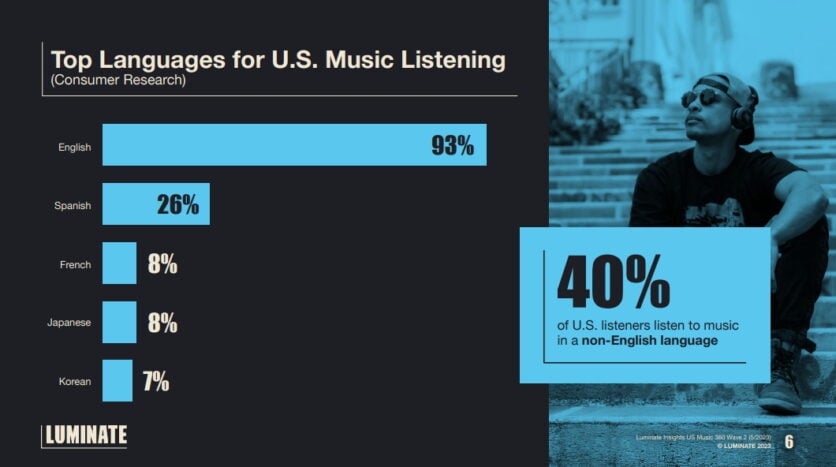 ---
The "Hispanic community and culture play a large role in the genre's growth, revealing new areas for music discovery," the Luminate report stated.
That creates both a challenge and an opportunity for the music business. The development of a more linguistically diverse music landscape may prove difficult at times for an industry that has long been dominated by English-language music; but, as the Luminate report shows, the shift holds out the promise of higher revenues to those businesses willing to seize the opportunity.
That's not least because Latin Music "super fans" – that cohort of music consumers who have particularly strong attachments to their favorite artists, and are willing to spend more on their music consumption than their counterparts in other musical genres.
---
The Luminate report found that Latin Music super fans spend on average 30% more on music consumption than other communities of super fans in the US, and 120% more than an average non-super fan.
In a recent report estimating the value of a fully monetized super fan community, Goldman Sachs estimated that super fans spend 80% more on music consumption than regular fans; the data from Luminate suggests the upside for the music business from Latin Music could be even larger than that estimate.
"There are considerable opportunities to further monetize fandom as Latin Music Super Fans demonstrate levels of passion even higher than other US Music Super Fans in key activities."

Luminate
Compared to other super fans, Latin Music's most enthusiastic fans are 24% more likely to say they "wish artists provided more merchandise options so that I can show my support for them and their work," and are 21% more likely to have purchased t-shirts, stickers, or other merch from musicians or artists in the past year (see below).
---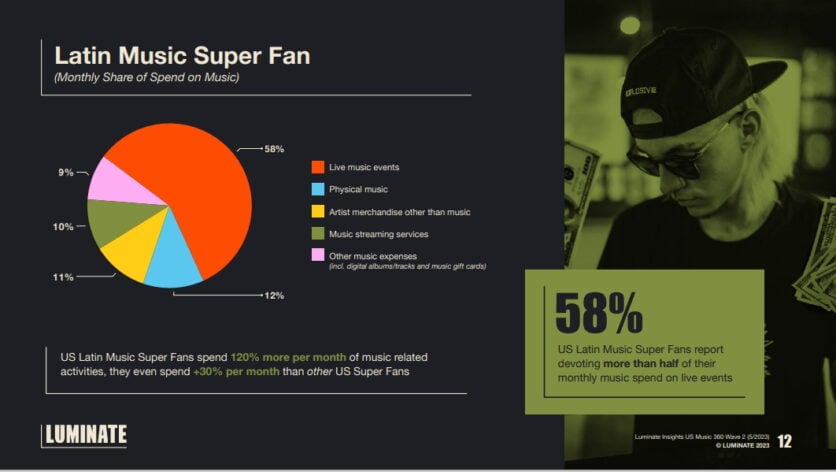 ---
"There are considerable opportunities to further monetize fandom as Latin Music Super Fans demonstrate levels of passion even higher than other US Music Super Fans in key activities," the Luminate report said.
Simply put, if there is a market out there ready to make the direct-to-fan model a success, Latin Music is it.
Luminate has previously defined a "super fan" as "a music listener aged 13+ who engages with an artist and their content in multiple ways, from streaming to social media to purchasing physical music or merch items to attending live shows".
And indeed, Latin Music super fans are very likely to attend live shows; two out of three surveyed by Luminate said they plan to attend a live show in the next 12 months.

Cinq Music Group's repertoire has won Grammy awards, dozens of Gold and Platinum RIAA certifications, and numerous No.1 chart positions on a variety of Billboard charts. Its repertoire includes heavyweights such as Bad Bunny, Janet Jackson, Daddy Yankee, T.I., Sean Kingston, Anuel, and hundreds more.Music Business Worldwide