Kobalt enjoyed its second successive year of profitability in its FY 2022 (the 12 months to end of June last year).
The firm, which since last year has been majority-owned by US-based Francisco Partners, says its total revenues exceeded USD $600 million in the period, up by 22% YoY.
Kobalt says its net revenues grew by 50% YoY, as it spent over $300 million in content costs (advances and catalog acquisitions) across the 12 months.
In previous years, Kobalt – with headquarters in the UK – has posted its annual financial results on UK Companies House, offering a comprehensive view of its performance and profitability.
This year, the firm (now US-owned) hasn't revealed quite that level of granularity, but the numbers are impressive all the same.
Below, you can see Kobalt's financial performance in its previous two FYs, to the end of June each year.
---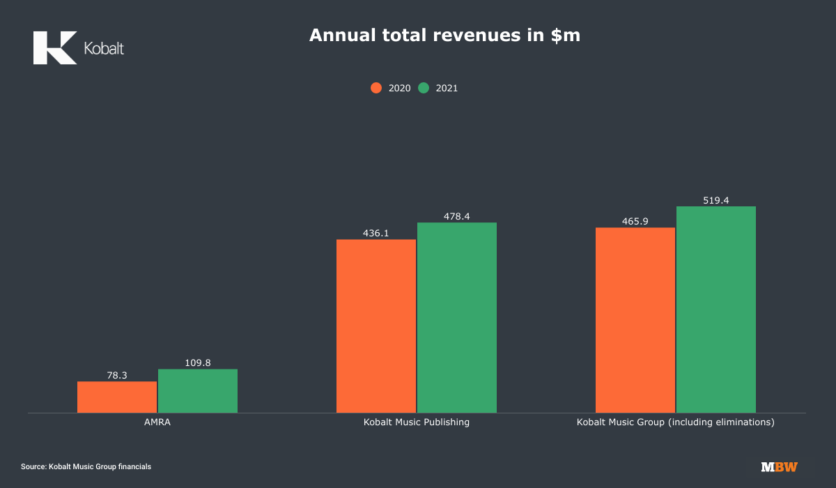 ---
Discussing Kobalt's FY 2022 results, Laurent Hubert, CEO of Kobalt, said: "This was another record year for both Kobalt and AMRA on revenues and profits. Our team, who support some of the best songwriters in the world, continues to drive our success.
"We are seeing the increased benefits of our laser focus on publishing and AMRA. I continue to be optimistic about our value to clients and believe we are the best destination for songwriters today."
"I continue to be optimistic about our value to clients and believe we are the best destination for songwriters today."

Laurent Hubert
Said Willard Ahdritz, Founder and Chairman of Kobalt, "We had another strong growth year at Kobalt. Driven both by our great client roster, new signings and favorable market growth.
"We've doubled down on our core publishing business and AMRA, our digital global society, to continue to innovate for the benefit of creators and rights owners.
"After launching AMRA in 2015, it is starting to take a massive stage in global digital collections, and I cannot wait to see its positive impact on our clients and the whole industry. And now, Kobalt has become even stronger with our new partner Francisco Partners. Somebody stop us!"
Following the sale of AWAL and Kobalt Neighbouring Rights to Sony Music for $430 million in 2021 (and the sale of its managed investment portfolios), Kobalt has been comprised of two companies:  its core music publishing company, plus AMRA, the firm's owned digital collection society for songwriters and publishers.
In FY 2022, says Kobalt, AMRA processed a record-breaking 41.1 billion music royalty transactions compared to 29.3 billion in the prior year, up 40% YoY.
Kobalt says that, since its inception in 2015, AMRA has collected almost $500 million of digital royalties on behalf of songwriters and rights holders.
AMRA's global roll-out has "reached all corners of the world outside the US", says Kobalt, and includes direct digital collections for China, Brazil, Japan, and, more recently, Canada.
Meanwhile, Kobalt's music publishing company grew revenues by 20% YoY in FY2022, says the firm.
Kobalt's writers enjoyed co-writes on hits in FY 2022 from Jack Harlow (Rogét Chahayed), Beyonce (Adam Pigott, Freddie Ross), Sam Fender (Sam Fender), Lost Frequencies with Calum Scott (Joacim Persson, Sebastian Arman, Dag Daniel Osmund Lundberg), Justin Bieber (Andrew Watt, Skrillex, Finneas), Billie Eilish (Finneas), Adele (Max Martin) and more.
Kobalt's roster of publishing clients includes Andrew Watt, FINNEAS, Ozuna, Karol G, Phoebe Bridgers, Stevie Nicks, Justin Quiles, The Foo Fighters, Roddy Ricch, Gunna, Max Martin, Kali Uchis, and more.
Francisco Partners acquired a controlling stake in Kobalt in Q3 2022 for approximately USD $750 million, according to sources speaking with MBW.
MBW understands that FP's controlling stake in Kobalt equates to around 90% of the music company.
Meanwhile, two other new co-investors each own minority stakes in Kobalt: Matt Pincus's MUSIC, plus Dundee Partners.
Additionally, understood that Kobalt founder, Willard Ahdritz, continues to own a minority stake in the firm.
Kobalt's now-defunct investment management arm, Kobalt Capital, facilitated the sale of two music-owning funds in the past two years for a total of $1.4 billion:
Today, Kobalt continues to acquire music copyrights, but does so via the balance sheet of its main company, using its own finances.Music Business Worldwide