Some well-known music industry figures have invested in a funding round for UK-born artist marketing platform, un:hurd.
The seven-figure round has been led by Kobalt Music's founder and Chairman, Willard Ahdritz.
MBW understands that, connected to his un:hurd investment, Ahdritz has launched two new independent entities himself – an investment advisory firm (Ahdritz & Co), in addition to his own active investment vehicle (Ahdritz Holding LLC). More news is expected from them both soon. (Last year, Ahdritz was named as an investor in a separate $200 million fund established to back tech startups in Africa.)
In a press release issued this week, un:hurd praised Ahdritz's achievements as Kobalt's founder, noting: "[He] forever changed the industry as it's known today when he pioneered music as an asset class and built the world's largest indie publishing and artist-first record label… No-one today is better placed to understand the value of new music technology, putting artists first and leading with transparency."
Joining Ahdritz in the investment round in un:hurd is Hazel Savage – the music tech entrepreneur who last year sold her AI-powered Musiio platform to SoundCloud in a $7 million cash deal (plus a significant sum in equity).
Additional investors in un:hurd in the round include Best Nights VC (Jagermeister's VC arm) and Johan Ahlstrom, amongst others.
Un:hurd says it has worked with over 25,000 artists since the company launched in 2019, including acts who've gone on to achieve significant success, such as Headie One, Jamz Supernova, and SAINt JHN.
The firm claims that its self-serve marketing solution "helped generate over 10 million streams for artists in 2022".
---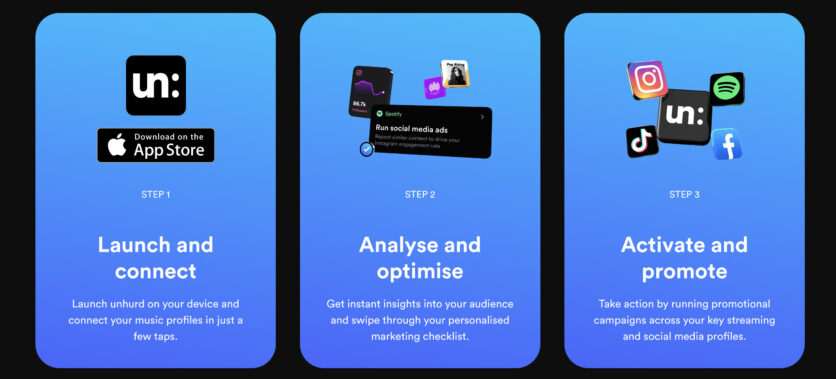 ---
Un:hurd's first round of funding came in 2021, when it raised GBP £250,000.
The app promises to help artists "cut through the noise" of the glut of releases hitting streaming services every day, by offering an algorithm-driven marketing solution that highlights key digital opportunities for artists looking to build their fanbases.
Alex Brees, Founder and CEO of un:hurd said of the new investment round: "I'm pleased to be able to welcome such a fantastic wealth of experienced and relevant investors to un:hurd.
"Our product has made strong progress over the last 18 months with a lean team. We've learnt a lot about what artists really want and we now have the opportunity to build upon our initial product launch with some really exciting new features.
"Our mission has always been to empower artists from around the world with a data-led, best in class marketing platform and I now see this mission as being supercharged with years of industry knowledge thanks to this new fundraise.'
Hazel Savage said: "As soon as I saw the product demo I was keen to invest in un:hurd. It was such a beautiful and simple user interface, and clearly solving a problem for artists. I was already familiar with Alex's work so it was a win-win."
Alongside launching their app in 2022, un:hurd won the ADE x Antler start-up competition, featured on the BBC's Dragons Den and were also announced as Musically si:x finalists.Music Business Worldwide