The Capitol Records Tower cuts an impressive figure in the Hollywood sky.
For Kieran Thurgood, Capitol Music Group's Head of Global Marketing, walking up to the 13-storey HQ on his first day at work a decade ago was "one of the biggest pinch-me moments" in his career.
"It's such an iconic building," he says. "There are literally buses outside with tourists taking photos  – and I get to walk inside and call it home."
Indeed, as he notes, "some of the most iconic recordings have happened" in the studio at the bottom of the tower, from The Beatles and Beach Boys to Frank Sinatra, Bob Dylan and more.
"The Capitol Tower just emanates music to its core," adds Thurgood. "That legacy of Capitol Records is something that we are very cognisant of in our day-to-day workings.
"And clearly, we're very proud and respectful of that lineage, but equally, we are here forging the future of Capitol Music Group."
Thurgood joined CMG in 2013 as Director of International Marketing, after spending nearly 10 years in London, holding various domestic and international marketing positions at Columbia Records UK, Sony Music UK and Decca Records.
He grew up in the States, and his career in London followed on from a study abroad programme in the city, during which he was hired for work experience at live promoter Mean Fiddler in 2006.
"That was my first real introduction to the UK business," he remembers. "Obviously it was a lot of admin-based work, but I absolutely loved the energy of being around live music."
What was meant to be a three-month stay ended up being much longer. After returning to the US to complete his psychology degree, Thurgood bought a one-way ticket back to London.
"I slept on a friend's floor, working various jobs at pubs and hotels," he says. "All the while sending my CV to any type of music company saying I would work for free. I just wanted to get in the door.
"I did a stint at what was Virgin Radio back then, and now Absolute Radio, at 1 Golden Square [in Soho], which was incredible. I love the energy of a radio station."
That led to work experience at Sony Music's Columbia Records UK under then-Managing Director Mike Smith in 2007, where Thurgood climbed the ladder and ended up in Sony's commercial music division.
"I [gained] experience, both in working on frontline repertoire at Columbia, with artists like Kings of Leon,  Kesha and The Ting Tings, juxtaposed with the incredible catalogue that Sony Music has, with Michael Jackson, AC/DC, Bob Dylan and so many more.That was really my first major label experience. I knew I was hooked for life."
Now, at Capitol Music Group, Thurgood leads marketing and promotional strategy in more than 80 countries for CMG's entire roster.
That roster includes superstars like Paul McCartney, Ice Spice, Lil Baby, Katy Perry, Niall Horan, YoungBoy NBA, Maggie Rogers, Kodak Black and Troye Sivan, amongst many others.
As Thurgood explains, during his two-and-a-half years leading global marketing for CMG, the division has been overhauled and its global digital strategy rewritten.
And, in spite of international challenges for US repertoire, including a rising trend of hyper-localisation and an ever-evolving multi-territory social and entertainment media landscape, CMG's efforts have resulted in various successes abroad.
Amongst them are Ice Spice (Capitol/10K Projects), who he says, "is the hottest developing artist in the world right now", and who broke the record for biggest streaming debut for a female rapper on Spotify, with over 50% of those streams coming outside of America.
"There are literally buses outside with tourists taking photos of the building and I get to call it home."
Another campaign that saw success in multiple markets was Niall Horan's The Show, which achieved eight No.1s on album charts in the UK, Ireland, Holland, Belgium, Australia, New Zealand, Poland and Canada. "Niall worked incredibly hard and deserves all the credit in the world," says Thurgood.
Amongst many other wins for CMG internationally was the US No.1 album Hope from rapper NF, who Thurgood calls "a true artist in every sense of the word." It also topped the charts in Holland, New Zealand, and Switzerland.
As part of the division's refresh, Thurgood shook up its management team, bringing in what he calls "the best executives that I could find globally".
---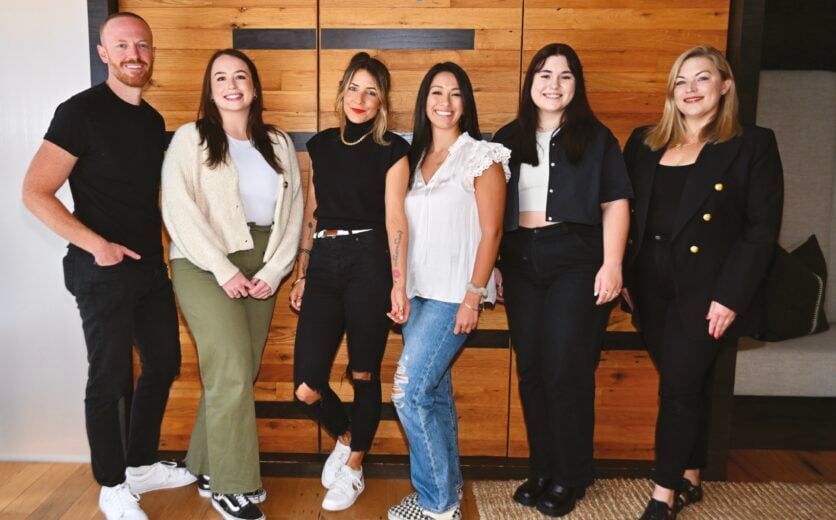 ---
Those appointments include Kate Haffenden, VP Global Marketing, who joined CMG after 15 years at Warner Music. Jessica Staats was appointed Senior Director, Global Social & Streaming, joining CMG after spending 10 years at Universal Music Australia and a recent stint at Wide Eyed Entertainment.
The team also includes Orla Gorman, Director Global Marketing, joining CMG after a decade in the International team at UMG in London; Manager Global Marketing, Mollie Chen; and Lauren Marques, who recently joined the team as a coordinator from UMG's 1824 college rep program.
"We now have a tremendous executive team that are all true music people," says Thurgood. "We would not be having this great run of success and achieving such momentum without [them]".
Looking to the future, Thurgood tells MBW: "We're in a new chapter at Capitol Music Group.
"That's due to the tenure of Michelle Jubelirer and Arjun Pulijal, our President. In less than two years under their leadership, we have had a massive, renewed and refreshed focus on global marketing."
Here, Kieran Thurgood tells us more about CMG's global marketing push and shares some unique insights from his decade-long tenure at the Capitol Tower…
---
Credit: Eric Broder Van Dyke/Shutterstock

You moved over to Los Angeles in 2013 from your role at Decca.  Having grown up in the UK major label system, what was that transition like?
It was happenstance that I went to London, because my father is British. I had a British passport. At the time, I really had no idea of the important role London played in the global music business.
I'm very fortunate that it happened, because I met so many incredible people in my time in the UK. I was working at Decca with Rebecca Allen when she was the head of press there. Now she's the Co-President of EMI and I speak to her on a daily basis.
I know a lot of the key players, the importance of domestic UK marketing, and, equally, the dynamics of working American-signed artists abroad.
---
How did the opportunity to move over to Los Angeles come up?
I was working with Robbie McIntosh, who had just been appointed Head of International by Steve Barnett, who was the CEO of Capitol at the time.
I had a coffee with Robbie and just said if he was ever looking to build out his team in Los Angeles, I'm in.
A couple of months later, I got a call from him saying, 'Would you be interested in coming to LA?'  He was incredibly supportive and I learned so much while working with him.
As much as I loved London, and a big part of my heart is still in that city, I jumped at the opportunity. I ultimately took over the team here about two and a half years ago.
---
You lead Capitol's marketing and promotion strategy across 80 markets, which is clearly a massive task. From an overall strategic perspective, how do you approach marketing a company like Capitol Music Group's roster in so many markets simultaneously?
We have incredible partners around the world, starting right here in Santa Monica with Andrew Kronfeld [EVP, Global Marketing – UMG]; Adam Granite in London [CEO Africa, Middle East & Asia – UMG]; David Joseph and his respective label heads in the UK; Frank Briegmann in Europe; Dickon Stainer, who is president and CEO of Global Classics & Jazz; Jesús López, who oversees all of Latin America and Iberia; Jeffrey Remedios, who runs Canada; Calvin Wong who oversees Southeast Asia; Naoshi Fujikura, who runs Japan; Timothy Xu, who was just named head of Greater China; Devraj Sanyal, who runs India and South Asia; and of course Sean Warner who heads  Australia and New Zealand.  There are many more, of course. It's a phenomenal global team, and we could not operate without their expertise and passion.
Also, the support from UMG headquarters – Sir Lucian Grainge and his team – in really having the vision and championing this purposefully decentralised global company that fosters healthy internal competition.
But, within that competition, there's also a feeling of companionship and unity, wherein all of our wins elevate UMG globally, particularly now that we are a public company.
---
Can you speak about your division's marketing efforts abroad over the past couple of years?
Beyond that infrastructure, my philosophy is that we have to take our destiny into our own hands.
I have really spent the last two years bolstering CMG's capabilities overseas. That's included bringing on an entire new team of executives, many from outside of America, each with unique skill sets and backgrounds.
We created new roles specifically focused on digital and short-form strategy, as well as international-specific commerce initiatives.
You've got a plethora of territory-specific platforms that historically have been under-utilised by US labels. We've got new executives who are specifically tasked with maximising functionality on those platforms and engaging with them in a very pervasive way to create meaningful cultural touchpoints.
---
You mentioned untapped opportunities globally in terms of marketing via digital platforms or channels. Could you tell us more about that?
From the Tower, we are investing more than we ever have in digital campaigns abroad, in partnership with our teams on the ground. 
We have invested in a number of proprietary real-time data analytics and audience insight platforms. These have proven to be incredibly useful in our ability to be both proactive and reactive in the global market, and with greater speed and precision than ever before.
We've got the best data and insights team in the world, and we combine that data with gut instinct.
"Speed to market is vitally important. That has historically been an area of frustration for artists and managers with major labels."
Speed to market is vitally important. That has historically been an area of frustration for artists and managers with major labels.  For example, it used to be that if we were seeing a spark in France, to name any country, there would be protracted dialogue with that territory before any meaningful action was taken.
The truth is, with the way short-form media and virality is moving in 2023 and beyond, you have a very finite window to inject meaningful campaign work into a spark before that moment of opportunity is gone.
We are instigating much of that ourselves, here from Los Angeles, abroad, in Europe, in Southeast Asia, in Africa, in more markets than we ever have before. We are obviously doing that in close communication with our partners on the ground in those markets.
---
In this rapidly evolving social media and entertainment media landscape, where there are so many more channels available to market music globally, is it more challenging in the current global recording music landscape from a marketing and promotion perspective, because there are
more channels?
We're in one of the most challenging times to export US repertoire abroad that I can remember. And there are myriad reasons for that, most notably
hyper-localisation.
Many markets, particularly non-English speaking territories, are made up of predominantly local language domestic repertoire that has eroded the market share of US and UK repertoire.
"Every major label has to choose its timing and choose its winners more carefully than ever."
If you look at Asia, you're often talking about English-speaking repertoire making up five to 10% of the charts. It's the same in Latin America.
Every major label has to choose its timing and choose its winners more carefully than ever. There's a lot of volume. You also have challenges with DSPs that are prioritising local artists, understandably. We have to work harder than we ever have to give our artists the platform that they deserve abroad.
---
That hyper-localisation trend is something we've written about a lot and it's interesting to hear how a company like CMG is facing that challenge. What more can be done to successfully market your US repertoire in those markets?
Short-form virality and editorial support across DSPs in isolation are not yielding deeper levels of fandom that are critical in breaking new artists.
Streaming strategy, media strategy, press and radio promotion still play a key role. But, equally, we spend a great deal of time, again, bifurcating between foundation-level campaign work and actual off-platform creative marketing.
Insight shows that artist discovery from off-platform marketing yields greater repeat listens, and deeper levels of individual fan engagement than anything else.
"There is no longer one avenue and a one-size-fits-all campaign to breaking worldwide."
At its core, it's identifying cultural touchpoints in said market, and connecting our artists and their repertoire to that audience in a pervasive way.
There used to be a feeling in the US that London was the gateway to international. While the UK is clearly important – vitally so – to breaking an artist globally, there is no longer one avenue and a one-size-fits-all campaign to breaking worldwide.
Now, more than ever, to truly move an artist forward in a meaningful way, it requires bespoke territory-specific plans for every individual key market.
---
Photo credit: Goldin

Could you give us some insight into specific examples of recent successful global artist campaigns?
Beyond the foundation level, box-ticking that sometimes happens, we're trying to foster a deeper relationship that yields audience acquisition, engagement and retention that will grow all areas of an artist's business, not just the recorded music side.
Touring remains vitally important. And from our perspective, so does experimenting. That is what aided us in creating a global hit for one of our new priority artists, Doechii, who we're working on in collaboration with Top Dawg Entertainment.
That song, What It Is, featuring Kodak Black, once we heard it, we all thought it sounded like a hit.
We released it and it was a strong launch, but not explosive. But we believed in it, and we kept tinkering around with it, and that included the team instigating tailored digital strategies in markets like Nigeria, Kenya, and some countries in Southeast Asia.
That [TikTok] trend actually started in Nigeria, then fed into Kenya. That triggered a reaction from a creator in the Philippines. It set everything alight to where, within a matter of three weeks, we went from the song garnering in the tens of thousands of TikTok creates per day, to 750,000 daily creates.
---
---
Then we poured gasoline on that; we flew one of the influencers from the Philippines to Los Angeles, created a ton of really compelling localised content with them here, and fostered that relationship.
Equally, we started drip-feeding that into platforms like Douyin in Greater China, and then it caught fire and ultimately peaked at 1.5 million daily creates across Douyin and TikTok. As an artist development tool, that is unparalleled.
Ice Spice (pictured inset with manager James Rosemond Jr. and Thurgood), who is the hottest developing artist in the world right now, we are working in much the same way. She is a genre-less artist and is a true superstar at her core. We also have a great partner in her manager, James Rosemond Jr.
Michelle recognised her as a superstar from the moment she met her and heard her music, and she and Arjun gave us every resource to help get the job done internationally. Jeremy Vuernick, CMG's President of A&R, also deserves a tremendous amount of credit, as do our partners at 10K Projects.
Her feature with PinkPantheress in the UK elevated her ex-US share in a truly powerful way. Now, over 50% of her streams in the first 12 months of her being signed here are coming from outside of America. And she just made her inaugural UK and EU festival run with Wireless Festival. The future is very bright for her globally.
---
You led global marketing efforts on McCartney III, which hit No.1 in multiple markets. Could you talk about the challenges of working with an artist as successful as Paul McCartney versus newer artists?
What is very clear today is that nothing is a given. You have some of the biggest superstars in the world having their albums debut at 50% of albums they released less than two or three years ago. Obviously, there are artists that are true global cultural icons, like Sir Paul McCartney, and you take those campaigns very seriously and you really want to deliver for them.
Paul is incredible. His team, led by his manager Scott Rodger, is incredible. And all of us partnered to do a great job in creating content around that project.
---
---
We instigated a global campaign in which we purposely held back any pre-release music. All the music hit the day the album was released, and we wanted to do something different and really keep the conversation around the project as a whole versus focusing on any singular song.
I'm really proud of one marketing initiative in particular, and one in which Arjun really played an instrumental role. We created sheet music for each track and lifted segments of that sheet music and created murals in 14 different cities around the world, from Rio to London to Berlin to Tokyo.
Then we had local musicians in each market perform their own unique interpolations of those songs, never having heard Paul's actual recordings, but solely by sight-reading the sheet music that we placed on outdoor murals. It was unique, thought-provoking and created true global excitement. Most importantly, it blew Paul's socks off.
---
Photo credit: Lester Cohen

What is the best advice that you have ever been given as a marketing executive?
Energy and empathy are vitally important. People know when you're passionate and when you're not. And the fact is, I absolutely love my job.
If I hit the lottery tonight, I would still turn up to my 8am Zoom tomorrow. In my role of being an ambassador for Capitol Music Group abroad and championing our artists abroad, having that energy and passion that translate, at times over the phone or over Zoom, is critical. 
"If I hit the lottery tonight, I would still turn up to my 8am Zoom tomorrow morning."
I don't always have the answers, but I'm going to outwork everybody and I'm going to find the answers.
Being able to connect with people, cross-culturally through language barriers and create deep meaningful relationships very quickly is critical to achieving success in the global business.
I set out to find the most passionate, energetic, knowledgeable team I could find. It just so happens that all of those executives were women, and that is something that I'm also very, very proud of.  Michelle and Arjun (pictured inset) truly believe that having a team that is as diverse as the roster we represent is critical for our long-term success, and that belief is shared by everyone on their leadership team. 
---
If there was one thing you could change about the music business, what would it be and why?
We need to recalibrate our barometer of success. We have to think more long-term, build careers with the potential for real longevity, not individual fleeting moments. 
And we have to put artists first – I can't tell you how many times I've heard Michelle and Arjun say that – and have the belief and patience to create a truly nurturing environment for artists to do their best work.
Building long-term artists is incredibly hard and takes time, but it's worth it. 
Artists that rocket to success too quickly can fade just as quickly, and we are always cognisant of that fact. 
So, all of that said, and relating it back to the ethos of Capitol Music Group, we try to balance the fast and slow of it all. 
We are relentlessly aggressive in creating and securing opportunities both in the US and abroad, and will continue to do so.
---

This article originally appeared in the latest (Q3 2023) issue of MBW's premium quarterly publication, Music Business UK, which is out now.
MBUK is available via an annual subscription through here.
All physical subscribers will receive a complimentary digital edition with each issue.Music Business Worldwide