Kevin Liles has got something to say.
The Baltimore-raised exec knows full well that the music industry chatter machine hasn't stopped whirring since the sudden exit of two of 300 Entertainment's co-founders towards the end of 2016.
Lyor Cohen, Liles' long-time Def Jam and Warner Music ally, left to become Global Head of Music at YouTube, while Todd Moscowitz jumped ship to launch his own label, Cold Heat Records (now Alamo Records) with Universal Music Group.
Liles stepped up to become CEO of New York-based 300 in the wake of Cohen's departure, but that didn't stop pessimistic music biz whisperers from speculating that the company's slimmed-down management team was a portent for the end of the independent label – which took on a multi-million dollar investment from Google Ventures in its early stages.
Today, Liles wants everyone to know that 300 was "never about one person. It's always been about our mission statement, the artists we represent, and the people in the building."
Following the diamond-selling success of Fetty Wap in 2015, says Liles, 300 has become a Top 3 US indie label in just five years. Its hottest artists today include Megan Thee Stallion, Gunna, Tee Grizzley – whose Activated album went Top 10 on the Billboard 200 last year – and Young Thug, who not only featured on the Grammy-winning This Is America by Childish Gambino, but also had a star turn on Camila Cabello's Havana, officially the biggest-selling digital single of 2018 worldwide.
Liles is adamant, however, that, despite its closeness to "the culture", 300 shouldn't be pigeon-holed as a hip-hop label – nor, for that matter, a US-centric one.
Witness Drax Project, a four-piece New Zealand indie/pop band who have opened for Ed Sheeran, Camila Cabello, and Lorde; Liles calls them "amazing", and is tipping them for big things. 300 also boasts signings like Platinum-selling electronic trio Cheat Codes, plus LA-based singer/songwriter Maggie Lindemann and three time Grammy-nominated rock outfit, Highly Suspect.
Yet Liles – who spent eight years as President of Def Jam and EVP of Island Def Jam – still has a proud affinity with his hip-hop roots. He speaks with particular energy about 300's up-and-coming rap acts, such as Megan Thee Stallion (signed via Carl Crawford's 1501 label) and Gunna (signed via Young Thug's YSL, and who landed a No. 1 hip-hop album and No.3 US album with Drip Or Drown 2 in February).
There are, also, more disquieting topics on Liles' mind: from the lack of racial and gender diversity at the top of entertainment's biggest companies to the criminal justice system of the United States – which, he says, continues to systemically punish people of color to an outrageous degree – and a broken education system that needs a massive overhaul.
So, yes, Kevin Liles has something to say. Listen up…
---
You launched 300 just over five years ago. How should we think about the company today?
We wanted to build a disruptor, to say, 'Let's get rid of all the red tape.' We didn't even call ourselves a 'label' – we are a platform for entrepreneurs, for entertainers, for executives, for creators to partner and do great things.
As I reflect on it now, [the launch] was like a Bat Signal for freedom; freedom to do what we wanted when we wanted to do it, with the people we wanted to do it with.
We are part of what I call the 'New Independents'; it's not the old way of thinking, it means being independent in partnership, independent in capitalization, and independent in collaboration.
---
There were question marks when Lyor left the company. What was the story behind that?
Lyor is a great friend and someone I speak to every day. There came a point in time when YouTube and Google – one of 300's biggest investors – had a need.
When you work in the business for over 30 years [like Lyor], you operate for the greater good. And the greater good was to say, 'Let's improve the conversation around what YouTube Music and Google Play, and streaming generally, mean to our industry.'
What better way to do that than to have one of us there? To have somebody that wasn't afraid to have the hard conversations?
We're living our legacy now. Everything we do [should] make our culture better and provide more opportunities in the media and entertainment.
When you operate for the greater good, some people might be shocked. But we just played the hand we were dealt and continue to push our culture forward.
---
So what's happened at 300 after Lyor's departure in 2016?
Well, I can only tell you we didn't lose one employee. We didn't lose one artist. We grew 72% that year.
At the time [Lyor left], 300 [employed] 24 people, and now we have 42 people; at that time, it was 42 artists and now it's 100 artists. We have a responsibility to all of these people.
"Think about going to your investors and telling them about growing 72%. Those are happy conversations."
As for Lyor, I'm so happy – my main man is at YouTube and remains a partner in the platform we created.
Think about going to your investors and telling them about growing 72%. Those are happy conversations. We're having a great time here, developing artists, executives, and building culture.
---
---
If you have a roster of 100 artists, you're a significant independent label. What is it you want to achieve?
We are looking for cultural disruptors. People like Young Thug who expresses himself in ways that some people agree with, and some people don't. I'm looking at people like Tee Grizzley who comes out and makes a record called First Day Out and sells five million single equivalents – and changes his family's life, because he comes from a broken home, with a father who passed and a mom who is incarcerated.
As you know, our culture is exploding globally. Whether in France, in Germany, in the UK or Japan, it's hip-hop right now.
I want the world to know that we're open for business, but that [to work with 300] you have to speak to the culture, and you have to [carry] the voice of young people.
You can't want to live off of what was done before. You have to make your own way and stand on your own. In a nutshell, our company is the voice of the new independents.
---
Let's have the independent artist discussion. Independent acts have more options for distribution than ever before; how do you separate yourselves from the other companies aimed at helping them?
First we've got to define: what is 'independent'?
I tell people, 'Okay. If you're putting up your own money, if you're calling all the shots yourself, if you're distributing your own record, if you're shooting your own videos… that's independent.'
And to be quite honest, out of every [artist] selling that dream, nobody's actually doing it. Every one of these guys had someone to help. Whether you had a private funder, your friend shot your video, or your friends are posting on socials and doing your PR.
To me, independence is a mindset, but in order to build that into something special, it takes collaboration, it takes investment, it takes a value proposition.
I always tell artists, 'Listen, we have to [demonstrate] value for you every day… we have to show that we are doing everything in our power, using every relationship, using every piece of capital that we have, to help you achieve your goal.'
"If you're putting up your own money, if you're calling all the shots yourself, if you're distributing your own record, if you're shooting your own videos… that's independent."
It bugs me out when people act like success does not come without true partnership. Business is when two people come together – and then one plus one can equal three, five, or ten. If you and I walk into a room together, we gonna get more than you walking in the room by yourself. Or me by myself. Period. There's no question about that, and we are willing to prove it [at 300] every single day of our lives.
This is not a conversation about whether you own your master, or don't own your master. If one plus one can equal five, one plus one can equal ten, is that a good partnership?
The reality is that any small business which wants to grow takes on additional capital, collaborates more and brings in more partners. This is true of any business, not just the music business.
Why 300? Why our team? We have 42 people committed to showing their value proposition to you seven days a week, 365 days a year.
---
In that case, what differentiates you from the major, global record companies? If you're fighting to sign the same artist as a major label, you know that the major is saying: '300's just an independent. We have more global firepower than them.'
I love this conversation, because guess what? Major record companies have systems that pre-date the streaming era, catalog and business systems that require a different type of infrastructure.
We were born in the streaming era. We keep seeing executives leaving major companies to come here because they wanna be part of a company that has less red tape and more autonomy to make a personal difference.
Our mindset is that of an independent, but our muscle is that of a major. Are you worried about relationships? Who do you wanna call?
"We have enough capital [at 300] to make any kind of investment – big or small, but we instead choose to double down on building and partnering [with] what's new."
Are you talking about capital? We are financed to do any deal that anyone else can do. Listen, we have enough capital [at 300] to make any kind of investment – big or small, but we instead choose to double down on building and partnering [with] what's new; a new voice, a new sound, a new movement. And in five years, we've amassed over 100 gold, platinum, multi platinum and diamond-certified singles.
And here's the good thing about it: when you're on the front line, it's okay to take some bullets. It's okay for a company to say they have more money than us or they could do this or that better than us.
As an architect and partner of several successful companies, I've heard that for the past three decades. I've been told 'no' my whole life. I've been told, 'Get out of my radio station, rap is a fad.'
So why would I sit and compare ourselves to the big organizations of the past? Those that can't change directions on a dime? Those that need so many approvals just to get one answer?
We were born to out-discover, out-sign, out-maneuver, outbuild. That is just who we are.
---
One significant artist who has left 300, and signed a big major deal with QC/Capitol, is Migos. Their most recent album, Culture II, went double-platinum last year. Do you think things have been done for Migos' career since they left that 300 couldn't have provided?
I'm proud that we had the opportunity to work with QC and Migos. Together we partnered to deliver the biggest album of their career so far, Culture I. I encourage everyone to do what's best for them. I want to make this clear. We love QC, and we love Migos. QC will never tell you that we were not good for them.
As a matter of fact, we partnered [with QC] last year to distribute one of the biggest projects, Drip Too Hard by Gunna and Lil Baby. Gunna is ours through YSL, and Lil Baby is theirs.
We've done so much great business that we use the same deal structure that has successfully worked with us in the past. Check out our many collaborations over the past few years: we work well together and will continue to do so.
---
What's the most exciting thing about 300 right now that people might not know about?
The week that Gunna came with his No.1 rap album, and No.3 [Billboard 200] album, that week alone we were 1.5% market share [in the US].
So one of the most exciting things to me is building this label with Young Thug, YSL, and Carl Crawford's 1501 and Rich The Kid's Rich Forever, because it reminds me of when we built Roc-A-Fella, Ruff Ryders, Murder Inc, Disturbing tha Peace, and Def Jam South – all under one logo. It reminds me of that entrepreneurial spirit, when everyone worked together to be great.
From a corporate standpoint, I have a very diverse [world view] based on my experiences. I can look around my office today and see real diversity – diversity of people, diversity of thought, diversity of conversation and diversity of opportunity.
---
---
Speaking of diversity, you are one of a handful of people of color running significant US music companies. Where are we at on the timeline of progression?
It's a big problem that we have the No.1 music [hip-hop] and yet the c-suite in our industry does not reflect where we are. Top Dawg, QC, Cash Money and others, keep putting numbers on the board, so that board should be as diverse as the music. We have a long way to go and I will always openly speak about it.
One reason why we are independent, the reason we choose to do our own thing, is because there's a problem with the system – not just the music system, but the education system, and the justice reform system. This is life in the eyes of somebody who lives it every single day.
I have created a diverse executive team at 300 and challenge other companies to do the same.
---
Are you hopeful that Jon Platt's appointment as a multinational CEO/Chairman at Sony/ATV might change things in the corporate/c-suite world you reference?
Jon's a good friend and I believe in Jon. But I don't believe in Jon as just an African-American – I believe in him as one of the greatest executives to ever do publishing.
He's been given a great opportunity and I'm sure he'll do very well, but one person doesn't change the complexity or the sensitivity that I have around the issue of diversity and inclusion. There need to be more Jon Platts, Sylvia Rhones, and Julie Greenwalds in c-suite positions. I know they are all are about the greater good.
"There need to be more Jon Platts, Sylvia Rhones, and Julie Greenwalds in c-suite positions."
What's so special is that there is so much entrepreneurialism in our culture out of necessity, and it has prepared us for any opportunity to have any seat at the table.
With my success, there's a responsibility now for me to be outspoken, to help create change that's going to allow people to have even more opportunities than I have had.
---
You must remember gatekeepers stopping hip-hop from getting its commercial dues earlier in your career. People in radio, people in retail, even people within labels. They look a bit silly now.
Listen, we got put out of so many radio stations. Literally put out. They wouldn't play our records, so we had to create other means.
We decided to create such a demand and such a groundswell that radio had to give the people what they wanted. You cannot stop a cultural movement.
I don't fault anybody, though. It's the same as people who said to African-Americans, 'You are not a human being.' It's the same as people who say, 'You shouldn't get a vote.'
"I will always be a voice of change; and if change for the greater good offends you, then simply put, fuck it – you're offended."
Hip-hop and youth culture are constant agents of change. I went to college for electrical engineering, because I was told that you go to school, then you get a job, then you get your benefits. I'm glad I didn't end up just listening to that. I wanted more. I wanted to build something. I wanted to be an entrepreneur.
Most people are still stuck in the old system. Maybe everybody doesn't want me at the country club. Maybe I don't really give a fuck if I get invited to the White House right now or not.
I will always be a voice of change; and if change for the greater good offends you, then simply put, fuck it – you're offended.
---
What offends you?
Double standards. A system that's rigged. Cheating the rising generation out of opportunity.
Setting the music industry's issues aside, a good example in the news is the $25m spent on wire fraud for privileged kids to get a better education [in the college admissions scandal]. We are fighting this every single day – privilege, entitlement, however you want to put it.
"'You can be a female CEO. You can be an entrepreneur. You can be President of the United States.'"
That's why what we need, right now more than ever, is diversity of leadership in all industries. People don't understand; when I saw Dick Parsons, Bob Johnson, and Cathy Hughes, I thought, 'I could be that.'
We need those beacons of light and opportunity so much: 'You can be a female CEO. You can be an entrepreneur. You can be President of the United States.'
---
You said earlier that 300 is not for sale. Do you get phone calls from people who are interested?
I've been told not to answer that question [laughs]!
Listen, if a major label can be valued at $44 billion and [300 Entertainment] is at 1.5% US market share, you tell me if you think somebody would be calling me. But we are not for sale.
---
Eloquently answered – without answering! Hip-hop is booming, as you note. Not just in the US, but around the world in France, Germany, the UK… Can it get even bigger?
You haven't seen anything yet. I love Stormzy, I love AJ Tracey, I love what the Zanybros are doing out of South Korea.
We are collaborating with people all over the world because they believe in the cultural movement; not a colored movement, a cultural movement. This is not just in music. Look at the kids at Fieldston that just sat out in New York – they camped out for three days, and got their demands met. [Students at Fieldston, a private school, protested against an alleged racist culture in March, following the emergence of a video showing senior pupils using a racial epithet.]
"Young people today are fearless, and they're pushing for change."
Other kids are fighting for justice reform. Racial profiling is at an all time high and the constant divisive rhetoric used by the current administration continues to deteriorate all of the hard work of our former leaders.
Young people today are fearless, and they're pushing for change. They are saying, 'We will not allow you to remove our voice anymore. Can you hear us now? Can you hear us now?'
---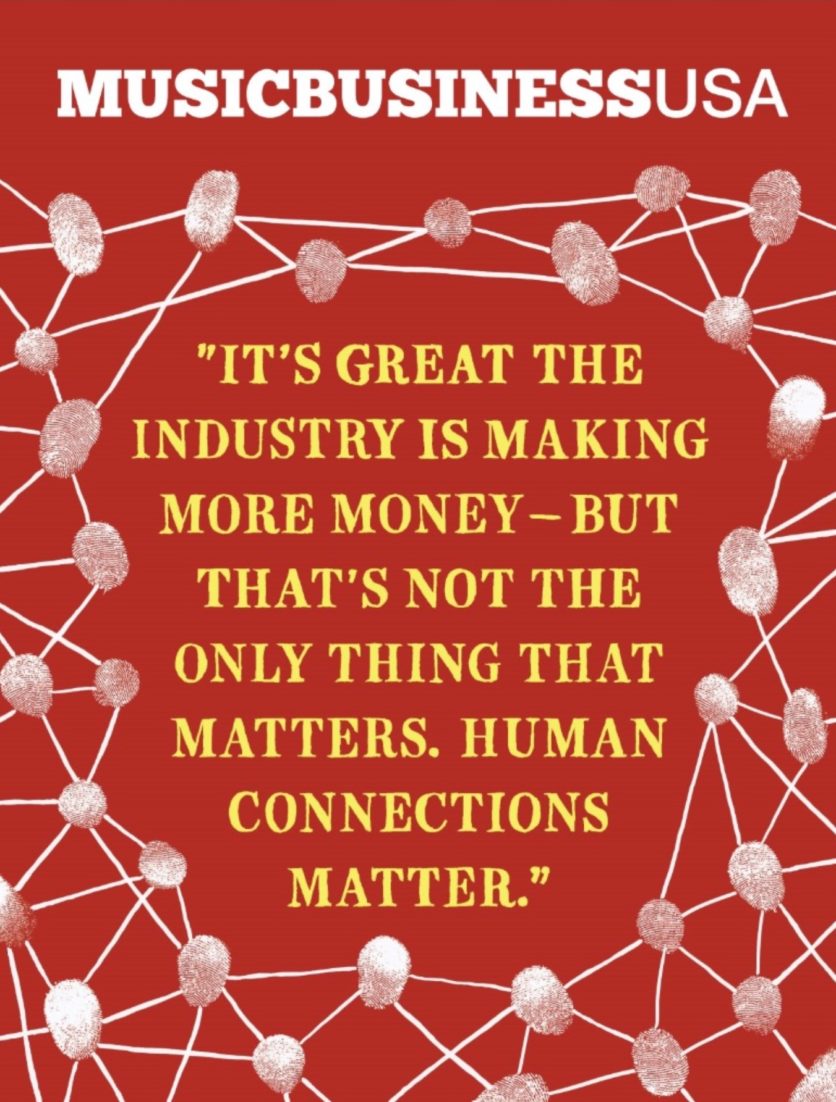 The above interview originally appeared in Music Business USA – MBW's new annual magazine featuring some of the smartest people, with the best stories, in the Stateside music industry.
Subscribe to MBW's premium bundle to ensure you never miss one our physical magazines in future. Click through here to find out how.Music Business Worldwide