Justin Bieber made headlines this weekend for seemingly directing his fans to game Spotify, iTunes and YouTube in order to help send his recent single, Yummy, to No.1 in the US.
A streaming service-gaming guide for fans was reposted to Bieber's official Instagram account on Thursday night (January 9) and was subsequently flagged by a number of social media users.
As reported by the Verge, the now-deleted post first appeared on fan account, Outlyning (which has 115,000 followers), stating: "Justin really wants that #1 and he is really excited about it as he said yesterday in his livestream. If you don't want to do any of this it's totally fine, just ignore the post. ✌️This is tips for the people who actually wants to do an extra effort!"
To amplify the single's Spotify streams, the guide urged fans to "create a playlist with Yummy on repeat and stream it".
It further instructed fans to "let it play while you sleep" – but, presumably to avoid Spotify's fraud detection measures, suggested that they avoid muting the track, and instead play it "at a low volume".
The post encouraged fans outside the US to use a VPN, and to set their location to the USA so that their streams counted towards the Billboard charts.
---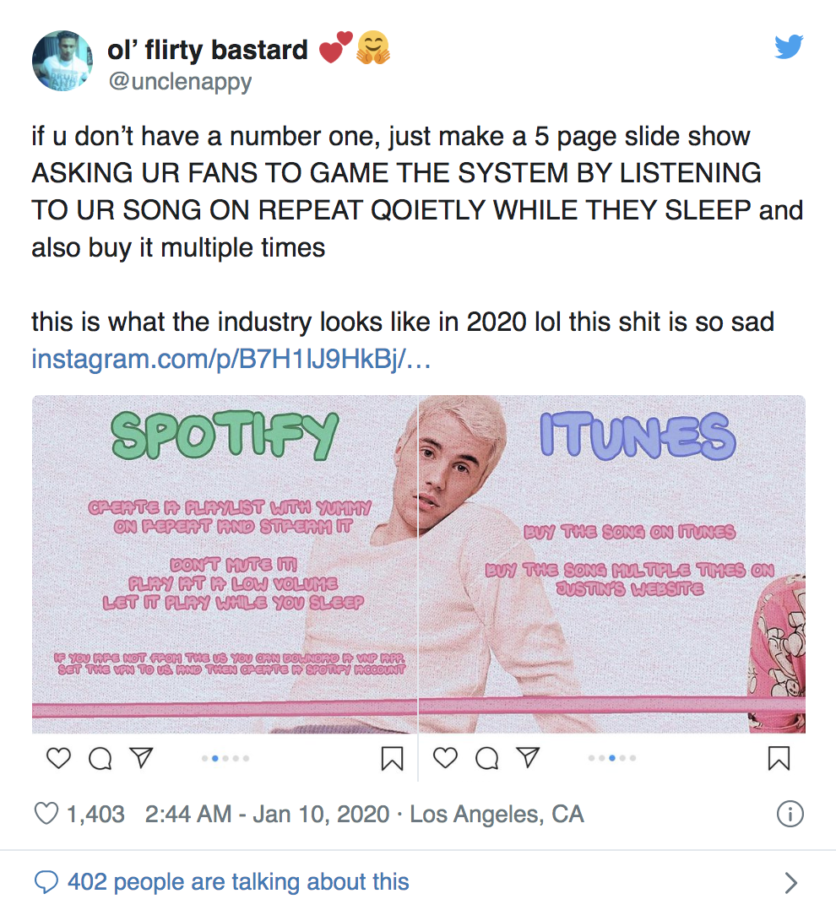 ---
As noted by the Verge, fan led-strategies to boost singles in the charts in a similar manner are not un-common.
In 2018 for example, over 1,000 Spotify logins were claimed to have been distributed by the BTS fan 'Army' to boost US streams for the K-Pop superstars' album, Love Yourself: Tear.
As detailed in this Complex article, Justin Bieber's Instagram post follows various other social media-based promotional tactics for the single, which include posting videos simply asking fans to stream and purchase the track to get it to No.1.Music Business Worldwide