There are a pair of items on Jacqueline Saturn's window sill, neatly nestled next to one another, which link directly to what must rank as the two of the worst days in her professional existence.
The first is a signed copy of the latest record from Noel Gallagher's High Flying Birds, Who Built The Moon?
Saturn's relationship with the Oasis man is golden these days, but back in the mid-nineties, things weren't quite so picture perfect: Saturn was a member of the Promotion department at Epic Records in NYC, banking her career on Oasis, when the elder Gallagher quit the band's crucial US live run, mid-tour, in fury at his younger sibling.
The second item easily tops this, however: it's a T-shirt emblazoned with two words, all caps, screaming out across Saturn's Hollywood office: 'FUCK HARVEST'.
This was the slogan Morrissey publicly displayed across his own tee, on stage, following an ugly fall-out with his then-label back in 2014 – Harvest Records.
Saturn had quit Epic's promo squad in 2013 to become GM of Harvest Records, having been poached by her ex-Sony colleague – now Capitol Music Group topper – Steve Barnett.
Within a year, after a promising start, she found herself getting properly Morrissey'd.
"That's the very last one," Saturn says with a smile, pointing at the offending garment. "Do you know how many people still want that T-shirt? I'm like nope – this one belongs to me."
Why keep it around?
"Seriously? Because it reminds me that it's not always going to be good news in this job."
---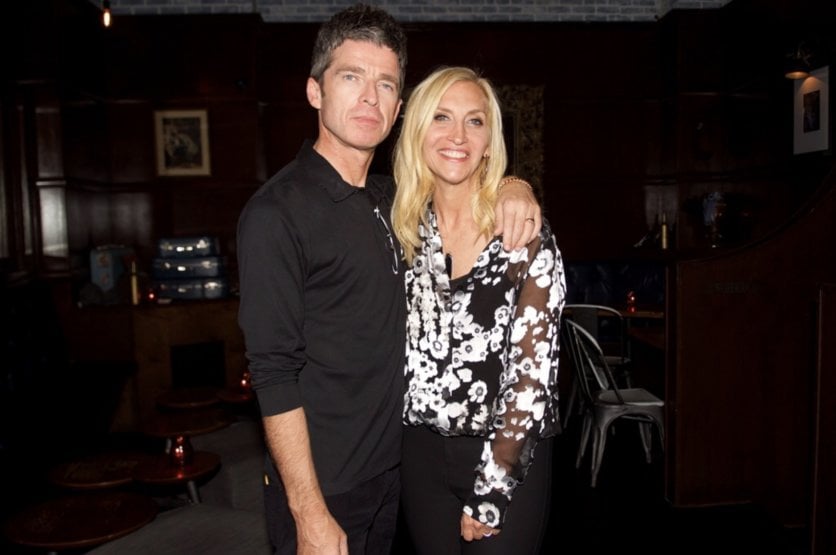 ---
You could forgive Saturn for requiring this negging daily reminder – because, since she took over at Caroline in 2015, and especially since she became sole GM of the company last year, the good news has rarely stopped coming.
According to Nielsen Music data, Caroline's overall US distribution market share nearly doubled in the first half of 2018 compared to the equivalent period of 2017. (It's currently higher than 3.0% – little wonder Saturn's just been promoted to President of the company.)
Major successes working with Caroline in recent times have included the likes of NF, Migos (via Quality Control/Motown), XXXTentacion, Halsey, Judah & The Lion and Trippie Redd.
The latter arrived at Caroline via a particularly valued partner of the company's – LA-based indie label 10K, run by Elliot Grainge (whose last name you might just recognise).
---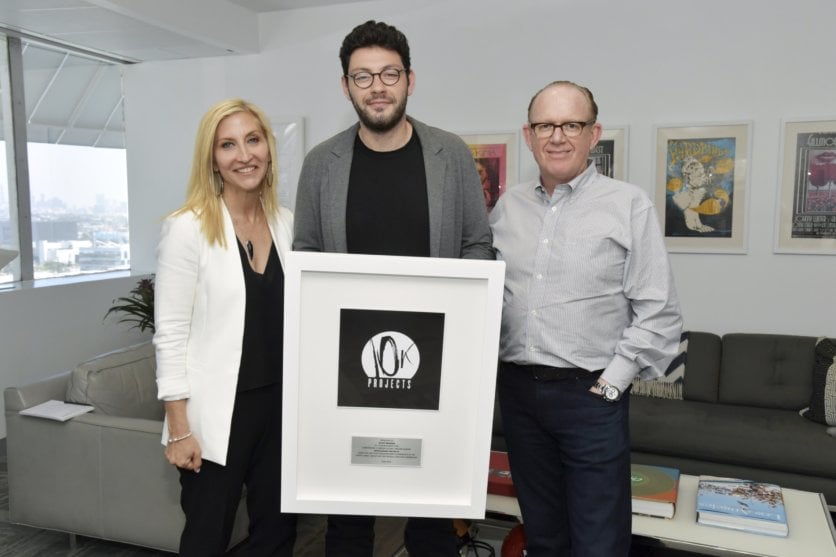 ---
The success of 10K and others has helped give Caroline an unusually strong foothold in a commercially explosive new breed of US hip-hop – a position which is becoming the envy of Saturn's rivals.
Other 10K signings include 6ix9ine, who is currently flying high on US hit rankings with his Nicki Minaj collaboration, FEFE.
Caroline offers these artists – and partner labels such as ATO, Future Classic, Fool's Gold, Arts & Crafts and Fader – services ranging from marketing to commercial/brand partnerships, streaming and radio promotion, film & TV licensing and artist merch.
Earlier this year, the company also inked a deal with Emmanuel De Buretel's Because Music (Christine & The Queens), pinching the legendary French label from Warner's ADA.
MBW recently sat down with Saturn in her office within the Capitol Tower to get the story behind Caroline's recent success – and learn how a receptionist from Nashville climbed through the 'boys' club' of major label promotion, and ended up calling the shots…
---
You arrived at Harvest, part of Capitol Music Group, in 2013. Why did you quit Epic after nearly 20 years?
Steve [Barnett] called me. I'd been at Epic a long time – L.A. Reid was [President] there – and I was at a point in my life where, to be honest, it stopped feeling good for me.
I am very passionate, and I could feel that dying in me. I remember there was a phase of like, 'I can't even listen to any music. I've lost my way.'
Steve said to me, "I have an opportunity for you and it's going to be awesome."
I remember the first phone call when he said, "I want you to run Harvest Records." I literally replied, "What does that even mean, Steve?"
"I am very passionate, and I could feel that dying in me."
He had a huge amount of belief in me, which came at just the right time.
Then when Pierre [Giramonti, Saturn's then co-MD at Harvest] and I came to the Tower, it was an intense time of rebuilding. Some of that got pretty dark, when you're literally building a new label, with no fans.
There were two artist stories that worked in those early days: Glass Animals and Banks. And in both of those cases, we really believed, we really dug in, and we really made a difference.
One of the things I learned in that time at Harvest was seeing how deals and the market were changing. We had been signing artists that had seen some success before, but in subsequent deal negotiations where the price was going up beyond the comfort zone, and I was thinking, "Oh man. This isn't how the new world works."
---
When you got your hands on Caroline in 2015, what needed fixing?
With the changes that were happening in the market at that time, it was very clear that there was a big opportunity to find partners that shared the same vibe as us. There were things here that made you wonder why [previous deals] were done, why anyone ever thought they would be successful, so you have to comb through all that, maybe end some deals, and that's not always fun.
But, equally, we had this goal to work with the best partners, and the most disruptive artists. To be honest, we looked at both the artists and the staff and asked: is this modern enough? What are we missing?
That was a process that had to happen to help get us where we are today.
I'd worked in a commercial [label] world for years where people used to be down on distribution, like: 'They're not the A players. They're the B players.'
And, looking around at the changing market, I started thinking, 'Why can't we be A players? Why?'
---
You're having a lot of success as a services company, within a major label group. How do you stop the more traditional labels in the capitol tower from getting annoyed that you're eating into their market share?
Simple: they recognize that they have to do a good job for their artists, and that we can be an incredible help to them. Whether you're a services company or a major label, if you do a good job for [artists], they tell their friends.
It's the same with partner labels. Most of our most recent big deals have come to us that way. Plus, we're really aggressive; we're always out there, looking for the right opportunities.
Artists and labels know that we don't have to go to a board meeting to get them an answer here. We can make a difference and we can make it fast.
---
You seem to have particularly doubled down on hip-hop, before it became de rigueur – Empire aside – for large-scale US services companies to be doing that.
We did, and we worked really hard for it. It wasn't difficult to make that decision – [hip-hop] was permeating the walls everywhere you went!
And then, as I say, you do a good job for one artist, they tell their friends, they tell their manager.
In the beginning of Caroline, it was like we were calling all of these guys, asking for a meeting and explaining ourselves. Now they're calling us – and we're really grateful that's turned around. It's also something we never take for granted.
---
I want to talk about your career, and why you've made some of the decisions you have. You joined Epic in 1993 in promotion – was that the intimidating lion's den one would have expected it to be?
When I started, it wasn't like that at Epic. Harvey Leeds was my boss, and later, of course, I worked for Steve Barnett – these were, and are, really good music people.
It wasn't until time went on, especially when I started understanding the [wider] Sony label structure that I began to have more "oh" moments.
"At this time [mid-to-late-nineties] there really were not a lot of women in the music business."
A lot of the guys would hang out together. So although it was exciting being part of it all, you started noticing: hang on, there's a complete divide of guys and girls happening here.
You have to remember, at this time [mid-to-late-nineties] there really were not a lot of women in the business. There was Michele Anthony (pictured inset), way at the top and crushing it, but that's not the most relatable thing when you're answering the phones.
---
What was the reason for that? why was that allowed to happen without question?
Originally, promotion was a man's world. I'm not judging that, especially because – as we know – when [radio plays] weren't monitored, there were a lot of different deals going down in a closed network, and girls weren't really welcomed into that club.
---
How did you gain acceptance?
I delivered results. We were dealing with really tough artists to get airplay for – Rage Against the Machine, Oasis, Korn – the sort of bands who might 'forget' to show up to major opportunities unless you gained their trust and they listened to you.
It's the same today in this business: look out for those people who are close to the artists – they're the ones who get things done.
---
You said you lost your way at Epic. What was that all about? To be frank, Did you not get promoted when you should have been?
There're two things on that. At that time, to be blunt, the music at Epic wasn't good. How can you be passionate about shit music? You have to feel it in this business, otherwise, what's the point?
And, yeah, you combine that with the feeling of, 'Why have I been doing the same job for so long?'
"How can you be passionate about shit music? You have to feel it in this business, otherwise, what's the point?"
When I left Epic to join Steve I was still an SVP. Yet every guy who did my job in that building had an EVP job title. And then, after I left, the person that took my place was given an EVP title.
I actually think about that a lot, even today, because it's a shitty feeling and I still want to learn from it. That's part of the reason we've made some of the changes we have, here. [Interestingly, over 50% of Caroline's executives in the US today are female, and the same with its parent, CMG.]
I want everyone on this team to feel two-way loyalty, that I have their back and will help them grow and fulfil their ambition. It sucks when you're loyal to people and you don't see that loyalty ever come back to you.
---
I'm going to ask you one of my favorite questions: What sort of teenager were you?
I was always a pretty outgoing person. I grew up in the south, in Nashville, but my dad was born in New York and my mom was from Michigan.
I wasn't a regular [teenager], at all. I actually switched schools as a sophomore – my own decision.
---
Why?
[Sighs, grins] I was a bit of a wild one, and I recognised it. I knew I had to reel it in a bit.
The first school, I'd been there since first grade, and I had this creeping feeling of, 'I'm not going to live up to my potential.'
I switched to an all-girls school and met a whole group of people who are my best friends now.
My parents weren't crazy about that, but they supported me. It was one of the best decisions I ever made – sometimes that girl energy is the one thing you need to change course.
It was important for the future, because going into the music business as a female at the time that I did was, well, it was not easy. It was a boys' club for real.
---
What did your parents think when you said, 'the music industry's the one for me!'?
They knew. God, they knew from when I was, maybe, five. I was always so into music – I was just obsessed; growing up in Nashville, writing out lyrics, listening to the radio all the time, the Sunday rock shows.
[My parents] were originally saying, "Do you wanna start in [the music industry in] Nashville?" I didn't. I wanted to go to New York.
They were supportive, but they were also saying, "Okay. But you have to get a real job."
"It was literally like a scene in a movie…"
I moved to New York, and I really had to pound the pavement for my break.
I was working as a paralegal 'cause I was still flirting with the idea of going to law school. And this woman, a songwriter who used to come to Nashville, reached out and was like: 'Hey, there's a record label starting. They want to interview for receptionists.'
It was literally like a scene in a movie. I was at this paralegal job and I was like, "Ow, my tooth! Oh my God I think I have to get a root canal."
And I left the office, and ran to the interview. They were interviewing all these people and I'm imploring them [breathless], "You have to hire me today. You have to."
---
Who hired you?
Savage Records, a small independent label. One of the partners had enormous profile in the business, and that was Frank DiLeo [an artist manager who counted Michael Jackson as a client during his career, pictured inset]. The owner of the label was a very successful businessman, David Mimran.
Being a receptionist taught me a lot. You have to have a happy personality, no matter how you're feeling, you have to remember people, you have to learn who's really important and make relationships over the phone.
I loved that job. It helped that Frank was a really good listener and a really good storyteller. He was a true mentor of mine.
"people in the music business appreciate the fact you've worked really hard to find your way in."
Frank had done Goodfellas [DiLeo played gangster Tuddy Cicero in the movie] and I'd literally been the receptionist taking calls from Joe Pesci and Ray Liotta and Bobby [DeNiro].
From that, I got my job as an assistant at Epic, and when I arrived in 1993, the world was going crazy for Pearl Jam.
And, you know, I think people at Epic liked that I hadn't skipped a step – people in the music business appreciate the fact you've worked really hard to find your way in. And I don't think that changes at any level.
---
10K is a label on the up and up. What's driving the success for that company and Elliot Grainge?
10k's one of the most exciting labels in the world right now. And it's special for us, because I feel like we've been building as a company as they've been building as a company.
They started with one person, now they have a dedicated, young fiery team. They have unbelievable relationships with their artists and they also have an unbelievable relationship with Caroline.
It's a lot of work because they're so smart – that means there are a lot of things we have to do as partners, and we have to keep up.
What's especially cool about that label, and is becoming more common with other labels, is that they'll meet an artist, and then we'll go and meet that artist the next day. Sometimes, we meet them together.
You get in a rhythm with each other; when you have that, and you really like each other, then you can close anything.
---
That's interesting. The idea of a services company actually helping a label close the signing of a hot act.
It happens all the time. It's a good example of how we've evolved way beyond just being the 'distributor'. I'm not even sure we can use that word to describe ourselves any more.
The world is very different now, especially with social media. Artists are way more savvy about the music business, as are young people starting [labels] – they can be in control of their own destiny.
"I don't buy that 'artists don't need major labels' mentality."
There are definitely artists out there that have started building a brand on their own, or seeing the excitement when they put their music on SoundCloud, who think: 'No. I'm my own boss, and that's how I want it to stay.'
But I don't buy that 'artists don't need major labels' [mentality] – so we've structured Caroline to have them draw on the enormous clout we have to offer, while they're still able to stay independent. The fact is, there's a huge range of choice in the market at all levels and that's a great thing.
It's a very cool thing when you can be a true partner with those people to take things to the next level.
---
How would you characterize the support Steve Barnett and CMG COO Michelle Jubelirer have given you?
I've worked for Steve Barnett for a long time. I moved across the country for him [from Epic in NY to CMG/Harvest in LA].
What I can say about Steve, and obviously Michelle (pictured inset), together is that their success is rooted in being able to understand the market at every stage.
We are 100% supported from the top down here [at CMG]. We wouldn't be able to do what we do without them.
Let me be clear: Steve's a tough taskmaster. It's not always super-easy having him as a boss, and it shouldn't be.
He has taught me that you always have to be ambitious in your goals. And I know, completely, that he's rooting for us to succeed and that he's so proud when we do. I'm really lucky to have him in my corner.
---
You work direct with a lot of artists who have been independently successful. How much of that success depends on the manager – and what makes a good manager?
I love this question because, often, you have to make tough decisions [about working with artists] 'cause life's pretty fucking short. There has to be a good manager there, otherwise this [services model] doesn't work. It literally changes whether we're going to do a deal or not for me.
By the way, being a good manager doesn't mean you have to be in the business for a million years. Half of the people I deal with are 25 and under – and they're incredible managers!
The biggest thing for us is something as seemingly simple as having ther ability to get the information to their artist, and present it correctly so they understand it.
I'll give you an example of an incredible manager: we work with [Christian rapper] NF. His manager is Chris Woltman (pictured inset), who is just incredible and is a friend of mine.
NF is an unbelievably talented artist who makes decisions that matter to him. That doesn't mean they're always going to be the easiest decisions for us to handle – but Chris is very honest and very collaborative. We all want to succeed together, and we all trust that about each other.
When you have that relationship, you can still keep pushing boulders up the mountain every day. Because even when a line is drawn [by the artist/manager] and you're told 'no', it's not the end of the conversation – it means you can figure out what else you can do instead.
---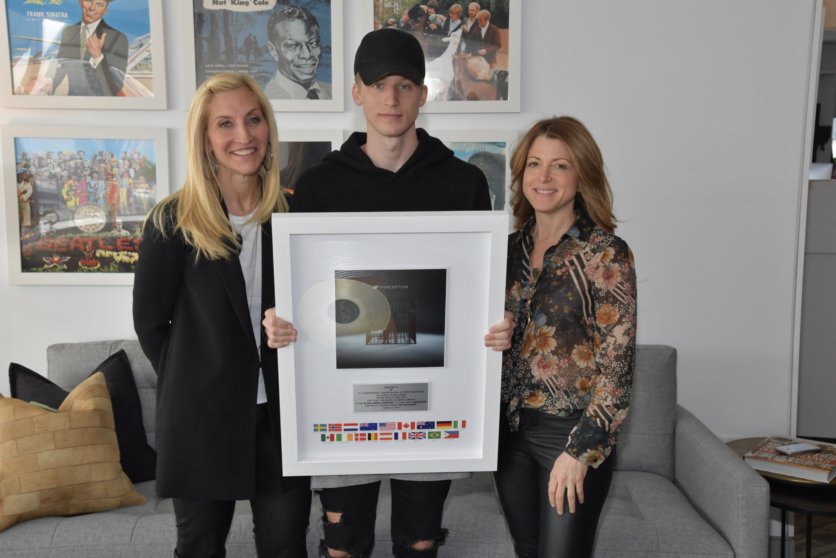 ---
If you could go back to your first day at Epic now and whisper something in your ear, what would it be?
My first day at Epic. God, I remember that day. Here's a good one for you: at that time, my job was to make other people look good. That's the services model – it's not about us, it's about you!
What would I say to myself? "Speak up." That it's okay to use your voice. We all know guys are better at asking for more money, the office with the window, all of that stuff.
"Use your voice; even if it means saying, 'I didn't like what you just said to me.'"
Use your voice; even if it means saying, "I didn't like what you just said to me."
People in [corporations], especially women, are scared to do that because they think it's going to result in a strike against their record.
Well, all I can say is, when I look back, I wish I did it more – especially on those rare occasions that people behaved like assholes.
---
What ambitions, as of now, do you have left in this business?
We're just getting started. The Caroline we wanted to create, with this amazing team in place, exists now – and it's just getting comfortable in its own skin.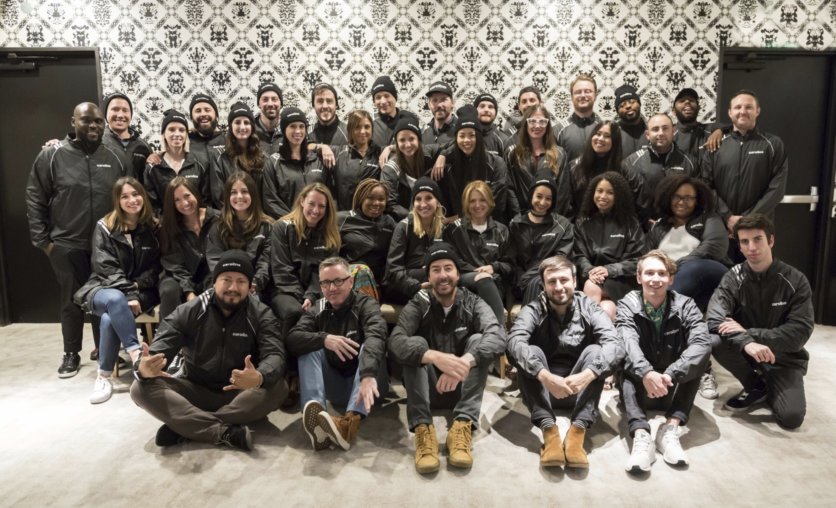 Music Business Worldwide