MBW's World's Greatest Producers series sees us interview – and celebrate – some of the greatest talents working in studios today. This time, we speak to J.White Did It (aka Anthony White) a go-to producer for the likes of Cardi B, who won a Grammy for his work on 21 Savage's A Lot feat. J.Cole last year… and has just been nominated for two more Grammys for his work on Savage by Megan Thee Stallion feat. Beyoncé.  World's Greatest Producers is supported by Hipgnosis Songs Fund.
---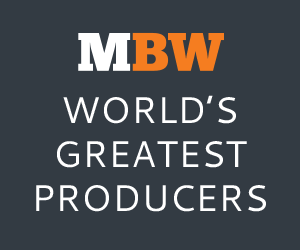 J. White Did It first thought he'd made it 15 years ago.
He was cooking up beats for local rappers in Kansas City, where he grew up as part of a family immersed in the church and gospel music. One of his clients told him that he'd found an investor and he could now pay him $200 a beat.
"So, every two weeks, I would sell these guys 10 beats. That was $2,000 and I was 19/20 years old. I was like, Yo. I was balling; I was rich."
White then moved to New York – "because 50 Cent was from New York, you know what I mean, maybe I might meet 50 Cent… I don't know!"
Instead, he met Klenord 'Shaft' Raphael, a producer who became White's manager and would facilitate the introduction and collaboration that would change everything.
But not for another decade.
---
After his New York experiment, White bounced back to Kansas and re-connected with those $200-per-beat buyers. They learned of his NYC adventure and asked if he could get them a feature on a star rapper's track.
"I just lied! I said, 'Yeah I can get you anybody you want.' I picked up a copy of XXL magazine, threw it on the table and said, 'You pick whatever artist you want and I'll make sure you get them'. But I didn't know anybody!
"They said, 'Can you get us Juelz Santana [of The Diplomats]?' I said, 'Yeah dude, that's easy, this is New York, whatever.'  As soon as they left, I called my manager: 'Hey man, I don't know how to get Juelz Santana, but can we figure that out?'
"Incredibly, he actually found a contact and got [Santana] to feature on a song that I produced. That was my first time ever having a mainstream artist on one of my tracks. I felt like I was about to make it, because Juelz Santana was at his pinnacle."
But the closed door refused to budge.
---

Ever resourceful, and never defeated, White decided to throw a music conference in Kansas, figuring the best way to network was to bring the industry to him, rather than chase the industry round the country.
It was there that he met the Trackboyz, the then-red hot producers of, amongst other things, Nelly's Air Force Ones and J-Kwon's Tipsy.
"I signed a deal with their production team for no money, no anything," says White. "I was just wanting the opportunity to get inside the industry. So, from 2009 to about 2011 I was with Trackboyz. I had my first Hot 100 hit with a record called My Dip in the Club, by an artist by the name of Gena – his name's Fresco Kane now. The remix, with Yung Joc and Yo Gotti hit number 99 on the Hot 100. I felt like I made it, man."
Again, though, he hadn't. And he would drift further away before he got closer.
"Fast forward to 2013. I got out of my deal with Trackboyz and I'm broke as hell. I don't know what to do. And what I do is, I go to work at UPS."
It's a tangent, admittedly. UPS isn't a name that appears on the resumes of many world class producers, but White is convinced that it was the right move, and that, as much as anything that led him to success, it informed how he works to this day.
"I was doing sessions with people in the industry and they just never knew."
"The whole time that I'm working at UPS, on the weekend I'm still flying out to New York or Atlanta to do sessions. Nobody knew I had a job with UPS, but if you looked at my fingers you could tell my nails were dirty.
"I was trying to clean them and make sure I'm presentable but, man, I was doing sessions with people in the industry and they just never knew.
"I had a goal to work my hardest at UPS and I said, 'Yo, I can show and prove myself here at this job, prove I can be a leader.' I took that job seriously. I decided, once I'm a supervisor, I'm going to quit [music]."
Ironically, this was that attitude which eventually meant White could, instead, quit UPS and make his name in the recording studio.
"I honestly believe that experience helped me become a better producer, because that's when I learned how to become a leader, how to listen, how to move people, how to get a job done effectively without making people feel 'less than', you know?
"When you left that UPS building, you didn't feel like you was working for little money. No, you were filled with confidence, because the people who pay their hard-earned money, they got their packages. We did it as a team, we did it efficiently.
"At UPS there are people who work at the top, they push the boxes down; you got the feeders, you got the people who shove the boxes to the loaders. There's so many important parts just to get the boxes onto the trucks. So I put that same format into my producing, I said to myself: 'This is a team effort; everybody's a part of this block right here.'"
---
Before the Rocky soundtrack starts swelling up in your head, there was one more dark time for White to struggle through before the turning point that changed everything.
"I had a friend who had moved to LA and he had just signed a small pub deal. He said, 'Hey man, I can get your ass a job, a deal, it should be about $25,000.'
"I quit UPS, took the job, did a [publishing] deal, and that was the most money I ever had in my life at one time."
He continues: "We did a record with Fetty Wap and Eric Bellinger and 2 Chainz, called Valet, and I felt like that was the one, that was the record that was going to just… I mean, Fetty Wap was so big at the time.
"2015 was just a devastating year for me, man. January, my mom was killed due to domestic violence."
"The song did okay, but it just didn't breakthrough. This is [the end of] 2014, I'm depressed, I'm stressed. By that time I've pretty much spent all the $25,000 on just living and traveling.
"After that, 2015 was just a devastating year for me, man. January, my mom was killed due to domestic violence. Her boyfriend shot her. So that put me out. My life didn't get better, it got much, much worse.
"And then I went to New York and I called Shaft [Raphael], who I met at the beginning of the story, and said, 'Hey, I'm back in town, after 11 years'. And he was like, 'Ah man, do you got the Motif with you, do you have some beats?' And I said, 'I've always got beats.'
"He was like, 'Well come to my house.' So I go there, same house, I walk downstairs, my picture is still there on the wall in the studio, it's crazy. I plug in my computer and here comes this girl walking through the door. It's Cardi B. I run the track, she likes it and from there begins my Cardi B story."
Okay, you can play the Rocky soundtrack now.
---
J. White and Cardi's mutual story has so far included multiple plot points at the top of the Billboard Hot 100 (with Bodak Yellow  in 2017 and I Like It  in 2018) and the Billboard 200 Album Chart (with 2018's Invasion of Privacy).
It also led to White working with Megan Thee Stallion, most notably on Savage, which also topped the Hot 100 thanks to a 2019 remix featuring Beyoncé.
He has just been nominated for two 2021 Grammys for Savage – Record Of The Year, Best Rap Song – having already co-written/co-produced a winner at the same ceremony in 2020 (Best Rap Song: A Lot by 21 Savage feat. J Cole).
Next year sees the launch of White's own label, More Hits On The Way, as he attempts to emulate the entrepreneurial success of super-producer heroes such as Timbaland, Jermaine Dupri, Dr Dre and P. Diddy.
Before looking ahead to a possibly even brighter future, however, it is necessary to look back on a much darker past, and for MBW to ask the obvious question…
---
Be honest: How close did you come to giving up on music all together?
I'm not going to lie, there were moments where I'm like, maybe I won't ever make it; maybe I need to be something else. I thought about becoming a police officer, I thought about going into the military; I took my job at UPS seriously, not just as a way of paying the bills.
"I always felt like I had it, like I'm just as good as the guys making it on the radio."
I thought about all these different avenues, because I thought, What are the real chances of me making it, out of millions of people? But I always felt like I had it, like I'm just as good as the guys making it on the radio. I always felt like I was destined, but, yeah, I did sometimes have doubts.
---
You certainly went through a lot and got tested a lot…
Yeah man, I got tested because of me having two kids as well, that was another test of mine. I had to take care of them. So, working with Cardi and that team at the time, I really had to risk it all, and I was willing to do that.
I feel like sometimes man you got to be selfish for certain things you want in life. You got to become very uncomfortable and bro, I was really uncomfortable during 2016 and 2017.
I was broke and I was really trying to make something happen with Cardi, because it seemed like I'd got close before; I'd made records, but they never panned out to be what I felt like they should be. This had to be it.
---
When Cardi B walked through that door, where was she in her journey at that point, and what were your first impressions of her, both as a person and as an artist?
She was prepping to get ready for her second season of Love & Hip Hop; she was just ready to go.
She was quiet, she was cool, but she was ready to go when I was in the studio. There's something special between me and Cardi, which I would say I don't have with anybody else. It's just something about her vocals on my tracks, with that sound, with the frequency; it feels natural. I feel like our chemistry in the studio is amazing, definitely unmatched.
---
When it started to blow up, what was that like and what was your reaction to that growing level of success?
I was totally invested in it. When I would travel with the team, with Cardi, I would see how she acted, I would see how she was around people, and how people gravitated towards her, and I'm like, 'Oh my God, this is going to go, this is going to be a jackpot. This is going to be it.'
"There would be people doubting us, doubting her, and I would take on the same anger that she had."
I just became a Cardi B supporter. There would be people doubting us, doubting her, and I would take on the same anger that she had, and the same feeling she had toward people not believing it.
It was like if you're talking about Cardi, then you're also talking about me, because I'm her producer. We were just together.
---
How did life change, and the way people saw you change, when success really kicked in?
Me and Cardi, we had several records out before Bodak Yellow, and we were just trying to get something to stick.
When Bodak Yellow dropped, I was still broke. It was funny, there was lots of people who doubted the success of the song at first: 'I don't know if I like it; it needs this quick little fix; Oh, it's growing on me; Oh no, this is a hit!' It was actually fun to see something so different. Bodak Yellow is such a moment in time, it's historic. That year was just magical.
There was a lot of people who doubted me, and there was a lot of people who apologized to me, during that time. It was like an apology tour I was on, apologizing for doubting me, apologizing for not giving me a chance.
---
---
That must have been satisfying.
Yeah, but listen, some people were happy, and some people were just shocked. Like, 'J. White? You mean the J. White who's been trying to make it for the past 15 years?'
Yes, that J. White.
---
Do you think you enjoyed the success even more because of what you went through on the way?
You know, that word, 'enjoy', is such a big word, especially with my life, because I don't think I enjoy anything yet.
If you want me to be honest, I haven't really enjoyed… I haven't enjoyed success like people would think. I am grateful and I'm thankful for success, because I'm able to take care of my kids and take care of people that I love and who need my help. But 'enjoy' is a word where I don't think I've earned that yet.
"The way I'm set up, I haven't earned the right yet to enjoy anything that isn't working, because all I've known as a person is to work."
The way I'm set up, I haven't earned the right yet to enjoy anything that isn't working, because all I've known as a person is to work. At 13 years old I was cutting grass, I was raking leaves and doing whatever I got to do to make money.
So, right now, I don't think I'm meant to enjoy this. I'm still working hard because I feel like I've been trying so hard to get to this level, so right now I don't have time to sit down and enjoy the fruits. I feel like I need to get it, go and build while I have the opportunity.
---
How did you come to work with Megan Thee Stallion and how did Savage come about?
Late 2018, me and Megan would talk through Instagram, and then we exchanged numbers and would always text and whatnot, but we could never quite make time for each other, or we both would just be busy.
But then Savage, man, that record was a Godsend, and shout out to Bobby Session as well, the co-writer for it. That song came out of the air man, it came out of the air from God, bro [laughs].
Megan, I love how she works. She's so dope as a person, she started writing it on the couch, [then] Bobby got the hook idea in his head, ready to go.
"That song came out of the air man, it came out of the air from God."
As far as the production side, the beat is very simple; it didn't take me more than 10, maybe 15 minutes tops to create that record. And then when it came to writing the song, it was damn near… I'd say we were done with that song in an hour or two.
Like I say, it was a gift. And straight away, I told her, 'This is going to be a number one record, watch.' When you know, you know.
---
---
What do you think is your most important role as a producer?
Bro, it's everything. You are the best friend, the parent, the spouse, the brother, the sister, the caregiver. I feel like as a producer, our role is to complete the job. Get the job done, by any means necessary.
So, what I do, when I have a session, I'll go into the building and I will literally buy everybody food, whoever's working, the staff, everyone. I don't care if you're at the front desk – 'Hey are you hungry? Have you got something to eat? What do you need?'
"Producing is so much more than just hitting a key and making a beat. I'm in the fight with it."
Because I need everybody in the building to be on the same energy level, because we're on that frequency, and if we're on that frequency we're going to get a hit record, we're going to get a good song.
If you're in that building, you're playing a part in making that record. So I need your energy. Even if you are walking past the door and you're bobbing your head, that makes me feel good, like, wow, okay yes, you're putting that energy in the air.
So producing is so much more than just hitting a key and making a beat. I'm in the fight with it. I'm literally in with the artist, and you've got to not be afraid to push the artist and make them the best that they can be. You can't be afraid to be great.
---
You sometimes need to say things to artists that other people might not dare say?
Hey, that's why you're paid the big bucks [laughs].
---
You recently signed a management deal with Milk & Honey, how did that come about and what do they bring to the table for you?
The reason why I went with Milk & Honey is I felt like I need to legitimize myself. I have ideas, and I looked at Milk & Honey as guys who can execute those ideas to the fullest.
When I looked at Milk & Honey, I looked at stability and I looked at longevity. I said I need to take my career to the next level, I needed to go where people are actually masters at what they do. And Milk & Honey are masters at what they do.
So if I'm great at what I do, and they're great at what they do, we're going to do great things.
---
Can you tell us much about what you're working on at the moment?
I'm definitely still working with Megan, we got some new records coming. I am working on Gucci Mane, we got some new records coming as well; I was also in London recently, working with FKA Twigs.
But, to be honest with you, my main goal right now, because I grew up listening to Timbaland, when I started getting into producing, Jermaine Dupri, Dr. Dre, these guys, they're very, very important to me. I love how Jermaine Dupri developed So So Def. I love how P Diddy developed Bad Boy.
So, right now, my main goal is to have my record label launching top of next year, More Hits On The Way Records. That is my baby. That is my happiness. That's what's making me want to go harder.
"My record label is my baby. That is my happiness. That's what's making me want to go harder."
Everybody is asking me, 'Who is your dream person to work with?' I don't have one. What I do have is a dream of creating my own label and giving more people opportunities.
I don't know if you watch American football, but Bill Belichick is an amazing coach, with the Patriots, and the most important thing he has is a structure. I'm building that structure, and once I've built that structure how I like it, I'm going to put it out and it's going to work.
I'm also about to start filming my documentary, telling my story so far, and also there's a TV show that I'm developing that's going to be… we're going to talk again on that when I can say it all, but it's going to be freaking huge, man.
---
MBW's World's Greatest Producers series is supported by Hipgnosis Songs Fund. Traded on the London Stock Exchange, Hipgnosis was established to maximise the value of music… while also proving that value to institutional investors. Music Business Worldwide