The quite interesting part of this story: J Cole has broken the record for the most day-one streams on both Apple Music and Spotify in the US market.
The very interesting part of this story: he has done so with 64.5m streams on Apple Music within 24 hours, but just 36.7m streams on Spotify.
These numbers represent the streaming volume that Cole's new LP, KOD, managed to achieve on each service in the US during the album's opening day (Friday, April 20).
At least, that's according to Apple and Spotify, respectively: both services revealed their stats today (April 23) via Twitter (see below).
Apple has since confirmed that its number relates to KOD's US-only performance.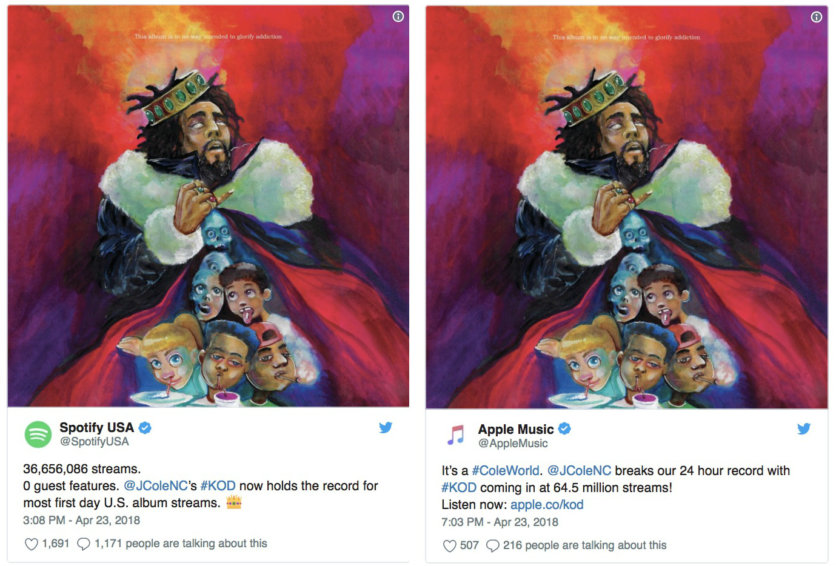 ---
The big question: how can Apple be so far ahead of Spotify?
Between these two numbers combined (101.2m), Apple Music takes 63.7% of the US action – with Spotify on just 36.3%
What's more, Apple is also claiming that Apple Music was responsible for 60% of global streams of the album in its first day.
This is a bit of a head-scratcher: Spotify is believed to have a current active user base worldwide of around 170m (75m paying; 95m ad-funded) while Apple Music is believed to have around 48m (40m paying; 8m on free trials).
That puts Spotify nearly 120m ahead in terms of global user reach.
In the US, however, Apple and Spotify are reportedly locked in a considerably closer race.
Back in February, the Wall Street Journal suggested that Apple Music would catch Spotify's total US subscriber base by the summer.
Is Apple Music's hip-hop-leaning US audience over-indexing to such a degree that the service is becoming the No.1 platform for the genre in the States?Music Business Worldwide