Daniel Miller is smoking a cigar. If he was a major label boss, of course, he'd be 'chomping' on one.
But, even without that linguistic flourish, it still seems slightly anomalous to see the head of Mute, one of the UK's most successful and respected independent labels of all time, using prop number one from the Instant Evil Music Mogul kit.
But then sometimes, as Freud almost certainly didn't say, a cigar is just a cigar.
Because if any exec of the last few decades is the antithesis of the panatela-puffing record company monster of myth, it is Miller, the worthy winner of the Icon Award at the A&R Awards in November (presented by MBW).
For a start, he's smoking said cigar at a mixing desk, and as soon as our chat finishes he's getting back to work on a mix for Mute's 2019 signing, HAAi. MBW doesn't have access to Simon Cowell's diary, but it's a safe bet that it never contains the phrase 'Afternoon – put finishing touches to new track from experimental, trippy Australian DJ'.
More importantly, Miller is the man behind (and still at the helm of) the indie labels' indie label.
Even Mute's biggest and most enduring success story, Depeche Mode, are a pop group that went from Saturday morning kids TV shows to the brink of self-destruction via a series of albums that got stranger and more interesting rather than safer and more predictable.
Since its foundation in 1978, originally just to publish one single, T.V.O.D./Warm Leatherette/ by Miller's own 'group' (it was just him), The Normal, there have been financial crises and enforced sales, re-births and reinventions, but there has never been any wobbling or wavering from Miller's founding principles – to put out music he likes by artists he thinks deserve a simpatico platform. It really is that simple/difficult.
As a teenager, he took up the electric guitar, but, tellingly, he was soon experimenting by playing it with a metal file and describes his learning process as 'making a lot of noise' rather than mastering Stairway.
By the mid-seventies, bored by the "self-indulgent loop" mainstream music was stuck in, he started listening to Can, Amon Düül II, Faust and Kraftwerk, alongside Captain Beefheart and Hawkwind.
Then, as the decade progressed, two things happened to democratise music-making and inspire Miller: punk and cheap synthesizers.
"I was bored and frustrated", he recalls, "and then, with punk, just the energy of it… some of those bands didn't seem to know how to play, but they still made an amazing noise, and that really appealed to me.
"At the same time, the price of synthesizers came down, Japanese synthesizers started coming into the UK, and I just want to do something. The whole 7" DIY movement had started, and I thought, fuck it, why don't I just make a record? I didn't really care what people thought about it, I just wanted to make a record, hold it in my hands and store a few hundred unsold copies under my bed."
A record had to have a label, of course. And Miller had no interest or chance of signing to one that already existed. So he made one up: Mute. He didn't even see it as an actual label, just a vehicle for his one record. It was a piece of admin as much as anything else.
Crucially, however, he put his home address on the cover, a way for fans and maybe journalists to get in touch and find out more in the pre-internet age.
What happened instead was that like-minded artists started sending him demos – "as if I was a record label", says Miller, sounding almost outraged.
Most of the tapes, inevitably, were of no interest, but one was from Frank Tovey, recording as Fad Gadget, and Miller decided to release it, as if he was a record label…
---
So, is it fair to say that you started one of the most influential UK record labels of all time by mistake?
[Laughs] Yes! I certainly had no plan to do it and no ambition to do it. But the single did better than I expected, in the alternative world. I was helping out at Rough Trade, who were distributing the record, and I didn't really know what to do next.
And then I met Fad Gadget, Frank Tovey, I really liked what I heard, we got on really well, we had a similar sense of humour, so I said, 'Why don't we make a single?'. I just wanted to put out what I thought was another good record.
---
And was it the signing of Depeche Mode that changed the game and made Mute a bona fide label?
That was obviously the big one, but that wouldn't have happened if I hadn't started working with some other artists, like DAF.
And I put out another record, under a different pseudonym The Silicon Teens, which Depeche (pictured, inset, in 1984) were big fans of, so that probably helped. Plus, of course, I didn't actually sign Depeche, because we didn't have a contract; there was nothing to sign
---
How did you discover Depeche and start working with them?
They were supporting Fad Gadget at the Bridge House in Canning Town. I saw the soundcheck and thought it was pretty good, so I decided to hang around and watch their set.
"It was the most basic synths you could get and a drum machine, but the songs were amazing."

Daniel Miller
I couldn't believe what I heard. It was three synths and a drum machine, the most basic synths you could have, but the songs were amazing and the arrangements were amazing, especially given how young they were, I mean they were 17/18.
I remember thinking, Wow, the first song's good, they've obviously led with the best they've got, then the second one was better, then the third, then the fourth…
I went backstage, and they told me they were playing there again next week. So I went back the following week and after the gig I asked them if they fancied making a single with me. They said yes and that was that.
There was no contract. There was no contract until the nineties and was for legal reasons, for other people; none of us, myself or the band, ever wanted to sign a contract.
It's funny, because The Silicon Teens was a made-up pop group. It was just me, but I lied and said they were the first teenage allelectronic pop group. And then that's what Depeche actually were! They were a sort of conceptual art project, but real!
And so we started out together, and we did the same deal with them as I did with everybody else on Mute at that point, 50/50 profit share. There was no contract, there was no manager, there was no lawyer…
---
They became a very big pop act very quickly. What was that like for you and Mute? Because it's safe to say that wasn't the goal when you established Mute.
Almost immediately after we started working together, the press really got hold of them, because they were the next generation after the Human League, Spandau, etc., and I think people liked that.
And yeah, it was crazy. They came up to do Top of the Pops on the train from Basildon. Fletch [Andy Fletcher] and Martin [Gore] were still working, Dave [Gahan] was still at college and Vince [Clarke] was kind of the de facto manager and main songwriter. And there they all were, on the train with their synths in suitcases, on the way to Top of the Pops.
---
Did you enjoy that side of it, the pop side of things?
I enjoyed it in the sense that the band and I had believed it was possible, and it was great to actually make it happen. A lot of the majors were trying to sign Depeche at that time, telling them Mute's a nice little label, but you'll never do anything internationally, blah blah blah…
---
And, with no contract, it would have been easy for them to jump into the arms of one of those majors…
Yep, and they didn't, their loyalty was fantastic. They were offered some pretty crazy deals, but they decided to stay on Mute, which was amazing really.
And we did break them internationally, we set up a network covering 35 countries, we went with Sire in the US, and it worked.
I didn't want to let them down, you know. They'd made this commitment to me, and I'd made a commitment to them. I wanted to make it happen. And I suppose the fact that all the majors said it was impossible was a challenge that I wanted to meet.
---
What did you think when Vince left after just one album?
Well, it was a collective thought really, in the sense that the remaining members of the band really wanted to continue.
Martin had written songs for his previous band, so we knew that he was a good songwriter. And the band were kind of determined to prove themselves.
There might have been more of a sense of panic, or perhaps I should say concern, from other people, around the band, maybe within the label and in the international set-up, but they [Depeche Mode] were very determined young men and I was very confident about what they would do.
---
And of course, you got to carry on working with Vince as part of Yazoo, with Alison [Moyet] and then in Erasue with Andy [Bell], so it worked out great for Mute!
Yeah, they [Yazoo] were bigger than Depeche at the time.
---
From those beginnings, they built a 40-year-plus career. What is it about Depeche that has put them in that category?
Oh, that's really hard to say. I mean, obviously, you know, great songs, – but a lot of people have great songs.
I think one thing is a very special connection to the audience. I noticed that even at the Bridge House. There were only about 30 or 40 people in the room at the time, but you could feel that connection, which is hard to explain.
There were other bands who were more accomplished at the time, more experienced, maybe technically better, but they didn't have that connection. And whatever it is, however they achieve it, it continues today
---
They're also a pop group that's never shied away from getting weird when the mood takes them, which is perhaps something that the Mute environment nurtures?
Well, I think they've always been like that. If you think about it in the context of the time, even their most poppy early songs are quite experimental.
It maybe doesn't sound like experimental music, but the processes were very experimental, partly because we were all learning. I mean we were literally experimenting!
"some of [depeche mode's] biggest records had some pretty weird shit going on."
They'd never been in a studio, I had pretty much no experience either, so it was an inherently experimental process – it always is when you don't know what you're doing. [Laughs].
They always have been and still are great at writing classic songs, but wanting to record and express them in a different way, using sounds that wouldn't normally be kind of associated with that kind of music. You know, some of their biggest records had some pretty weird shit going on.
---
We'd like to talk to you about A&R generally, in light of your award, so we won't go through every signing post-Depeche, but could you maybe pick out some key artists you worked with between those early days and the sale to EMI in 2002?
Of course, but first let me clarify something: I didn't know what A&R was. I didn't know what the A or the R stood for. I didn't know what it meant. I didn't know what the job was. I just made it up.
As for the artists in that period, they weren't always the most successful. Laibach, for instance, from Slovenia, are a band that really say a lot about the Mute aesthetic.
Nitzer Ebb were very influential on the techno scene, Renegade Soundwave were geniuses who kind of imploded far too soon. Obviously there's The Birthday Party, Nick Cave and various related projects.
The Birthday Party were on 4AD, then came to Mute, made a mini-album and then split, so I gained three bands: The Bad Seeds, Crime and the City Solution and These Immortal Souls – all fantastic, all very different.
---
What's Nick been like to work with over the years?
Nick was great. He had his well-documented problems in the early days, but came up with all this amazing music. Working with The Bad Seeds was always interesting, put it that way. Brilliant but interesting.
My A&R involvement, whatever you want to call it, wasn't as great as it was with Depeche Mode, it wasn't as needed.
---
Yeah, it's interesting, when we were gathering quotes for the tribute at the A&R Awards, Will Gregory [Goldfrapp] said, 'You know he always has a better idea for your song than you do, but he won't tell you unless you drag it out of him'. Is that the approach you take, you won't force yourself into the conversation, but wait to be asked if needed or wanted?
Generally, I would say so. I mean, I do intervene sometimes, if I think that I understand what the artist… sometimes artists can get a bit lost in the studio.
Sometimes the clear vision they go in with kind of gets dissipated. And so, yeah, there are times when I step in, and I say we should try this or that; just try, see what you think.
But what I'm usually trying to do in those cases is guide them back to their own vision, not impose my vision, because hopefully I still have a good understanding of what they were trying to achieve when they've maybe got a little lost, when they don't know what's up and what's down anymore, because the studio, and the creative process, can be like that.
To continue with that list of artists, I have very vivid memories of finding Moby, because I loved it, and then I wasn't quite sure, and then I loved it again.
And Goldfrapp (Alison Goldfrapp, pictured inset) was hilarious. There was another great band on Mute, called Add N to (X). They never really had any commercial success, but I loved them so much.
Anyway, one of the members of the band came up to me one day when we were in the studio and said, 'Would you mind listening to my girlfriend's demo?' Oh God… my heart sank, of course.
But he handed me this CD, and there was this really great artwork on it, which was encouraging, and then the first song was Lovely Head [which became Goldfrapp's first single] and I was just, yeah, I want to work with these guys. Which is not what I was expecting to say.
---
On the business side of things, what led to the sale to EMI in 2002, and how was that for you after more than two decades of independence?
Well, by the mid-nineties, Mute had grown hugely. We had 60 people in the UK, we'd done this deal in America with Elektra and we had a big team over there.
We'd had a lot of success – Violator [Depeche Mode] was massive, The Innocence [Erasure] was massive. We had two other labels with Blast First and Rhythm King, who also had amazing artists. There was just so much going on. But I was never designed to run a big company.
And then what happened was, bands like Depeche and Erasure (pictured) were releasing records less often, because they were doing these massive tours. I wasn't signing anything, because it was the Britpop era and I wasn't really into that.
It was hard. I still had this huge staff, but I didn't have the business acumen, or whatever it takes, whatever you want to call it, to get rid of anybody.
And so we got into financial difficulty and I needed to figure out what to do next.
What I thought I would do was a worldwide distribution deal, but Mute was kind of cold at the time. Depeche, Erasure and Nick were doing well, but I think the label as a whole felt tired to the outside world – not to me, but to the outside world.
I wasn't really getting any good vibes on the idea of a worldwide deal, and so I decided that maybe if I got the right deal, not just financially, but in terms of control, maybe a sale was the answer. It probably seemed a bit crazy at the time, but I was a bit crazy at the time.
Emmanuel de Buretel, who had been the head of Virgin France, who we'd work with pretty much from the beginning, and was somebody I really got on with, had become Head of Continental Europe for EMI. And he had always said, 'Daniel, If you ever want to sell, speak to me'. And so I spoke to him.
I also spoke to Kenny Gates at [PIAS], because they'd just had a lot of finance coming in, and I'd always got on really well with Kenny. But I didn't think that their structure at the time was quite set up in a way that would work for us.
Emanuel said, you stay in your office, you do your A&R. His theory was we could learn from EMI in certain areas, and they could learn from us. Basically, most importantly, they would leave us alone. I mean, we had to do some financial reporting, but nothing major.
Just before the deal was done, Ken Berry left EMI. He was a friend, and he was close to Emmanuel. So the deal was put on hold for a while. And then Alain Levy came in and Emmanuel persuaded him that it was a good idea, which was great, so we did the deal and it was all going really well.
And then, I wouldn't know what the details were, but I think Emmanuel and Alain didn't see eye-to-eye on certain things and he [Emmanuel] decided to leave.
The people at EMI remained very respectful of Mute at the time, but some things started to change. We had to leave our building that we'd been in for 25 years, not because of EMI but because the landlord wanted to redevelop it, so we moved into EMI's office.
And then of course EMI had their own problems, at which point Terra Firma took over.
---
What was that like?
To be honest, I felt like a bit of a spectator. Because even though we were in the building, I felt we were still outside of EMI.
I think a lot of people from Terra Firma were quite arrogant, saying, 'Look, you're doing this all wrong, we know, because we built these motorway service stations…'
It was fraught, everything was very tight. Traditionally we're a very international label, not just signing artists all over the world, but breaking artists in different territories around the world, and with Terra Firma it became, well, if you don't break an artist in the UK, they won't get support internationally.
Everything was being slowed down. There were records that I wanted to do that just wouldn't have worked in that system. We realised we had to get out.
---
How did you manage that in the end?
Looking back it was actually quite simple, it just took a long time because all the people who had to agree to it at EMI were wrapped up in their own problems. But, ultimately, we left.
Some of the artists didn't have contracts, and they came to Mute – Mute 2 if you want to call it that. Of course we didn't get the catalogue back.
A couple of the artists, Depeche and Richard Hawley, had signed deals with EMI separately, although I was still working with them, A&Ring them, even after I left EMI.
Goldfrapp had to do one more record with EMI, that wasn't a good experience, and they then came over to Mute. A lot of other bands just didn't have contracts, or their contract had run out, so they came with us.
Later, of course, EMI sold to Universal, and then BMG bought the [Mute] catalogue from Universal as part of the divestment process. I tried to buy it, but BMG came in with this huge offer.
It was disappointing and frustrating, because it felt like it was going to happen – and then it didn't. So I was pissed off at the time, but we've been able to license back a lot of the artists, and we work alongside BMG. I want that catalogue to live on.
---
Is it safe to say that period just before the EMI deal, and then your time within EMI, was a period that you didn't find as enjoyable?
Well…. actually, what I forgot to mention was that, as I said, it felt like we were quite cold, and then Play [Moby, 1999] happened, and that was very hot!
That changed the picture completely. You have a hit in this business and you're instantly a genius. Play was like the cavalry coming over the hill.
But mainly during those years, from the mid-nineties, it was not great, no. But I'm really enjoying it now, now that we're much smaller.
---
Did you feel revitalised almost as soon as you got out from EMI [in 2010]?
Yeah, the pressures were still there, but I'd rather be the last person in the line, taking responsibility for everything, rather than just be one person in a line of hierarchy. I didn't like that part of it, I don't like decisions being out of my control.
---
What would you say are the key principles behind good A&R?
[Laughs] I dunno. Well, there are certain things that I can't do. I can't work with an artist because I think they're going to sell a lot of records but I'm not really into their music; the relationship's too close, I'm not capable of doing that.
A lot of people are capable of doing it. That's a different story, and I'm not saying it's a good or bad thing, I'm just talking about my own experiences.
So, first of all, you've got to love the music, and you've got to like the people. Can you work with them? Can we have a creative relationship? And you have to get the business side right, because if you get that wrong, it's bad for everybody, not just the label. It's bad because too many financial aspects get in the way of the creative side of it.
And I'm not the only person who does A&R at Mute, we work together as a team.
Not in the sense of all going down the Dublin Castle together every week trying to sign an indie band, but in terms of development. A&R is really artist development. The talent-spotting bit of it is just the tip of a very deep iceberg.
And I like to be able to work with artists for a long time. I get a buzz from a long-term career. Some people get a buzz out of hit, hit, hit. For me, it's about helping artists develop, being part of that process.
---
How flexible do you have to be when working with such an eclectic roster of artists, and how do you gauge which approach suits which artist?
A lot of what we do is about instinct, certainly. And it's also about different situations and different stages as well. You get artists who go through, let's say, a dry period, and you try and figure out ways to help them get out of that.
Artists have crises of confidence, and you have to work through those.
Maybe they've just made a record and they think it's shit – or maybe it's actually not a very good record and they think it's amazing. So you say, 'Well, maybe if we try this…'
---
And you have to do that without falling out…
I don't think I've ever fallen out creatively with an artist, because I'm probably not as tough as some A&R people. I'm a softy in a way. And I also believe you've got to allow artists to make mistakes.
---
Are there any A&R people who you've not necessarily learned from, but perhaps admired and felt a kinship with?
Yeah, definitely. Seymour Stein's been there from the beginning and has always been amazing. And, you know, Geoff Travis, the late Tony Wilson, Laurence Bell, the Warp guys, Ivo when he was still running a label.
We kind of all grew up together, and we were all learning. Martin Mills of course, Richard Russell, Iain McNay, we were all basically amateurs, we didn't know what we were doing really – well, maybe Martin had a bit more of an idea [laughs].
But they're all good people, different characters with their own vision. I think that's the thing that makes it slightly different: they have an artistic vision, where I think majors have a business vision.
---
When you look back at you career, what are you proudest of?
The artists. I'm proud of our artists and I'm proud of their loyalty. We work with many artists for a very long periods of time and become part of their career.
---
What's been the biggest challenge?
Just running a business, really – because I'm definitely not a businessman. I've never really been into the music business; it's a means to an end for me. Some execs know the business inside out; I don't. And that's probably quite a good thing.
---
And looking forward, what are your ambitions for Mute?
Well, it's funny you should ask that, because somebody in our team dug out an interview that I did 20 years ago where somebody asked exactly that question. And it might be a bit boring, but I'm going to give the same answer: as long as we can work with artists we like, admire and trust, we're just going to keep going.
There's never been more of a plan for Mute than that. I certainly have no intention of retiring.
---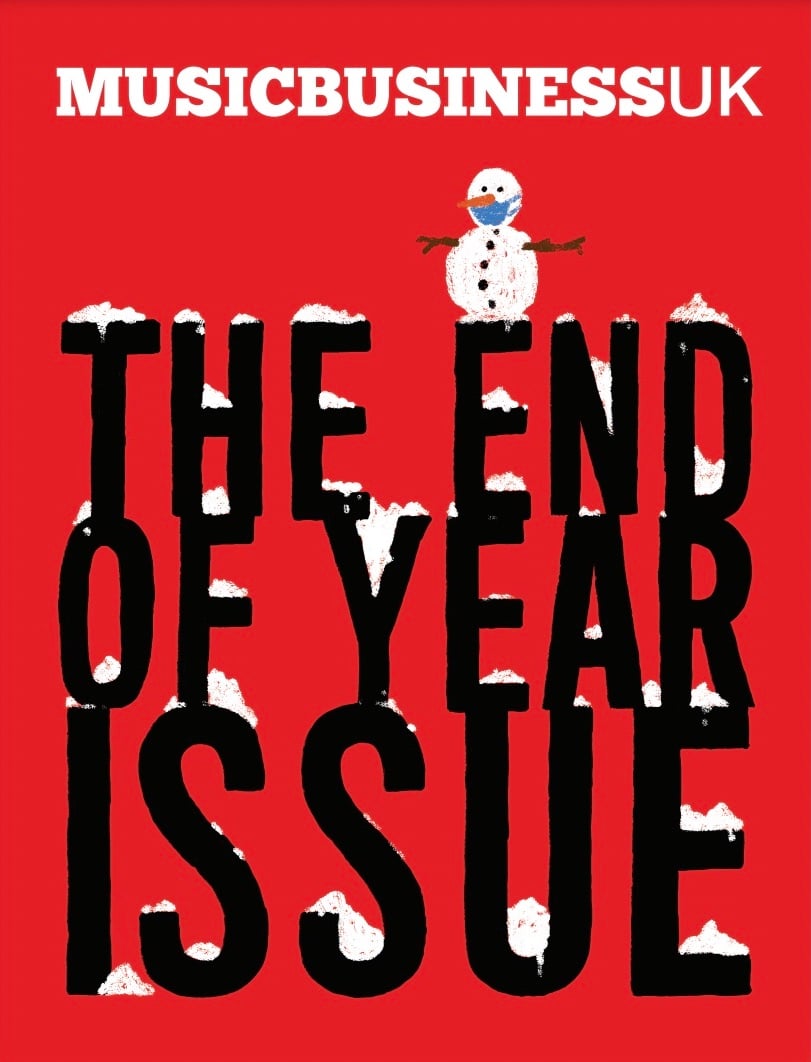 This article originally appeared in the latest (Q4 2021) issue of MBW's premium quarterly publication, Music Business UK, which is out now.
MBUK is available via an annual subscription through here.
All physical subscribers will receive a complimentary digital edition with each issue.Music Business Worldwide