MBW's World's Greatest Producers series sees us interview – and celebrate – some of the greatest talents working in studios across the decades. This time out we talk to hip-hop legend No I.D., who made his name as Common's studio partner of choice in the '90s and has since worked with some of the biggest names in the game including Jay-Z, Nas and Drake. World's Greatest Producers is supported by Hipgnosis Song Management.
---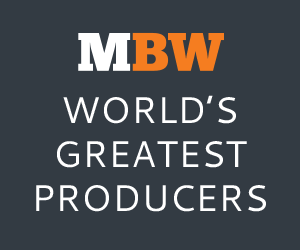 Nowadays, he drops science but, back in the day, No I.D. was all about the mathematics.
"I was a real math wizard in school," grins the producer and songwriter also known as Dion Wilson. "I looked at life in a very mathematical way. I would look at my heroes and see how their career ended, because I needed to reassure myself that the path I was taking was going to end well."
And, so far, everything adds up. Wilson may have grown up in Chicago convinced that a music career would always be impossible ("My real love was basketball," he deadpans. "But when I saw I wouldn't be over five foot nine, I figured that was a dead end!"), but it wasn't long before his uncanny ability to calculate exactly the right approach for any song set him on the path to greatness.
He cut his teeth as a house DJ (Chicago being a house town back in the '80s), but had gone to college to become an electrical engineer when his great childhood friend Lonnie Lynn, better known as Common, started making some waves in the hip-hop world.
"I'd kinda stopped doing music, but he kept going and started getting opportunities," says Wilson. "So I started making music for myself, thinking, if he could make it, maybe I'll make it. Then he started saying, 'Hey, can I have that music you're making for yourself?' – and that was my first concept of being a producer."
Wilson furloughed his own artist career to become Common's producer of choice, resisting all overtures to work for anyone else, even The Notorious B.I.G. ("I was like, Why would I do that? I produce for Common'," he marvels today, shaking his head). It wasn't until he'd completed work on Common's trilogy of classic '90s albums (Can I Borrow A Dollar?, Resurrection, One Day It'll All Make Sense) that he branched out to work with others and has since collaborated with a staggering range of superstar artists, from Jay-Z (Holy Grail) and Nas (Daughters) to Drake (Find Your Love), Rihanna (Run This Town), Ed Sheeran (Kiss Me) and John Mayer (New Light).
Wilson also mentored a young fellow Chicagoan, Kanye West, managing him for a while, producing tracks such as Black Skinhead and Heartless and later running West's G.O.O.D Music label. Given Kanye's constant courtship of controversy, not everyone is keen for him to discuss that relationship in much detail, but Wilson himself doesn't seem bothered.
"I grew up in a different era, when the type of music I was doing was never even considered Grammy-worthy."
But then not much fazes this "super Zen" backroom 'beatmaker', who prides himself on being the antithesis of the modern-day celebrity producer, insisting he's always happy to play DJ Jazzy Jeff to the artist's Fresh Prince. Even the recent Grammy nod for his work on Beyoncé's Renaissance left him "appreciative more than excited".
"I grew up in a different era, when the type of music I was doing was never even considered Grammy-worthy," he shrugs.
And, in truth, No I.D. is not one for the rear-view mirror, instead always scanning the horizon for what's coming next. That's why his career has spanned five decades with no signs of slowing down, with the former Def Jam and Capitol exec also running his own ARTium Recordings label alongside his burgeoning production work.
Not that Wilson's many laurels are in danger of getting squashed any time soon. As he settles down to talk to MBW from an unusually rainy LA, he enthuses about multiple projects and reveals he's in the middle of a back-to-basics "creative reboot".
Will that make him even more successful? Well, as ever with No I.D., just do the math…
---
YOU'VE WORKED WITH AN INCREDIBLE LIST OF ARTISTS. WHAT WERE THE HIGHLIGHTS FOR YOU?
I know this answer isn't exciting, but it's all about the journey. I've always adopted a philosophy that I would not look backwards and celebrate what I do. So it's really difficult for me to look at that list and go, 'Wow'. The minute I think that, that's the end. And I don't want it to end yet, so I keep the blinders on and keep looking one step forward at a time. Putting out my first record 31 years ago and still not feeling like I've peaked is the most exciting thing to me.
---
WHAT TYPE OF PRODUCER ARE YOU?
What I grew into is the producer who can come in with the philosophy, perspective and energy; having the right musicians, bringing in the right team and really orchestrating it all, versus the person who just sits in the room and does some music. It's the equivalent to being a stylist – you have to know the personality and build of the person to get the right outfit.
It's one thing to say, 'Hey, I like that record that No I.D. did', and it's another to make a song people fall in love with and don't even mention who [produced] it. I'm all about the song and music that helps life be a better ride, versus the accolades and being celebrated.
---
YOU WORKED WITH JERMAIN DUPRI FOR SEVERAL YEARS IN THE '00S. WHAT DID YOU GET OUT OF THAT?
I sat back one day and said, 'He makes more money than me, he's bigger than me – humble yourself and go be a student for a little while'. He couldn't believe I would do it, but I said, 'You're going to pick up some stuff from me, I'm going to pick up some stuff from you and we're going to make some good music, who cares who's the head honcho of the equation?'
---
YOU WERE THE SOLE PRODUCER ON JAY-Z'S 4:44. THAT MUST HAVE BEEN A PRESSURE SITUATION?
No, No pressure. Because it wasn't the plan. It was a concept, but it wasn't a real plan we set out to do.
But when you come to work with a hard hat and lunch pail and you work and work and work, something's going to happen.
By the time we got to seven or eight songs, it was like, "Oh man, it's the whole album". And it worked out!
---
HOW DID THE BEYONCÉ COLLABORATION ON CHURCH GIRL COME ABOUT?
That was right after 4:44. I was over at their house and I made it for Jay. At that point, the concept of The Carters' album was on the table, but I wasn't really paying attention to that.
We started the idea, but I left it in Jay's computer and forgot about it until she found it. I think he asked her to get on the record for The Carters and she did some stuff, but I never heard it. So it sat there and later, she's like, 'Where's that thing that Dion did?'
He calls me and he's like, 'Man, she's taking this hit from me!' Sometimes situations find the song [rather than] you sitting there intentionally and coming out with anything.
---
DOES WORKING WITH SUPERSTARS LIKE JAY-Z, BEYONCÉ, RIHANNA AND DRAKE REQUIRE A DIFFERENT MENTALITY FOR A PRODUCER?
It does, but every situation, whether known or unknown, has its own direction or challenge. We're talking about artists who are fragile humans.
Going to Toronto and working with Drake, I didn't bring music, I went out and created a couple of things, worked on a couple of things that existed and each of those situations adds a different approach. It's difficult with superstars to harness their attention because there's a lot to lose for them to count on one person.
There's a lot of beats and ideas and musicians and chief writers… it's not like the old days when Michael Jackson says, 'Hey Quincy, can you help me with an album?' I love the traditional way better, that's what worked well for 4:44, it was sink-or-swim, just our vision. But any way is fine. If you stay humble and understand what's going on, then it's pretty easy.
---
HOW ABOUT WHEN YOU WORK IN DIFFERENT GENRES, AS WITH ED SHEERAN OR JOHN MAYER?
It's the same thing, it just takes education. One person I worked with that really helped educate me is Richard Ashcroft. He'd heard [Jay-Z song] D.O.A. (Death Of Autotune) and he sought me out and said, "We've got to work together". I didn't know all his work but I knew [The Verve's] Bitter Sweet Symphony and some other tunes.
It all teaches you how to look at a human being and figure out what they're comfortable saying and how it should sound… It's the most fun thing that I do when it's done right. When it's not about money and business, it's about making people want to come give you a hug because they heard a song.
"these experiences are why you'll talk to me now versus people who maybe made more money or had more hits."
My education is the reason I have a long career – these experiences are why you'll talk to me now versus people who maybe made more money or had more hits.
---
HOW IS YOUR RELATIONSHIP WITH COMMON THESE DAYS?
I've known him since we were nine, he's a lifelong friend, and when you have lifelong friends, you go in and out, you fight and you hug. You're brothers – and that's my brother. You can't make new Day Ones and he's one of my Day One friends, he always will be, until we don't exist.
He's on Broadway right now [in Between Riverside And Crazy] and I'm so happy for him, because he keeps pivoting and doing so good. I know he always had fears about how long rap would sustain his life and it really makes me happy that he keeps on winning.
---
APART FROM THE ODD RIFT WITH COMMON, YOU DON'T SEEM TO HAVE HAD ANY MAJOR HIP-HOP BEEFS DURING YOUR CAREER. HOW COME?
Anyone successful is going to have a few problems. But my whole personality is too Zen to ever make that a public type of thing. The first record I refused to do for Common was when he wanted to make a diss record to Ice Cube [The Bitch In Yoo]. I asked him, 'Hey, is it real or is it not real?' He was like well, 'I just think it'll make us bigger', and I said, 'OK, I won't be a part of that'.
If it's not genuine I don't care if it generates money, it's just not my thing, not my personality. It was a great record too, I enjoyed it but no thanks, not for me.
---
WHEN YOU MET KANYE AS A KID, DID YOU THINK HE'D BECOME A SUPERSTAR?
No, I definitely did not! I thought that, if he had a shot, he would mess it up. But he was intelligent enough to take the tools and really go far, which was a great education for me too.
I literally was his manager at a certain time and I said, "Hey man, I'm not going on that ride, but I'm always here if you need me". And I've done that.
---
HOW DIFFICULT WAS HE TO MANAGE?
(Laughs) He was the same guy at 14 as 44. If you tell him you can't do this, he's going to try and do it. I learned early that that's unmanageable. I know when to bow out and say call me if you need me…
---
HAS HE CALLED YOU LATELY? HE CERTAINLY LOOKS LIKE HE COULD USE SOME ADVICE…
We speak whenever we need [to], that's the simple of it. There's nothing else really there.
---
HOW DOES YOUR EXEC CAREER COMPARE TO ACTUALLY MAKING MUSIC?
The most important thing I learned from Jermaine Dupri is, I saw a person involved in every aspect of music. He was a writer, an artist, he would dance in the club, DJ a radio show, work at a record company. Every checkpoint has different expectations.
I didn't want to be an executive, I actually felt, as a creator, I would always talk to too many executives that didn't know enough. But then I was like, 'Maybe if I do it, people can talk to me and I'll be a bridge for them'.
That led to me really wanting to make a change in the record companies – I don't know if that's really possible but I gave it eight or nine years before I said, 'Nah, entrepreneur is better for me'.
ARTium has always been about what I would have wanted as an artist because, when I was an artist, it just didn't work for me. I made a company that I would've wanted to be a part of.
---
IF YOU COULD CHANGE ONE THING ABOUT TODAY'S MUSIC INDUSTRY, RIGHT HERE AND NOW, WHAT WOULD IT BE AND WHY?
Music is the one thing where people are allowed to get into the business without an education. And it really hurts the creators.
There aren't too many other fields of work like that, you don't just wake up one day and say, 'I'm a plumber'. It's not that simple! So many people destroy their lives through a lack of education. We just enjoy The Truman Show, watch it fall apart and go on to the next. And that's a model I want to change.
"The actual business – and I say this to artists – is designed to chew you up and spit you out. It's not designed to make you happy and successful in life."
The actual business – and I say this to artists – is designed to chew you up and spit you out. It's not designed to make you happy and successful in life.
The product of the music industry has changed. At one point, we sold vinyl and the music was on the product. Now the product is on a phone, but we don't sell that phone. There's been a transfer of the product from the music industry to the tech world and all of this is due to lack of education.
We have less control, so we can't really make a full, artistic expression anymore. We've got to take control back, educate ourselves about what's really going on with music and not just how to play a chord.
---
It's a little different because I'm still active, so I'm always creating catalog. But an asset is an asset; if you build a house, that doesn't mean you have to have it forever, you can trade it in and get a better house.
Look at the fight Prince put up for these things and, one generation later, probably absolutely not what he intended is going on with his work. It all depends on whose hands you're putting it into.
Me and Merck have a great relationship, we see eye-to-eye on things philosophically. But 99% of the creators I know don't have an understanding of their catalog at all, they don't know what to do with it, don't know where the agreements are or when they can get the masters back.
I hate to hear people do it because they can't take care of themselves or don't have the money to live the life they want to. But who says we're not supposed to turn over our business and build bigger catalogs?
---
DO PRODUCERS GET ENOUGH RESPECT FROM THE MUSIC INDUSTRY?
[Laughs] They get more than enough respect! They might get more respect than they ever did. I never heard Quincy Jones put a tag on the music and say, 'This is mine' before the artist said one word.
There is actually no other field in entertainment where the producer is more respected than music. Not in television, movies, Broadway – none of that, there ain't no famous producers in other forms of art, so we absolutely get over-respected!Music Business Worldwide