Sulinna Ong quit her job in 2002 and relocated to the other side of the world.
"I decided that I was going to move from Australia to the UK," she explains.
"I had these ambitions of working in the music business – and I figured the UK was one of the world's biggest music markets and home to some of my favourite artists".
Spotify's recently appointed Head of Music, UK & Ireland says that she moved to London that year with "about a thousand quid" in her pocket, saved up from working as a marketing assistant at Sony Electronics.
"I didn't know anyone at all [in London], didn't have any family here, no friends. I had exactly zero contacts," she says. Ong explains that music and technology have always been the two "great and constant loves" in her life.
"Music provided a form of escape, and it was really my only outlet for experimentation, creativity, and of course, rebellion."

Sulinna Ong
She also played in bands growing up. "I was a pretty self-contained, nerdy, mixed race kid, and I moved around a lot living in different countries and cities and always felt like an outsider," she says. "Music provided a form of escape, and it was really my only outlet for experimentation, creativity, and of course, rebellion."
After working various temp jobs when she arrived in London, Ong landed a role in International Marketing at Sony Music. There, she worked with artists like Kasabian, whose management company, The Family Entertainment, Ong subsequently joined.
She then went on to work in live music as Director of International Marketing & Artist Development at Live Nation, before founding artist management / marketing strategy firm Silver Horse Entertainment. And then, in 2016, she joined Deezer, where she worked directly with labels and content creators as Global Vice President of Artist Marketing.
Now, in her new role at Spotify, Ong is responsible for leading both the company's local Artist & Label Services (ALS) and Music Culture & Editorial (MCE) teams.
---
What kind of music were you playing when you were in bands?
It was grunge. I also played in a death metal band. Both of them were really terrible. And thanks to having brutally honest parents, I was at least self-aware enough to realise I wasn't talented enough to be an artist. I figured out that I had to find another way to make music my full time career.
I really didn't know what that meant and what the options were; I just knew that I wanted to always listen to and talk about music, and work with openminded, creative, smart people who also felt like outsiders. My parents were immigrants and not from the creative industries at all. I had absolutely zero contacts and absolutely zero knowledge of the business. While I was at university, I volunteered to write for a music 'zine. I was also a general dogsbody and runner for a local promoter. Basically I put my hand up for anything and everything, just to get started and to try and build a network.
---
So you moved to London to work in music and you ended up working at a major record company, so it's the ultimate success story, right?
Yeah, I can remember the day I got the call telling me I had the job, I was actually on my way to Glastonbury for the very first time. That was also my first experience of Glastonbury Festival. And I couldn't believe that I had actually got the job, because it took me 12 months to find a job, 12 months of grafting, of doing crappy temp jobs, living in bedsits. And I just didn't feel the end was ever in sight. And then all of a sudden, I got this call saying, 'Oh, you start on Monday.' That was a really important moment for me.
---
What was it like working at Sony; what was the company culture like and who did you work with?
Sony was a great introduction to working with major artists and also new artists as well and that major label system, especially international marketing, where you're responsible for developing an artist outside of that domestic market. Brian Celler was the person who hired me, and still one of the people who I really respect. I learned a lot from Brian.
At the same time, I met Rob Stringer and Robbie McIntosh, who are all still in the business, and also many other people that I still work with now [who work] in various different companies. That time also was really interesting, I started [at Sony, in 2004] before the big recession or the impact of peer-to-peer file sharing.
Then nine months/a year into the role, the industry was heavily impacted and it really did feel like a light switching off. You really felt that disruption, and the music business obviously went into a deep recession and a period of upheaval and uncertainty, where you just didn't have the budgets that you used to have. That was a really interesting point to be at a major record label, to see all this upcoming technology.
And really the uncertainty of, 'What is this? Where is it going to go? How's it going to impact our business, and how are we going to deal with it?' It solidified my instincts that technology was always going to be important, even more so as we went along.
---
After Sony you went into artist management full time with Kasabian. What did you learn?
My time in artist management has been so crucial to my career, because it's infused it with an understanding of the innate challenges in developing artists. It taught me the importance of how to work with artists successfully to protect and amplify their creative work and to help them achieve their goals. It taught me the importance of the whole picture and relationships with every key stakeholder, whether record label, streaming platform, publisher, live agent, promoter, merch.
"There really is not one person or one thing solely responsible for breaking an artist. It's really a team effort."
There really is not one person or one thing solely responsible for breaking an artist. It's really a team effort. And also the importance of fans. [I use] all of those key learnings in my everyday approach, in my current role at Spotify.
I have experience managing platinum arena-level artists as well as very new artists. It's the centre of how I think about streaming and how we work with artists and their teams, how we support an artist at Spotify by way of editorial and artist marketing has a direct impact on our campaigns and I don't take that lightly or for granted.
---
Then you worked at Live Nation…
Live Nation was super important, especially working with heavyweights like Michael Cohl and Bob Ezrin at Live Nation Artists. Live Nation Artists was the recorded music division of Live Nation at the time, and also one of the early multi-rights, 360-degree entertainment business models which led to the big deals with Madonna, Jay Z and Roc Nation.
Having previously come from artist management, I understood the importance of live to an artist's career, both in terms of generating revenue, but also the development of their career and also developing a fan base.
But I gained even deeper insight and experience working within the Live Nation juggernaut. And, because Live Nation Artists was one of the first of its kind in terms of new business models, being on the frontline of that disruptive thinking and new ways of doing things was really important.
---
You founded your own artist management and marketing agency after that, and then went in-house at a startup. Why?
I felt that [my experience] was very music-oriented and what I was missing – and where I saw everything going, really – was towards technology. The next step was [to gain] experience at an early stage startup, so pre-series A, working directly with programmers and developers to build a product. I [wanted to know] what it was like to build a product for different platforms: iOS, Android, desktop, Windows, Mac. How do you get users? How do you deal with investors and fundraising? That was the experience I really sought out, which led me to joining a very early stage startup that was based in Dublin [WholeWorldBand]. That was a real pressure cooker environment.
"My time at Deezer gave me a great overview on streaming across the world [and how it] varies greatly from country to country. You can be a market leader in one territory, but a challenger brand in another."
All of the things I wanted to gain experience in, I certainly got that and more. It was one of the hardest things I've ever had to do – the pace! Being a group of six people and having to build a product, deal with fundraising was really invaluable experience. As I said, a pressure cooker. It was harder than I ever thought it would be, but it was so valuable. That led me onto Deezer. Obviously music streaming was on the rise and was something that absolutely interested me.
I was the Global VP of Artist Marketing at Deezer, responsible for leading artists' marketing globally, so setting the strategy, working directly with labels and content creators. One of the things that I worked on closely at Deezer was launching Deezer NEXT, the artist development program. Really thinking about how streaming can contribute to developing artists in a meaningful way. What does that look like? How do we do that internationally? How do we do that locally?
My time at Deezer gave me a great overview on streaming across the world [and how it] varies greatly from country to country. You can be a market leader in one territory, but a challenger brand in another. And in some markets, like for example, Japan, streaming is very much in its nascent stages. I also learnt the importance of localising content for each market, and how valuable local knowledge and expertise is by way of your editors, the curation, the artist marketing personnel that you have in each market.
---
How does Spotify respond to the challenge of localised editorial content?
What's important for Spotify is to have a global reach, but a local touch. You see that in the expertise and in the curation, and that's on our editors, the human curation side.
That knowledge base, in terms of what's culturally relevant, is really important, which is why having the right team on the ground by way of editors and artist relations personnel, is really key.
---
What does your current role entail and what does your average working day look like?
The Head of Music role oversees all music teams at Spotify. And that includes the four teams under Artist and Label Services as well as Music Culture & Editorial. My days are really quite different. It's never really the same day to day. I'm not a morning person. I know it's fashionable to say that I get up at 4:00am and have a run. I don't do that.
My job involves a lot of late nights and gigs, so it's usually quite late to bed, but I still have to do early meetings in the morning. What I enjoy about my job is the variety from one day to the next. I'm always checking data, checking how our playlists are performing, particular song releases that might be trending, where they're doing well. It's always a challenge to make sure that I [factor] in time to listen to music, but that's an important part of my day as well.
---
There is such a huge volume of music going on Spotify every day that it must be quite a lot for you to keep up with….
There is, but one of the things that I feel very fortunate about at Spotify is having Spotify for Artists, because it enables an artist to pitch directly for playlists. And we see those pitches come in.
"It's not just about the artists who are signed to major labels. We listen to music from artists at all levels."
All music teams are able to listen to music from all sorts of artists. So it's not just about the artists who are signed to major labels, who have people asking you to listen to [their] new material.
We listen to music from artists at all levels. Spotify for Artists really enables us to do that, to be able to discover artists from other sides of the world, or artists we would have not really have come across otherwise. That's one of the most exciting things that I find about being in streaming.
---
What is your advice for emerging artists, music executives or artist managers?
Number one, understand the importance of the follow-through. Do what you say you're going to do. It's about being accountable. Secondly, confidence is good, but it's got to be backed up by knowledge and results. Don't get comfortable, ever.
"There'll always be challenges along the way, especially if you want to succeed, but if you aren't being challenged on a weekly, or even a daily basis, then you aren't pushing yourself enough out of your comfort zone."
There'll always be challenges along the way, especially if you want to succeed, but if you aren't being challenged on a weekly, or even a daily basis, then you aren't pushing yourself enough out of your comfort zone. And there's no magic formula when you think about dealing with challenges, because by their very nature, they're always new and different.
You have to stay flexible and learn as much as you can about the stuff you don't know. And don't be afraid to ask people for help. One other point: no-one owes you anything, so be as resourceful as possible. Integrity goes a long way. It really does.
---
You've worked in various marketing roles in the music industry. What are your views on how marketing has evolved since you started?
The biggest change is streaming. It's an obvious one, but it really is when you're talking about the fundamental difference in marketing. Streaming is now really at the centre of all marketing plans when you're thinking about a release. It also opens up avenues for artists who would never have had a shot previously, pre-streaming. Also with streaming, you can react quickly, momentum can be built very quickly, and then you need to know how to parlay that. One of the biggest challenges is the fight for a person's attention, because the channels to grab [that] attention have multiplied exponentially.
"One of the biggest challenges is the fight for a person's attention, because the channels to grab [that] attention have multiplied exponentially."
You're now competing with all sorts of content. It's not just music content, you're competing against video games, you're competing against social media content, as well as with more traditional television and radio. You need to know how to harness and co-ordinate those multiple channels of communication [in addition to] streaming. If momentum takes of in one area, the challenge for the modern marketeer is how to keep that going, and how to work the other channels as well.
How to cut through the noise in a world driven by technology is one of the key challenges for the modern marketeer. That said, the challenges are also big opportunities, because when you're talking about social media, those are also channels of promotion.
[That's] allowed artists to have a direct communication and contact with their fan base and to develop that to get that story across. The same thing with streaming; it's allowed artists to see early results, to reach a wider global audience. On Spotify, one of the things we're focused on is podcasts, and that's another interesting development for artists in terms of communicating their story.
---
What are your hopes or ambitions as Head of Music at Spotify over the next few years?
It's very hard to make grand sweeping predictions when you're working in tech, because it moves so quickly. That's one that I always preface my answer to. That said, my hopes, and certainly the things that we're going to focus on at Spotify UK, is really continuing to work with artists and their teams closely, really thinking about the meaningful part that Spotify plays in an artist's journey, telling that story. Yes, playlists are important, but there's also what I call 'looking beyond the playlist' – telling that story and building those fan bases.
Those are the things that are really central to what we think about in terms of the music teams, and what role Spotify does play and can play in that. The other thing I would say that I'm personally very interested in, as well as my role of Head of Music – and it's also something that's very dear to the Spotify mission – is diversity and inclusion. Yes, everyone's talking about it right now, and they should, but it's something, for me as a woman and also a woman from an ethnic minority, I didn't see a lot of. You asked earlier, well, 'Who were your mentors and who did you look up to?'
I really didn't see anyone that looked like me when I was starting out. And that's not to say that I didn't have great people who shared their knowledge with me; I did. But I also didn't have anyone that I looked to and thought, 'That person's like me.'
That's important, to have representation, both in terms of the talent side and the business side. More women working in the music business, in all areas of the industry, as well as diversity. You'll have seen some of the initiatives that Spotify has launched, The EQL Directory, particularly, in terms of production side – there are very few women in those sectors. Less than 5% of all audio professionals are women, and that certainly needs to change. And through The EQL Directory, any person around the world can add their name and enter into a network, a creative network of professionals in the area.
---
Do you see a lot more diversity now in the music business, whether it's artist management or record labels or anywhere else?
It's definitely moving in the right direction. There's still a lot of work to do. I mean, every time I read gender pay gap stats, as an industry we're not at that point where we have enough representation, equal representation. There are positive changes that have happened. We're talking about it, for a start.
I would have never been asked this question a couple of years ago. And there are a lot of companies now who do take [this subject] seriously, and there's a social responsibility and pressure to do that, which is a good thing. So, yes, it's better, but it can be better still, and as an industry we have a lot more work to do.
---
You mentioned the term 'social responsibility'. How important is it for a company, whether it's Spotify or any large music company and its employees, to be aware of the social responsibility they have?
It's important. I mentioned earlier about understanding the level of impact that [we] have on an artist's campaign, in terms of when the music teams at Spotify provide editorial and marketing support. It really does impact the campaign. We don't take that lightly. We really don't. We think about it deeply.
In terms of the social responsibility side, it is important for all companies and for employees to think about how they approach their work, and how they can [do so] in a way that furthers causes, and what their role [in that] is. That's something that we do at Spotify. I mentioned The EQL Directory and we've also got a partnership with a non-profit called Sound Girls.
There are other things that we're discussing internally as well, and that's an ongoing process. It's always a process of reviewing your place, the impact that you can make, and really looking at making meaningful contributions.
---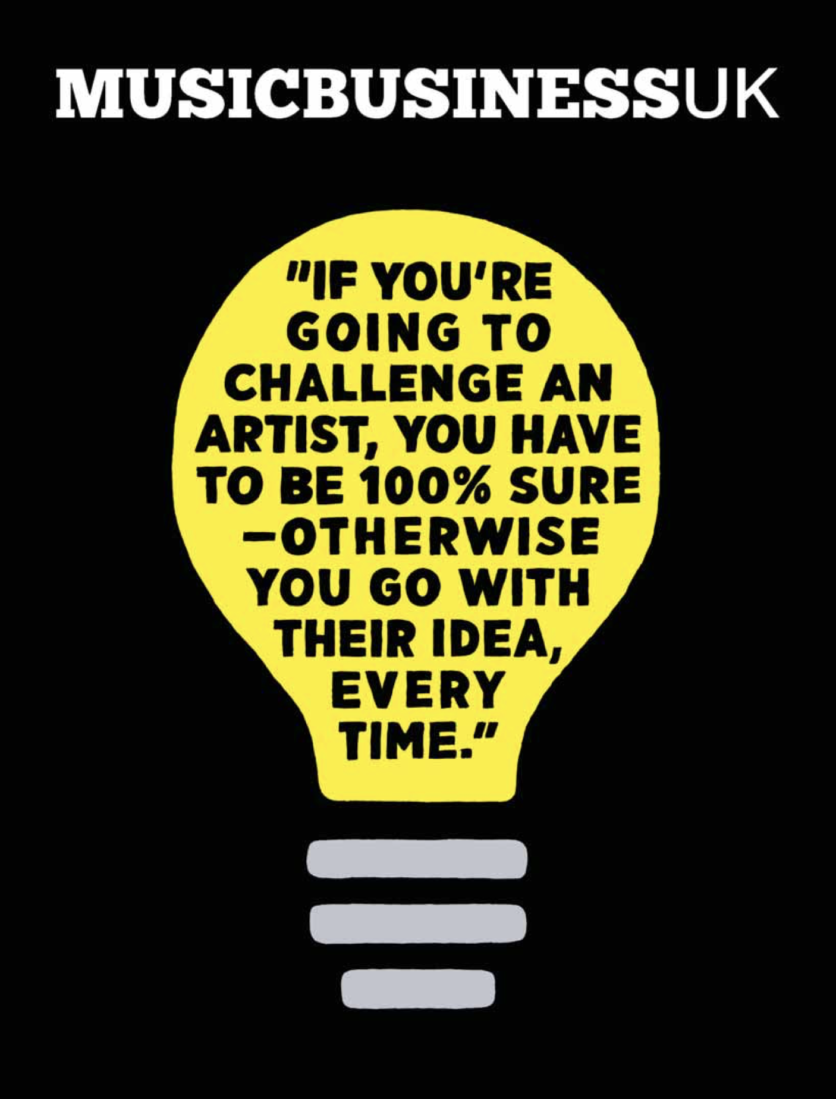 This article originally appeared in the latest (Q3 2019) issue of MBW's premium quarterly publication, Music Business UK (pictured), which is out now.

MBUK is available via an annual subscription through here.
All physical subscribers will receive a complimentary digital edition with each issue.Music Business Worldwide