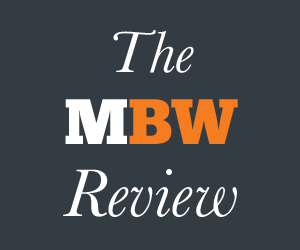 The MBW Review offers our take on some of the music biz's biggest recent goings-on. This time, MBW delves into the most recent corporate numbers from the major record companies to see how Universal, Sony and Warner performed in the calendar year of 2019. The MBW Review is supported by Instrumental.
---
We all have bad days. Bad hair days, bad work days, bad weather days. Bad days.
This truism does not appear to apply, however, to the modern major record company.
According to new MBW analysis of official fiscal numbers, the recorded music divisions of Universal Music Group, Sony Music Group and Warner Music Group jointly generated $22.9m, on average, every 24 hours in 2019.
As you can no doubt work out for yourself, at approximately $953k, that's just under $1 million every hour between the 'Big Three'.
And if we just look specifically at the last quarter of 2019 – the three months to end of December? We hit the big one.
According to MBW's number-crunching of corporately-reported recorded music numbers, Universal's artists and labels generated $1.02bn from streaming in calendar Q4 2019; Sony's generated $669m; and Warner's generated $589m.
In total, that meant the majors' recorded music divisions collectively turned over $2.26bn from streaming in the fourth calendar quarter… which equates to $24.8m per day… or $1.03m every single hour.
---
This is a stunning statistic in the story of the turnaround of the major record companies since the Napster era. Yet there are also tough questions now creeping into view that the 'Big Three' must figure out.
For example: In calendar 2019, according to publicly-filed fiscal results (from Vivendi, Sony Corp and Warner Music Group), Universal, Sony and WMG's collective recorded music divisions saw their joint annual streaming revenues rise by $1.43bn versus 2018.
However, in the prior year (2018 vs. 2017), this streaming revenue haul grew by a significantly larger figure – $1.62bn – indicating that, as long predicted, global streaming growth at the major labels slowed slightly last year.
How did each of the majors perform individually across the 12 months? See below to find out.
---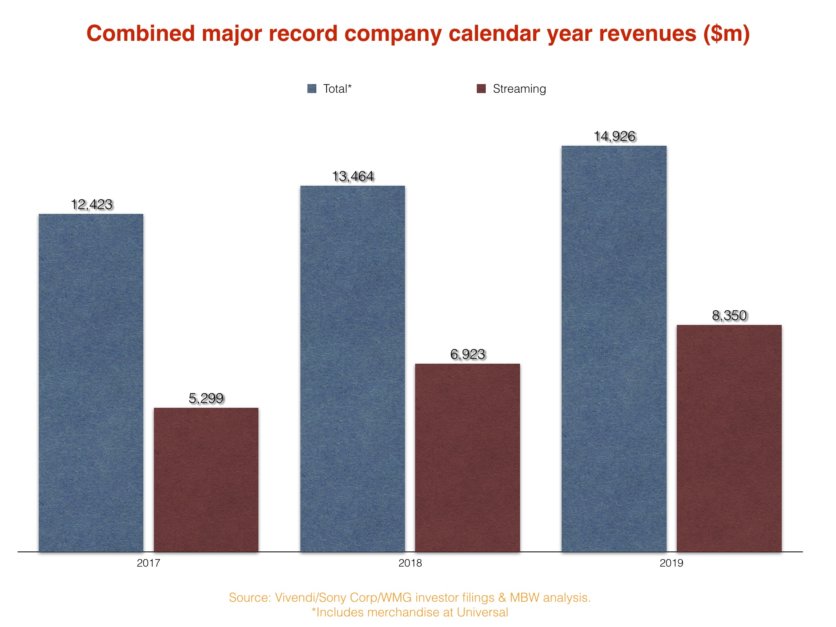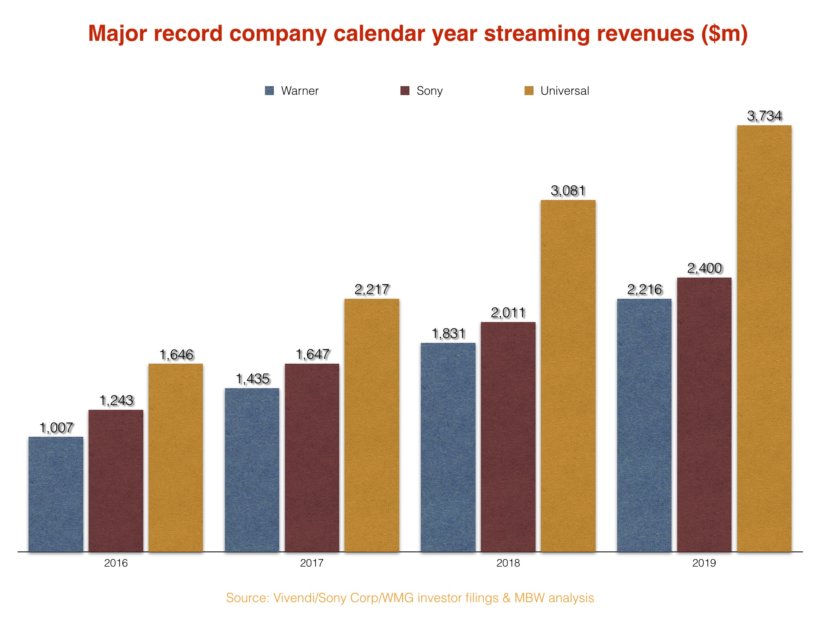 ---
[Before we get into the nitty-gritty, a caveat is required: Sony Music's results, as reported by parent Sony Corp and referenced many times here, do not include gross revenues it transfers to label distribution partners – i.e. the money The Orchard collects but then pays out (minus its own percentage / fees) to indie label clients.]
In terms of streaming, Universal had another huge year in 2019. According to MBW's calculations, UMG's annual recorded music global streaming revenues grew by $653m last year to hit $3.73bn. Sony Music's reported equivalent number grew by $389m (to reach $2.4bn) while Warner's was up by $385m (to $2.21bn).
Universal's year-on-year streaming revenue growth couldn't match that seen in 2018, though, when the firm saw an $864m increase to $3.08bn.
Still, as has been pointed out previously, growth of comfortably more than half a billion dollars year-on-year is hardly a bad news story for Sir Lucian Grainge and co.
To put that into context: Universal's $653m growth in annual streaming (recorded) revenues in 2019 represented an additional $1.8m dropping into the firm's coffers every single day versus the prior 12 months.
---
Another interesting chart to look at is below: the total performance of the recorded music divisions of the three major 'labels' in 2019 and the prior two years.
Again, an important caveat is required here: what constitutes a 'recorded music' division doesn't match, exactly, in the filings of Vivendi, Sony Corp and Warner Music Group.
While Sony and Warner's recorded music results include lines to cover merchandise ('Other' in the case of Sony; 'Artist Services' in the case of Warner), Vivendi breaks merch out into an entirely separate line of reporting from 'recorded music'.
For this reason, with merchandise becoming an increasingly competitive (and lucrative) part of the three major record companies' worlds, MBW has added in UMG's merch revenues for each of the last three years below.
---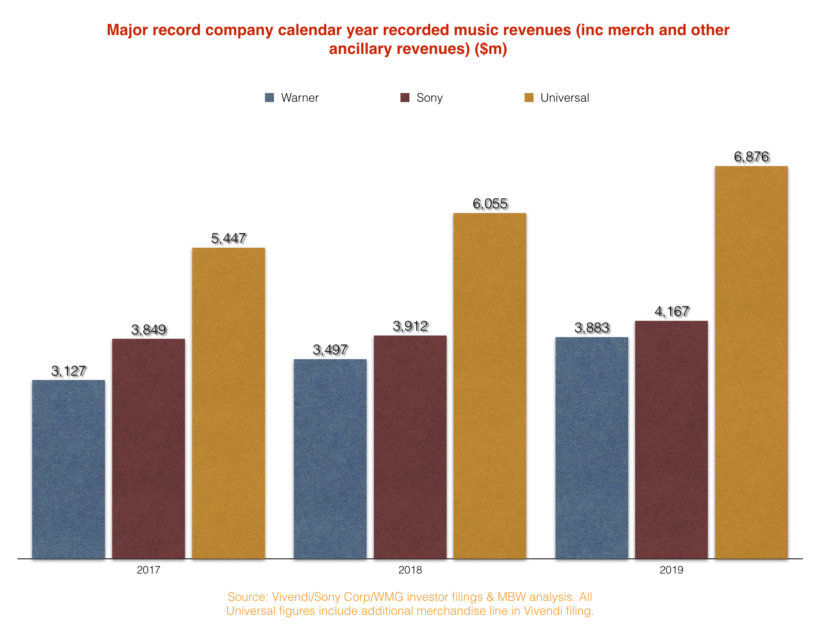 ---
With merch included, UMG's total annual recorded music revenue gain in 2019 was $821m (to $6.88bn) – a figure which would have been boosted by newly acquired business units such as distribution/services company Ingrooves (fully acquired by UMG in February 2019)  and merch company Epic Rights (acquired by UMG's Bravado in January 2019).
In the prior year (2018), UMG's overall annual recorded music revenue growth was up by a smaller number ($608m).
Sony Music's reported total annual recorded music revenues in 2019 grew by $255m (to $4.17bn), while Warner's gain in the year was $386m (to $3.88bn)
Universal's biggest selling artists in 2019 included Billie Eilish, Post Malone and Taylor Swift (pictured).
---
* A NOTE ON CURRENCY CONVERSION. 
MBW has used a currency conversion formula for Sony Music Entertainment and Universal Music Group which sees both company's global revenues – originally reported by Sony in Japanese Yen and Universal/Vivendi in Euros – reversed into US Dollars.
In order to do this for 2019's figures, we used an annual currency exchange rate provided in each case by Vivendi and Sony Corp respectively. We also applied prevailing rates provided by both parties for 2017.  These prevailing average annual rates in each calendar year provides a constant currency picture of both companies' performance.
Warner Music Group reports its results in the 'root currency' of USD, which we left unchanged for 2017, 2018 and 2019.
---

The MBW Review is supported by Instrumental, which powers online scouting for A&R and talent teams within the music industry. Their leading scouting platform applies AI processes to Spotify and social data to unearth the fastest growing artists and tracks each day. Get in touch with the Instrumental team to find out how they can help power your scouting efforts.Music Business Worldwide