Did Sweden's recorded music market really decline in 2014?
There are, it transpires, two answers to this question.
The official figures clearly signify that, yes, the revenues generated in the territory dipped by 0.4% in the year.
This was a small stumble, but a significant one. The Swedish market has shown consistent and impressive recovery since the high-tide of piracy in 2008, driven by its proud embrace of Spotify.
As such, Sweden has rather become the golden child of the global music industry: a hopeful vision of the future for many other markets.
But this streaming surge has come at a cost: 2014 saw yet another massive drop in CD sales revenue in Sweden – down 33.8% year-on-year. And, for once, this monetary decline couldn't fully be countered by streaming's growth.
Regardless, Spotify is still finding new audiences in the territory: total streaming revenues were up 10.8% in 2014, as the format's share of the total market grew from 71% to 80%.
This mutating dominance provides another, more optimistic way of looking at Sweden's numbers, according to the CEO of the country's IFPI, Ludvig Werner.
"Sweden is a very different country to almost every other music territory in the world," he explains. "To me, Sweden was 10.8% up last year, because the growth in streaming revenues is what I focus on.
"Of course we still value CD, but to a degree it is like the old furniture we still have in the store."

Ludvig Werner, IFPI Sweden
"Of course we still value the CD market, but to a degree it is really like the old furniture we still have in the store – we don't want to just burn it, but ultimately it's not vital to the future of our business.
"If I'm really honest, at this point, it it hard to tell which type of person is still buying CDs in Sweden."
The IFPI boss's matter-of-fact dismissal of CD's importance would be seen as heresy in some international markets. (Including Germany, where the robust CD market enabled overall revenues to grow in 2014.)
But Werner, like many in the Swedish industry, shows unabashed faith in streaming to restore the country's record business to past glories.
His rationale: like it or lump it, streaming is the future of music consumption, so all of the music industry's energy should be thrown behind it. The speed of the death of the CD is little more than a distraction from the future destiny of the business.
Unlike your typical US or UK exec, Werner also doesn't feel the need to pussy-foot around an unavoidable truth: that if streaming is going to dominate, it will inevitably hurt other formats.
"It is a perhaps a valid criticism that, in the past, Sweden was too eager to get online with its music," admits Werner. "But that's why we're so far ahead of other territories now, so there is good and bad to that pattern.
"Of course streaming was always going to erode the other parts of the market – I just don't understand why that's still even a debate. I read articles today proclaiming: 'Streaming is cannabalising CD sales.' That's not news!
"Personally I don't see it as 'cannabalising'," he clarifies. "I'm not a fan of that word – to me, it's transitioning. I left vinyl when I was 16 years old to move to another way of listening to music. This is no different."
"I read articles today proclaiming: 'Streaming is cannabalising CD sales.' That's not news!"
Fredrik Ekander, CEO of Sweden's Cosmos Music Group, supports Werner's viewpoint.
In 2009, Ekander led a management buyout of Cosmos, which owns Sweden's largest independent catalogue of master recordings. He then transformed the CD-led company into a leaner, digital-first operation.
This week, Cosmos is bringing hotly-tipped act Say Lou Lou (pictured) to market. Ekander says he will only begin fulfilling CD retail orders when demand escalates – otherwise relying on Spotify et al to gauge and spread the popularity of the group.
He says: "We stopped counting CDs two or three years ago; we took it out of our P&Ls. It's so rare that you have a record that actually takes off and means anything in physical these days.
"To be honest, I've always detested the CD. It breaks, the sleeves rip easily. And every time I'm in the car and I put a CD on, it's like: 'Man! I love this song – but no-one involved is getting paid while I play it!"
Back before Sweden was a haven of streaming, though, not getting paid was something record companies were learning to live with.
The Pirate Bay was founded in Sweden in 2003. For the next five years, it devastated the country's music industry.
Between 2001 and 2008, full-year recorded music revenues in Sweden were cut in half – from 1.6bn SEK (€120m) to 782m SEK (€84m).
Since the introduction of Spotify in 2008, those figures have gradually climbed again, brushing the billion SEK mark in 2013 at 991.2m SEK (€106m).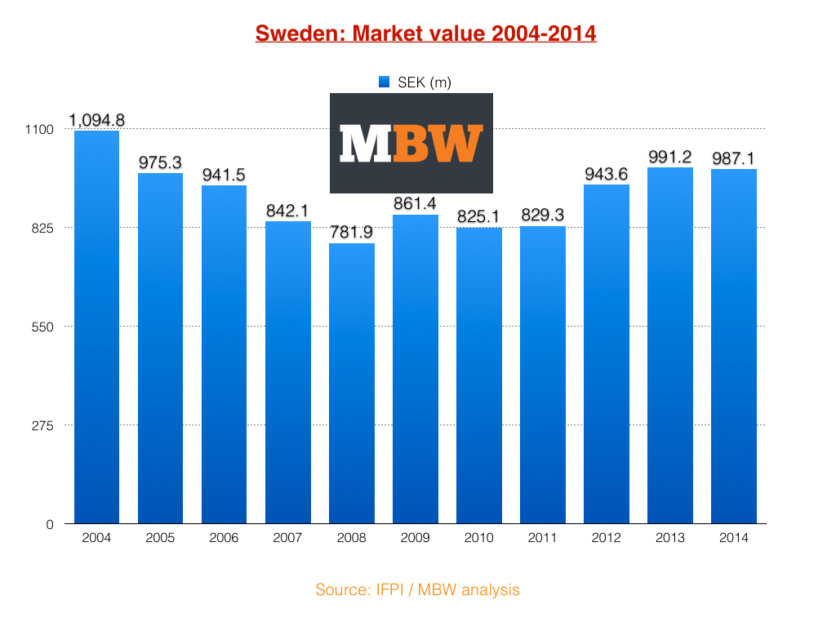 "I joined the IFPI in 2008 and frankly I remember it being horrible," says Ekander. "Every meeting was all piracy, piracy, piracy. Now it's like: 'Okay… point No.44: Piracy. Anyone?' And we move on pretty quickly. It's the total opposite."
Daniel Ek is getting a hard time from the major labels right now regarding the effectiveness of his platform's 'freemium' strategy.
Around 25% of active consumers trying Spotify for free go on to pay to subscribe – a figure that Universal boss Lucian Grainge and others evidently feel is too low.
"I remember a time when our meetings were all piracy, piracy, piracy. Now it's like: 'Okay point 44. Piracy. Anyone?"

Fredrik Ekander, Cosmos Music Group
Ekander, though, recalls a time when how much money consumers were paying wasn't the Swedish recording industry's biggest concern; it was the idea of them paying anything at all.
"I remember watching Daniel Ek say: 'My competitor is The Pirate Bay. I'm here to put them out of business.' I cannot tell you how fantastic that was to hear."
"There are a lot of steps you need to take to pirate a music file," he adds. "You have to find your torrent client, go to the pirate site, search for your file, download. At each point, most people will think: 'I'd rather not be doing this.' Spotify gave people that alternative."
The emergence of The Pirate Bay and Sweden's reign as the 'piracy capital of the world' was ultimately due to its position on the vanguard of broadband and mobile development.
"Infrastructure on broadband was probably too good for the Swedish people to handle when The Pirate Bay was launched," says Werner. "It always strikes me that when you travel with Tidal or Spotify in California, I understand why people might be put off; it doesn't work! Their 3G and 4G connection is no good. It's the same sometimes in London: I can't believe you get on a train to go an hour north of London and your connection drops out.
"You can see how [the piracy explosion] happened in Sweden. Suddenly, you could get music for free, it was impossible to get convicted and the guys who ran The Pirate Bay were rock stars. The Swedish media loved them."
This adoration ultimately didn't prevent The Pirate Bay founders being hauled over the coals. In April 2009, a Stockholm district court found Peter Sunde and his fellow TPB founders guilty of "assisting in making copyright content available". They were each sentenced to one year in prison and ordered to pay damages of 30 million SEK (around €2m). A number of appeals failed.
(A stark reminder of the severity of the 'pirate movement' faced by rights-holders just years ago: at the press conference after his trial, Sunde held up an IOU note to the cameras. He claimed it was the only payment he would contribute to the sought damages, snapping: "Even if I had any money I would rather burn everything I own… that's how much I hate the media industry.")
This verdict arrived very close to new legislation in Sweden – a groundbreaking European Directive called IPRED – which made it easier for rights-holders to force ISPs to punish pirates through the courts.
"What it all meant was that we ended up with the best-educated people in the world on copyright," says Werner. "All that pain meant Swedes were really aware of what was legal online and what was not legal. Spotify launched into a perfect storm."
"current streaming services are yet to master the upsell."
Daniel Ek also benefitted from the fact the Sweden boasted the world's best piracy-enabling software.
Ek's affiliation with file-sharing client Utorrent helped him poach programmer Ludvig Strigeus; a superstar amongst the piracy community for truncating the time it took to download torrented material.
(Strigeus is widely credited as the reason why Spotify's music hits your ears quicker than rival platforms after you press play. A barely-perceptible advantage – but potentially a crucial one.)
With these dark days behind Sweden, the country's music market looked unstoppable – until that 0.4% annual decline was announced earlier this year.
Which begs the question: does Sweden still have growth to find in its market – and, if so, where will it come from?
"I really think 2015 will be a growth year," says Werner. "It won't be a big year, but we should see somewhere between 5% and 15% growth in streaming and that will be enough to give the entire market a boost."
He predicts that the market may finally see some price experimentation by streaming providers after seven years of a rigid €9.99 subscription.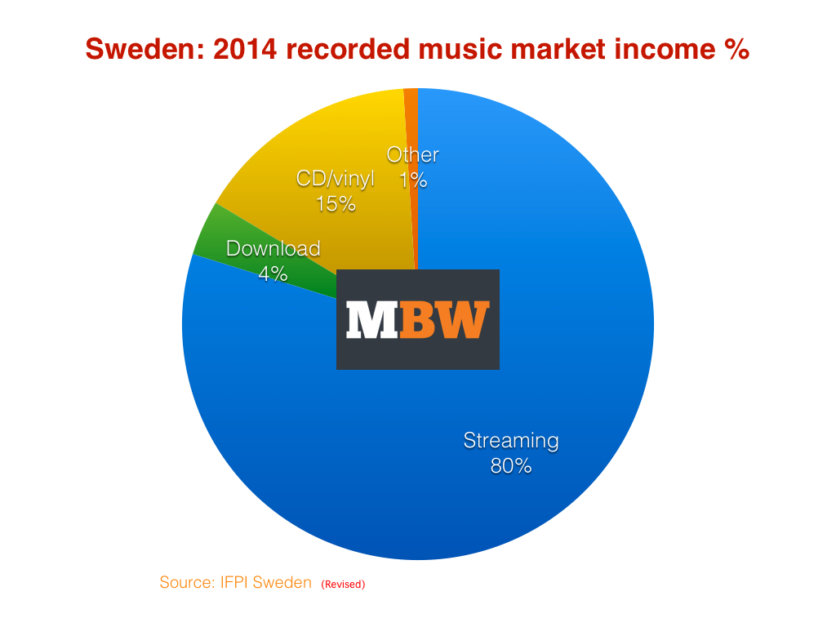 The continued growth in awareness of hi-def options such as Norway-born Tidal – boosted by Jay Z's ownership and endorsement – should also shake things up in the territory.
"If you're in the consumer business, you should always be able to sell more products to your customer," he says. "Another pair or jeans, another beer, whatever. Streaming services are yet to master this – that will change."
But will Swedish people stick with their local boy done good, Daniel Ek, after Apple launches a direct paid-for competitor later this year?
"It is true that people are very loyal to Daniel – 'the green Swede'," says Werner. "But they are not blindly loyal. If a better offering comes along their heads can always be turned.
"I'm sure Spotify knows that better than anyone."
Adds Ekander: "I do think in Sweden we are still living in the future compared to most other countries.
"But you can't be the new kid on the block forever – we're completely aware that soon enough the rest of the world will catch up and we'll be in danger of living in the past again.
"It's a Mad Men time for the music industry right now; no-one has a crystal ball."Music Business Worldwide