MBW's Stat Of The Week is a series in which we highlight a single data point that deserves the attention of the global music industry. Stat Of the Week is supported by Cinq Music Group, a technology-driven record label, distribution, and rights management company.
---
Does Live Nation invest more in artists annually worldwide than record companies spend on A&R and marketing combined?
That's what the concerts giant seems to suggest in its latest financial filing, for Q4, and the full year ended December 31, 2022.
Within Live Nation's latest earnings announcement, the company claims that its "investment in artists" i.e. what it spent on putting on artists' shows in 2022, was up 45% versus 2019 to over $9.6 Billion in 2022.
Live Nation claims that this investment makes the company "the largest Financial Supporter of Musicians".
Credit: Live Nation/press

"Typically, 90% of ticket sales for Live Nation shows go to artists. This is particularly important as artists are increasingly reliant on touring as they get much smaller rev shares from other music revenue streams."

Michael Rapino, Live Nation
According to global recorded music body IFPI, $5.8 billion is the sum of money "invested in A&R and marketing by record labels annually".
While this figure dates back to 2017, reported here by MBW in 2019, this is still the figure for annual combined record company A&R and marketing spend currently cited on the IFPI's website.
---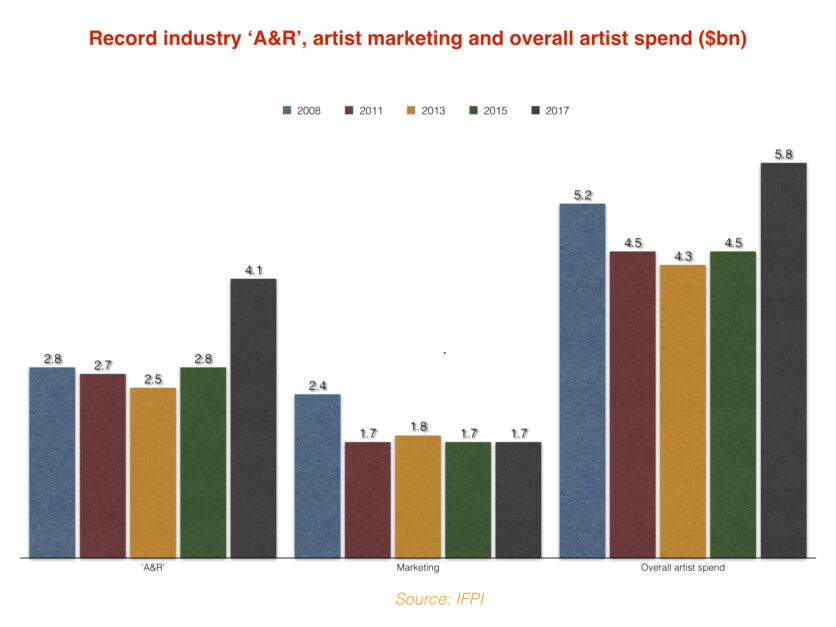 ---
Speaking with analysts on the company's earnings call, Live Nation President and CEO Michael Rapino, said: "We invested $9.6 billion in putting artist shows on in 2022, working with the largest superstars to artists just getting started and all those in between.
"This is up 45% and further reinforces our role as the largest contributor to artist income. As part of this, we helped shift $700 million to artists with more market value ticket pricing, even as the entry price to a show stayed below $35 in the U.S.
He added: "Typically, 90% of ticket sales for Live Nation shows go to artists. This is particularly important as artists are increasingly reliant on touring as they get much smaller rev shares from other music revenue streams."
In terms of finances, Live Nation generated revenues of $16.7 billion in 2022, according to its financial results for the quarter and full year ended December 31, 2022.
That multi-billion revenue haul was up 44%, measured against  2019, which was the year prior to the pandemic when the concerts business was placed on hold.
Digging deeper into Live Nation's filing reveals that its concerts business was its primary revenue driver, generating $13.49 billion in 2022 versus $4.7 billion the prior year (2021).
(Concerts were only just starting to come back in North America and the UK that year, following months of uncertainty around the live business due to Covid.)
---

---
The company says that its concerts business growth in 2022 "came from all markets and venue types – every venue type from clubs and theaters to stadiums to festivals had double-digit attendance growth vs 2019".
Live Nations's ticketing business, meanwhile, generated  $2.23 billion in 2022, up 97% YoY versus $1.13 billion in 2021 (see below).
---

---
Elsewhere, Live Nation's Sponsorship business generated close to $1 billion last year, recording $968.1 million for the FY 2022 ($999.4m at constant currency).
In 2022, Live Nation had 120 of what it describes as "large strategic sponsors globally" across its sponsorship business, which was 32% more than it had in 2019.
Amongst those brands are PayPal, GoPuff, Hulu and Snap, with these "large" partners driving over 80% of Live Nation's sponsorship growth last year.
This growth was also led by Live Nation's international markets, with international sponsorship up over 70% vs 2019, according to the company.
---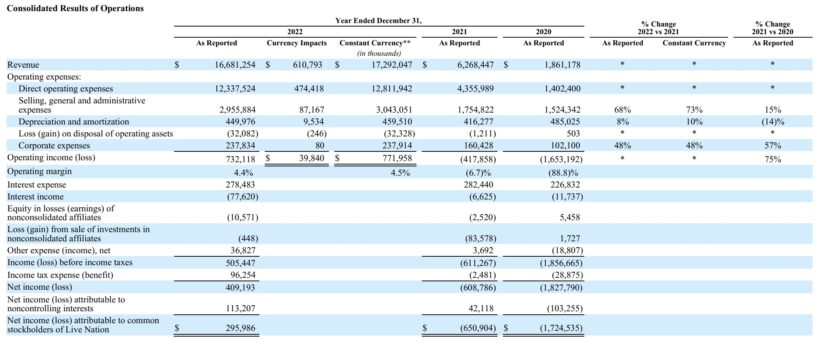 ---
Live Nation President and CEO told investors in a letter that the company saw "fans around the world continue to prioritize their spending on attending live events, particularly concerts" in 2022.
The note claimed further that Live Nation's "research consistently tells us that concerts are a top priority for discretionary spending, and one of the last experiences fans will cut back on".
Live Nation certainly has stats to back that claim up, reporting that 121 million fans attended 43,600 Events across 45 countries in 2022, and that it sold over 550 million tickets.
Commenting on the geographic source of those revenues, Rapino told investors that "in both cases, the majority of [Live Nation's] growth came from international markets, further reinforcing the global nature of untapped fan demand and the opportunities we have for growth, as we help artists reach more fans with their live music".
---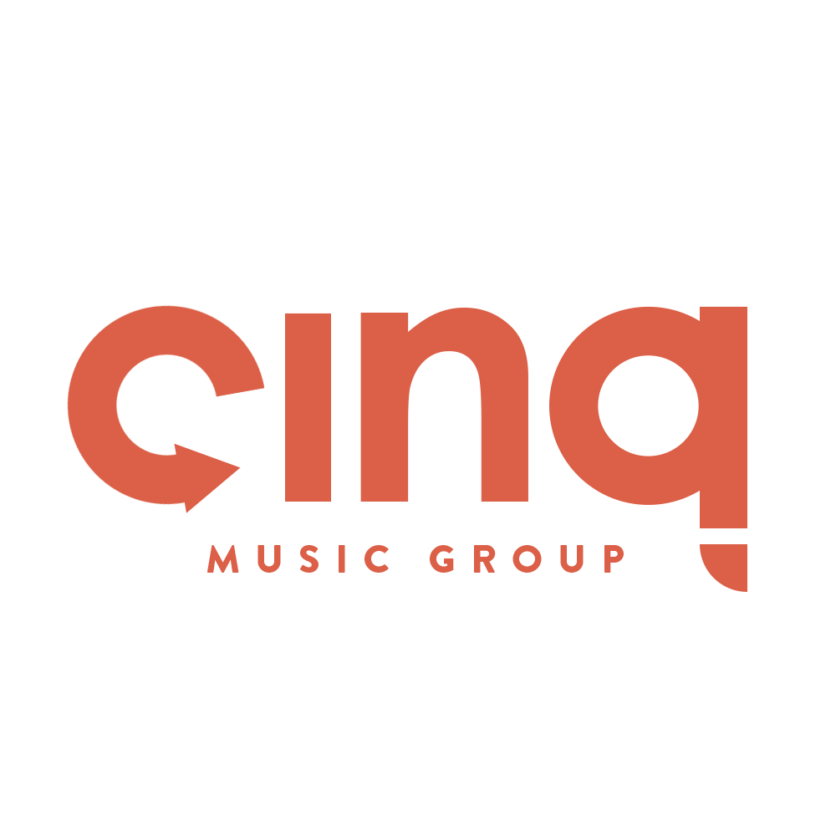 Cinq Music Group's repertoire has won Grammy awards, dozens of Gold and Platinum RIAA certifications, and numerous No.1 chart positions on a variety of Billboard charts. Its repertoire includes heavyweights such as Bad Bunny, Janet Jackson, Daddy Yankee, T.I., Sean Kingston, Anuel, and hundreds more.Music Business Worldwide